NFL Nation:

Thanksgiving 2010 Saints-Cowboys
November, 25, 2010
11/25/10
10:55
PM ET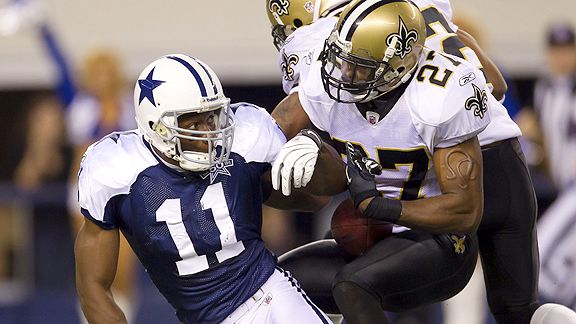 Wesley Hitt/Getty ImagesThis forced fumble by Malcolm Jenkins, right, gave the Saints new life against Dallas.
ARLINGTON, Texas -- Maybe it was one of the goat horns that suddenly was sprouting out of
Malcolm Jenkins
' helmet that caused perhaps the biggest play of the season for the
New Orleans Saints
.
The safety, who made a mistake in coverage, somehow chased down
Dallas Cowboys
receiver
Roy E. Williams
and popped the ball loose deep in Saints' territory. Just moments earlier, it seemed the Saints were about to let a shot at a repeat of the NFC South title and the Super Bowl championship fade away.
"It could have been a catastrophe,'' Jenkins said.
That's no exaggeration. Jenkins' play helped the Saints defeat the Cowboys,
30-27
, in a bizarre Thanksgiving game at Cowboys Stadium. Jenkins chased Williams knowing he had to make more than a tackle. He needed something close to a miracle.
After all, Jenkins was a big part of the reason why Williams was running free downfield and the Saints were about to blow a game that seemed so winnable early on.
With Dallas leading 27-23, Williams caught a slant pass from
Jon Kitna
. Jenkins said he took a bad angle in pursuit, and a cornerback had slipped. That left Williams running free down the middle of the field with three minutes remaining. If Williams scored, the Saints would need two possessions to have a chance. Even if he didn't score, the Cowboys might have been able to run out the clock or, at worst, kick a field goal.
"If I just tackled him there, the game is over,'' said Jenkins, a second-year pro who made the transition to safety after playing cornerback as a rookie.
With Williams running free, cornerback
Tracy Porter
was the only New Orleans player downfield and Williams had a lot of room to beat him. As Williams got near Porter, he tried to wrap the ball up. Jenkins was in pursuit from the blindside.
At the New Orleans 11-yard line, Jenkins caught up to Williams and somehow popped the ball free.
"It kind of fell right into my stomach,'' Jenkins said. "All I can say about that is God is good.''
Divine intervention? Well, that might be extreme, but there's no doubt Jenkins did something extraordinary.
"I think I did everything I could have done,'' Williams said. "It went through my head to just fall down, but that's not in my repertoire. The guy just made a great play. We had it in our pocket, and I let it go.''
Jenkins fell down with the ball and
Drew Brees
and the offense came onto the field.
"Whenever you have No. 9 out there, you have a chance,'' Jenkins said.
Brees marched the Saints 89 yards in five plays and one minute and eight seconds. He put New Orleans ahead to stay with a 12-yard touchdown pass to
Lance Moore
on the first play after the two-minute warning.
Even then, it wasn't over for the Saints, who spent most of the second half of the game looking like they were going to blow a game they'd led by 17 points against a 3-7 team. The Cowboys moved downfield.
David Buehler
's 59-yard field-goal attempt to tie the game with 31 seconds left had the distance, but was left of the goal post by just a few feet.
"To give up that lead and go home, it would have been a terrible weekend,'' Jenkins said.
An embarrassing loss after the Saints led by as much as 20-3 in the first half might have had implications beyond the weekend. It would have put the Saints two games behind the
Atlanta Falcons
in the NFC South race and started a downward spiral for a team that's been inconsistent all season.
[+] Enlarge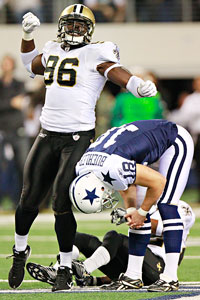 AP Photo/Mike FuentesDavid Buehler's missed field goal in the final minute gave Alex Brown and the Saints reason to celebrate.
The Saints squandered the big lead as
Reggie Bush
, making his return from missing eight games with a broken leg, dropped two easy passes and fumbled away a punt return. Rookie tight end
Jimmy Graham
had a pass go off his hands and turn into an interception for Brees.
"It's a credit to our team's fight,'' coach Sean Payton said. "That play Malcolm makes late is a heart play. It's an effort play and that inspires a whole team. It was kind of a gut-check win.''
By popping the ball loose and having it fall into his gut, Jenkins helped the Saints get to 8-3. They now have as many wins as the Falcons, who are 8-2 heading into Sunday's showdown with Green Bay at the Georgia Dome.
"The sweet thing about winning is it gives the players an extra three days off to get their feet wet,'' Payton said.
The Saints will get Friday, Saturday and Sunday off before returning to practice next week to get ready to face Cincinnati on the road the following Sunday. They likely would have had to work at least part of the weekend had they lost, and it certainly wouldn't have been pleasant. They would have to have played the rest of the season trying desperately to catch up to the Falcons.
There's a fine line between wins and losses and heroes and goats. Jenkins' play on Williams demonstrates that better than anything.
"Our mentality for the entire fourth quarter (was) to (get the ball back) and give our offense another chance,'' Jenkins said.
His play not only gave Brees and the offense another chance. It gave the Saints a chance to compete for another NFC South title and another Super Bowl title.
November, 25, 2010
11/25/10
8:07
PM ET
ARLINGTON, Texas -- I'm heading downstairs for interviews and will be back with more later. But, first, a quick Rapid Reaction on New Orleans'
30-27 victory
against Dallas.


What it means
: In one of the craziest games in a franchise with a history of craziness, the Saints came out on top. They led by as much as 17 points and fell behind in the fourth quarter before coming back to win. This puts them at 8-3, a half game behind the
Atlanta Falcons
who face Green Bay on Sunday. The Falcons lead the NFC South with an 8-2 record.
Heroes:
Malcolm Jenkins
,
Drew Brees
and
Lance Moore
. Jenkins stripped a ball away from
Roy Williams
as the Cowboys were on the verge of putting the game away. Brees and Moore hooked up on a 12-yard touchdown pass after the Saints drove down the field following Williams' fumble.
Near goats
:
Reggie Bush
,
Devery Henderson
and
Jimmy Graham
. Bush, making his return after sitting out games with a broken leg, dropped two passes and lost a fumble on a punt return to give Dallas a touchdown. Graham was unable to hold onto two catchable balls and was called for being offsides on a fourth-quarter punt. Henderson dropped a perfect deep pass from Brees as the Saints were trying to come back late in the game.
What's next:
The Saints travel to Cincinnati to play the Bengals next Sunday.
November, 25, 2010
11/25/10
6:12
PM ET
ARLINGTON, Texas -- It's halftime here at Cowboys Stadium and the Saints have dominated so far. The Saints lead 20-6.
They jumped out to a 17-0 first-quarter lead, but did allow Dallas' offense a nice long drive in the second quarter to trim the lead to 17-3. Garrett Hartley made a 45-yard field goal at the end of the second quarter to swing the momentum back toward the Saints. But Dallas kicked a field goal on the final play of the first half.
If you aren't already on our live game chat,
hop over here
. I'll be back on the chat by the time the third quarter starts.
November, 25, 2010
11/25/10
3:06
PM ET
ARLINGTON, Texas -- New Orleans running back
Reggie Bush
will make his return Thursday after missing eight games with a broken leg.
Bush is on the active list and is listed as the starter, although he's likely to share time with
Chris Ivory
in the backfield.
Inactives for the Saints Thursday are running back
Pierre Thomas
, safety
Matt Giordano
, safety
Darren Sharper
, running back
Ladell Betts
, tackle
Charles Brown
, tight end
Jeremy Shockey
and defensive end Junior Gallette.
Sean Canfield is the third quarterback.
November, 25, 2010
11/25/10
3:06
PM ET
ARLINGTON, Texas -- I'll be covering the game between the Saints and Cowboys later this afternoon. But the other three NFC South teams issued their Thursday injury reports early.
So let's take a look at the injuries that matter most elsewhere in the division.
Panthers.
Rookie quarterback
Jimmy Clausen
practiced for the second straight day as he attempts to come back from a concussion. But coach John Fox wouldn't say for certain if Clausen will play, or start, Sunday against Cleveland. If Clausen is healthy, he almost certainly will start because
Brian St. Pierre
was limited in practice for the second straight day. The only other options are rookie
Tony Pike
and practice-squad player
Keith Null
, who joined the team earlier this week.
Buccaneers
. Tampa Bay is very healthy as it gets ready for Sunday's game at Baltimore. Defensive end
Kyle Moore
was the only player who didn't participate in Thursday's practice.
Falcons
. Defensive end
John Abraham
, who sat out with a groin injury last week, practiced on a limited basis. Receiver
Roddy White
(knee) also was limited.
November, 24, 2010
11/24/10
5:32
PM ET
By
Matt Mosley
| ESPN.com
This should be an intriguing matchup between the defending Super Bowl champion
New Orleans Saints
(7-3) and the resurgent
Dallas Cowboys
(3-7).
Here are five things to watch from the Cowboys:


1. What will defensive coordinator Paul Pasqualoni do to neutralize the Saints' speed on offense?
Pasqualoni has played a lot more zone coverage since Wade Phillips was sent packing three weeks ago and it has paid off immediately. The Cowboys are getting more takeaways and quarterbacks appear to be more confused. With an elite passer such as
Drew Brees
, the Cowboys have to do things to disrupt his rhythm. That's what they did when
Anthony Spencer
and
DeMarcus Ware
got to him several times in last December's upset in New Orleans. The Saints are getting
Reggie Bush
back for this game, so the Cowboys have to do a good job on the screen passes. I like how cornerback
Orlando Scandrick
has played against screens and shorts crossing patterns lately.
2. Sean Payton has payback in mind.
Jerry Jones and Payton have engaged in a prank war over the last year. They're good friends, but they also love beating each other. No matter how poorly the Cowboys have played this season, Payton always had this game circled. He remembers coming into Texas Stadium and humiliating Bill Parcells' Cowboys in his first season with New Orleans and he'll be looking to do the same to his old pal Jason Garrett.
3. I think Garrett could go a long way in securing the head-coaching role for good with a win:
We know that Jones wants this to happen, so Garrett can make a huge statement Thursday. Jones loves the changes he's made with this team and I'm sure he's regretting that he didn't make the change earlier. If the Cowboys win this game, I truly think Garrett will lose the interim tag. I know that can't happen per NFL rules because of the Rooney Rule, but I think it would happen behind closed doors.
4. Dez Bryant will test the Saints cornerbacks in a big way.
You've heard quarterback
Jon Kitna
say it. Dez Bryant is a "violent" receiver. Kitna already has so much faith in the rookie that he'll throw into tight coverage. With all of the nation tuning in, I could see Bryant doing something special. But Kitna can't afford to stare anyone down.
Tracy Porter
will be sitting on every route. That's why some double moves could help. Cowboys running back
Felix Jones
could be limited in this game, so that will put even more pressure on Kitna and the passing game. But perhaps a miracle will occur on this Thanksgiving and
Tashard Choice
will get more than five carries.
5. Cowboys cornerback Mike Jenkins will be tested in a big way in this game.
I don't think Payton respects what Jenkins has done this season and he'll try to get
Marques Colston
in one-on-one matchups with him. And
Lance Moore
actually leads the Saints with five touchdowns this season. Five receivers with 23 or more catches for the Saints have averaged more than 10 yards per reception this season. That's a pretty impressive total.
November, 24, 2010
11/24/10
1:41
PM ET
Five things to watch in Thursday's game between the Dallas Cowboys and New Orleans Saints.


1. Reggie Bush.
The New Orleans running back might make his return from a broken leg and that could change the entire complexion of an offense that has come on strong in recent weeks. The Saints can put Bush in different spots or in motion and that allows them to free up other offensive weapons. If Bush plays, the Saints probably will ease him in with spot duty and still use
Chris Ivory
as their main runner.
2. Take advantage of matchups.
As they almost always do, the Saints' receivers have a clear edge on Dallas' secondary. Top receiver
Marques Colston
is likely to draw
Terence Newman
and that should be a competitive matchup. But the real advantage comes deeper down the line.
Devery Henderson
,
Robert Meachem
and
Lance Moore
all rotate in. Dallas cornerback
Mike Jenkins
has been having a rough season and he's likely to be targeted often. Meachem is the deep threat here with three touchdown catches of more than 30 yards. The Saints should be able to wear down this secondary.
3. Student vs. pupil
. New Orleans' Sean Payton was an assistant coach with the
New York Giants
when Dallas interim head coach Jason Garrett was a backup quarterback there. This is only Garrett's third game as a head coach. Payton is a veteran now and his team has had plenty of experience in dealing with the logistical issues that come with a short week. That could give the Saints a big edge.
4. Roman Harper versus Jason Witten
. Harper is quietly putting together a nice season. He has one interception and five forced fumbles. He also is used as a blitzer at times. But Harper could get a big challenge from Witten. Although the Dallas tight end isn't putting up his usual big numbers this season, the Cowboys may look to get him more involved in the passing game.
5. Jon Kitna versus time.
The Dallas quarterback is 38 and the short week could leave him a little tired. Defensive coordinator Gregg Williams will try to exploit that. Williams brings the blitz often, but he might bring it even more than usual against Dallas.
NFL SCOREBOARD
Thursday, 10/2
Sunday, 10/5
Monday, 10/6