NFL Nation:

The Big Question 33010
March, 30, 2010
3/30/10
1:03
PM ET
»
NFC Big Question
:
East
|
West
|
North
|
South
»
AFC
:
East
|
West
|
North
|
South
Have the Miami Dolphins done enough since the free-agency period began?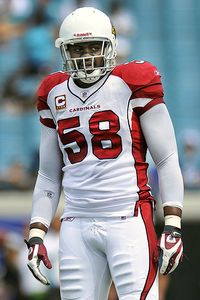 Fernando Medina-US PRESSWIREThe Dolphins started free agency by signing Karlos Dansby, but they have done little since.
Miami got off to a rousing start in free agency by pouncing on
Karlos Dansby
like a 43-year-old bachelorette on the bride's bouquet. Bill Parcells whipped out owner Stephen Ross' checkbook to make Dansby the NFL's highest-paid inside linebacker, one of top two or three most-significant moves at the start of free agency.
That was nearly a month ago.
The Dolphins haven't done much else since then. They courted safety
Ryan Clark
, but he re-signed with the
Pittsburgh Steelers
. They haven't gotten involved with any wide receivers, much to their fans' chagrin.
The Dolphins brought back
Chad Pennington
to be their third-string quarterback and nose tackle
Jason Ferguson
, who won't be able to play until he serves an eight-game suspension. They added freak-on-a-short-leash guard
Richie Incognito
with a low-risk contract, making him one misstep away from being cut.
Upgrades, however, don't always occur through acquisitions. The Dolphins made some classic addition-by-subtraction moves, cutting outside linebacker
Joey Porter
, inside linebacker
Akin Ayodele
and safety
Gibril Wilson
. Porter signed with the
Arizona Cardinals
and was arrested for DUI. Ayodele and Wilson haven't found work.
Dolfans should be relieved those guys are gone, but only Ayodele has been replaced. They still need to establish a new pass-rushing presence on the edge (especially if they don't want
Jason Taylor
back) and locate a safety in addition to help at receiver and nose tackle.
Dansby will be a force on Miami's defense, and Incognito will be a nice pickup if he can keep his temper under control.
But the Dolphins, who went 7-9 last year, need to find more veterans to keep pace with the AFC runner-up
New York Jets
and defending AFC East champion
New England Patriots
.
March, 30, 2010
3/30/10
1:02
PM ET
By
Matt Mosley
| ESPN.com
»
NFC Big Question
:
East
|
West
|
North
|
South
»
AFC
:
East
|
West
|
North
|
South
If the Eagles are able to trade Donovan McNabb, what does the Kevin Kolb era look like?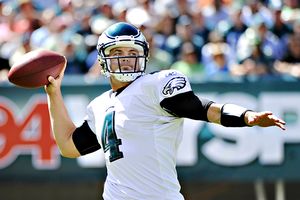 Howard Smith/US PresswireEagles quarterback Kevin Kolb might be better suited for the West Coast offense than Donovan McNabb.
Everyone I talk to in the Eagles' organization suggests that former University of Houston star Kevin Kolb is ready for prime time. The Eagles former general manager Tom Heckert, who had a big say in drafting Kolb in the second round of the '07 draft, told me last week he thinks Kolb is absolutely ready to succeed at this level. That's why he thinks it would be nearly impossible for a team to land Kolb in a trade.
Kolb is already popular with his teammates. You may have noticed there hasn't been a huge outcry from the locker room to keep McNabb. I know that fullback
Leonard Weaver
recently voiced his support during a radio interview, but that's about it. There's a sense in the organization it's time for young stars such as
DeSean Jackson
,
Jeremy Maclin
,
LeSean McCoy
and
Brent Celek
to start playing with the quarterback who's expected to hang around for the next six or seven seasons.
From the scouts I talk to across the league, Kolb's actually better suited for the West Coast offense than McNabb. He's been very accurate in the preseason and in his two regular-season starts. One NFC East scout told me Monday he thought a second-round pick was a little "rich" for Kolb in '07. The thought at that time was that Kolb may have been a "system" quarterback under coach Art Briles at Houston and his huge passing numbers wouldn't translate to the NFL game. But after a year of work in Reid's system, he convinced the coach he was indeed the real deal.
Kolb doesn't have McNabb's strength or mobility, but he does appear to have a more accurate arm. In an offense that's built on timing and intermediate routes, that's no small thing. Kolb's also been praised for an internal clock that allows him to get the ball away quickly. There are actually people in the organization who think Kolb gives the Eagles a better chance to win immediately.
I have too much respect for McNabb to agree with that statement, but I do think Kolb will help the Eagles win a lot of games in the coming years. His coaches and teammates love how calm he is in the huddle. The Stephenville, Texas, native rarely gets rattled and that's a good trait to have if you're going to play in Philly.
I think Kolb's ready to take over this team.
March, 30, 2010
3/30/10
1:00
PM ET
»
NFC Big Question
:
East
|
West
|
North
|
South
»
AFC
:
East
|
West
|
North
|
South
Does Jacksonville have enough firepower to find big plays for David Garrard?
Maurice Jones-Drew
was the team's second-leading pass-catcher with 53 receptions in 2009. He'll still get a lot of touches through the air, but the Jaguars need players to emerge in the passing game who balance him out with bigger averages than 7.1 yards a catch.
[+] Enlarge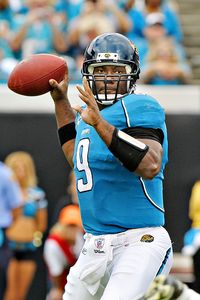 Kim Klement/US PresswireDavid Garrard could benefit from having another consistent target in the passing game.
The Jaguars could look for another pass-catcher in the draft, but they invested three picks last year in receivers and recently added
Kassim Osgood
as a free agent in the hopes that he would blossom as an offensive player in a new system.
Gone is
Torry Holt
, the veteran who added nice leadership but middling production.
Mike Sims-Walker
is a solid primary guy and tight end
Marcedes Lewis
got better and could be featured more now that offensive coordinator Dirk Koetter will have less interference with other strong-willed assistants gone.
Can Osgood or
Troy Williamson
be the speed guy opposite Sims-Walker? And out of last year's three draft picks --
Mike Thomas
,
Jarett Dillard
, or
Tiquan Underwood
-- who will seize a role and show themselves to be a consistent option for Garrard?
This big question is filled with question marks.
But if two players out of the five unknowns for the Jaguars can produce with some consistency, I expect we see a boost in the Jaguars' passing game.
Two young tackles and a likely upgraded interior line should give Garrard more time more often. That too should help produce more of the explosive plays that will mean less stress on, and an easier time for, Garrard and the offense as a whole.
Here's a take from Scouts Inc.'s Matt Williamson:
I like, but don't love, Sims-Walker. I do worry if he can stay healthy, as that has been a massive problem for him. And while he is physically impressive, he isn't the total package. As No. 1 wide receivers go, he is a low-end guy to me. I could easily come up with a dozen to 15 wide receivers that I prefer. I am quite high on the two smaller rookies from a year ago though, and expect Dillard and Thomas to make great strides. Ideally, they need one more solid wide receiver, but with all their other needs, I am not sure how they get that done. Like I said before, not a lot of room for error-which will probably often be the case in Garrard's career.
March, 30, 2010
3/30/10
1:00
PM ET
»
NFC Big Question
:
East
|
West
|
North
|
South
»
AFC
:
East
|
West
|
North
|
South
Can unproven quarterback Charlie Whitehurst -- the backup for now -- help the Seahawks right away?
[+] Enlarge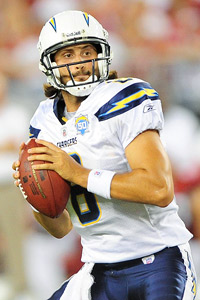 Mark J. Rebilas/US PresswireCharlie Whitehurst has yet to attempt a pass in a regular-season game.
All four NFC West teams have new backup quarterbacks (provided
A.J. Feeley
fills that role in St. Louis, as expected).
The new backup with the least experience -- Whitehurst -- cost the most in salary and draft compensation. It's only natural for the Whitehurst debate to center on whether he'll justify the investment. Skeptics have it easy for the time being.
Another question comes to mind in the short term: Will Whitehurst's presence help the Seahawks get more from their starting quarterback?
Matt Hasselbeck
hasn't had to worry about competition for his job since finishing the 2002 season strong and backing it up with a breakout season in 2003. The Seahawks traded former starter Trent Dilfer following the 2004 season, leaving
Seneca Wallace
clearly defined as the backup, with no shot at winning the starting job for the long term.
Life is suddenly different for Hasselbeck now that Whitehurst is in position to push him for the job.
Whitehurst's credentials shouldn't threaten Hasselbeck, but his acquisition surely put Hasselbeck on alert. Hasselbeck is entering the final year of his contract. The team has a new coaching staff. The investment Seattle made in Whitehurst showed the team planned for him to start by 2011 -- unless Hasselbeck can prove a change isn't in the team's best interests.
A little competition can't hurt.
March, 30, 2010
3/30/10
1:00
PM ET
»
NFC Big Question
:
East
|
West
|
North
|
South
»
AFC
:
East
|
West
|
North
|
South
After a disappointing rookie season, is Cincinnati Bengals' 2009 first-round pick Andre Smith ready for a breakthrough year?
[+] Enlarge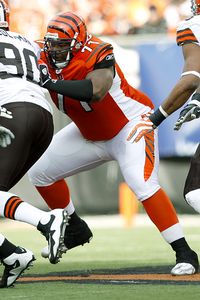 Frank Victores/US PresswireWill Smith be able to overcome a disastrous rookie campaign?
CINCINNATI -- Regardless of the player, I stand firm in saying it's foolish to label someone a draft bust after one season. For the best example in the AFC North, look no further than
Pittsburgh Steelers
safety
Troy Polamalu
.
But following a disastrous rookie season, Bengals offensive tackle Andre Smith certainly deserves to be on the watch list from the 2009 class.
From start to finish, last year could not have gone any worse for the No. 6 overall pick. Smith was a lightning rod for controversy even before he was drafted -- he unexpectedly left the NFL combine and switched agents during the draft process.
Once selected by the Bengals, a lengthy contract dispute and a fractured foot contributed to what the Bengals are now calling Smith's "redshirt season." He made a lot of money to play only six games, mostly as a reserve.
Many of Smith's poor rookie memories could be erased with a solid sophomore campaign for the reigning AFC North champs. But the Bengals aren't just handing Smith the starting right tackle job this offseason; he has to prove he's ready.
"Anybody would rather earn a job than it be given [to you]," Smith said. "If you're working hard and the guys behind you are working hard, it's only going to make you better."
To get better Smith must first overcome a recent foot surgery. The procedure was done to help avoid any further complications. But as a result, Smith doesn't expect to practice with the Bengals until May.
After that, Smith hopes it's full speed ahead in 2010.
"My expectation is to go out and start every single regular-season game ... just have a great year," an optimistic Smith said.
March, 30, 2010
3/30/10
1:00
PM ET
»
NFC Big Question
:
East
|
West
|
North
|
South
»
AFC
:
East
|
West
|
North
|
South
Is Donovan McNabb a good fit in Oakland?
The idea of replacing hugely disappointing
JaMarcus Russell
and journeyman
Bruce Gradkowski
with perennial Pro Bowl quarterback Donovan McNabb is naturally intriguing.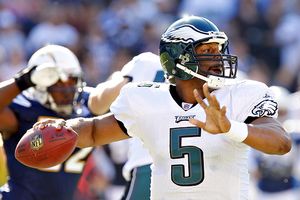 Jody Gomez/US PresswireDonovan McNabb has said he wants to remain in Philadelphia.
McNabb is a much better player than Russell or Gradkowski ever could hope to be. If McNabb were traded to Oakland, quarterback would not be a problem area for the Raiders in 2010. McNabb's arrival would answer one of Oakland's issues and instantly improve and give credibility to the offense. But does a trade to Oakland really make sense?
There are several reasons this may not be a great fit for Oakland.
McNabb has played his entire NFL career in the West Coast offense. The essence of that offense is to get rid of the ball. Al Davis loves having his receivers running deep routes. That's why Russell was drafted No. 1 overall in 2007. He had the big arm that fit Oakland's offense. McNabb is a pro and he can adjust, but he can't be expected to fling 60-yard bombs regularly. One of the reasons Philadelphia is interested in trading McNabb is because it believes
Kevin Kolb
is better equipped to throw the ball more.
Also, Oakland's supporting cast is not exactly playoff ready. The offensive line is a major project, and McNabb, who will turn 34 in November, is not as nimble as he once was. His running numbers have decreased over the years, and the injuries have mounted. McNabb has played a full season just four times in 11 seasons and has missed 17 games in the past five seasons. Could McNabb survive and be an effective player with Oakland's offensive line? If not, Oakland's skill-position players would have a difficult time bailing out McNabb. Oakland's receivers are green and prone to dropping the ball, and the running game has been inconsistent.
It would be a tad unfair and naive to think McNabb would be able to carry Oakland's offense at this point. It's understandable
if McNabb is reluctant to go to Oakland
, which has not had a winning season since 2002.
These issues and McNabb's huge contract and pending free agency make him a dicey fit for the Raiders.
March, 30, 2010
3/30/10
1:00
PM ET
»
NFC Big Question
:
East
|
West
|
North
|
South
»
AFC
:
East
|
West
|
North
|
South
Can Raheem Morris be a better coach than he was last year?
Let's be honest, it probably would be impossible for Morris to look more overwhelmed than he was the first half of last season.
[+] Enlarge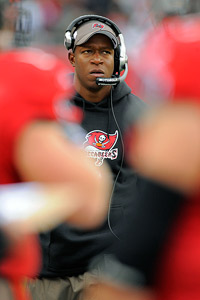 Scott A. Miller/US PresswireThings were anything but easy for Raheem Morris during his first season as the Bucs' head coach.
The rookie Tampa Bay coach seemed to be desperately grasping for any sort of hope as he changed offensive and defensive coordinators, quarterbacks, kickers and punters. It took the Bucs a long time to win or even look like an NFL team.
But if you look closely at the chaos that was Tampa Bay's season last year, you can spot some progress, particularly from the head coach. The guy showed an ability to admit his mistakes and move on from them. That's a unique quality and that's why there's a chance Morris might have grown quite a bit last season.
We'll have to wait to see how this season plays out, but Morris is in a much better spot than he was a year ago. Morris realized Jim Bates' defensive scheme wasn't working out and fired the veteran coordinator. Morris took the reins of the defense, went back to the Tampa 2 and the Bucs actually played decent defense at the end of the season.
They now will spend an entire offseason working on the defense they'll actually play all season. Same for the offense, where coordinator Jeff Jagodzinski was fired just prior to the start of last season. There were a lot of issues (more than we'll ever know) going on with Jagodzinski, but the bottom line was the offense wasn't getting any real coaching. Quarterbacks coach Greg Olson suddenly had the offense dumped on him at the same time he was trying to get rookie quarterback
Josh Freeman
ready to step on the field and the early results weren't pretty.
But the Bucs, most importantly Freeman, will have an entire offseason in the Olson offense. That alone should help Morris look a lot better. He's not suddenly going to turn into the league's most brilliant coach.
But Morris' willingness to admit his mistakes and fix them should make him a better coach in his second season.
March, 30, 2010
3/30/10
1:00
PM ET
»
NFC Big Question
:
East
|
West
|
North
|
South
»
AFC
:
East
|
West
|
North
|
South
Multiple reports suggest Chicago will trade or release longtime defensive end Alex Brown. Why?
[+] Enlarge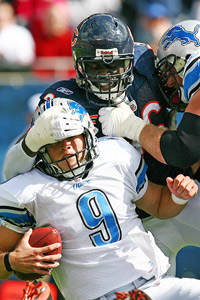 Jonathan Daniel/Getty ImagesAlex Brown recorded 48 tackles and six sacks for the Bears in 2009.
It's a simple question with a complicated answer that might shed some light on how the Bears will integrate new defensive end
Julius Peppers
.
Brown has been a durable and productive player for eight seasons, and at 30, he should have some good years remaining. He has averaged nearly six sacks per year since 2004 -- not exactly Pro Bowl numbers, but more than any current Bears player other than Peppers. These days, NFL teams don't part easily with anyone who can mount a relatively consistent pass rush.
So what gives?
We should have known something was up last week at the NFL owners meetings, when Bears coach Lovie Smith responded carefully when asked about plans to play Peppers at
left end and right end
. Using Peppers at right end would displace Brown, bringing up the natural question: Could Brown play on the left side?
"Alex hasn't played both sides," Smith said, "but he can play both sides."
In the next breath, however, Smith began talking up defensive end
Mark Anderson
's potential in that role and noted that veteran
Israel Idonije
has been converted to a full-time defensive end. Let's face it: At 260 pounds, Brown is probably too light to play left end on a regular basis, even in a scheme that emphasizes lighter, quicker defensive linemen.
(The left end typically faces more running plays and thus needs some bulk to stand up to the correlative pounding.)
So if I had to make an educated guess, I would say the Bears are planning to play Peppers much more often on the right side than they are on the left. That's the only reason Brown would be expendable, at least in my eyes. I'm sure the Bears would like opponents to guess on Peppers' whereabouts, but if he were truly going to spend significant time at left end, wouldn't you keep Brown to play right end in those instances?
It's possible the Bears, who know Brown best, aren't convinced he will be a productive player as he proceeds through his early 30s. It's more likely, however, that they are loosening a logjam at the right end position to make room for Peppers.

NFL SCOREBOARD
Thursday, 8/28
WEEKLY LEADERS