NFL Nation:

The Big Question 40610
April, 6, 2010
4/06/10
1:13
PM ET
»
NFC Big Question
:
East
|
West
|
North
|
South
»
AFC
:
East
|
West
|
North
|
South
Are the New Orleans Saints doing the right thing by staying so quiet?
The Saints sat high atop the football world after winning the Super Bowl in February. But the future stories of recent champions hasn't been pretty.
[+] Enlarge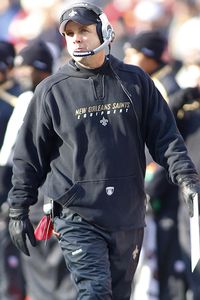 Geoff Burke/US PresswireSean Payton and the Saints have remained relatively quiet during the free-agency period.
Still, the Saints pretty much have been sitting still in free agency, not adding much of anything and losing a couple of key cogs.
The truth is, they're handling the situation perfectly and you have to keep in mind this is a unique situation. Without a labor agreement, the NFL is headed into a season without a salary cap and some special rules apply to the final eight teams left standing last season. That means the Saints can only sign an unrestricted free agent when they lose one of their own and the price tags are similar.
To date, all they've really lost are unrestricted free agent
Scott Fujita
and restricted free agent
Mike Bell
. They also released defensive end
Charles Grant
and a few others, but you can call that addition by subtraction, and the Saints may look to replace Grant with
Alex Brown
, who recently was cut by the Bears.
Fujita, an outside linebacker, and Bell, a running back, each played important roles last season. But neither player was part of the team's core. They both got big money elsewhere and the Saints would have matched or bettered those offers if they truly believed Fujita and Bell were irreplaceable.
The Saints have a bevy of young linebackers and they're hoping one of them can step forward and claim Fujita's job. They also might pick up a linebacker in the early rounds of the draft, so the loss of Fujita isn't devastating.
Neither is the loss of Bell. He was part of the backfield rotation with
Pierre Thomas
and
Reggie Bush
last year. But the Saints also have a young power runner in
Lynell Hamilton
. They've sniffed around a couple of free-agent running backs and it's also a position they might address in the draft.
The Saints also are letting veteran safety
Darren Sharper
hang out there as an unrestricted free agent. They still want him back, but they're not going to break the bank on a 34-year-old safety. From the looks of things, it doesn't appear any other team is beating on Sharper's deal to give him a huge contract. There are contingency plans in place if Sharper leaves.
No matter how that one plays out, the Saints are in good shape. Their real focus this offseason is to protect their core and they've done that by placing high tenders on restricted free agents like guard
Jahri Evans
. At some point, they're going to have to give him a long-term contract. They also are likely to extend the contract of quarterback
Drew Brees
, who is the core of the core.
Yes, the Saints haven't added very much, but that will change some with the draft. Besides, the Saints haven't lost all that much. They still have the core of a team that won a Super Bowl, which is a lot more than most teams can say.
April, 6, 2010
4/06/10
1:03
PM ET
By
Scouts Inc.'s Matt Williamson
| ESPN.com
»
NFC Big Question
:
East
|
West
|
North
|
South
»
AFC
:
East
|
West
|
North
|
South
What can we expect from Vince Young in 2010?
[+] Enlarge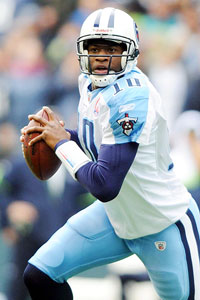 Steve Dykes/US PresswireVince Young threw for 1,879 yards in the Titans' final 10 games of the 2009 season.
When this question was posed to me last year at this time, I felt Young would be an unsuccessful quarterback in 2009 -- and going forward. I just didn't trust him to throw the ball well and accurately enough. Nothing is static in this business, and although I am not ready to say that I am a total believer in Young, my tune has surely changed.
Of course, Young deserves a ton of credit for this improvement, but so does coach Jeff Fisher and the Titans' offensive play calling. I see a lot of half-field reads for Young and obviously Tennessee employs a run-first offensive approach. It also doesn't hurt having the threat of
Chris Johnson
as a runner and outlet receiver to make life much easier on a developing quarterback. The Titans also have one of the very best offensive lines in the league and a young, promising group of pass-catchers.
But back to the original question. Young's supporting cast shouldn't change much in 2010. In fact, those pass-catchers -- namely
Kenny Britt
and
Jared Cook
-- should be further along in their development. Britt in particular should really assert himself this season.
But most important, Young should continue to progress as well. Of course, Young is very dangerous with his legs and he should continue to present a threat in this capacity, but his passing skills improved by leaps and bounds in 2009 since his last stint as a starting quarterback. His ball placement and touch on throws to all levels is vastly improved. Young seems to understand that staying in the pocket to make the throw is usually a better decision than tucking it down and running in the NFL.
But still, this isn't an offense built to come from behind. Young needs to keep the offense on schedule and move the chains. I see him continuing to do just that, but also further refining his passing skills and deciphering defensive schemes.
Sometimes failure is a great thing for a quarterback. They come back and no longer are playing scared or like the weight of the franchise is planted on their shoulder pads. Young did play fast at times last year, but less so than in the past, and those instances probably will continue to decline. He looks like a much more relaxed quarterback.
April, 6, 2010
4/06/10
1:01
PM ET
»
NFC Big Question
:
East
|
West
|
North
|
South
»
AFC
:
East
|
West
|
North
|
South
Is former Syracuse receiver Mike Williams worth the risk?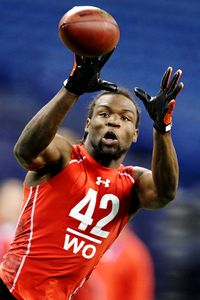 AP Photo/Michael ConroyFormer Syracuse wide receiver Mike Williams thinks he's going to be a "steal" in the draft.
Williams is one of the most intriguing players in this year's draft. While most draft observers have focused on Oklahoma State receiver
Dez Bryant
as a high-risk, high-reward prospect, Williams has been overlooked despite the fact he might present an even greater conundrum.
All four AFC East teams have needs at receiver. Williams has visited with the
Miami Dolphins
. The
Buffalo Bills
attended
his pro day, which took place Monday
in their backyard at the Thurman Thomas Training Complex.
Williams has star talent -- maybe more than Bryant, who's expected to be the first receiver drafted, possesses. But teams are wary of the problems Williams experienced at Syracuse. He was suspended for 2008 for cheating on an exam. He was suspended for a game last year, and eventually either quit or was kicked off the team -- depending on the story -- for unclear reasons.
At the NFL scouting combine, Williams was peppered with questions about his background and dedication. He declined to explain the reasons why he left Syracuse, but acknowledged it was important to show teams he's not a problem child.
"I want to let them know that I'm a nice person," Williams said then. "I'm a good person. School was just my problem. I had bad judgment when I was young. School has been my problem. I want to let them know I can play football and be there for that team.
"All through my life I was having a problem with grades. I didn't excel in school, that's not one of my strong points."
Since Williams is such a curious prospect, I asked Scouts Inc. analyst Steve Muench for his take.
"Williams plays like a first-round pick on film," Muench wrote in an e-mail. "He has the potential to develop into a crisp short-to-intermediate route runner. He is fast enough to stretch the field, and he catches the ball well.
"However, teams are unlikely to invest a first-round pick in him, and there's a good chance he slides to the third. Questions about his character and commitment to the game make him a risky pick. It doesn't help that he didn't run as well as expected at the combine or in his workout, and he appears to have gained some weight since leaving the Syracuse program."
In 31 games for Syracuse, Williams caught 133 passes for 2,044 yards and 20 touchdowns.
Buffalo News reporter Mark Gaughan noted
Williams matched his combine 40-yard dash of 4.53 seconds
on Monday. That's not awful for a receiver who's 6-foot-2 and about 220 pounds, but other receivers are much faster. Williams' vertical jump was 36.5 inches. His broad jump was 9 feet, 10 inches.
"I made some mistakes," Williams told Gaughan. "I've got to learn from my mistakes and make up for it. I've just tried to let all of them know that I can do this. This is what I do. I love football.
"If I don't go in the first round, I'm going to be the steal of the draft. I tell people that: It don't matter where I go. I'll be the steal of the draft. I'm going to be a good character guy and love my teammates."
April, 6, 2010
4/06/10
1:00
PM ET
»
NFC Big Question
:
East
|
West
|
North
|
South
»
AFC
:
East
|
West
|
North
|
South
Several important clues have appeared to help us discern the top of the NFL draft. As the smoke clears, can there be any way that Detroit won't end up with Nebraska defensive tackle Ndamukong Suh?
[+] Enlarge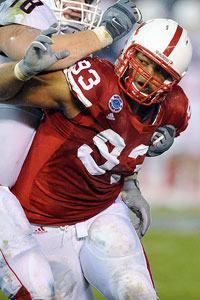 Christopher Hanewinckel/US PresswireRecent developments have improved the chances that Ndamukong Suh will end up in Detroit.
Draft intentions are difficult to interpret, especially those of tight-lipped Lions general manager Martin Mayhew. But as much as these things can be predicted, a Suh-Lions marriage seems awfully likely.
Although this scenario has been the likeliest for some time, several variables no longer exist.
First, St. Louis
released
starting quarterback
Marc Bulger
on Monday. The move was the strongest indication yet that the Rams will draft Oklahoma quarterback
Sam Bradford
-- and not Suh -- with the No. 1 overall pick.
Second, Washington
acquired
quarterback
Donovan McNabb
from Philadelphia for two draft picks, including its second-round pick this year. With their quarterback position filled, and a critical draft position shipped out, it's hard to imagine the Redskins as a major trade-up contender for the Lions' No. 2 overall pick.
Before the McNabb deal, there was
some thought
the Redskins might have enough interest in Notre Dame quarterback
Jimmy Clausen
to swing a deal. That seems unlikely now, dramatically lessening the possibility of a Clausen-generated bidding war at No. 2.
Third, defensive lineman
Anthony Hargrove
signed
his restricted free-agent tender with New Orleans. The Lions had hosted Hargrove for a visit and might have considered another position at No. 2 had they acquired him through an offer sheet.
Now, the only obstacle to figuring out the Lions is knowing whether their talent evaluators agree that Suh is a better prospect than Oklahoma's
Gerald McCoy
. That evaluation is far from a certainty. From a media analyst's perspective, at least, opinions are mixed.
ESPN's Mel Kiper
has Suh ranked ahead of McCoy, while
Scouts Inc
. lists them in reverse order. McCoy also heads the list over at
NFL.com
, where Mike Mayock is the primary draft analyst.
Speaking last month at the NFL owners meetings, Lions coach Jim Schwartz said there is not as much difference between the two players "as people think" and that they were asked to play different styles at their respective schools.
"They're very similar in their skill set," Schwartz said. "If you took Suh to Oklahoma and you took McCoy to Nebraska, I think they'd both excel in the other person's defense. When you're drafting at the top of the draft, you're looking for guys who aren't just a creation of the scheme and you're looking for guys who have multidimensional skills that can do a lot of different things. Both guys are big, they're fast, have high character and both are productive at a high level of competition. There's a lot to like with both of them."
We've
discussed the possibility
of the Lions drafting Oklahoma State left tackle
Russell Okung
for financial reasons. But if you trust the team's pledge to take the best available player with each pick, regardless of position, you can narrow the choices down to Suh and McCoy. And although it's impossible to know with certainty what the Lions are thinking, Suh at No. 2 seems more likely than ever with the draft 17 days away.
April, 6, 2010
4/06/10
1:00
PM ET
»
NFC Big Question
:
East
|
West
|
North
|
South
»
AFC
:
East
|
West
|
North
|
South
The Oakland Raiders have reportedly been eyeing some of the top-ranked receivers. Will they draft one of them?
[+] Enlarge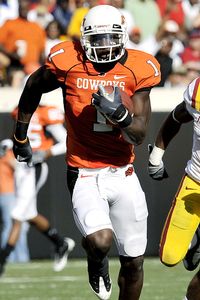 Peter G. Aiken/US PresswireMight the Raiders use a high draft pick on a receiver like Oklahoma State's Dez Bryant?
I've found it very interesting that the Raiders are looking at receivers available in the draft. It has
been reported
that the Raiders have kept
a close eye
on Oklahoma State's
Dez Bryant
, Notre Dame's
Golden Tate
and Cincinnati's
Mardy Gilyard
. Bryant and Tate could be first-round picks and Gilyard is highly regarded as well.
None for these players are expected to go as high as No. 8, where Oakland picks in the first round. The Raiders have the No. 39 pick, which may be too late to get Bryant or Tate. But if the Raiders want a top receiver, they can figure a way to get him.
What's so intriguing is Oakland's roster is stocked with young receivers. They have
Chaz Schilens
(a seventh-round pick in 2008),
Darrius Heyward-Bey
(No. 1 pick in 2009) and
Louis Murphy
(No. 4 pick in 2009). Schilens and Murphy have shown they have solid futures ahead. Heyward-Bey was not good as a rookie, but it far too early give up on him.
What Oakland needs is a veteran receiver to help mold these youngsters and produce while they continue to develop.
But perhaps Oakland is not completely sold on its young receivers. I'd be surprised if the Raiders -- who have bigger needs at tackle, quarterback and defensive tackle -- jumped at a receiver early. But one thing we've learned from Oakland's recent drafts is that we should be prepared for anything.
April, 6, 2010
4/06/10
1:00
PM ET
By
Matt Mosley
| ESPN.com
»
NFC Big Question
:
East
|
West
|
North
|
South
»
AFC
:
East
|
West
|
North
|
South
Does the arrival of Donovan McNabb automatically make the Redskins a playoff contender?
[+] Enlarge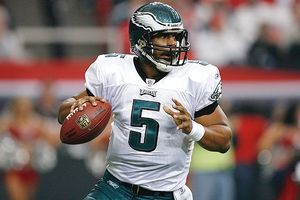 Kevin C. Cox/Getty ImagesDonovan McNabb is an upgrade at quarterback, but the Redskins still have plenty of holes to fill.
In some precincts, such as our Web site, there have been suggestions that Donovan McNabb's presence alone puts the Redskins in the conversation for an NFC East title. I've attempted to
temper some of that enthusiasm
for the trade, but some folks are convinced the Redskins leapfrogged the Eagles and Giants with Sunday's blockbuster move.
For the record, I do think that McNabb makes the Redskins a more formidable team. His leadership qualities and the fact that he's been in a ton of playoff games gives him instant credibility in Washington. And he's about to feel the warmest embrace since he was playing at Syracuse. All the angst that those of us outside of Philly really don't have a handle on will vanish in the loving arms of playoff-starved Redskins fans.
That said, it's hard for me to imagine McNabb making a seven-win difference. And it would take seven more wins to put the Redskins, who were 4-12 last season, in the conversation for a division title. When
Brett Favre
joined a 10-win Vikings team, they had the best running back in the league and a talented, if raw, group of wide receivers. He also inherited an offensive line with a lot more stability than what McNabb will encounter in Washington.
The Redskins have some talent at wide receiver with
Santana Moss
,
Malcolm Kelly
and
Devin Thomas
, so it's not a stretch to think McNabb could elevate that group. He won a lot of games with the likes of
Freddie Mitchell
and
Greg Lewis
at wideout. Over the past couple of seasons, McNabb has benefited from the rise of tight end
Brent Celek
. And the Redskins are actually deeper at that position with
Chris Cooley
and
Fred Davis
.
The other positive for McNabb is that he'll be playing for a head coach, Mike Shanahan, who truly commits to the running game. Andy Reid's offense was all about the passing game, which put constant pressure on McNabb. If the combination of fading stars
Clinton Portis
,
Larry Johnson
and
Willie Parker
somehow works for the Skins, McNabb could be even more effective in the passing game.
But as I keep saying, the biggest question is whether the Redskins can overhaul one of the worst offensive lines of the modern era. Quarterback
Jason Campbell
would look across the huddle and see complete strangers last season. Does anyone know what
Edwin Williams
looks like? McNabb can still move in the pocket, but he's no longer the escape artist that we remember from four or five seasons ago. If he had lined up behind last season's unit, I'm pretty sure the Redskins still would've had a losing season.
The Redskins should be pretty solid on defense, although they need to create a lot more turnovers. But the season will hinge on whether McNabb can elevate a lot of young players who haven't sniffed the playoffs. To answer my own question, I still don't see them as a contender to win the division.
April, 6, 2010
4/06/10
1:00
PM ET
»
NFC Big Question
:
East
|
West
|
North
|
South
»
AFC
:
East
|
West
|
North
|
South
Will off-the-field incidents force several AFC North players to miss games via suspension?
[+] Enlarge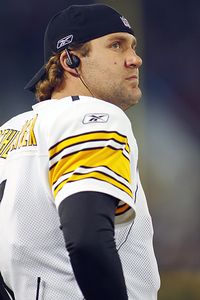 Geoff Burke/US PresswireRoethlisberger faces a sexual assault allegation in Georgia.
The "suspension watch" in the division currently stands at four, but it seems to be growing nearly every week.
Cincinnati Bengals
linebacker
Rey Maualuga
, quarterback
Ben Roethlisberger
and receiver
Santonio Holmes
of the
Pittsburgh Steelers
, and
Cleveland Browns
nose tackle
Shaun Rogers
probably will have to meet with NFL commissioner Roger Goodell before the start of the 2010 season. The foursome will face the prospect of missing games, which will be up to Goodell's discretion.
Maualuga was the first AFC North player to get in trouble. He was charged with DUI in January after crashing a vehicle into two parked cars and a parking meter in Kentucky. Rogers was arrested last week for having a gun in his luggage while trying to board a flight at a Cleveland airport. Rogers later said it was a mistake. Roethlisberger faces a sexual assault allegation in Milledgeville, Ga., and Pittsburgh teammate Holmes has a civil suit from a woman who says a drink was thrown at her.
The severity of the incidents varies, but Goodell probably will hand out suspensions in some, or all, of these cases. The commissioner's decisions will have a major impact on the AFC North, because each player in question has a significant role with his respective team.
Losing Roethlisberger and/or Holmes at the beginning of the 2010 season would be a major blow to the Steelers' offense. Rogers is arguably Cleveland's most dominant defensive player, and when Maualuga fractured his ankle late last season, Cincinnati's defense didn't look the same without the hard-hitting linebacker.
Neither the Steelers, Browns nor Bengals asked to be put in this position. But this is the reality of the situation entering the 2010 season. It will be interesting to see which AFC North team is best suited to handle these unusual circumstances.
April, 6, 2010
4/06/10
1:00
PM ET
»
NFC Big Question
:
East
|
West
|
North
|
South
»
AFC
:
East
|
West
|
North
|
South
The Marc Bulger era in St. Louis ended when the Rams released their former Pro Bowl quarterback Monday after three forgettable seasons. Does Bulger have anything left?
[+] Enlarge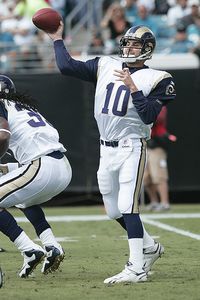 AP Photo/Steve CannonBulger wasn't the problem or the solution in St. Louis.
Rams fans wanted more from Bulger. They wanted a vocal leader, not a quiet victim. They wanted to know the losses and frustrations bothered Bulger as much, or more than, they bothered them, and that Bulger wasn't taking it any longer.
Bulger did keep taking it -- the frequent poundings, the abuse from fans, the indignities from coaches (as when Scott Linehan benched him in a last-ditch effort to get something going in 2008). He was finished in St. Louis, but that doesn't make him finished in the NFL.
Bulger's departure can benefit all parties. The Rams can move on with
Sam Bradford
, their likely first-round choice, and Bulger can get a fresh start.
It's fair to wonder if the losing and injuries have beaten down Bulger past the point of repair. Bulger has gone 5-30 as a starter over the last three seasons. That's horrible, but the Rams are 1-12 in the games Bulger did not start over the same span. He wasn't the problem or the solution. He was simply expendable heading into the 2010 season with an $8.5 million salary.
Bulger needs to sign as a backup, get acclimated to his new team and regain his edge without the pressure of expectations or the burden of past failures. Bulger tossed 59 touchdown passes with 31 interceptions over a three-year period ending with the 2006 season. He was good enough to flourish when the Rams had good players around him. He wasn't good enough to carry the team when his supporting cast deteriorated. But the qualities that once made Bulger effective -- accuracy, a quick release, command of an offense -- can resurface under more favorable circumstances.
NFL SCOREBOARD
Thursday, 12/5
Sunday, 12/8
Monday, 12/9
WEEKLY LEADERS