NFL Nation:

The Big Question 42010
April, 20, 2010
4/20/10
1:01
PM ET
»
NFC Big Question
:
East
|
West
|
North
|
South
»
AFC
:
East
|
West
|
North
|
South
Packers general manager Ted Thompson traded into the bottom of the first round last year to select USC linebacker Clay Matthews, one of the NFL's top defensive rookies in 2009. Will Thompson make a similar attempt this year?
[+] Enlarge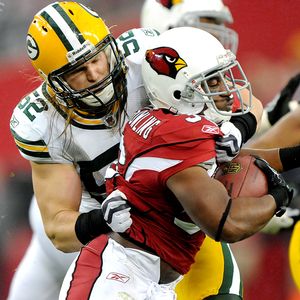 Kirby Lee/US PresswireMoving up in last year's draft paid off for the Packers when they selected Clay Matthews.
According to ESPN's Adam Schefter, the Packers have investigated the possibility of moving up from their current spot at No. 23 overall to the Nos. 10-12 range. You would assume the intent would be to draft one of the top four left tackles. Each player -- Oklahoma State's
Russell Okung
, Oklahoma's
Trent Williams
, Iowa's
Bryan Bulaga
and Rutgers'
Anthony Davis
-- is likely to be off the board well before No. 23 overall. That leaves the Packers in a
much-discussed no-man's land
when it comes to filling arguably their biggest need.
The cost would be considerable, however, and illustrates why such trades are far more discussed than actually executed.
We have acknowledged that the
traditional draft value chart
has its flaws, but let's use it as a guideline for this discussion. The chart assigns a point total to each pick. The No. 23 pick is worth 760 points. For argument's sake, let's consider the No. 11 pick. It's worth 1,250 points. That means the Packers would have to make up 490 points to make the deal work.
One way to do that: Giving up their second-round pick (No. 56 overall) and third-rounder (No. 86). Those picks add up to 500 points.
Would you give up your second- and third-round picks to move up 12 spots? First, it's possible the Packers could negotiate that price down. Second, remember that a true left tackle is one of the rarest of species. If you think you can get one, you might have to accept a premium price.
I still don't know if I see Thompson pulling the trigger on a deal that carries such a price tag, but it's certainly a big question with two days remaining until the first round begins.
April, 20, 2010
4/20/10
1:00
PM ET
»
NFC Big Question
:
East
|
West
|
North
|
South
»
AFC
:
East
|
West
|
North
|
South
Can the Jaguars or Titans get back into the second round?
Jacksonville is set to go on pause after pick No. 10 until No. 74 overall in the third round, the price of the pick the Jaguars got from New England last April to get
Derek Cox
with the 73rd pick.


Tennessee will go silent after No. 16 until No. 77 in the third, the cost of the selection the Titans got from New England last April to get
Jared Cook
with the 89th pick.
But both teams have needs, won't necessarily be in love with someone in their first-round slots and would surely love to get back into the second round.
So what would it cost?
Here are hypothetical trade examples for each team using our draft value trade chart that's below.
They are not based on me knowing anything about the Eagles, Chargers or Cowboys wanting the trade up. (Please read that twice.) I just think those three teams are in the area where the Jaguars or Titans would like to move down to, and the Eagles are intriguing because they have two second-rounders.
Jacksonville gives up No. 10 for Philadelphia's No. 1 pick at No. 24 and also gets Philadelphia's second second-rounder, 55th overall, and a seventh-rounder, 200th overall. (Chart values, that's 1,300-1,102.4.)
Jacksonville gives up No. 10 for San Diego's No. 1 pick at 28 and also gets San Diego's second-rounder, 40th overall, and a seventh-rounder, 235th overall. (Chart values, that's 1,300 to 1,161.9)
Tennessee gives up No. 16 for Philadelphia's two No. 2 picks, 37th and 55th overall. (Chart values, that's 1,000-880.)
Tennessee gives up No. 16 for Dallas' No., 1 pick at No. 27 and also gets Dallas' second rounder, 59th overall. (Chart values, that's 1,000-990.)
If the Jaguars or Titans don't have a true love available at 10 or 16 and the Eagles, Chargers or Cowboys were willing partners, I'd have no beef with those deals or anything similar.
I've touched on how our ability to add up the numbers
may prevent some teams
from making deals that don't quite add up, like these don't. But if you want out of your spot and you are determined to get a second-round pick, I'm OK with you getting a little less than what fans and media will feel is full value based on this chart.
April, 20, 2010
4/20/10
1:00
PM ET
»
NFC Big Question
:
East
|
West
|
North
|
South
»
AFC
:
East
|
West
|
North
|
South
Does Rams minority owner Stan Kroenke have the team's best interests in mind?
[+] Enlarge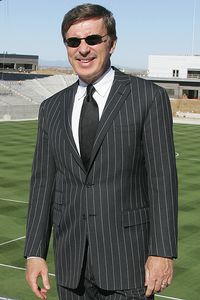 Garrett W. Ellwood/MLS/Getty ImagesRams minority owner Stan Kroenke's interests have been called into question.
A subscription-required report
Monday in the Sports Business Journal suggested Kroenke was more interested in leveraging his 40 percent stake in the Rams than taking over full ownership of the team.
Reporter Daniel Kaplan cited sources saying Kroenke told Rams bidder Shahid Khan he would decline to exercise his option to purchase full ownership of the team in exchange for a "mid-to-high eight-figure fee." Kroenke would have remained onboard as 40 percent owner in such a scenario. Khan declined, Kaplan reported, and Kroenke then exercised his option to trump the bid from Khan.
The report seemed to run counter to what
a source told Bernie Miklasz
of the St. Louis Post-Dispatch, that Kroenke "fully intends to work with the NFL to find a way for Kroenke to become the team's 100 percent owner."
The reporting from Kaplan and Miklasz isn't necessarily conflicting. The businessman in Kroenke could have simply been exploring his options before committing to buying full ownership of the team. That's his right and arguably his duty as a businessman.
This wasn't the first time Kaplan had reported Rams-related ownership news running counter to conventional wisdom. Kaplan previously
cited sources
saying the NFL had concerns about debt levels associated with Khan's bid to buy out 60 percent owners Chip Rosenbloom and Lucia Rodriguez.
That news and the conventional wisdom -- that Khan' financial footing appeared sound -- weren't necessarily at odds, either. The NFL could have had specific concerns. Khan could have been on solid footing overall.
My take? We're operating without enough information to fully assess the balance between Kroenke's interests and the extent to which those interests benefit the Rams.
Don Elliman, described by The New York Times as chief operating officer for the state of Colorado and former president of Kroenke Sports Enterprises, has suggested Kroenke isn't much for minority ownership. He wants full control. Elliman put it this way for
a Times profile
on Kroenke: "There was once a great line by one of George Steinbrenner's partners that there's nothing so limited as being a limited partner. A lot of people get into sports and wake up later and realize, 'I'm along for the ride; I'm beholden to the other guy.' That's not Stan's nature."
It's not much to go on.
The timing of this ownership uncertainty is undoubtedly inconvenient for the Rams as they approach the 2010 NFL draft holding the top overall choice and hoping to win over fans. But the business of changing ownership is bigger than the business of the draft. Assurances from Kroenke would certainly help. The absence of those assurances naturally leads to skepticism, which is warranted, but if this process has taught us anything, it's that we shouldn't assume too much too soon.
April, 20, 2010
4/20/10
1:00
PM ET
»
NFC Big Question
:
East
|
West
|
North
|
South
»
AFC
:
East
|
West
|
North
|
South
Florida quarterback Tim Tebow will be one of the top stories in the draft. Could he end up in the AFC West?
[+] Enlarge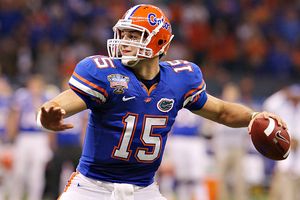 Derick E. Hingle/US PresswireCould Tim Tebow's first stop in the NFL be in the AFC West?
The chances of Tebow being drafted by an AFC West team seem higher now than they did a month ago.
He is attracting interest from the division. Denver brought in him for a visit last week and worked him out Monday. Broncos coach Josh McDaniels was complimentary of Tebow during his pre-draft press conference. Oakland coach Tom Cable acknowledged that the Raiders met with Tebow at the NFL combine in February.
There has not been any reported interest in Tebow from Kansas City or San Diego. However, both teams could potentially look at young quarterbacks in the draft.
Still, because of the known interest by the Raiders and the Broncos, they have to be considered the front-runners in the division to draft Tebow.
Both teams could take a quarterback early. Oakland is more likely to draft a quarterback, though, because Denver recently traded for
Brady Quinn
. Oakland has the No. 39 pick in the draft and that might be a good time to take a player like Tebow, if he is available. Denver has the No. 43 and No. 45 picks and if it really wants Tebow it will have the drafting power to do so.
Ultimately, though, I think it may be a bit of an upset if Tebow lands in the AFC West. I think there is more interest in him around the league than from AFC West teams. AFC West teams have other needs and by the time one of them would be considering Tebow, he will be off the board.
But it will be worth keeping an eye on during the draft.
April, 20, 2010
4/20/10
1:00
PM ET
By
Matt Mosley
| ESPN.com
»
NFC Big Question
:
East
|
West
|
North
|
South
»
AFC
:
East
|
West
|
North
|
South
Could a free-falling Dez Bryant be too much for Cowboys owner Jerry Jones to resist?
[+] Enlarge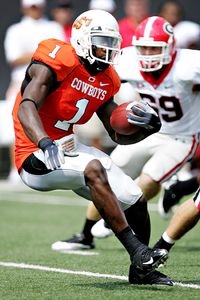 Paul Jasienski/US PresswireIf Dez Bryant is available later in the first round, the Cowboys could be one team to make a play for him.
In talking to scouts around the league and perusing dozens of mock drafts, it's pretty clear that Oklahoma State's Dez Bryant is the top wide receiver in this draft. But for a variety of reasons, a lot of folks have him falling into the 20s in Thursday's first round. Most scouts I've visited with agree that Bryant is essentially a "good kid."
It's annoying to hear folks talk about "character" issues and then not back it up with anything of substance. We all know about Bryant's harsh punishment for not being truthful with the NCAA about a meeting with Deion Sanders. But I don't think that's what is causing his stock to drop. He's represented by the same agent, Eugene Parker, as 49ers wide receiver
Michael Crabtree
. And you'll recall that Crabtree didn't exactly have a smooth entry into the league. Crabtree's uncle, David Wells, was very involved in that process. Wells is now advising Bryant. After watching what happened with Crabtree last season, you can see why teams might be leery of Bryant early in the draft.
That said, Cowboys owner Jerry Jones has met with Bryant and he's very familiar with both Parker and Wells. If Bryant slips into the 20s -- as many mock drafts are now suggesting -- Jones could make a play for him. Some draft gurus (Rick Gosselin of The Dallas Morning News for one) even have Bryant slipping all the way to the Cowboys at No. 27. If that happens, I'm almost certain the Cowboys would select him. But also keep in mind that the Ravens are sitting at No. 25. Something tells me they'll want to see what the Cowboys are willing to give up for Bryant.
I think Bryant might be the most compelling player in the first round. Don't be surprised if the Cowboys take the story to the next level.
April, 20, 2010
4/20/10
1:00
PM ET
»
NFC Big Question
:
East
|
West
|
North
|
South
»
AFC
:
East
|
West
|
North
|
South
Which AFC East quarterback has the most pressure to produce in 2010?
We have little idea who the
Buffalo Bills
' quarterback will be this year, and since the division already is shaping up as a three-team race and they haven't been to the playoffs in a decade, we probably can argue that whoever gets the Bills' job won't be under much pressure to win.

Sanchez

Henne
Expectations are high for the other three teams, who all have experienced success in the past couple years. The
New England Patriots
and
Miami Dolphins
have won the division. The
New York Jets
reached the AFC Championship Game. Not reaching the playoffs in 2010 would be a failure.
New York's
Mark Sanchez
and Miami's
Chad Henne
are entering their second seasons as starters and have solid supporting casts. They both operate behind high-caliber offensive lines, have quality running backs and at least one dynamic receiver.
Sanchez has the better receiving corps, including tight end
Dustin Keller
, but Henne has the best single receiver on either team.
Brandon Marshall
will change Miami's offense.
Brady
Patriots quarterback
Tom Brady
, meanwhile, might not seem like a quarterback under a lot of pressure. But he's leading an offense that played a putrid final game and can't have a lot of time left together. He and
Randy Moss
are 33 this season. Running backs
Kevin Faulk
and
Fred Taylor
will be 34 and
Sammy Morris
33. Last year's starting O-line returns intact, and four-fifths are in their 30s.
Brady also will have to prove his success hasn't become too reliant on
Wes Welker
if the slot receiver has trouble returning from his reattached knee.
Who is most expected to win this year? Who will come through?
April, 20, 2010
4/20/10
1:00
PM ET
»
NFC Big Question
:
East
|
West
|
North
|
South
»
AFC
:
East
|
West
|
North
|
South
What if defensive tackles Ndamukong Suh and Gerald McCoy are gone before the Buccaneers pick at No. 3?
[+] Enlarge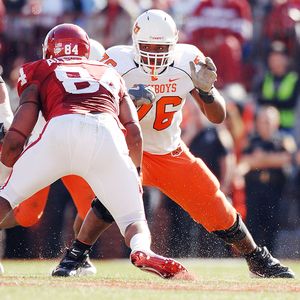 John Rieger/US PresswireIf the top defensive tackles are off the board, the Bucs could consider offensive tackle Russell Okung.
The general consensus is that the Rams will pick quarterback
Sam Bradford
at No. 1 and the Lions will pick one of the two defensive tackles at No. 2, leaving the other for the Buccaneers. But the Rams haven't definitively said they're taking Bradford. It seems as if Suh would be the likely candidate for the Rams if they do pull a surprise.
Let's say they took Suh. Detroit almost certainly will go with McCoy because the Lions need a defensive tackle as much as the Bucs do. If that happens, the Bucs suddenly wouldn't be in a very good spot. Their best hope then would be that someone would be anxious enough to trade up for Bradford. That would be nice because the Bucs probably could get a good player if they move back a few spots and they'd probably be adding at least one more draft pick. But draft trades are easier said than done.
If the Bucs are at No. 3 and Suh and McCoy are gone, the choice likely will come down to safety
Eric Berry
or offensive tackle
Russell Okung
. The argument there opens a whole can of worms. Do you really draft a safety that high? The Bucs certainly could use help back there, and Berry's the best defensive back in the draft. But how many problems is a safety going to solve if you don't upgrade your front four?
Okung would have to be intriguing. He is a franchise left tackle and could protect franchise quarterback
Josh Freeman
. But the Bucs already have a decent left tackle in
Donald Penn
. But Penn has been making some noise about wanting a new, long-term contract. If the defensive tackles are gone, the Bucs might have to switch up and get an offensive tackle.
April, 20, 2010
4/20/10
1:00
PM ET
»
NFC Big Question
:
East
|
West
|
North
|
South
»
AFC
:
East
|
West
|
North
|
South
With a suspension of star quarterback Ben Roethlisberger looming, how difficult will the Pittsburgh Steelers' September schedule be?
[+] Enlarge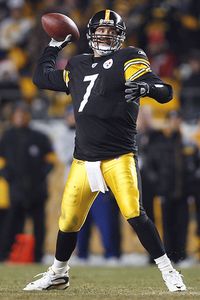 Jerry Lai/US PresswireThe Steelers are waiting to hear from the NFL about a punishment for Ben Roethlisberger.
Courtesy of Roethlisberger's off-the-field misconduct, the Steelers are currently at the mercy of the NFL in so many ways. Not only are they awaiting word on a likely suspension of their starting quarterback, but the Steelers also have to hope for the most lenient September schedule possible.
Pittsburgh will get one answer Tuesday night when the league releases its 2010 regular-season schedule at 7 p.m. ET. The Steelers and the rest of the league will be keeping close tabs on whom Pittsburgh faces to start the season.
The
Baltimore Ravens
,
Cleveland Browns
and
Cincinnati Bengals
would be very fortunate (happy?) if the NFL scheduled September divisional games for Pittsburgh. The AFC North is expected to be very competitive this year, and the Steelers' rivals could get a head start by beating a weakened Pittsburgh team.
Fortunately for the Steelers, their
strength of schedule is only rated No. 21
this year. So there's ample opportunity to get winnable September games.
Many project Roethlisberger's suspension to be in the range of two to four games. Perhaps Pittsburgh could have a shot without him against rebuilding teams such as the
Buffalo Bills
,
Tampa Bay Buccaneers
,
Oakland Raiders
and maybe Cleveland. But the league also could pit the Steelers against 2010 opponents such as Baltimore, Cincinnati, the
New England Patriots
and the reigning Super Bowl champion
New Orleans Saints
.
Either way, every game is going to be tough for Pittsburgh to win without Roethlisberger.