NFL Nation:

The Big Question 52510
May, 25, 2010
5/25/10
1:00
PM ET
By
Matt Mosley
| ESPN.com
»
NFC Big Question
:
East
|
West
|
North
|
South
»
AFC
:
East
|
West
|
North
|
South
Why have the Dallas Cowboys placed so much trust in kicker David Buehler?
Former USC kicker David Buehler led the league in touchbacks his rookie season with 29. He also participated on the punt team and the kick return unit. He's a fearless player who lives for open-field tackles, but I'm not sure how that translates to calmly nailing a field goal to win a game.
[+] Enlarge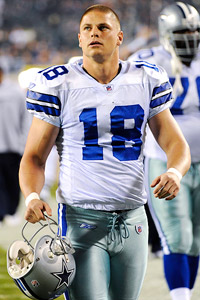 Howard Smith/US PresswireThe Cowboys are looking at David Buehler as their full-time kicker in 2010.
For whatever reason, the Cowboys are convinced that Buehler's ready to take over after watching
Nick Folk
and
Shaun Suisham
make a mess of things last season. Dallas missed a league-leading 11 field goals (tied with Houston) in 2009. And when it gave Buehler a chance to wrest the job from Folk in practice, he was understandably all over the map. Everyone wants to talk about the safety and left tackle spots, but I think the Cowboys could be leaving themselves exposed at place-kicker.
Buehler's a tremendous weapon as a kickoff specialist, but asking him to attempt clutch field goals is a different thing. In March, former Cowboys kicker Chris Boniol joined the coaching staff to work with Buehler on a "part-time" basis. The two have spent countless hours together at Valley Ranch focusing on technique. He's convinced Buehler that he can dial it down a bit with his big leg in hopes of finding accuracy.
"He can do it," Boniol told me after Monday's organized team activities session. "But he has to prove it day in and day out. There are a lot of guys who can do it. David can't aim one direction and kick the hell out of the ball like he does on kickoffs. We've worked on how to control his power and his ball flight."
I feel like Boniol is a little more realistic about Buehler's future than owner Jerry Jones and coach Wade Phillips. For some reason, Jones and Phillips have basically handed Buehler the job on a wing and a prayer. I think he has a ton of potential, but the Cowboys would've been wise to sign a veteran just in case Buehler couldn't make the adjustment. The good news, though, is that he apparently has nailed all of his attempts in the four OTA sessions.
Phillips thinks it's important for him to make field goals with his teammates standing around. But we won't have a definitive answer on Buehler until he makes a few in front of 70,000 folks or so.
May, 25, 2010
5/25/10
1:00
PM ET
»
NFC Big Question
:
East
|
West
|
North
|
South
»
AFC
:
East
|
West
|
North
|
South
Where will the pass rush come from in the NFC South?
We
asked that same question
back when
Julius Peppers
was leaving the
Carolina Panthers
. Although you could have argued at the start of the offseason that every team in the NFC South needed to make a dramatic move at defensive end, none of them have.
[+] Enlarge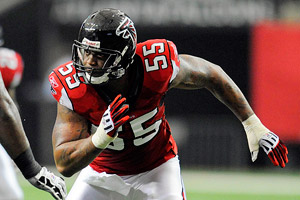 Dale Zanine/US PresswireThe Falcons are counting on John Abraham to rebound from a subpar 2009 season.
The Saints have the division's top remaining defensive end in
Will Smith
and they need another year of double-digit sacks from him. But it remains to be seen if they can get Smith any help from the other side.
Charles Grant
was cut and a lot of fans say that's addition by subtraction. The Saints did add
Jimmy Wilkerson
and
Alex Brown
. But they're a pair of guys who have been nothing more than steady veterans.
Atlanta's the team that talked the most about improving the pass rush in the offseason, but the Falcons haven't made dramatic moves. They're pretty much sticking with what they've got -- hoping
John Abraham
can bounce back from a lackluster season and gambling that
Kroy Biermann
or
Lawrence Sidbury
can step forward. Although they did little on the outside, the Falcons strongly believe that the return of defensive tackle
Peria Jerry
from injury will create a surge in the middle that should help free up the defensive ends.
Tampa Bay is following a similar philosophy. The Buccaneers used their first two draft picks on defensive tackles
Gerald McCoy
and
Brian Price
. Their primary task is to stop the run. But McCoy has the tools to give the Bucs an interior pass rush for the first time since Warren Sapp left the team.
That Panthers didn't panic when they let Peppers walk as a free agent. They had been preparing for this situation in the past few drafts. They brought back veteran
Tyler Brayton
as insurance, but they believe
Everette Brown
, their top draft pick from 2009, and
Charles Johnson
are ready to step up and help fill the void left by Peppers' departure.
May, 25, 2010
5/25/10
1:00
PM ET
»
NFC Big Question
:
East
|
West
|
North
|
South
»
AFC
:
East
|
West
|
North
|
South
Could Dan Orlovsky prove a capable fill-in if Matt Schaub misses time?
[+] Enlarge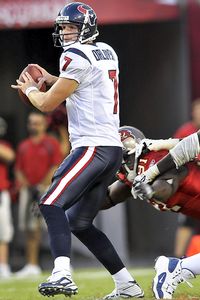 Fernando Medina/US PresswireDan Orlovsky still has to prove he's ready to back up starting QB Matt Schaub.
Lost in
Peyton Manning
's fourth MVP season was the fact that the
Indianapolis Colts
quarterback didn't even lead the AFC South in passing yardage. Matt Schaub of the
Houston Texans
actually led the NFL in that category, with 4,770 yards.
That number came about in part because of the Texans' run struggles, but it's still quite impressive.
Schaub played all 16 games last season, throwing all but nine of the team's 592 quarterback passes. His backup,
Rex Grossman
, hit it off with offensive coordinator Kyle Shanahan, and followed Shanahan to Washington this offseason. That puts Orlovsky back in line to back up Schaub.
We'll get a much better sense in training camp, but Orlovsky was shaky last summer. Several teams had coveted the former
Detroit Lions
veteran before he joined the Texans as a free agent. Grossman's arrival and subsequent preseason performance bumped Orlovsky to No. 3.
But Texans coach Gary Kubiak is more at ease with Orlovsky as the backup now.
"Obviously, I'm more comfortable," Kubiak told Houston media this week. "He's a better player right now than he was last year. It's a really big camp coming up for him, training camp and stuff. Dan's had some chances in this league, and he's got all of the tools that Matt has. The question is for him, 'Does he continue to progress and get better?'"
Kubiak didn't view Grossman's move to No. 2 as a demotion for Orlovsky last summer, and said he really liked the way Orlovsky handled it.
"Really, what happened was that there were great expectations for him, and it wasn't happening as fast," Kubiak said. "I really, personally -- and I told Dan this, so it's nothing new to him -- I really just thought it was about his standard in how he prepares and how he plays and how he practices. We've got one here for the quarterback. Our quarterback is going to play good. It just wasn't happening at the same pace it should have.
"So we felt more comfortable with Rex, who had played in a lot of football games. Dan could have done one of two things. He could have sulked; he didn't. He worked all year. He helped Matt, and he's a better player because of it. I'm proud of the way he went about his business, and now it's time for him to take off."
That said, he offered no guarantee that Orlovsky is the No. 2. He'll have to show them he's ready and make sure they aren't tempted by someone else who may end up on the market.
"It's time to work, and what he has to do is he's got to earn the respect from everybody," Kubiak said. "If Matt is not practicing a day, he has to continue to have this football team practicing well. They've got to know if something happens to Matt, we still win. That's your job as a backup quarterback."
May, 25, 2010
5/25/10
1:00
PM ET
»
NFC Big Question
:
East
|
West
|
North
|
South
»
AFC
:
East
|
West
|
North
|
South
Which high-profile player, coach or executive from the division sits on the hottest seat heading into the 2010 season?
Arizona Cardinals
quarterback
Matt Leinart
gets my vote because he's replacing a legend and his career in the desert is coming down to one season.
It's not clear if Leinart's career in Arizona can survive a poor exhibition season or disappointing start to the regular season. Any drop in offensive performance will be seen as a reflection of
Kurt Warner
's retirement.
[+] Enlarge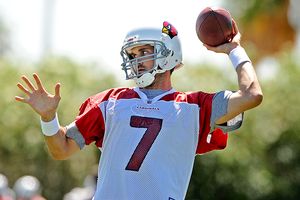 Mark J. Rebilas/US PresswireThe pressure is on Matt Leinart to perform in 2010.
Leinart steps into a talented offense with an improved line. The Cardinals have a strong offensive coaching staff, one of the game's best receivers and a versatile 1-2 punch at running back with
Beanie Wells
and
Tim Hightower
. Leinart's contract balloons in value for 2011, meaning he must produce this season. The Cardinals signed an experienced backup (
Derek Anderson
) and coach Ken Whisenhunt benched Leinart once already (heading into the 2008 season).
Persistent rumors of the Cardinals' continued interest in
Marc Bulger
only underscore perceptions.
Other prominent NFC West figures on the hot seat:
Matt Hasselbeck, Seahawks QB. Entering a contract year with a new staff and front office after two down seasons.

Leroy Hill, Seahawks LB. High salary, durability concerns, unfulfilled expectations and off-field troubles are a dangerous combination.

Deion Branch, Seahawks WR. Big contract, increased competition at the position with Mike Williams and Golden Tate on board.

Julius Jones, Seahawks RB. Adding Leon Washington and LenDale White put Jones on notice.

Rams leadership. A pending ownership change makes this an uncertain situation, particularly if the team continues to struggle.

Bill Davis, Cardinals defensive coordinator. Arizona's defense couldn't hold a lead in Super Bowl XLIII, when Davis coached linebackers, then struggled in the playoffs last season.

Alex Smith, 49ers QB. Smith started eight games last season and played relatively well, taking off some of the pressure heading into the season. The 49ers have remained committed to him as the starter.

Nate Clements, 49ers CB. Could use a bounce-back season at age 30 as salary escalates.
May, 25, 2010
5/25/10
1:00
PM ET
»
NFC Big Question
:
East
|
West
|
North
|
South
»
AFC
:
East
|
West
|
North
|
South
How will star receiver Brandon Marshall's absence impact quarterback Chad Henne and the Dolphins' offense?
The Dolphins traded for Marshall with the idea he would transform their offense and facilitate Henne's growth into a franchise quarterback. But we learned last week Marshall won't be able to practice until training camp because he had hip surgery.
[+] Enlarge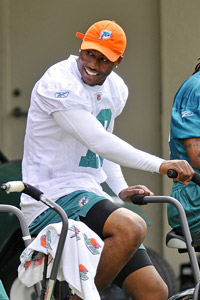 Steve Mitchell/US PresswireHip surgery will keep Brandon Marshall out of practice until training camp.
I wanted to find out how the absence of such a dazzling target, who must learn a new offense that will morph with him, might hurt the Dolphins' offseason plans. So I reached out to ESPN analyst and 13-year NFL quarterback Trent Dilfer for his take.
Dilfer said he generally believes "the offseason is somewhat overrated," but not when it comes to a quarterback developing synergy with a top receiver. Dilfer doesn't like the word "chemistry" because that indicates the teammates like each other, and that's overrated, too.
"You have to have an intuitive feel for what that person's going to do," Dilfer said. "A lot of that's developed in the offseason, in the grass basketball format, when you're in shorts. You get to discuss how you see things, how things look, how you like doing things, what it's like to roll out of a route at a certain depth, how do you like the ball, how you like the speed. The offseason's a great time to develop that. "
Most critical to foster is timing on intermediate and vertical patterns such as deep outs, corners and posts. Henne must get a feel for how Marshall maintains angles and speed and learn his ability to decipher coverages in the second and third levels.
Dilfer insisted excessive reps can make up for lost time in training camp.
"But if Marshall is coming back from a hip injury, then his training camp reps are going to be limited," Dilfer said. "To some degree this will negatively affect Chad and Brandon's ability to develop that synergy they need. It's going to take longer.
"The first part of the season, there'll still be a learning curve for the two. That doesn't mean they can't be effective. But the learning curve will bleed into the season a little bit longer than it should. That's not good, but it isn't devastating."
Dilfer added Marshall "can get away with being a little rusty" because of the style of receiver he is. He thrived with the
Denver Broncos
on bubble screens, quick slants, hitches and shallow crossing routes.
"He's not a guy that has to get himself open," Dilfer said. "You can scheme to get him the ball in open spaces. That's one of the things that makes him elite. You can get the ball in his hands quick and let him do damage."
May, 25, 2010
5/25/10
1:00
PM ET
»
NFC Big Question
:
East
|
West
|
North
|
South
»
AFC
:
East
|
West
|
North
|
South
Does participating in five preseason games impact regular-season success?
Brad from Atlanta sent an interesting thought to our
AFC North inbox
. He wondered if the Hall of Fame game had a positive or negative impact on teams in the regular season.
Because of the risk of injuries, there is some debate whether it is fair to ask only two NFL teams to play five exhibition games during the summer, while the other 30 teams play four preseason games. But the Hall of Fame game has a rich history, and it is an honor to represent the league in the first preseason game of the year.
On Aug. 8, the
Cincinnati Bengals
will play the
Dallas Cowboys
in Canton, Ohio. Cincinnati wanted to participate in this game for years because of the deep connection between Bengals founder Paul Brown and northern Ohio. Also, Dallas has Cowboys great
Emmitt Smith
being inducted in what should be a tremendous, weeklong celebration for its franchise.
On the field, there hasn't been any significant impact one way or the other with teams playing a fifth preseason game. The overall record of the last 10 Hall of Fame game participants is 83-77, which is slightly above .500. Five of those teams had winning records, three had losing records and two finished 8-8.
That means Bengals and Cowboys fans shouldn't worry. If they have a good team, like the 2008
Indianapolis Colts
and 2007
Pittsburgh Steelers
, the latest Hall of Fame game participants will make the playoffs this year. If they don't have a good team, like the 2009
Buffalo Bills
, the postseason won't be in their future.
But there's no statistical proof that playing an additional preseason game will cause Dallas or Cincinnati to have a poor season.
May, 25, 2010
5/25/10
1:00
PM ET
»
NFC Big Question
:
East
|
West
|
North
|
South
»
AFC
:
East
|
West
|
North
|
South
Will Chiefs wide receiver Dwayne Bowe bounce back from a rough season?
Theoretically, Bowe is one of the better young receivers in the NFL. But he has to show it again.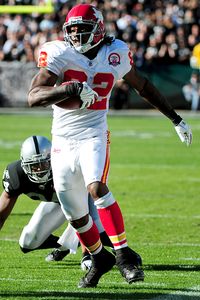 Kyle Terada/US PresswireKansas City wide receiver Dwayne Bowe didn't perform to expectations last season.
Bowe had a miserable season last year, his first under new coach Todd Haley. Bowe quickly got in Haley's doghouse when he showed up heavy for offseason camps. Then he dropped so many passes and was so lackadaisical in training camp he was temporarily dropped to third string. During the season, he was suspended for four games for using a banned substance.
Bowe had only 47 catches and four touchdowns last season. The Chiefs' top pick in 2007 had a total of 156 catches and 12 touchdowns in his first two seasons.
The new Kansas City brass has been impatient with holdovers who have not adjusted. Still, even though he's tough on Bowe, I get the feeling Haley believes in him. Haley knows that Bowe can be the team's best receiver. But Bowe has to show it.
His 2010 season has gotten off to a rocky start. He dropped some passes in the OTA practices last week. He also caused waves when he told a story to ESPN The Magazine about veteran players bringing women to the team hotel the night before a game.
This could cause issues for him with some of his teammates.
But the biggest issue, I believe, for the Kansas City staff is if Bowe can keep straight and become the player he was in his first two seasons. He has the talent to do it.
If he struggles again, this probably will be his final season in Kansas City.
May, 25, 2010
5/25/10
1:00
PM ET
»
NFC Big Question
:
East
|
West
|
North
|
South
»
AFC
:
East
|
West
|
North
|
South
Can the Detroit Lions reverse last year's injury trend?
[+] Enlarge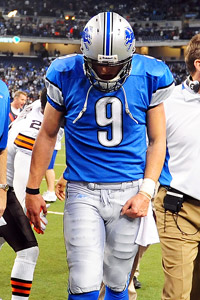 Andrew Weber/US PresswireMatthew Stafford missed some time last year due to injury and he's been limited in early workouts this offseason.
There is no foolproof way to compare injuries among NFL teams, but there is no doubting this statistic: The Lions finished last season with 17 players on injured reserve. And based on the
method devised by Football Outsiders
, the Lions were the fifth-most injured team in the league last season.
Some of that already has spilled into the offseason, where quarterback
Matthew Stafford
(knee, shoulder), tight end
Brandon Pettigrew
(knee) and running back
Kevin Smith
(knee, shoulder) were among those who were limited in early workouts. New tight end
Tony Scheffler
, meanwhile, has been limited by an irritated foot since his arrival from Denver.
Offseason health limitations are normal for most NFL teams, and the goal is to have everyone healthy by September rather than May. But I would imagine Detroit will be particularly sensitive to the issue this season after a personnel bonanza boosted their talent level at a number of positions.
The Lions have a chance to make a significant jump in competitiveness in 2010. But they'll need all of their key players on the field all season to do it.