NFL Nation:

The Big Question 61510
June, 15, 2010
6/15/10
1:00
PM ET
»
NFC Big Question
:
East
|
West
|
North
|
South
»
AFC
:
East
|
West
|
North
|
South
Will the New Orleans Saints be better in 2010 than they were in 2009?
[+] Enlarge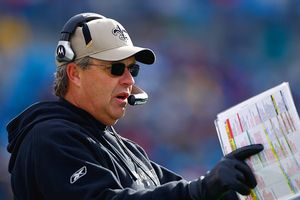 Scott Halleran/Getty ImagesIf Gregg Williams' defense improves, the Saints could have a repeat of last season's success.
We actually need to give credit to New Orleans defensive coordinator Gregg Williams for creating that question. While driving over the weekend, I caught a quick clip of Williams on Sirius NFL Radio and he was talking about how the Saints
could
be better this year.
He's got a point. Yeah, recent history hasn't been kind to Super Bowl champions as they head into the next season. We've already addressed many times how the Saints are going to be the big target on every opponents' schedule and about how things like legal issues and
Jeremy Shockey
fainting spells can be distractions. Those are all very valid points. Things like that have been the downfall for other teams and it could turn out the same way for the Saints.
But, for a change, let's play on Williams' statement and wonder why the Saints actually could be better. It's hard to repeat as a Super Bowl champion, but the way the Saints are set up, I don't think it's impossible. With
Drew Brees
in his prime, the offense isn't going to get any worse. In fact, I think the return of a healthy
Heath Evans
at fullback and positive contract resolutions with
Pierre Thomas
and
Jammal Brown
, the offense could be better.
The special teams already are very good. That brings us to the defense, which was the biggest question entering last season. All the Saints really lost on defense was linebacker
Scott Fujita
. He was a nice player, but the Saints have a lot of young legs to replace him.
With
Alex Brown
and
Jimmy Wilkerson
, they probably have upgraded on
Charles Grant
at defensive end. Their collection of defensive backs is as talented as any in the league. Williams knows this defense better than anyone else.
If he's saying the Saints could be better, it might be because he sees his defense getting even better.
June, 15, 2010
6/15/10
1:00
PM ET
»
NFC Big Question
:
East
|
West
|
North
|
South
»
AFC
:
East
|
West
|
North
|
South
What did Pete Carroll's videotaped denial of NCAA charges against USC reveal about the Seattle Seahawks' first-year head coach?
This subject spurred debate along predictable lines when
Carroll made available the video denial
last week.
[+] Enlarge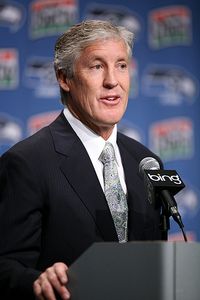 Otto Greule Jr/Getty ImagesPete Carroll posted a 97-19 record as the head coach at USC.
Some Seahawks fans downplayed Carroll's potential role in inviting harsh sanctions announced against a Trojans program Carroll led from 2001 through last season. Some fans of other teams called Carroll a phony who bolted USC while
the house was burning
.
My initial reaction was that Carroll got across his point firmly and succeeded in avoiding the tough questions while the story was hot. Deft move on his part. I didn't see much correlation between what happened at USC and what might happen in the NFL, where NCAA rules do not apply. But harsh criticisms from two people following the USC fallout much more closely -- ESPN.com's
Pat Forde
and the Los Angeles Times'
Bill Plaschke
-- provided context for a more analytical look at Carroll's response.
Forde: "And don't think Carroll didn't foster the atmosphere that created the (Reggie) Bush fiasco. His best USC players got Hollywood star treatment, with celebrities circulating freely within the program. The practice field, the locker room, the sidelines during games -- they were open to stars and opportunists alike."

Plaschke: "Simply competing was never enough for these Trojans. They had to follow Carroll's motto by always competing, everywhere, in everything, even if that meant cheating."
In replaying the Carroll video, I noticed he never accepted responsibility for the USC scandal on any level. He never expressed regret that he hadn't done more to head off trouble. He could have done both without admitting guilt. Instead, Carroll blamed overzealous NCAA investigators. He blamed outside forces that compromised Bush. He called upon the NCAA and universities in general, not USC in particular, to raise awareness for an issue already familiar to anyone following college athletics.
What happened at USC might not affect the job Carroll does leading the Seahawks. His reaction in a time of crisis could still be instructive. It's a point of reference for the way he handles future challenges, at least.
June, 15, 2010
6/15/10
1:00
PM ET
»
NFC Big Question
:
East
|
West
|
North
|
South
»
AFC
:
East
|
West
|
North
|
South
Who is the most reviled figure in the AFC East?
That's a question I've wanted to explore for a while now, and with plenty of chirping going on among rival fans at the AFC East blog, this seems to be as good a time as any.
There's an abundance of players, coaches and even executives people fans love to hate.
[+] Enlarge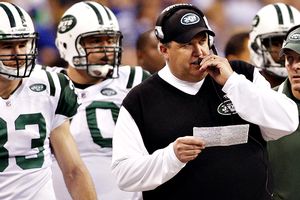 Jerry Lai/US PresswirePlenty of AFC East readers hate Jets coach Rex Ryan and his loud mouth.
As we saw in the comments section of last week's edition of the Big Question, there's
plenty of bitterness toward Bill Belichick and Bill Parcells
.
Readers were quick to bring up Belichick's role in the Spygate video-taping scandal, the way he left the
New York Jets
by scrawling his resignation on a napkin and the way he ran for the tunnel before the end of Super Bowl XLII. Or maybe he's disliked because he has won for a decade.
Parcells is a gruff, larger-than-life character who has worked for every AFC East club but the
Buffalo Bills
. He has influenced the division for decades, most recently as the
Miami Dolphins
' reclusive football ops director.
Or maybe you'd like to vote for unashamedly outspoken Jets head coach Rex Ryan.
Perhaps you're more the type to root against quarterbacks. In that case, the top candidate is Patriots leading man
Tom Brady
, who already has everything but seemingly could drop by your house and take whatever he wants if he were in the mood.
Jets quarterback
Mark Sanchez
is another one who seems to drive fans bananas. Many believe he's overrated and a little too glamorous for a kid who hasn't accomplished much.
At other positions, names to consider might include Dolphins-to-Jets turncoat
Jason Taylor
, gnat-persistent Patriots receiver
Wes Welker
, fur-coat wearing Patriots receiver
Randy Moss
, controversial Dolphins receiver
Brandon Marshall
and hothead Dolphins guard
Richie Incognito
.
The Bills haven't been much of a factor for the past decade, which means their players don't get opposing fans too riled up.
Terrell Owens
would be on this list if he still were around.
But if you'd ask Bills fans who they dislike, then running back
Marshawn Lynch
is in the discussion.
Who's your pick? Feel free to make a case for any of the above or go off the board with one of your own ideas.
June, 15, 2010
6/15/10
1:00
PM ET
»
NFC Big Question
:
East
|
West
|
North
|
South
»
AFC
:
East
|
West
|
North
|
South
Will Oakland receiver Darrius Heyward-Bey make big strides in his second NFL season after a disappointing rookie campaign?
Heyward-Bey will be one of the most closely watched second-year players in the NFL.
[+] Enlarge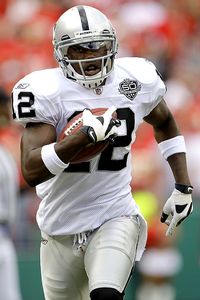 AP Photo/Charlie RiedelOakland receiver Darrius Heyward-Bey had just nine catches his rookie season.
He must show improvement after a terrible rookie season. Heyward-Bey had only nine catches for 124 yards in 11 starts. Those are staggering numbers. Heyward-Bey's college reputation for having unreliable hands continued in his rookie season.
The Raiders were widely criticized for taking the Maryland product with the seventh pick over
Michael Crabtree
, who was considered the best receiver prospect available. Crabtree, who went at No. 10 to San Francisco, had 48 catches despite holding out for five games.
The Raiders believe in Heyward-Bey. Last weekend, they sent out a
rare press release expressing their expectations for Heyward-Bey
. Recent reports say he has looked good in OTAs.
The Raiders clearly think Heyward-Bey can provide big things. But after his rookie season, hopes must be tempered. It's terrific that he has made offseason strides, but the kid must show he can perform and hold onto the ball when it counts.
Heyward-Bey has the ability to make plays in the NFL. He is very fast and a hard worker. But he has a lot of work to do.
If Heyward-Bey can stay in the starting lineup, learn to catch consistently and come up with 40 to 50 catches this season, it would have to be considered a success for him. But the key for Heyward-Bey is to continue to get better catching the ball. Until he shows he can do that on a regular basis, the jury is still out.
June, 15, 2010
6/15/10
1:00
PM ET
»
NFC Big Question
:
East
|
West
|
North
|
South
»
AFC
:
East
|
West
|
North
|
South
Will the recent run of off-field news impact the Green Bay Packers and/or Minnesota Vikings?
If you judge teams based on their headlines, it hasn't been the greatest few weeks for our presumed NFC North front-runners.
[+] Enlarge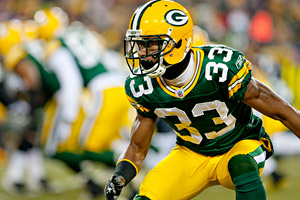 AP Photo/Mike RoemerCornerback Brandon Underwood apologized to his teammates for creating a distraction and dragging them into it.
The Packers dealt with
allegations of sexual assault
against cornerback
Brandon Underwood
. The story came three months after tight end
Spencer Havner
crashed
his motorcycle
, fractured his scapula and was arrested on suspicion of drunken driving. Defensive end
Johnny Jolly
's felony
drug possession case
also has been hanging over the team.
In Minnesota, All-Pro tailback
Adrian Peterson
skipped the
Vikings' mandatory minicamp
to attend a hometown parade in his honor. His absence
generated larger questions
about the state of a veteran roster and whether exceptions made for quarterback
Brett Favre
have created an untenable double standard.
The big question
is the extent to which any of these events matter. How much should we make of off-field news? Will the Packers' won-loss record be impacted by potential charges against a player who might be their dime back? Should the plight of a third-string tight end play any role in the NFC North title? And do we really think Peterson's minicamp absence will limit the Vikings' offensive firepower this season?
In Green Bay, the impact will be limited but not unfelt. Coach Mike McCarthy addressed the pattern in a team meeting last week and said later that "poor judgment was used." McCarthy added that players have been "in the paper way too much with things other than football." A few might need to watch themselves, but it would be difficult to suggest the Packers have been set back in a substantive way.
In Minnesota, it's not as if Peterson will have much to catch up on when he reports to training camp. (For now, I'm not taking into consideration the possibility that his absence was contract-related and could lead to a training-camp absence.) The impact of his absence, as we discussed Monday, is the legitimate question it raised. Namely: No one knows what, if anything, Peterson has done to remedy his career-long fumbling problem.
If he's unable to reverse that trend in 2010, it will be an ample hindrance to competing with the Packers for the division title. For the most part, however, the significant of these off-field news strands will be limited to where they occurred -- off the field.
June, 15, 2010
6/15/10
1:00
PM ET
»
NFC Big Question
:
East
|
West
|
North
|
South
»
AFC
:
East
|
West
|
North
|
South
Will quarterback Ben Roethlisberger's conditional six-game suspension cost the Pittsburgh Steelers a playoff berth?
[+] Enlarge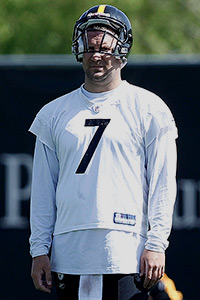 Jared Wickerham/Getty ImagesThe Steelers need to perform well in quarterback Ben Roethlisberger's absence if they hope to make the postseason.
On paper, the Steelers are as talented, deep and experienced as any team in the NFL. They have Pro Bowlers on offense and defense and nearly all their starters are back and healthy from their Super Bowl run two years ago.
But there's one huge concern: Roethlisberger will miss up to six games this season for violating the NFL's personal conduct policy. The punishment can be reduced to four games if the embattled quarterback stays out of trouble. But that may be enough to dash Pittsburgh's hopes of getting back to the postseason after missing the playoffs in 2009.
Backup quarterback
Byron Leftwich
or
Dennis Dixon
will run the Steelers' offense during Roethlisberger's suspension. Pittsburgh is guaranteed to play without Roethlisberger against the
Atlanta Falcons
,
Tennessee Titans
,
Tampa Bay Buccaneers
and
Baltimore Ravens
in the first four games. If the suspension is six games, Roethlisberger also will miss games against the
Cleveland Browns
and
Miami Dolphins
.
The Steelers must play at least .500 football during Roethlisberger's suspension to have a good chance at the postseason. But if the Steelers fall below that, they will have to play nearly perfectly the rest of the way to earn a playoff spot, and that will put a lot of pressure on "Big Ben" when he returns.
Atlanta, Tampa Bay and Tennessee were all non-playoff teams a year ago. The Baltimore game will be the toughest, but the Steelers-Ravens rivalry is always close, no matter the records. Last year, with Roethlisberger sidelined by a concussion, the Ravens needed overtime at home to edge the Dixon-led Steelers, 20-17.
Playing in the AFC North won't be easy this year. Baltimore and the reigning division champion
Cincinnati Bengals
are playoff contenders, and the Browns are also expected to improve. But Pittsburgh must win without its most important player for the first month so the suspension won't ruin the entire season.
June, 15, 2010
6/15/10
1:00
PM ET
»
NFC Big Question
:
East
|
West
|
North
|
South
»
AFC
:
East
|
West
|
North
|
South
Can the Tennessee Titans count on fifth-year quarterback Vince Young?
[+] Enlarge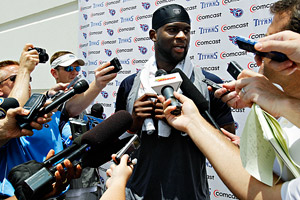 AP Photo/Mark HumphreyVince Young answered questions Monday following a fight in a Dallas strip club.
His recent
misdemeanor assault citation
in a Dallas strip club calls into question again his maturity. Young has raised eyebrows before by skipping out of the team hotel and missing a flight.
It's reasonable to expect that he'd be smart enough not to put himself in a situation that would draw such negative attention. And what if he'd broken his hand when he took a swing, or if someone on the other side of the altercation pulled a gun?
Many will say this has little to do with his play on fall Sundays, but the Titans still are not sure exactly what they have. He's a moody guy who can be a delight or down in the dumps. He throws a nice deep ball but still struggles with short stuff to the flat. Young can be wildly inaccurate.
His game should have evolved more by now.
Still, with the right degree of patience and coaching touch, the team might continue to get the one thing from him he's consistently managed to produce: wins.
When a former NFL quarterback like Tim Hasselbeck says Young is "
not a franchise quarterback
" and asks for someone to let him know when
Donovan McNabb
or
Drew Brees
does something like this, it makes you pause.
A good share of NFL teams are looking for stable production and leadership out of the quarterback position. The Titans long not to be ranked as one of them. But for the time being, it's certainly hard to count Young as a lock.
June, 15, 2010
6/15/10
1:00
PM ET
By
Scouts Inc.'s Matt Williamson
| ESPN.com
»
NFC Big Question
:
East
|
West
|
North
|
South
»
AFC
:
East
|
West
|
North
|
South
Should the Eagles have done more to fortify their offensive line?
Somewhat surprisingly, despite a wealth of draft picks, Philadelphia didn't make any major additions to its offensive line. The Eagles must feel quite comfortable with what they have despite
Jamaal Jackson
's injury situation and the release of
Shawn Andrews
. So, let's examine this situation more closely.
[+] Enlarge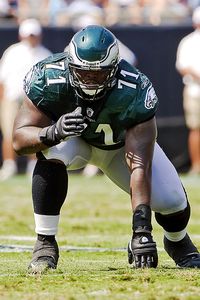 Walter G. Arce/Icon SMIWhile he's received some criticism since joining the Eagles, Jason Peters remains one of the better left tackles in the NFL.
Jackson is the best option at center, but he just recently started running and it wouldn't be a shock if his knee injury landed him on the physically unable to perform list to start the season. Jackson was on the verge of establishing himself as one of the better centers in this league, particularly as a run-blocker, but this looks like
Nick Cole
's job for the time being.
Mike McGlynn
has the ability to play center as well, but his best fit is at guard. Cole moves well and is good in protection, but isn't nearly the pile-mover that Jackson is in the run game. But as backup centers go, you could do much worse than Cole until Jackson returns.
Stacy Andrews
has been tough to count on of late, but if healthy, he will start at right guard. He also could move to right tackle if
Winston Justice
struggles at the position where Andrews' brother Shawn used to play. Even if Andrews can't be counted on, the guard depth is pretty strong with McGlynn and
Max Jean-Gilles
backing up Andrews and left guard
Todd Herremans
. Herremans is another player who, in a pinch, could slide over to right tackle, but he is quite sound at left guard. McGlynn is a potential up-and-comer who could surprise this year if needed.
Like Cole at center, Justice is better in protection than as a run-blocker. But that isn't much of a problem in this pass-happy offense and overall, Justice was impressive in 2009. As noted above, there are backup plans in place if Justice struggles, but I fully expect him to hold down the fort at right tackle.
At left tackle,
Jason Peters
has caught a lot of heat since his arrival in Philadelphia, but I think he is still one of the very best tackles in the business. He has taken too many penalties and does have to be more consistent, but doing battle with the blindside edge-rushers in this division is no easy task. I have no concerns about Peters.
So, all in all, I am in the Eagles' corner with their decision not to dedicate heavy resources to adding to their offensive line. There are some questions, but there are also some fallback options. I think this group will be fine.

NFL SCOREBOARD
Sunday, 12/22
Monday, 12/23