NFL Nation:

The Big Question 62210
June, 22, 2010
6/22/10
1:02
PM ET
»
NFC Big Question
:
East
|
West
|
North
|
South
»
AFC
:
East
|
West
|
North
|
South
Why is there a good chance tight end John Carlson could have his best season as a Seahawk?
Although he caught 51 passes for 574 yards last season, tight end John Carlson was an under-the-radar player on a 5-11 Seahawks team. But changes in the Seahawks' offense under new head coach Pete Carroll and injuries at wide receiver could allow Carlson to have a breakout year.
[+] Enlarge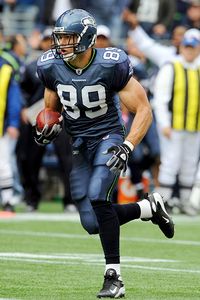 Steve Dykes/US PresswireJohn Carlson could be in line to have his best year yet.
Wide receiver
T.J. Houshmandzadeh
is only at 80 percent coming off sports hernia surgery, and fellow wideout
Deion Branch
still can't shake lingering problems from three knee operations. Plans are already being made to use more two-tight end sets this season because of the team's enhanced use of the Alex Gibbs zone-blocking scheme.
But Carlson's skills for getting downfield and catching the ball could allow him to be even more involved in the passing game this season. Last year, the line was so bad that Carlson had to block more than he did when he caught 55 passes for 627 yards as a rookie in 2008. Seattle added veteran
Chris Baker
to help as a backup tight end and a main cog in the two-tight end set. In the draft, the Seahawks got lucky when USC tight end
Anthony McCoy
fell to them in the sixth round. Both will help take blocking pressure off Carlson.
Carlson, who has 106 catches and 12 touchdowns in two seasons, is second only to
Vernon Davis
at tight end in the division. If quarterback
Matt Hasselbeck
stays healthy and the line does well with
Russell Okung
and
Ben Hamilton
on the left side, Carlson should be free to catch more passes and score more touchdowns.
June, 22, 2010
6/22/10
1:00
PM ET
»
NFC Big Question
:
East
|
West
|
North
|
South
»
AFC
:
East
|
West
|
North
|
South
What's the worst call to have spoiled the result for an AFC East team?
In the past few weeks, Koman Coulibaly and Jim Joyce made two of the most infamous officiating blunders.
On a global stage,
Coulibaly's no-goal gaffe might cost the U.S. soccer team
a place in the knockout round of the World Cup.
Joyce spoiled baseball history when he blew a call
at first base on what should have completed a perfect game.
[+] Enlarge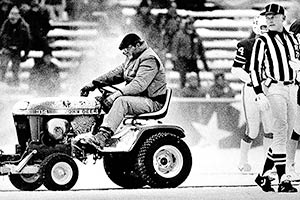 AP Photo/Mike KullenJohn Smith had better footing after a plow cleared away the snow for his game-winning kick.
At least they're not alone in sports history. Plenty of other officials have made dubious calls that have changed the outcome of a big game.
The AFC East has seen its share.
With help from my Facebook friends
, I came up with a short list of controversial calls to consider.
We'll steer clear of the calls that helped an AFC East team win. So forget the Tuck Rule or Vinny Testaverde's phantom touchdown plunge. We're looking for heartbreak here.
With 52 seconds left in their 1976 playoff game,
New England Patriots
defensive lineman Ray Hamilton was called for a highly questionable roughing penalty on
Oakland Raiders
quarterback Ken Stabler. The Patriots were up by four points. The Raiders faced a third-and-18 from New England's 27-yard line. Stabler's pass was incomplete, but the flag gave the Raiders a first down, and they eventually punched into the end zone.
The Patriots defeated the
Miami Dolphins
in the Snow Plow Game in 1982. On a winter wonderland of a field, Patriots coach Ron Meyer ordered a plow onto the field to clear kicker John Smith's placement for a 33-yard field goal with 4:45 to play. Officials didn't prevent it. Final score: Patriots 3, Dolphins 0.
In 1998, a questionable fourth-down conversion immediately followed by a wild penalty in the end zone as time expired infuriated the
Buffalo Bills
so much they didn't line up for the extra point in a vexing loss to the Patriots.
A Hail Mary pass interference
gave New England the ball on Buffalo's 1-yard line. Down by four points,
Drew Bledsoe
tossed to
Ben Coates
for the touchdown.
Bills fans bemoan the Music City Miracle
, one of the most controversial plays in NFL history. The
Tennessee Titans
pulled off what I believe was a perfect lateral to eliminate the Bills from the 1999 playoffs. Despite a video review that seemed to have more interpretations than a Salvador Dali painting, the touchdown stood. The Bills haven't returned to the postseason.
Last year, a Sports Illustrated photo
showed Dolphins receiver
Ted Ginn
stripped
New Orleans Saints
safety
Darren Sharper
shy of the goal line. The ball bounded out of the end zone for what should have been a Dolphins' touchback, but a review upheld Sharper's pick-six, a critical play in a dramatic Saints' victory. Had the Dolphins won, it might have helped them get into the playoffs.
There are so many others to choose from. Please share your thoughts in the comments section.
June, 22, 2010
6/22/10
1:00
PM ET
»
NFC Big Question
:
East
|
West
|
North
|
South
»
AFC
:
East
|
West
|
North
|
South
Can the Chargers still be a serious Super Bowl contender without Vincent Jackson and Marcus McNeill?
Earlier in this saga,
I asked Matt Williamson of Scouts Inc.
if he thought San Diego could make a deep playoff run without Jackson and McNeill. Williamson didn't think so.

McNeill

Jackson
I agree that it would be tough. The AFC is stacked and any team that wants to make a serious run will need its full arsenal of players. Having McNeill and Jackson sitting on their couches on Sundays in the fall certainly won't make San Diego a better team.
Still, if those two players really do hold out into November (the current expectation is that both McNeill and Jackson will hold out for the first 10 games of the season unless they unexpectedly get long-term deals), the Chargers will be tremendously challenged. But barring any major injuries, the team could still stay afloat and regroup for the stretch run.
San Diego (which added tackle
Tra Thomas
and reserve receiver
Josh Reed
as insurance for potential holdouts) is pretty loaded on offense. While Jackson is the team's go-to receiver, quarterback
Philip Rivers
has plenty of options. He can lean on star tight end
Antonio Gates
and receivers
Malcom Floyd
and
Legedu Naanee
while Jackson is out. If Thomas is solid and he keeps Rivers upright, the Chargers can maintain. They won't be as good as they would be with Jackson and McNeill, but, yes, they can survive.
San Diego plays only two teams (Arizona and New England) that made the playoffs in 2009 during the first 10 games of the season. Five of San Diego's first 10 games are against teams that had losing records last season.
So, it's manageable. Playing without Jackson and McNeill for the majority of the season is certainly not ideal, but it may not be devastating to San Diego, either.
June, 22, 2010
6/22/10
1:00
PM ET
»
NFC Big Question
:
East
|
West
|
North
|
South
»
AFC
:
East
|
West
|
North
|
South
The Detroit Lions forfeited two organized team activities this week for violating the NFL's collective bargaining agreement. Is that really a big deal?
[+] Enlarge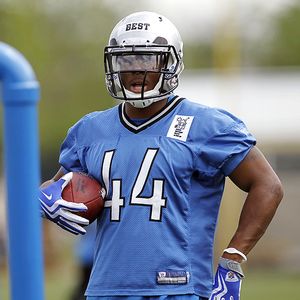 Leon Halip/US PresswireJahvid Best and the Lions had to forfeit two OTA sessions.
Aside from the obvious -- it's better to be practicing than not practicing -- no. Every franchise views OTAs differently, but even at their most intense, we're talking about 90-minute workouts that emphasize mental reps in an on-field environment. Even if a team installs its entire scheme during the course of these practices, it usually starts installation over on the first day of training camp.
I've watched far too many OTA practices over the years. They can be really, uh, uneventful. There is only so much to be gained from practicing in shorts, jerseys and T-shirts. In Minnesota, for example, they're so crucial that coach Brad Childress cancels at least two of them every year.
OTAs are most valuable for teams with first-year head coaches who are installing new schemes or want extended time to get incumbents on film. That's not the case in Detroit, where the Lions return the same head coach, offensive coordinator and defensive coordinator.
Coach Jim Schwartz was hoping to create a training camp-style schedule this week: five consecutive days of football activities, including a three-day mandatory minicamp. But I imagine that by the time the Lions finish their actual training camp, there will be little evidence that they lost two OTAs. And something tells me that, at the end of the season, we're not going to hear Schwartz or anyone else say, "Man, if we had just had those extra two days of OTAs."
If you're concerned about why the Lions were singled out as one of four teams required to forfeit OTAs this spring, make sure you check out
John Clayton's ESPN.com mailbag
this week. It's got much more to do with the NFL's brewing labor situation than it does with anything the Lions might have tried to sneak through.
June, 22, 2010
6/22/10
1:00
PM ET
By
Matt Mosley
| ESPN.com
»
NFC Big Question
:
East
|
West
|
North
|
South
»
AFC
:
East
|
West
|
North
|
South
Is everyone in Dallas on the same page about Doug Free starting at left tackle?
From the moment the Cowboys released perennial Pro Bowl left tackle
Flozell Adams
, I assumed his replacement would be Doug Free. But for whatever reason, the other NFC East teams aren't convinced. Free exceeded expectations while filling in for an injured
Marc Colombo
in '09, but he was overmatched when he saw emergency duty against
Jared Allen
in a playoff game.
[+] Enlarge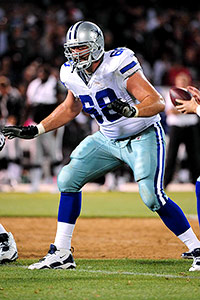 Kyle Terada/US PresswireDoug Free did well in seven games at right tackle last season.
The fact that Free has excellent footwork and quickness gives him the proper foundation to protect
Tony Romo
's blindside. Still, teams such as the Eagles don't seem convinced that Free will be up to the task. I recently took a peek at the Eagles' depth chart for the Cowboys, and they have
Alex Barron
's name next to Free's. They didn't do that with the other 10 positions on offense. And the Eagles aren't alone. There's a belief from the Giants and Redskins that Barron will eventually win the job because of his experience. That's not to say they're rooting for Barron, because they'd actually like
Trent Cole
,
Justin Tuck
and
Brian Orakpo
to have a go at Free.
So where's all this doubt coming from? I know that Free barely has any experience at left tackle in the league, but he was excellent on the right side in seven games last season. And his skill set is better suited for the left side. Cowboys offensive line coach Hudson Houck, who's tutored some of the best in the game, told me recently that nothing seems to faze Free. He's seen more of a sense of urgency from the player since he was named the starter and he admires Free's work ethic. There's nothing to suggest that Barron's going to light it up in training camp and surpass Free.
But even some of Free's teammates seemed to have their doubts in the days after Adams' release.
DeMarcus Ware
, a man who knows how to embarrass a left tackle, was completely caught off guard by the move and expressed surprise. He's since rallied behind Free, but it's hard to dismiss his initial reaction. I've also pressed Pro Bowl center
Andre Gurode
on the topic. He had immense respect for Adams, but he's trying to say all the right things about Free.
From my perspective, I'd have more concern with Colombo right now than Free. That's not to say Free's the better player, but Colombo's leg injury was pretty significant and he probably should not have returned for the Vikings game based on his performance. He's one of the toughest players in the league, but you can only do so much on one leg. I think Barron was brought in with Colombo's durability in mind.
But the rest of the division seems to think Barron was brought in to replace Adams. I guess we'll find out soon enough. By the way, how would you rank the starting left tackles in the division as of today?
I'd go with
Jason Peters
,
David Diehl
, Free and the Redskins' rookie,
Trent Williams
.
June, 22, 2010
6/22/10
1:00
PM ET
»
NFC Big Question
:
East
|
West
|
North
|
South
»
AFC
:
East
|
West
|
North
|
South
Is this the year the Colts, who've won at least 12 games seven years running, finally make a dip in the standings?
The Colts' sustained regular-season success is unparalleled. They have a great talent evaluator at the top of the organization in Bill Polian. They have a four-time MVP quarterback in
Peyton Manning
. They have an all-time great pass-rusher in
Dwight Freeney
. They have a core of veterans who simply know how to win, and an expectation level everyone buys into.
[+] Enlarge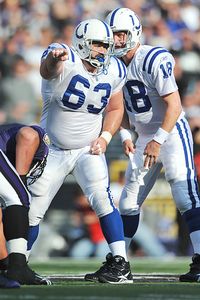 Larry French/Getty ImagesJeff Saturday leads an offensive line that has many questions heading into next season.
But, critics and devil's advocates say, at some point things are bound to start to come apart.
The offensive line, keyed by aging center
Jeff Saturday
, has some questions and lost long-time coach Howard Mudd, who retired. Veteran offensive coordinator Tom Moore has a reduced role and Clyde Christensen, whose stint as coordinator in Tampa Bay was disastrous, has moved up into the role.
Young players like receivers
Pierre Garcon
and
Austin Collie
and cornerbacks
Jerraud Powers
and
Jacob Lacey
will play key roles. What if they suffer slumps instead of jumps?
Freeney is getting older and the team suffers when he's hurt. And although the team has good alternatives in place, safety
Bob Sanders
has not proved he can hold together for a long stretch. If they or another key guy goes down, won't there be a time when the next man up proves unable to sustain the level of play?
Special teams regularly have failed to help the cause. While the team is optimistic things will improve, sometimes it feels like there is an acceptance that there just won't be a big contribution.
Adam Vinatieri
doesn't have the leg he used to and is coming off a year in which he fought injuries.
Jim Caldwell did some outstanding work in his initial season as an NFL head coach, but stumbled with some key decisions in the Super Bowl.
Like every team in the league, the Colts have issues. Scenarios like these could arise and make things awfully difficult for them.
And yes, at some point later in Manning's career, it will become harder for them to win their standard 12 games.
But that time hasn't arrived yet.
The Colts still are the safe bet to win the AFC South. With Sanders, receiver
Anthony Gonzalez
and draftees like defensive end
Jerry Hughes
and tight end
Brody Eldridge
primed to help, they stand to be better than they were in 2009.
So I've asked the big question, and now I'm answering it: No.
June, 22, 2010
6/22/10
1:00
PM ET
»
NFC Big Question
:
East
|
West
|
North
|
South
»
AFC
:
East
|
West
|
North
|
South
Coming off a 9-7 season, can the Baltimore Ravens live up to the immense preseason hype in 2010?
The frown on
Chad Ochocinco
's face told the story last week. The
Cincinnati Bengals
' receiver
couldn't understand
all the preseason hoopla surrounding Baltimore.
"The Ravens?" Ochocinco said. "I mean, what have they done?"
[+] Enlarge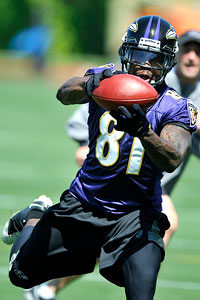 AP Photo/Gail BurtonThe addition of Anquan Boldin has raised expectations in Baltimore.
To Ochocinco's point, it was the Bengals who dominated the AFC North last season. Cincinnati swept Baltimore in two games on its way to a division title. The Ravens underachieved in the regular season but won a road playoff game against the
New England Patriots
to advance to the divisional round.
Suddenly expectations are sky high for the Ravens, who seem to have the right ingredients to be successful. Quarterback
Joe Flacco
is improving in his third season, Baltimore traded for three-time Pro Bowl receiver
Anquan Boldin
, and a strong draft added depth to key areas.
Some power rankings now have the Ravens rated among
the top three teams
in the NFL, and nearly all
project Baltimore to win the AFC North
.
Is the Ravens' hype premature? Or as Ochocinco recently implied, is it undeserved?
"We got better than them," Ochocinco said in defense of the Bengals. "They're not better than us."
Overexposure could be a cause for concern. Traditionally, Baltimore plays better as the underdog, not as the favorite.
Most recently, the Ravens had modest expectations in 2008 with a rookie quarterback and advanced to the AFC Championship Game. Last season, some experts picked Baltimore as a possible Super Bowl contender, and the team finished 9-7 and lost in the divisional round.
How the Ravens handle preseason expectations will be important this year. Ochocinco isn't on Baltimore's bandwagon, but a lot of people are.
June, 22, 2010
6/22/10
1:00
PM ET
»
NFC Big Question
:
East
|
West
|
North
|
South
»
AFC
:
East
|
West
|
North
|
South
Can Carolina coach John Fox trust a rookie wide receiver?
He'd better. Although Fox is the ultimate creature of habit and rarely has given young wide receivers big opportunities in the past, that might not be possible this year. That's simply because Fox really doesn't have much choice.
[+] Enlarge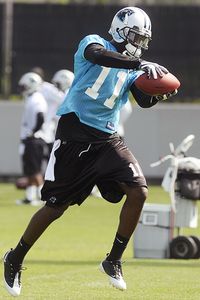 Sam Sharpe/US PresswireYoung receivers like Brandon LaFell may need to be called on this season.
The Panthers invested two early draft picks in wide receivers
Brandon LaFell
and
Armanti Edwards
. Beyond
Steve Smith
, who will miss at least part of training camp with a broken arm, the Panthers have virtually nothing else at wide receiver.
Dwayne Jarrett
is a guy who never has played up to his potential and Kenneth Moore might be able to be a role player.
Jarrett is a good example of Fox's tendency to go slow with young receivers. The coach doesn't like to play them because they're capable of making mistakes. Aside from
Keary Colbert
, who had a decent rookie year before disappearing, Fox never has given a rookie receiver much playing time.
But Fox, who is in the last year of his contract, needs to think more about possible big plays than possible big mistakes by LaFell and Edwards. The Panthers desperately need someone to take some of the defensive attention off Smith.
LaFell is big and strong and has all of the tools to be an every-down receiver. Edwards is speedy and dynamic and can give the Panthers a real slot receiver for the first time in years.
Fox has been given the parts he needs at wide receiver. Now he just has to use them.