NFL Nation:

The Big Question 70610
July, 6, 2010
7/06/10
1:00
PM ET
By
Matt Mosley
| ESPN.com
»
NFC Big Question
:
East
|
West
|
North
|
South
»
AFC
:
East
|
West
|
North
|
South
Is Eagles head coach Andy Reid's coaching reputation on the line in 2010?
[+] Enlarge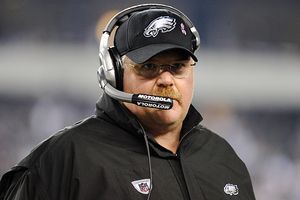 Barbara Johnston/US PresswireAndy Reid is confident the Donovan McNabb trade will not dampen the team's playoff ambitions.
I didn't realize this until I stumbled upon it during a thrilling Google search, but Andy Reid's the eighth-longest tenured coach in professional sports. He's also one of only three NFL coaches who have ultimate authority when it comes to personnel moves.
That means that
Donovan McNabb
would still be with the Eagles if Reid had decided to fight for his quarterback. Reid not only signed off on a trade, but he approved trading McNabb to a team that will have two cracks at the Eagles every season for the foreseeable future. Reid's been an outrageously successful coach since taking over the Eagles in 1999, but all those wins can't overshadow the fact that he's never won a Super Bowl in Philadelphia. Truth be told, Reid and Joe Banner thought they'd have two or three Super Bowl titles by now.
But the two men (plus new general manager Howie Roseman) have raised the stakes this season. They truly believe they can trade the best quarterback in the history of the franchise while he still has some tread on the tires and not take a step back. If Reid can lead the Eagles deep into the playoffs with
Kevin Kolb
at quarterback, it will cement his status as one of the best coaches in the league. But this is an absolute high-wire act from the start. If the Eagles flame out and miss the playoffs, Reid would automatically be on the hot seat heading into 2011.
That may not be fair, but that's how it would play out. The Eagles have taken a tremendous gamble by trading an elite quarterback to a division rival and replacing him with an inexperienced player. Roseman told me recently that the Eagles know enough about Kolb that they don't view this is a big risk.
But in many ways, Reid's reputation was tied to McNabb's. Now that they've gone their separate ways, Reid will feel more pressure than ever. If he pulls this off, it will be the most impressive coaching job he's ever done.
July, 6, 2010
7/06/10
1:00
PM ET
»
NFC Big Question
:
East
|
West
|
North
|
South
»
AFC
:
East
|
West
|
North
|
South
After recent charges of allegedly punching a bar worker, will Cincinnati Bengals tailback Cedric Benson be suspended this season?
At the conclusion of
last month's mandatory minicamp
, Bengals head coach Marvin Lewis praised his team for having a quality -- and quiet -- offseason.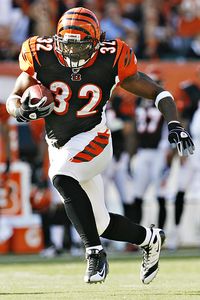 John Sommers II/Getty ImagesThen Bengals were having a quiet offseason until Cedric Benson allegedly punched a bar employee.
Lewis lauded the strong participation and how there weren't the distractions many other teams faced around the NFL. In Cincinnati's division alone, the Pittsburgh Steelers have had to deal with Ben Roethlisberger's suspension, the Baltimore Ravens had the Jared Gaither saga, and there were several unhappy restricted free agents with the Cleveland Browns.
But last week that silence
ended with charges
against Benson, who allegedly punched a bar worker in Austin, Texas, following a barroom brawl. These charges bring into question whether Cincinnati's leading rusher will face a suspension for violating the NFL's personal conduct policy.
Right now it's too early to provide a definitive answer, because the details are unclear. Benson was not charged until nearly a month after the incident.
That this isn't Benson's first run-in with law enforcement is probably the biggest factor working against him. Benson has had two previous incidents while in the NFL. Charges were cleared in both cases, but a third incident -- while Benson is on the league's "watch list" -- is never a good thing in the eyes of commissioner Roger Goodell.
Another issue: Why didn't Benson report the incident to the NFL and the Bengals in May when it first occurred? According to Benson's lawyer, David Cornwell (who also represents Roethlisberger), Benson called Lewis and the commissioner's office only after his release from jail on June 29.
Interestingly, Benson's representatives recently approached Cincinnati
about a contract extension.
The Bengals were open to the idea, in all likelihood without knowing about Benson's alleged altercation. Expect those talks to be put on ice until the legal system runs its course.
After getting through minicamp and organized team activities without incident, expect Benson's legal situation to be the biggest story facing the Bengals heading into training camp.
July, 6, 2010
7/06/10
1:00
PM ET
By
ESPN.com's John Clayton
| ESPN.com
»
NFC Big Question
:
East
|
West
|
North
|
South
»
AFC
:
East
|
West
|
North
|
South
Did the Detroit Lions make one of the best moves in the draft by trading into the first round to take running back Jahvid Best?
[+] Enlarge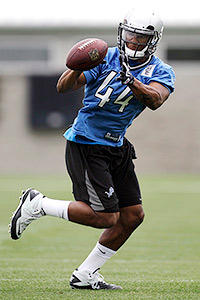 AP Photo/Paul SancyaJahvid Best is capable of helping Detroit as both a runner and pass target.
This might have been one of the most unusual moves in the draft. There was no question the Lions were targeting a running back with their second-round pick, which was scheduled to be the 34th overall selection. Starting running back
Kevin Smith
was coming off a knee reconstruction and the Lions needed a running threat to take some of the pressure off quarterback
Matthew Stafford
.
Not wanting to risk the chance of losing him between picks No. 30 to 33, the Lions gave three picks to the rival
Minnesota Vikings
to move up to No. 30, where they grabbed Best. Despite Stafford's strong arm and the presence of
Calvin Johnson
at wide receiver, the Lions didn't have the running attack to make life easier for their rookie quarterback in 2009. Jets QB
Mark Sanchez
ended up making the playoffs as a rookie because his team could run the ball.
Joe Flacco
of the Ravens and
Matt Ryan
of the Falcons had rookie-season playoff runs on good running teams. The Lions averaged only 101 rushing yards and 25.6 rushing attempts a game last season. Neither mark was good enough to put Stafford in position to win games.
Early reports on Best are excellent. He catches the ball well and has explosiveness. There was still a decent chance Best could have fallen to the Lions at No. 34. The Colts, Saints and Rams had the next three picks, and of those three teams, St. Louis was likely the only real threat to take Best.
The Lions are a draft or two away from being competitive. Making life tougher for Detroit is a division stacked with good quarterbacks --
Brett Favre
in Minnesota,
Aaron Rodgers
in Green Bay and
Jay Cutler
in Chicago. It's still possible the Lions could go 0-6 in division play, but if Best and Smith kick-start the running game, the Lions could be more of a factor this year.
July, 6, 2010
7/06/10
1:00
PM ET
»
NFC Big Question
:
East
|
West
|
North
|
South
»
AFC
:
East
|
West
|
North
|
South
What will it take to pry Pro Bowl receiver Vincent Jackson from the San Diego Chargers?
Christopher Hanewinckel/US PresswireVincent Jackson had 68 catches for 1,167 yards and nine touchdowns last season.
ESPN's Adam Schefter reported Monday
that the Chargers are not actively shopping Jackson and a trade of the receiver, who is expected to hold out for several weeks into the regular season in a contract dispute, is a long shot.
I agree. Trading Jackson won't be easy for San Diego.
That's because the Chargers are not just going to give him away. A trade is unlikely because his price tag would be high.
Jackson is becoming one of the NFL's best receivers. But there is baggage involved. He is facing a NFL suspension after two drunken driving arrests and he will want a huge contract from any team that deals for him. Jackson probably will be looking for a contract slightly north of the five-year, $50 million deal
Brandon Marshall
got from Miami after he was traded from Denver in April.
In addition to Jackson's desire for a new deal, the cost to obtain him in a trade would be steep. That brings us back to Marshall. Denver received a second-round pick in 2010 and a second-round pick in 2011 from Miami for Marshall. The Chargers probably will be looking for something in that neighborhood for Jackson, who is a comparable player to Marshall.
Perhaps San Diego would take a second-rounder and a conditional mid-round pick. But if teams think San Diego will simply punt Jackson and his headaches away for a fourth- or fifth-round pick, they are sadly mistaken.
It will cost a lot to get Jackson. That's why a trade will be difficult to pull off.
July, 6, 2010
7/06/10
1:00
PM ET
»
NFC Big Question
:
East
|
West
|
North
|
South
»
AFC
:
East
|
West
|
North
|
South
Which AFC South rookie will have the biggest impact?
There are plenty of opportunities for first-year players in the AFC South, and it makes sense that a high draft pick who fills a need and will get time on the field will be the choice here.
[+] Enlarge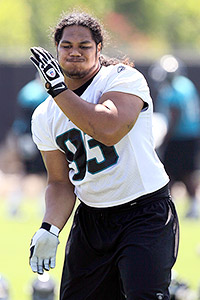 AP Photo/John RaouxTyson Alualu made a positive impression during Jacksonville's offseason workouts.
I expect
Derrick Morgan
to start, but the Titans' defensive end will need some time to find his rhythm. The Titans have some other rush options at end in
William Hayes
,
Jacob Ford
and even
Dave Ball
. In Indianapolis, first-round defensive end
Jerry Hughes
will work behind
Dwight Freeney
and
Robert Mathis
and I suspect he will be eased in as the third guy.
At this point, I'd say the highest impact guy in the division will be one of three candidates: Houston cornerback
Kareem Jackson
, Houston running back
Ben Tate
or Jacksonville's
Tyson Alualu
.
Jackson will be relying on the pass rush and the play of the rest of the secondary to help him succeed, and Tate starts off behind
Steve Slaton
and
Arian Foster
and needs better blocking than the Texans were able to provide last season.
Alualu's not as reliant on others and has no veteran in front of him, so he's my choice.
He showed an explosive first step and good hand action in OTAs. The Jaguars are hell bent on better penetration that will get quarterbacks off their spot and off their timing.
If Alualu beats the guy in front of him or even makes him retreat a bit, he'll have an impact from the start and all season.
July, 6, 2010
7/06/10
1:00
PM ET
By
Scouts Inc.'s Matt Williamson
| ESPN.com
»
NFC Big Question
:
East
|
West
|
North
|
South
»
AFC
:
East
|
West
|
North
|
South
What wide receivers does Josh Freeman have to throw to this season?
[+] Enlarge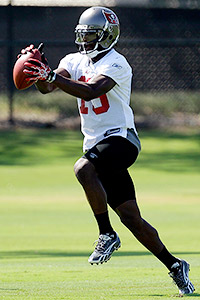 AP Photo/Chris O'MearaFourth-round pick Mike Williams has looked sharp in minicamps.
As it was with its defensive tackle weakness, Tampa Bay was very proactive on draft day bolstering its wide receiver corps. Before the draft, the Buccaneers may have had the worst set of wideouts in the NFL. While this wideout group grows up with a very promising second-year quarterback in Freeman, there will be a learning curve, but the future is pretty bright at this position. I commend Tampa Bay for acquiring talent for Freeman to develop with. Too many teams select a quarterback in the first round but don't do enough to help him be successful in a difficult transition to the NFL.
Fourth-round pick
Mike Williams
and second-round selection
Arrelious Benn
are obviously the players to watch. Rarely does a situation present itself so well for a pair of rookies to come in and make an immediate impact. While it wouldn't necessarily be reason for concern if it didn't occur, Tampa Bay would love to see Williams and Benn establish themselves as the starting wideouts. By most accounts, and obviously it is extremely early in the process -- Williams is ahead of Benn and has been very impressive. Benn also has battled an ankle injury. Williams probably offers more big-play vertical ability. Neither player is afraid of contact, but Benn is the more physical wideout in all areas of his game. These two hold the fate of the Bucs' receiving corps in their hands. That is pretty exciting, and I can't wait to watch them work with Freeman during the preseason.
The two talented rookies stand apart from the pack at this position, but Tampa Bay does have another youngster to pay attention to in
Sammie Stroughter
. I like this second-year receiver's game. He is a pure slot guy, but he is quick, tough and reliable. His skill set probably will never translate into a starting role, but he is perfect for the slot and with Williams and Benn in the fold, Tampa should be set with their top three wideouts for years to come.
If the youngsters hit stumbling blocks,
Reggie Brown
would most likely pick up the slack in 2010. Brown isn't real dynamic and quickly fell out of favor in Philadelphia, but he has been productive and can be a bridge player for the short term.
Michael Clayton
and
Maurice Stovall
are two more big-bodied wideouts who could surprise. Everyone knows Clayton's story -- a one year wonder right out of college who hasn't done a thing since. But now, there isn't any pressure. Will he step up and make an impact? I doubt it, as I see little explosion and he struggles to get consistent separation. But is it possible? Sure, why not? Stovall also is talented, but has never put it all together. Injuries have played a factor, but he just hasn't shown any level of consistency.
This season might not be pretty and surely the Bucs will feature a ball-control approach in the passing game. I also expect a lot of throws in the middle of the field to Benn, Williams, Stroughter and
Kellen Winslow
-- whom I also expect to be a factor in a wideout role detached from the formation. But the future is bright here and the young players will get every opportunity to succeed.
July, 6, 2010
7/06/10
1:00
PM ET
»
NFC Big Question
:
East
|
West
|
North
|
South
»
AFC
:
East
|
West
|
North
|
South
What was the top offseason move in the AFC East?
We've hit a rare dead period in the NFL, when all the teams have sent their players home to enjoy the summer for a few weeks. Offseason programs are complete. Training camps will begin at the end of the month.
[+] Enlarge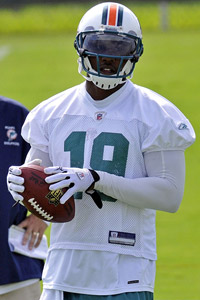 Steve Mitchell/US PresswireBrandon Marshall's trade to Miami was one of the biggest offseason moves in the AFC East.
Perfect time to review all of the offseason moves. With activity slowed to a crawl, we can safely evaluate the ones that should have the most impact on the upcoming season.
I've taken five decisions from each AFC East club and ranked them based on how important they'll prove to be in 2010.
But this list merely is to provide a reminder of what has happened the past few months. I'd like to see your list in the comments section below. Nominate your favorite move, give me your top five or rank them all.
NOTE: I was remiss in leaving out one of the bigger moves, but thanks to some friendly reminders in the comments section, I have corrected the list by inserting the Dolphins' switch at defensive coordinator at No. 4.
1. Dolphins trade two second-round draft picks for receiver
Brandon Marshall
.
2. Jets trade a third-round pick for cornerback
Antonio Cromartie
.
3. Patriots use franchise tag to ensure nose tackle
Vince Wilfork
's return.
4. Dolphins fire defensive coordinator Paul Pasqualoni and hire Mike Nolan.
5. Dolphins sign inside linebacker
Karlos Dansby
.
6. Bills name Buddy Nix general manager and hire head coach Chan Gailey.
7. Jets trade a fifth-round pick for receiver
Santonio Holmes
.
8. Bills switch to 3-4 defense.
9. Jets pass on re-signing kicker
Jay Feely
and sign pass-rusher
Jason Taylor
.
10. Bills draft Clemson running back
C.J. Spiller
ninth overall.
11. Patriots clean house at tight end, sign
Alge Crumpler
, draft
Rob Gronkowski
and
Aaron Hernandez
.
12. Dolphins move
Randy Starks
from defensive end to nose tackle.
13. Patriots sign defensive end
Gerard Warren
.
14. Jets sign safety
Brodney Pool
, trade
Kerry Rhodes
.
15. Patriots release outside linebacker
Adalius Thomas
.
16. Dolphins release outside linebacker
Joey Porter
.
17. Bills sign defensive end
Dwan Edwards
.
18. Jets replace running back
Thomas Jones
with
LaDainian Tomlinson
.
19. Bills sign inside linebacker
Andra Davis
.
20. Patriots sign receiver
Torry Holt
.
July, 6, 2010
7/06/10
1:00
PM ET
»
NFC Big Question
:
East
|
West
|
North
|
South
»
AFC
:
East
|
West
|
North
|
South
What impact will Scot McCloughan's hiring in Seattle have on the NFC West?
The
San Francisco 49ers
' former general manager hasn't relocated to the Northwest and he might not for a while. His hiring as a "senior personnel executive" could remain vaguely defined for the upcoming season.
[+] Enlarge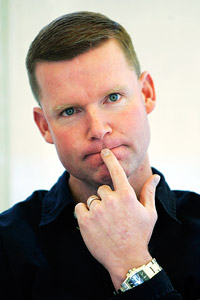 AP Photo/Paul SakumaFormer 49ers general manager Scot McCloughan will make an immediate impact on the Seahawks.
McCloughan has immediate value for the Seahawks, however, because he knows so much about the division and specifically the 49ers, who visit Seattle in Week 1. Much of the Seahawks' new leadership is new to the division. Coach Pete Carroll couldn't possibly have as strong a feel for the 49ers as he would after a season or two in the NFC West.
McCloughan helps fill in some of the gaps. He can provide insight into and an overall feel for how the 49ers' coaches think. He'll know what makes them uncomfortable and how they're likely to react to specific situations. He'll know where the 49ers are most vulnerable from a scheme standpoint. He can offer similar knowledge about nearly every prominent player on the 49ers' roster. The result is that Seattle's coaching staff should be more comfortable entering the season opener and division play in general than it would have been without McCloughan's recent addition to a senior personnel position.
Overall, McCloughan should make the Seahawks more comfortable heading into Week 1.
The situation is unusual even though NFL personnel people change teams regularly. McCloughan and Seahawks general manager John Schneider happened to get their NFL start together in Green Bay. The Seahawks happened to hire McCloughan months after his surprising departure from the 49ers. The NFL happened to pit the Seahawks and 49ers against one another in Week 1 this season.
In some ways, McCloughan will be working against his own legacy. Had he signed with a team outside the division, he could have more naturally rooted from afar for
Alex Smith
and some of his other 49ers draft choices to succeed.