NFL Nation:

The Big Question 71310
July, 13, 2010
7/13/10
1:01
PM ET
»
NFC Big Question
:
East
|
West
|
North
|
South
»
AFC
:
East
|
West
|
North
|
South
What players in the division qualify as the most important, emerging second-year guys?
We'll steer away from guys who were major contributors as rookies last year, looking for breakout sophomore candidates.
[+] Enlarge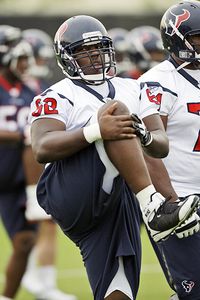 AP Photo/David J. PhillipThe Texans need Antoine Caldwell to step up and claim a starting spot on the interior line.
In Houston, we know
Brian Cushing
can play and we know the Texans love
Glover Quin
.
Antoine Caldwell
, the Texans' 2009 third-round lineman, needs to be part of the solution on an interior offensive line that suffered serious injuries early last season. It was particularly ineffective in the run game. He looks like he
might be the guy
at right guard, but there is still quite a bit to sort out. (
Correction
: Caldwell was taken in the third round, not the second.)
For the Colts, halfback
Donald Brown
needs to pass protect better to earn time on the field. But our choice is defensive tackle
Fili Moala
. The 2009 season amounted to a redshirt season for him as he tried to make the adjustment from USC to the NFL. But they drafted him as part of a push to be bigger and more physical inside and it would be good for them if he earned a slot in the rotation.
The 2009 Jaguars were loaded with rookie contributors, and
Eugene Monroe
,
Eben Britton
,
Mike Thomas
,
Terrance Knighton
and
Derek Cox
all did too much to still qualify as candidates here.
Zach Miller
's a great candidate, but with
Marcedes Lewis
and
Ernest Wilford
having good springs, the need at tight end doesn't compare to safety. With a shaky corps of veterans at safety,
Courtney Greene
has room to earn the faith of the coaches and time on the field. He was an undrafted free agent out of Rutgers last year.
The
Tennessee Titans
are looking to their 2009 draft class for a giant contribution. Receiver
Kenny Britt
and linebacker
Gerald McRath
are going to get significant playing time. While
Jason McCourty
or
Ryan Mouton
will get the spotlight as a second corner, I'm not sold on either DB yet. But I do expect defensive tackle
Sen'Derrick Marks
to break out. He's
gotten stronger
, and should be a key interior piece. Maybe he will take snaps away from the disappointing
Jovan Haye
?
July, 13, 2010
7/13/10
1:00
PM ET
»
NFC Big Question
:
East
|
West
|
North
|
South
»
AFC
:
East
|
West
|
North
|
South
The San Francisco 49ers are a popular pick -- and the most logical one -- to win the NFC West this season. What are the two-time defending champion Arizona Cardinals' chances?
At least four factors give the Cardinals more than a fighting chance in their first season following
Kurt Warner
's retirement:
[+] Enlarge

AP Photo/Ross D. FranklinFirst-round pick Dan Williams joins Calais Campbell and Darnell Dockett on what figures to be a formidable defensive line.

Superiority on the front lines. The Cardinals could have the best offensive and defensive lines in the division. Quarterback is still the most important position, but it's not as though the rest of the division is stacked at the position. The 49ers are the only team in the division with a defensive line close to as strong as the one Arizona will field this season. One question, though, is whether the Cardinals' defense can take full advantage of the strength Darnell Dockett, Calais Campbell and rookie first-round choice Dan Williams can provide. On offense, the 49ers loaded up with two offensive linemen in the first round, but the Cardinals' veteran group should be better in the short term after adding Alan Faneca and Rex Hadnot.

The Smith-Leinart factor. The Cardinals' Matt Leinart couldn't beat out Warner over the last few seasons. There's little shame in that. If the 49ers' Alex Smith can become a promising prospect less than a year after failing to beat out Shaun Hill as the 49ers' starter, Leinart shouldn't be written off automatically. Playing even to Smith's level could be enough for Arizona to win the division. Leinart hasn't done much to inspire confidence that he's ready for the job, but neither had Smith until he finally got an extended chance last season.

Coaching. The Cardinals wisely extended Ken Whisenhunt's contract through the 2013 season. Whisenhunt has succeeded in embracing the underdog's mentality in Arizona even while he has worked to change perceptions about the organization. The natural and justifiable tendency to discount the Cardinals following Warner's retirement should play into Whisenhunt's motivational hands.

Pressure/expectations. The pressure is off Arizona after the team won back-to-back division titles, multiple playoff games and earned a Super Bowl appearance over the last two seasons. The 49ers haven't won anything lately and it's unclear how they'll respond to pressure and expectations. Team president Jed York guaranteed a playoff appearance before last season. The team fell short, but it's clear York expects the team to deliver this season. The pressure is on San Francisco.
I've named the 49ers my preseason favorite based on what should happen, but what should happen isn't always what does happen. The Cardinals do not plan to go quietly.
July, 13, 2010
7/13/10
1:00
PM ET
»
NFC Big Question
:
East
|
West
|
North
|
South
»
AFC
:
East
|
West
|
North
|
South
Can the defending AFC North champion Cincinnati Bengals overcome a first-place schedule to duplicate last year's success?
[+] Enlarge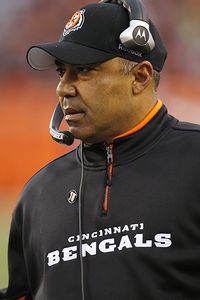 Frank Victores/US PresswireCan Marvin Lewis coach the Bengals through a first-place schedule?
Coming off a division title and their first playoff appearance in four years, the Cincinnati Bengals have even higher expectations in 2010. But to repeat a run to the postseason, Cincinnati will have to accomplish the feat against a brutal first-place schedule.
Will the Bengals hold up against the NFL's elite?
Cincinnati has the league's
fourth-toughest strength of schedule
this season and will play 10 games against opponents that had winning records a year ago. Four will be within the AFC North division against the Baltimore Ravens (9-7) and Pittsburgh Steelers (9-7).
On paper, this is the deepest and most talented team head coach Marvin Lewis has had in eight seasons in Cincinnati. The defense was ranked No. 4 last season, and the offense added weapons to the passing game to balance its already stout rushing attack.
By all accounts, the Bengals appear to have better chemistry than the 2005 playoff team. That group tasted one year of success and unraveled. Cincinnati suffered through three consecutive non-winning seasons from 2006-08, before finally turning it around last year.
"First and foremost, the teams are totally different," Bengals captain and offensive guard Bobbie Williams said recently. "The maturity on this team, even though it's a younger team, is phenomenal. Guys are way more focused, more hungry and way more professional. The hunger never dies. So it's totally different."
It has been well-documented that the Bengals haven't had
back-to-back winning seasons in 28 years
. The talent is there to end Cincinnati's streak, but a first-place schedule could be the team's biggest hurdle.
July, 13, 2010
7/13/10
1:00
PM ET
»
NFC Big Question
:
East
|
West
|
North
|
South
»
AFC
:
East
|
West
|
North
|
South
How will Patriots QB Tom Brady handle his contract issues?
In New England, it's all about team. Bill Belichick and the organization have stressed the team concept in winning three Super Bowls during the 2000s. Because it's a team, the Patriots have asked their players to take a little less in pay in order to keep this team together. Like most Patriots, Brady took less and thought little about it.
[+] Enlarge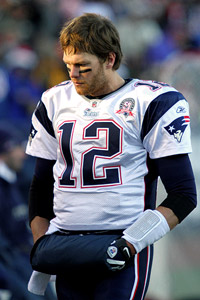 Jerome Davis/Icon SMITom Brady is entering the last year under his contract.
Now, everyone is doing a lot of thinking. Brady is in the last year of his contract at a time it is very hard to do a long-term deal because of the league's current labor woes. With
Peyton Manning
having some of the same difficulties in Indianapolis, the chances of a contract extension getting done for Brady before the start of camp would seem to be impossible.
Brady has a decision. Does he simply report and hope something gets done or does he try to make a statement with a holdout? A Brady holdout could be the biggest story of the NFL this summer. Over the past couple of years, Brady and his teammates have watched a few key members of the Super Bowl teams -- such as
Asante Samuel
and
Richard Seymour
-- leave in free agency or trades.
The Patriots face a potential holdout from Pro Bowl guard
Logan Mankins
, who arguably is the team's best blocker. Top guards get $8 million a year, and the Patriots are offering $6.5 million.
Mankins hasn't signed his restricted free-agent tender; it's possible that tender will be reduced to 110 percent of his 2009 base salary, or $1.54 million. He can hold out without getting fined.
Odds favor Brady showing up in good faith and hoping for a deal, but he has made it clear he doesn't want to take a discount in this next contract. No one knows where the salaries of Brady or Manning could end up. Some think Manning could end up commanding more than $20 million a year.
In the meantime, Brady has to decide if he wants to create controversy by making this a big story by not showing up for the start of camp. The ball is in his court.
July, 13, 2010
7/13/10
1:00
PM ET
»
NFC Big Question
:
East
|
West
|
North
|
South
»
AFC
:
East
|
West
|
North
|
South
How will Carolina coach John Fox handle the development of rookie quarterback Jimmy Clausen?
[+] Enlarge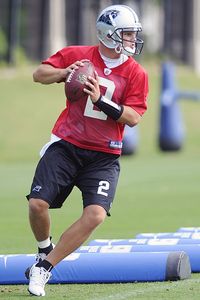 Sam Sharpe/US PresswireJimmy Clausen is just the quarterback the Panthers need, but he might not start right away.
Under normal conditions, Clausen's fall to the second round and into the hands of the Panthers would be considered a blessing. Under the current circumstances, though, his presence puts added pressure on Fox.
Clausen, as a quarterback prospect, is just what the Panthers have been looking for as a replacement for the departed
Jake Delhomme
. He's smart, talented and comes from a big-time school in Notre Dame. But Fox doesn't have the luxury to think long term. Despite his success, Fox is in the final year of his contract and there is a good chance he could leave after the season. Fox must win now, which can be difficult with a rookie quarterback.
Fox has spent the offseason with
Matt Moore
as the starter. Not trying to rush Clausen, Fox has had him working as the third-string quarterback behind Moore and
Hunter Cantwell
. To some degree, having Cantwell ahead of Clausen has slowed his development because Clausen has had fewer reps with the starters. With Moore, Clausen and
Tony Pike
on the roster, Cantwell won't make the 53-man roster unless there is an injury.
Further complicating things is the broken arm suffered by wide receiver
Steve Smith
. None of the quarterbacks gets to work with their go-to wide receiver until the start of the regular season. Clausen has the benefit of knowing the offense. Jeff Davidson, the Panthers' offensive coordinator, worked with former Notre Dame coach Charlie Weis in New England and has installed the same system Clausen ran in college. The conventional thought is that Moore enters the season as a starter, but if teams figure him out and the Panthers lose some games, Clausen could get the nod. Still, the Panthers are mostly a running offense, so it could be easier to start Clausen at the beginning if Fox wanted. It's a tricky situation to sort out this summer.
July, 13, 2010
7/13/10
1:00
PM ET
By
Scouts Inc.'s Matt Williamson
| ESPN.com
»
NFC Big Question
:
East
|
West
|
North
|
South
»
AFC
:
East
|
West
|
North
|
South
Who's the best backup QB in the NFC North?
Take a few minutes and peruse all the NFL depth charts. Look at the No. 2 quarterbacks for every team. This isn't a topic that is discussed enough, but
it is a putrid group
. Not every team has a clear-cut No. 2 and some of the quarterbacks who presently qualify are extremely young and unproven -- such as
Sam Bradford
or
Jimmy Clausen
-- making it hard to comment on their NFL acumen. But overall, the backup quarterback situation in this league is horrendous.
[+] Enlarge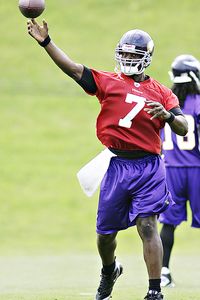 AP Photo/Andy KingBackup QB Tarvaris Jackson has 19 starts -- 12 in 2007 -- in four seasons with the Vikings.
For the sake of this exercise, I am assuming that
Brett Favre
is the Vikings' starter. And Favre just doesn't miss games. But even though he is unlikely to see the field, I give Minnesota's
Tarvaris Jackson
the nod over Detroit's
Shaun Hill
, Green Bay's
Matt Flynn
and Chicago's
Caleb Hanie
as the top backup in the NFC North.
This is a two-horse race between Jackson and Hill, as both quarterbacks have at least started games in the NFL. Flynn and Hanie fall into that "relative unknown" category at this stage. I do think Flynn is cerebral and would do little to hurt his high-powered offense. In fact, if I saw a little more of Flynn in action, I might tab him the best backup in this division. But there just isn't enough to go off of right now -- 17 career passing attempts aren't enough. Hanie might surprise as a nice side project for Bears offensive coordinator Mike Martz, but again, I just can't rank him over Jackson or Hill without seeing a lot more from him first.
Trust me, I am not a believer in either Jackson or Hill. They both have a huge flaws. Jackson has proven to be too inaccurate of a passer at all levels. He also consistently tries to do too much -- which he proves to be incapable of over and over again. Hill is very tough and plays with moxie. He has won his share of games as a starter. As the veteran presence among this group of quarterbacks, his contributions most likely will come in the meeting room and off the field. Hill also doesn't turn over the ball often and is a quick decision-maker. But Hill's physical tools, namely his arm, will always hold him back from being able to utilize the entire field, which is why he was allowed to leave San Francisco with little in return in a trade.
Jackson can improve and did show positive signs before Favre came to Minnesota. The tools are there. He has a big, strong frame, an excellent arm and great athletic ability. But I don't think he will ever be a respectable passer in terms of his accuracy -- in fact, he wasn't even all that accurate at Alabama State.
In the end, I will take Jackson over Hill, Flynn or Hanie. But again, I wouldn't be excited about any of the options.
July, 13, 2010
7/13/10
1:00
PM ET
By
Scouts Inc.'s Matt Williamson
| ESPN.com
»
NFC Big Question
:
East
|
West
|
North
|
South
»
AFC
:
East
|
West
|
North
|
South
Which NFC East 2010 first-rounder will have the largest impact this season?
I would expect Redskins OT
Trent Williams
to get the most snaps as a rookie and the physical abilities of both Giants DE
Jason Pierre-Paul
and Cowboys WR
Dez Bryant
are simply superb, but when considering ability and opportunity, I will select Eagles DE
Brandon Graham
. In fact, I am strongly considering Graham as my defensive rookie of the year pick. He's a heck of a football player.
[+] Enlarge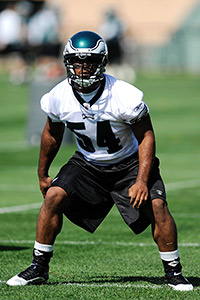 Howard Smith/US PresswireRookie Brandon Graham had 10.5 sacks and 26 tackles for a loss during his senior season at Michigan.
With the exception of Williams, cracking the lineup probably will not come easily to this group. There are three quality defensive ends in front of Pierre-Paul. Bryant has
Roy Williams
in front of him, who obviously has not lived up to expectations, but Dallas does have a lot invested in him. Bryant might be quick to surpass Williams, but in the pecking order of Dallas receivers, it seems unlikely that he will catch more balls than
Jason Witten
or
Miles Austin
. The Eagles have a plethora of undersized defensive-end types. But with the exception of
Trent Cole
, I think Graham quickly will surpass all of those players.
But Cole is the key here. Although rarely recognized as such, he is among the best players in the NFL at his position. He will demand a ton of attention from every pass-protection scheme that the Eagles face. And in the NFC East, the left tackles Cole will face (
Doug Free
,
David Diehl
and Trent Williams, who played left tackle for only one year in college) appear to be overmatched against him in the passing game. Offenses will keep extra blockers in to help protect their quarterback's blind side against the Eagles -- which sets up Graham perfectly for a monster rookie season.
Graham doesn't have Pierre-Paul's physical gifts, but he is more NFL-ready than any defensive end in this rookie class. He is tenacious and is very adept at using his shorter stature to his advantage as a terrific leverage player. Graham is pretty stout when teams run right at him, but because of the other defensive ends on Philadelphia's roster, he probably will not be in a situation where he will wear down from teams running right at him. He also is very good in pursuit on running plays away from him.
As a pass-rusher, he can bull rush with leverage and power. He can use his speed around the corner and dips his shoulder low without losing speed. For such a young player, Graham is excellent at going to a second move and he simply never gives up on a play. To me, this combination gives him the best chance to provide the most immediate impact of these four promising NFC East first-round selections.
July, 13, 2010
7/13/10
1:00
PM ET
»
NFC Big Question
:
East
|
West
|
North
|
South
»
AFC
:
East
|
West
|
North
|
South
Have the Chiefs done enough on defense to make the team a viable playoff contender?
There is renewed hope in Kansas City, where the Chiefs have won a total of 10 games the past three seasons. There is hope that the Chiefs can make a run at a .500 record and perhaps better.
[+] Enlarge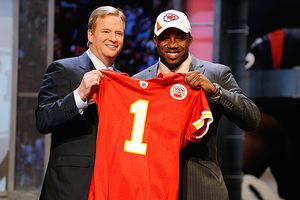 Jeff Zelevansky/Getty ImagesTop pick Eric Berry will help the Chiefs defense, but the team needs more pieces.
Much of the excitement is because of what the team has done on offense. Quarterback
Matt Cassel
, in his second season in Kansas City, has a revamped offensive line, more receiving options, veteran running back
Thomas Jones
to go with young star
Jamaal Charles
and the group is headed by guru Charlie Weis, who is back in the NFL where he enjoyed his greatest success.
That is reason for hope. But what about on defense?
I'm not sure if Kansas City has improved enough on that side of the ball to make a serious playoff run. There are two new, significant pieces in coordinator Romeo Crennel and safety
Eric Berry
, who was the No. 5 overall pick. I think Crennel will make the defense better just because of his presence and I think Berry will be an impact player. Every great defense needs a stout safety and Berry should be just that.
But the Chiefs had a lot of holes on defense and need another significant addition or two that can help right away. I'd like to see an experienced pass-rusher and perhaps another linebacker.
If Crennel and Berry make big impacts and if young players such as
Glenn Dorsey
and
Tyson Jackson
(two defensive linemen who were Kansas City's No. 1 picks the past two years) make big strides, there is hope. But they need more impact personnel than just Crennel and Berry.

NFL SCOREBOARD
Thursday, 9/18
Sunday, 9/21
Monday, 9/22
WEEKLY LEADERS