NFL Nation:

The Big Question AFC 31610
March, 16, 2010
3/16/10
1:00
PM ET
»
NFC Big Question
:
East
|
West
|
North
|
South
»
AFC
:
East
|
West
|
North
|
South
Can newly acquired quarterback Brady Quinn fulfill his potential in Denver?
[+] Enlarge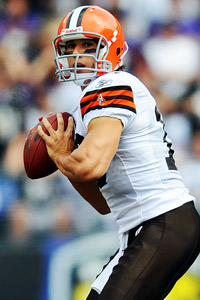 James Lang/US PresswireWill a change of scenery help Brady Quinn? The Broncos sure hope so.
That's what everyone in Denver wants to know. Quinn was not impressive in Cleveland in his first three NFL seasons. Cleveland gave up on the 2007 first-round pick after he failed to make strides in 2009. He was 2-7 as the team's starter last season.
Still, Denver found it worth its while to take a chance on Quinn. Denver traded backup running back
Peyton Hillis
and two future draft picks for Quinn on Sunday.
If Quinn is going to succeed as an NFL quarterback, it could be in Denver. Second-year Broncos head coach Josh McDaniels has a reputation for working well with quarterbacks. He made
Matt Cassel
an instant impact player in New England in 2008 and he helped
Kyle Orton
make strides last year in Denver. Quinn played for Charlie Weis at Notre Dame. Weis is a mentor of McDaniels. The two coaches have similar philosophies.
Quinn should have no trouble adjusting to McDaniels' scheme. He is already well versed in it.
Quinn won't face the same pressure to succeed in Denver that he did in Cleveland. He was a first-round pick for his home-state team. In Denver, Quinn comes with a small price tag and low expectations. There is also no rush for him to make an impact. Orton probably will start in 2010.
If Quinn makes great strides in McDaniels' system, perhaps he can hit the playing field earlier than expected. His primary job now is to correct his issues and become a sponge in McDaniels' system.
If Quinn embraces this opportunity, there is a chance his career can be salvaged.
March, 16, 2010
3/16/10
1:00
PM ET
»
NFC Big Question
:
East
|
West
|
North
|
South
»
AFC
:
East
|
West
|
North
|
South
There has been a serious amount of debate lately about how much
LaDainian Tomlinson
and
Thomas Jones
have left to spare and whether the
New York Jets
made the right decision.
So many numbers have rolled over on their odometers. They're running backs in their 30s with thousands of touches. Their bones have absorbed countless hits.
[+] Enlarge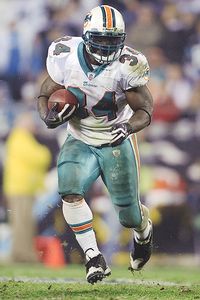 Paul Abell/US PresswireRicky Williams is coming off a season in which he rushed for 1,121 yards.
Yet there are four more AFC East backs who are older than Tomlinson and Jones.
How much more can the rest of these thirtysomethings contribute?
By the time Tomlinson turns 31 and Jones turns 32, a backfield quartet within the division will be 33 or older.
Miami Dolphins
running back
Ricky Williams
will be 33, while
New England Patriots
veterans
Fred Taylor
,
Kevin Faulk
and
Sammy Morris
will be a combined 101 years old.
Age alone doesn't always provide an accurate forecast. ColdHardFootballFacts.com, an outside-the-box analytical site, recently theorized the
sell-by date for a running back is 2,800 touches
, the combined number of rushing attempts, receptions and kick returns.
Based on that, Taylor is closest to the end. He turned 34 in January and missed most of last season because of ankle surgery. He has 2,779 touches. Don't expect much, even in the Patriots' diluted backfield.
Williams is next. He will turn 33 in May and is coming off a season in which he rushed for 1,121 yards, breaking the NFL record for most years between 1,000-yard campaigns.
Dolfans point to Williams' extended absence from the game as a reason he still has something left. But in his prime, Dolphins coach Dave Wannstedt rode him hard. Williams recorded at least 430 touches in consecutive seasons and has amassed 2,474 to date.
The Patriots' other two tricenarians have lower mileage. Faulk has only 839 career rushing attempts, and even with his 181 kick returns, has 1,537 touches. Morris has only 32 career starts and 853 touches.
March, 16, 2010
3/16/10
1:00
PM ET
»
NFC Big Question
:
East
|
West
|
North
|
South
»
AFC
:
East
|
West
|
North
|
South
Can new receiver Antonio Bryant jump-start the Cincinnati Bengals' passing game?
This much we know: Bryant is an upgrade over former Bengals receiver
Laveranues Coles
.
[+] Enlarge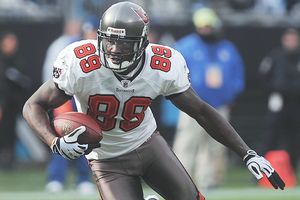 Sam Sharpe/US PresswireThe Bengals are banking on Antonio Bryant rebounding from a subpar season in 2009.
But by how much remains an interesting topic of debate.
After recently agreeing to a four-year, $28 million contract, it's clear the Bengals are hoping for the 2008 version of Bryant, who caught 83 passes for 1,248 yards and seven touchdowns. The $7 million average per year, which is similar to
Baltimore Ravens
receiver
Anquan Boldin
's contract, only adds to the pressure for Bryant to produce.
But what if Cincinnati gets the 2009 version of Bryant?
Last season Bryant had the franchise tag with the
Tampa Bay Buccaneers
, fought through a knee injury and underachieved with 39 receptions for 600 yards and four touchdowns. Coles had four more receptions (43) and one more touchdown (five) than Bryant last season and was released by the Bengals.
Bryant has qualities in his game that should help the team. He has pretty good quickness and size, which quarterback
Carson Palmer
likes, and toughness to go over the middle and make catches in traffic. That element has been missing in Cincinnati since the departure of
T.J. Houshmandzadeh
after the 2008 season.
This will be a new role for Bryant as the No. 2 receiver. The Bengals desperately need a legitimate threat opposite Pro Bowl receiver
Chad Ochocinco
, and Bryant has a solid 15.3 yards per catch average for his career that should strike fear in most defenses.
If Bryant has a bounce-back season in 2010, adding him to the mix and possibly drafting a receiving tight end would give Cincinnati the offensive balance that it needs.
March, 16, 2010
3/16/10
1:00
PM ET
»
NFC Big Question
:
East
|
West
|
North
|
South
»
AFC
:
East
|
West
|
North
|
South
Is David Garrard a good enough quarterback to help get the Jaguars to the next level?
[+] Enlarge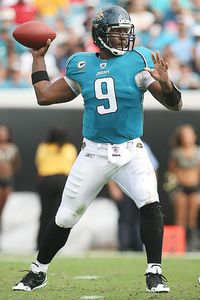 Doug Benc/Getty ImagesDavid Garrard is a competent starter, but may not be the long-term solution in Jacksonville.
The recent debate over
whether he's elite
was somewhat silly, since everyone knows that he hasn't been. Does Garrard have some skills? Sure. Has he won and taken his team to the second round of the playoffs? Yup. Have his protection and weapons been sufficient? Nope.
But that's not enough to gain him a full endorsement, even as GM Gene Smith has indicated the team will move forward with Garrard and
Luke McCown
as their top two. Garrard locks in on receivers and lacks instincts at crucial times.
If everything goes right around him, he can make plays. But how often does an offensive snap find the 10 other players doing everything right? Not very often.
Garrard is better than a good share of NFL quarterbacks. Buffalo, Tampa Bay, San Francisco, St. Louis and Oakland would all be better off with him on their rosters, I believe.
Still, I have trouble seeing him as the long-term solution for Jacksonville.
(
Here's a column
on Garrard from last summer with interesting insight from Dirk Koetter on what Garrard throws best.)
For a second opinion I went to the ever-reliable Matt Williamson of Scouts Inc.:
"I am not sure what the logic is by Jack Del Rio to say those things in public, but I don't disagree. He isn't elite. It doesn't take much of a scout to see that. But, his protection also was not very good last year and overall throughout his career, his weapons have been substandard. I do love his athletic ability and his strong body. Can break tackles. Make plays with his feet. Buy time. Hurt a D as a runner. Above average arm.

"All those things are nice, but he doesn't get the ball out of his hands on time and is just average from an accuracy standpoint. Doesn't consistently put the ball where it needs to be or on time. At this point, I tend to think he is what he is and probably will not improve by leaps and bounds. That being said, I thought he was much better the past two years than he was in 2009.

"Could there have been an injury or three that we didn't know about? I do think he is starting material, but not in the upper half of starting QBs...so in the end, he is good enough to win with and be competitive with if his supporting cast is excellent, but he is also the kind of QB that you always look to upgrade upon. Tough situation to be in."