NFL Nation:

The Big Question AFC 32310
March, 23, 2010
3/23/10
1:00
PM ET
»
NFC Big Question
:
East
|
West
|
North
|
South
»
AFC
:
East
|
West
|
North
|
South
Does the loss of offensive coordinator Kyle Shanahan mean the Texans' offense will struggle through an adjustment period?
[+] Enlarge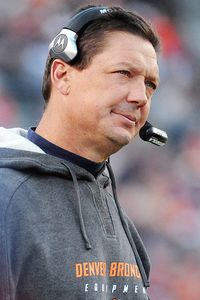 Kirby Lee/Image of Sport/US PresswireRick Dennison takes over the Texans' offense from Kyle Shanahan, who joined his father's staff in Washington.
Shanahan went to Washington to join his dad's new staff with the Redskins. The Texans' offensive system isn't going to change a lot as Rick Dennison takes over the post. Like Kubiak and Kyle Shanahan, Dennison comes from Denver roots with Mike Shanahan.
The Texans will do everything possible to make for a smooth transition. Still, even with a top-flight quarterback (Matt Schaub) and one of the game's best receivers (Andre Johnson), Dennison is a different guy and his own man and there is likely to be an adjustment period.
Change at coordinator can often be underrated with regard to that settling-in time. Look no further than Houston's change -- by choice, not necessity -- last season when Frank Bush was elevated to defensive coordinator. The defense was shaky early and it dented their season. The Texans recovered and played much better later, but their 9-7 record left them just short of the playoffs. (Yes, Bush took over a unit that needed big changes, and Dennison has a group that has proved productive.)
Houston is looking to revamp its interior offensive line and will add a running back it hopes can work in tandem with Steve Slaton. Dennison will be charged with helping weave a more effective running game into an already-explosive passing offense.
There is a lot of reason for optimism there. But how the change affects relationships, tempo, play-calling and more is something we must monitor early on in Dennison's term.
March, 23, 2010
3/23/10
1:00
PM ET
»
NFC Big Question
:
East
|
West
|
North
|
South
»
AFC
:
East
|
West
|
North
|
South
Will the Cleveland Browns find a long-term solution at quarterback?
[+] Enlarge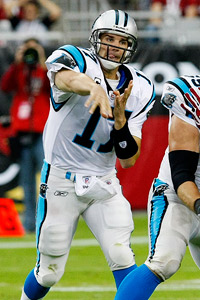 Rick Scuteri/US PresswireThe Browns signed Jake Delhomme to be their short-term starter.
Jake Delhomme
is expected to be the Browns' starting quarterback in 2010.
But after that, it's anyone's guess.
Therefore, Cleveland is feverishly searching for its quarterback of the future this offseason. It's not known how much the 35-year-old Delhomme has left in the tank. So he is merely a stopgap solution for this upcoming season -- albeit a very expensive one at $7 million.
Browns president Mike Holmgren has always had stability at the quarterback position, and it's making him antsy not to have that same luxury in Cleveland. With the
San Francisco 49ers
, he was
Joe Montana
's position coach. As head coach of the
Green Bay Packers
, Holmgren won a Super Bowl with
Brett Favre
. Holmgren also helped lead the
Seattle Seahawks
to the Super Bowl with veteran quarterback
Matt Hasselbeck
.
The Browns burned up the phone lines in free agency trying to find the best deal possible. Some rumored names included quarterbacks
Kevin Kolb
and
Donovan McNabb
of the
Philadelphia Eagles
, although nothing came to fruition.
But in a pair of anticlimactic moves, Cleveland ended up with Delhomme and career backup
Seneca Wallace
as its two quarterbacks. The team also traded
Brady Quinn
to the
Denver Broncos
and released former Pro Bowler
Derek Anderson
.
Now the Browns' primary goal in next month's NFL draft is to find a rookie quarterback to groom. But don't expect it to happen with the No. 7 overall pick, according to Holmgren.
The AFC North blog reported Monday
that Cleveland is showing interest in University of Texas quarterback
Colt McCoy
, who is a projected second-round pick. The Browns will host McCoy for two days on April 12-13. He has an accurate arm that could fit in Cleveland's West Coast-based system.
Other possible targets include
Dan LeFevour
,
Tony Pike
,
Jevan Snead
and maybe even
Tim Tebow
, as Cleveland tries to solidify its future at the league's most important position.
March, 23, 2010
3/23/10
1:00
PM ET
»
NFC Big Question
:
East
|
West
|
North
|
South
»
AFC
:
East
|
West
|
North
|
South
Can JaMarcus Russell make enough strides in the offseason to compete for Oakland's starting quarterback job in training camp?
[+] Enlarge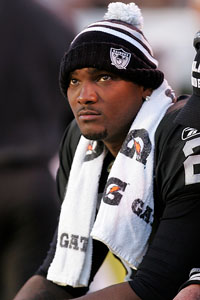 Ezra Shaw/Getty ImagesJaMarcus Russell will have to prove he can take the reigns in Oakland.
Russell has so much work to do that he will need the entire offseason to fix issues and come into training camp, which could be his last in Oakland, ready to be a starting quarterback.
Russell began his reclamation project in January when he went to Arizona to work with a trainer. Russell's main goals were to shed weight and work on his fundamentals. He showed up last week during the second day of Oakland's offseason workout program and reportedly weighed in at 271 pounds.
His listed weight at the start of 2009 was 261 pounds, but we don't know how much he weighed at the end of the season. He did seem to put on weight after he lost his starting job in November, so it's good news for Russell that he weighs 271 pounds now.
Russell's issues run deeper than his weight. Even if Russell were to show up at 235 pounds, he still must address his fundamentals. He has terrible footwork. He has an atrocious completion percentage -- 48.8 percent in 2009. He stares down his intended receiver. He can't read defenses. He has a poor work ethic and is not a leader.
Those are major problems, folks. He has to address each shortcoming before camp and I don't think he has enough time. The fact that he is actually trying is commendable, but this is the former No. 1 overall pick. There are no excuses. He already should be much further along than he is.
I don't think Russell will be ready by training camp and I see him losing the starting job to
Bruce Gradkowski
-- who ignited the Oakland offense when he took over last fall.
March, 23, 2010
3/23/10
1:00
PM ET
»
NFC Big Question
:
East
|
West
|
North
|
South
»
AFC
:
East
|
West
|
North
|
South
Should the NFL change its overtime format?
ORLANDO, Fla. -- One of the biggest topics of discussion here at the NFL owners meetings is whether to tweak overtime rules.
[+] Enlarge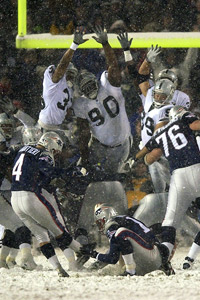 Ezra Shaw/Getty ImagesUnder the proposed overtime rules changes, this Adam Vinatieri field goal would not have immediately ended the game.
The competition committee has recommended the league adopt a system for the playoffs allowing the team that loses the coin flip a possession if the team that wins the coin toss kicks a field goal on the opening drive.
Sudden death would occur only if a touchdown is scored.
There has been spirited debate about whether it will pass.
Traditionalists such as
Miami Dolphins
head coach Tony Sparano and
New York Jets
head coach Rex Ryan prefer the current system. First team to score wins, no matter what. They view the proposal as too radical.
Buffalo Bills
general manager Buddy Nix and
New England Patriots
coach Bill Belichick prefer change.
"I think probably it's a good idea," Nix said. "Fans want it and what it does is if you're a team that gets beat without ever touching the ball by a field goal, obviously, you feel that you've been cheated if you don't get a shot at it.
"I probably shouldn't say this -- I usually do anyway -- but I think any time you take a kick out of it, a field goal out of the equation, then it helps. And it will limit some because a guy on fourth-and-1 from the 15, he might go for the first down to try to get the game over with, which I think is a good thing."
My take is that the proposal would be an effective and fair way to determine a winner, but it should be instituted for regular-season games too. If the NFL deems the current system inadequate for money games, then how can it justify maintaining the overtime system for a crucial game in Week 16 or 17 with a playoff berth on the line?
NFL SCOREBOARD
Thursday, 10/16
Sunday, 10/19
Monday, 10/20
WEEKLY LEADERS