NFL Nation:

The Big Question AFC 42010
April, 20, 2010
4/20/10
1:00
PM ET
»
NFC Big Question
:
East
|
West
|
North
|
South
»
AFC
:
East
|
West
|
North
|
South
Can the Jaguars or Titans get back into the second round?
Jacksonville is set to go on pause after pick No. 10 until No. 74 overall in the third round, the price of the pick the Jaguars got from New England last April to get
Derek Cox
with the 73rd pick.


Tennessee will go silent after No. 16 until No. 77 in the third, the cost of the selection the Titans got from New England last April to get
Jared Cook
with the 89th pick.
But both teams have needs, won't necessarily be in love with someone in their first-round slots and would surely love to get back into the second round.
So what would it cost?
Here are hypothetical trade examples for each team using our draft value trade chart that's below.
They are not based on me knowing anything about the Eagles, Chargers or Cowboys wanting the trade up. (Please read that twice.) I just think those three teams are in the area where the Jaguars or Titans would like to move down to, and the Eagles are intriguing because they have two second-rounders.
Jacksonville gives up No. 10 for Philadelphia's No. 1 pick at No. 24 and also gets Philadelphia's second second-rounder, 55th overall, and a seventh-rounder, 200th overall. (Chart values, that's 1,300-1,102.4.)
Jacksonville gives up No. 10 for San Diego's No. 1 pick at 28 and also gets San Diego's second-rounder, 40th overall, and a seventh-rounder, 235th overall. (Chart values, that's 1,300 to 1,161.9)
Tennessee gives up No. 16 for Philadelphia's two No. 2 picks, 37th and 55th overall. (Chart values, that's 1,000-880.)
Tennessee gives up No. 16 for Dallas' No., 1 pick at No. 27 and also gets Dallas' second rounder, 59th overall. (Chart values, that's 1,000-990.)
If the Jaguars or Titans don't have a true love available at 10 or 16 and the Eagles, Chargers or Cowboys were willing partners, I'd have no beef with those deals or anything similar.
I've touched on how our ability to add up the numbers
may prevent some teams
from making deals that don't quite add up, like these don't. But if you want out of your spot and you are determined to get a second-round pick, I'm OK with you getting a little less than what fans and media will feel is full value based on this chart.
April, 20, 2010
4/20/10
1:00
PM ET
»
NFC Big Question
:
East
|
West
|
North
|
South
»
AFC
:
East
|
West
|
North
|
South
Florida quarterback Tim Tebow will be one of the top stories in the draft. Could he end up in the AFC West?
[+] Enlarge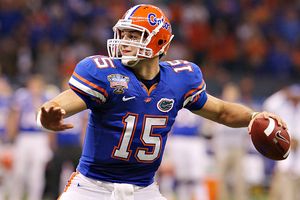 Derick E. Hingle/US PresswireCould Tim Tebow's first stop in the NFL be in the AFC West?
The chances of Tebow being drafted by an AFC West team seem higher now than they did a month ago.
He is attracting interest from the division. Denver brought in him for a visit last week and worked him out Monday. Broncos coach Josh McDaniels was complimentary of Tebow during his pre-draft press conference. Oakland coach Tom Cable acknowledged that the Raiders met with Tebow at the NFL combine in February.
There has not been any reported interest in Tebow from Kansas City or San Diego. However, both teams could potentially look at young quarterbacks in the draft.
Still, because of the known interest by the Raiders and the Broncos, they have to be considered the front-runners in the division to draft Tebow.
Both teams could take a quarterback early. Oakland is more likely to draft a quarterback, though, because Denver recently traded for
Brady Quinn
. Oakland has the No. 39 pick in the draft and that might be a good time to take a player like Tebow, if he is available. Denver has the No. 43 and No. 45 picks and if it really wants Tebow it will have the drafting power to do so.
Ultimately, though, I think it may be a bit of an upset if Tebow lands in the AFC West. I think there is more interest in him around the league than from AFC West teams. AFC West teams have other needs and by the time one of them would be considering Tebow, he will be off the board.
But it will be worth keeping an eye on during the draft.
April, 20, 2010
4/20/10
1:00
PM ET
»
NFC Big Question
:
East
|
West
|
North
|
South
»
AFC
:
East
|
West
|
North
|
South
Which AFC East quarterback has the most pressure to produce in 2010?
We have little idea who the
Buffalo Bills
' quarterback will be this year, and since the division already is shaping up as a three-team race and they haven't been to the playoffs in a decade, we probably can argue that whoever gets the Bills' job won't be under much pressure to win.

Sanchez

Henne
Expectations are high for the other three teams, who all have experienced success in the past couple years. The
New England Patriots
and
Miami Dolphins
have won the division. The
New York Jets
reached the AFC Championship Game. Not reaching the playoffs in 2010 would be a failure.
New York's
Mark Sanchez
and Miami's
Chad Henne
are entering their second seasons as starters and have solid supporting casts. They both operate behind high-caliber offensive lines, have quality running backs and at least one dynamic receiver.
Sanchez has the better receiving corps, including tight end
Dustin Keller
, but Henne has the best single receiver on either team.
Brandon Marshall
will change Miami's offense.
Brady
Patriots quarterback
Tom Brady
, meanwhile, might not seem like a quarterback under a lot of pressure. But he's leading an offense that played a putrid final game and can't have a lot of time left together. He and
Randy Moss
are 33 this season. Running backs
Kevin Faulk
and
Fred Taylor
will be 34 and
Sammy Morris
33. Last year's starting O-line returns intact, and four-fifths are in their 30s.
Brady also will have to prove his success hasn't become too reliant on
Wes Welker
if the slot receiver has trouble returning from his reattached knee.
Who is most expected to win this year? Who will come through?
April, 20, 2010
4/20/10
1:00
PM ET
»
NFC Big Question
:
East
|
West
|
North
|
South
»
AFC
:
East
|
West
|
North
|
South
With a suspension of star quarterback Ben Roethlisberger looming, how difficult will the Pittsburgh Steelers' September schedule be?
[+] Enlarge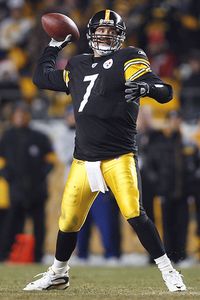 Jerry Lai/US PresswireThe Steelers are waiting to hear from the NFL about a punishment for Ben Roethlisberger.
Courtesy of Roethlisberger's off-the-field misconduct, the Steelers are currently at the mercy of the NFL in so many ways. Not only are they awaiting word on a likely suspension of their starting quarterback, but the Steelers also have to hope for the most lenient September schedule possible.
Pittsburgh will get one answer Tuesday night when the league releases its 2010 regular-season schedule at 7 p.m. ET. The Steelers and the rest of the league will be keeping close tabs on whom Pittsburgh faces to start the season.
The
Baltimore Ravens
,
Cleveland Browns
and
Cincinnati Bengals
would be very fortunate (happy?) if the NFL scheduled September divisional games for Pittsburgh. The AFC North is expected to be very competitive this year, and the Steelers' rivals could get a head start by beating a weakened Pittsburgh team.
Fortunately for the Steelers, their
strength of schedule is only rated No. 21
this year. So there's ample opportunity to get winnable September games.
Many project Roethlisberger's suspension to be in the range of two to four games. Perhaps Pittsburgh could have a shot without him against rebuilding teams such as the
Buffalo Bills
,
Tampa Bay Buccaneers
,
Oakland Raiders
and maybe Cleveland. But the league also could pit the Steelers against 2010 opponents such as Baltimore, Cincinnati, the
New England Patriots
and the reigning Super Bowl champion
New Orleans Saints
.
Either way, every game is going to be tough for Pittsburgh to win without Roethlisberger.

NFL SCOREBOARD
Thursday, 12/18
Saturday, 12/20
Sunday, 12/21
Monday, 12/22
WEEKLY LEADERS