NFL Nation:

The Big Question AFC 50410
May, 4, 2010
5/04/10
1:00
PM ET
»
NFC Big Question
:
East
|
West
|
North
|
South
»
AFC
:
East
|
West
|
North
|
South
Can the New York Jets assimilate so many different personalities and expect to win in 2010?
The Jets' headquarters in Florham Park, N.J., will feel like the Justice League of America with all of the stars they've collected.
[+] Enlarge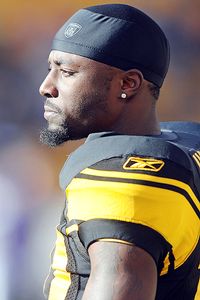 Bill Amatucci, Jr./Diamond Images/Getty ImagesSantonio Holmes is one of the big-name acquisitions the Jets made during the offseason.
To Jets fans, the stars seem like superheroes ready to conquer the Legion of Doom (aka the
New England Patriots
) once and for all. In every area of the Jets' locker room will sit a player who has been an All-Pro. A few are on track for the Pro Football Hall of Fame. Quite a few youngsters seem like they can be special players.
To fans of opposing teams, the roster seems like an obnoxious gathering of talent.
But anybody who ever has read a comic book knows there's no such thing as invincibility. The Jets have their kryptonite, and it's their own chemistry.
The Jets have introduced some big personalities (running back
LaDainian Tomlinson
, receiver
Santonio Holmes
, pass-rusher
Jason Taylor
, cornerback
Antonio Cromartie
) into the locker room, while subtracting proven leaders and contributors (leading rusher
Thomas Jones
, Pro Bowl return man
Leon Washington
, habitual Pro Bowl guard
Alan Faneca
, kicker
Jay Feely
).
Mixing up behaviors and egos can be dangerous. Many of them are short-timers expected to be around for 2010, a fact that increases the volatility.
"I think every year is a different team anyway," Jets coach Rex Ryan said. "The chemistry issue is what it is. When I look at our offensive chemistry, I look at the fact that basically we're replacing two starters: Thomas Jones and Alan Faneca. Last year, for instance, on defense we replaced four starters and nine players overall. How'd that chemistry work? Best in the league."
But the Jets didn't add players like Cromartie and Holmes, players given up on by their former teams despite their abilities. Cromartie's off-field problems are legendary. Holmes will begin the season with a four-game suspension for violating the league's substance-abuse policy.
And players such as Jones and Faneca were pillars in the locker room, significant reasons why the Jets were able to pull off the transition from Eric Mangini to Ryan. Tomlinson and Taylor will need to help make sure veteran leadership doesn't slip, but that's not always easy for a newcomer to accomplish.
"Am I worried about team chemistry? Absolutely not," said former Ravens defensive coordinator Ryan. "I don't worry. My teams are always going to play hard. All I've got is my history to go back on. ... The only thing that never worked out was that we were going to compete for that Super Bowl, and we never had that opportunity. That's our mission right now.
"I expect it to come together. I really do. If I was just wanting to stay status quo and have a team that's easy to coach and bringing that team together, you'd never get rid of those kind of players. ... Quite honestly, there are a lot of factors going into things when you bring people in. That's what we did.
"I came here to win. I never came here to be average. Again, I know when it's all said and done, I'm going to be held to those standards. Did you win? Did you deliver a championship? I'm man enough to go for it where a lot of guys aren't. We'll see what happens."
May, 4, 2010
5/04/10
1:00
PM ET
»
NFC Big Question
:
East
|
West
|
North
|
South
»
AFC
:
East
|
West
|
North
|
South
Will the Cleveland Browns have enough patience to successfully groom rookie quarterback Colt McCoy?
When it comes to quarterbacks, patience certainly is not a virtue in Cleveland.
[+] Enlarge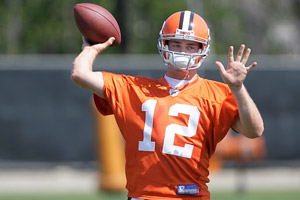 AP Photo/Amy SancettaColt McCoy is expected to start the season No. 3 on the quarterback depth chart.
It's a city that is desperate for a championship and a franchise quarterback to call its own. It's been 17 years since
Bernie Kosar
last donned a Browns uniform. Cleveland fans have been quick to anoint the Browns' next franchise quarterback, only to be disappointed.
Often the Browns' organization followed suit by rushing quarterbacks onto the field and usually without much of a supporting cast.
For example,
Tim Couch
was a No. 1 overall pick after the Browns returned to the NFL in 1999. He played 15 games his rookie year and spent that season -- and most of his career -- taking a pounding for an expansion franchise. Thus, Couch never had the chance to fully blossom as an NFL quarterback thanks to various injuries he suffered.
Kelly Holcomb
,
Charlie Frye
,
Derek Anderson
and most recently
Brady Quinn
all followed and were among the young players who were shuffled in and out of Cleveland's revolving door at quarterback. The team never established a consistent direction at the league's most important position.
This brings us to McCoy -- this year's highly publicized third-round pick. He is the next young quarterback to generate hope and a significant buzz in northeast Ohio.
Ideally, Browns president Mike Holmgren
wants to wait a year
, maybe two, before McCoy sees the field. But the second veteran starter
Jake Delhomme
struggles with a multi-interception game, there will be pressure in Cleveland to see what McCoy can do. Yet
Seneca Wallace
, not McCoy, is currently No. 2 on the depth chart if Delhomme falters.
In the past decade, few NFL franchises have failed more at grooming a long-term solution at quarterback than the Browns. That is why it's important for the team to stick to its plan and let McCoy learn from the sidelines in 2010 -- no matter what happens with the quarterbacks in front of him.
May, 4, 2010
5/04/10
1:00
PM ET
»
NFC Big Question
:
East
|
West
|
North
|
South
»
AFC
:
East
|
West
|
North
|
South
Does a record-setting running back and arguably the league's most explosive player deserve a giant raise -- even if he's heading into just the third season of a five-year contract?
Chris Johnson
certainly thinks so and has said so.
The Titans running back hasn't been part of the team's offseason workouts this spring and did not join in on the first couple OTA sessions. Johnson said after he topped 2,000 rushing yards in 2009 that he'd stick with working out on his own because it helped produce good results.
[+] Enlarge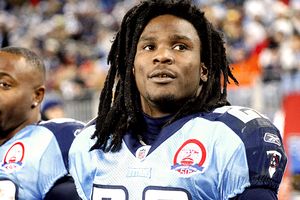 AP Photo/Wade PayneChris Johnson is scheduled to earn a base salary of $550,000 this season.
Clearly, he's making a statement by staying away.
The Titans are limited by a rule that allows for only a 30 percent raise from year to year. That's base salary. It can be circumvented by bonus money, but it would take a huge bonus to make it a fair- market deal. Teams are understandably reluctant to craft a contract with so much guaranteed.
Here's a
recent post
from Andrew Brandt that explains the economics.
Johnson got a $7 million bonus when he signed his original deal as the 24th pick in the 2008 draft. His base salary this season will be $550,000.
I spoke with Johnson's close friend, Jacksonville receiver
Mike Sims-Walker
, about CJ during the Jaguars' recent minicamp. The two grew up together in Orlando. They are training together with Tom Shaw, an expert on speed.
"He's looking pretty good," Sims-Walker said of Johnson. "We work out together three or four times a week. We go on the road [and] we still work out, like for a whole week. We were working out in Vegas and everything. He's still getting his work in."
What's Johnson's mood and how focused is he on the contract?
"I don't think he's mad, but I wouldn't say he's happy," Sims-Walker said. "He's taking his time. He hired an agent and he's letting him handle that. That's what CJ hired him for, that's what he's paying the man for, to make the business decisions that he feels are best with Chris."
One concern from the Titans' side is how Johnson
bounces back
from the heavy workload that got him over 2,000 yards last season.
Sims-Walker says Johnson's already proved what he can do in consecutive seasons with a 1,228-yard effort as a rookie and the 2,006 yards last year.
"How much more does he have to do?" Sims-Walker asked. "We all know this is a production business. You get paid the way you play. ... He well exceeded his contact, we all know. He's probably one of the lowest-paid starting running backs in the league. He's just trying to get paid how he plays."
Sims-Walker overstates one thing there: Other young running backs who are starters drafted in later rounds haven't produced like Johnson, but aren't making more than him. That list includes guys like
Ray Rice
,
Matt Forte
,
Jerome Harrison
,
Steve Slaton
,
Jamaal Charles
,
Ahmad Bradshaw
,
Shonn Greene
and
LeSean McCoy
.
As for the Titans' remaining 12 OTA dates, Sims-Walker said his guess is that Johnson won't make any of them.
But his sense is that Johnson will show up for training camp.
"That's when you get the mandatory fines and all that. I don't know if he's taking it that far," Sims-Walker said. "I think he'll show up. But hopefully he'll get to camp with a [new] contract ...
"They can give him a big signing bonus and still deal with 30 percent. He's worth offensive-player-of-the-year money, that's the award he won, right? At least he should be the highest-paid running back."
May, 4, 2010
5/04/10
1:00
PM ET
»
NFC Big Question
:
East
|
West
|
North
|
South
»
AFC
:
East
|
West
|
North
|
South
Will JaMarcus Russell be able to fight his way back into the starting quarterback mix in Oakland?
[+] Enlarge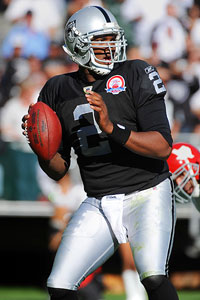 Kirby Lee/US PresswireJaMarcus Russell threw for just 1,287 yards and three TDs last season.
Russell was expected to be cut once Oakland traded for
Jason Campbell
on the final day of the draft. He still could be jettisoned.
However, the fact that Russell was brought to Oakland's minicamp last week means the Raiders have not decided to cut him.
Russell did his part by reporting in decent shape and performing
fairly well at the minicamp
.
Will it be enough for Oakland to keep him? The Raiders probably will want to reduce Russell's enormous salary if they want to keep him as a backup. If Russell balks at taking a pay reduction (he has indicated in the past that he would have trouble taking a pay cut), he could be sent packing.
Still, it is clear Oakland owner Al Davis has yet to decide on whether to cut Russell. Many league observers don't think Davis wants to admit that taking Russell with the No.1 overall pick in 2007 was a mistake. Yet, trading for Campbell was a sign that Davis is making plans to move away from Russell.
If Russell is brought to training camp, he may have a chance to reclaim his starting job if he continues to get in better shape and make strides with his fundamentals. Yet, I think Russell's road may be too challenging for him to overtake Campbell. Give Russell credit for trying to salvage his career, but it just may be too late in Oakland.
NFL SCOREBOARD
Sunday, 2/2
WEEKLY LEADERS