NFL Nation:

The Big Question AFC 52510
May, 25, 2010
5/25/10
1:00
PM ET
»
NFC Big Question
:
East
|
West
|
North
|
South
»
AFC
:
East
|
West
|
North
|
South
Could Dan Orlovsky prove a capable fill-in if Matt Schaub misses time?
[+] Enlarge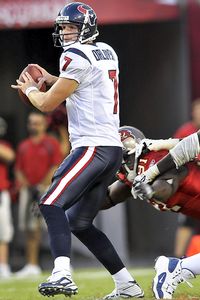 Fernando Medina/US PresswireDan Orlovsky still has to prove he's ready to back up starting QB Matt Schaub.
Lost in
Peyton Manning
's fourth MVP season was the fact that the
Indianapolis Colts
quarterback didn't even lead the AFC South in passing yardage. Matt Schaub of the
Houston Texans
actually led the NFL in that category, with 4,770 yards.
That number came about in part because of the Texans' run struggles, but it's still quite impressive.
Schaub played all 16 games last season, throwing all but nine of the team's 592 quarterback passes. His backup,
Rex Grossman
, hit it off with offensive coordinator Kyle Shanahan, and followed Shanahan to Washington this offseason. That puts Orlovsky back in line to back up Schaub.
We'll get a much better sense in training camp, but Orlovsky was shaky last summer. Several teams had coveted the former
Detroit Lions
veteran before he joined the Texans as a free agent. Grossman's arrival and subsequent preseason performance bumped Orlovsky to No. 3.
But Texans coach Gary Kubiak is more at ease with Orlovsky as the backup now.
"Obviously, I'm more comfortable," Kubiak told Houston media this week. "He's a better player right now than he was last year. It's a really big camp coming up for him, training camp and stuff. Dan's had some chances in this league, and he's got all of the tools that Matt has. The question is for him, 'Does he continue to progress and get better?'"
Kubiak didn't view Grossman's move to No. 2 as a demotion for Orlovsky last summer, and said he really liked the way Orlovsky handled it.
"Really, what happened was that there were great expectations for him, and it wasn't happening as fast," Kubiak said. "I really, personally -- and I told Dan this, so it's nothing new to him -- I really just thought it was about his standard in how he prepares and how he plays and how he practices. We've got one here for the quarterback. Our quarterback is going to play good. It just wasn't happening at the same pace it should have.
"So we felt more comfortable with Rex, who had played in a lot of football games. Dan could have done one of two things. He could have sulked; he didn't. He worked all year. He helped Matt, and he's a better player because of it. I'm proud of the way he went about his business, and now it's time for him to take off."
That said, he offered no guarantee that Orlovsky is the No. 2. He'll have to show them he's ready and make sure they aren't tempted by someone else who may end up on the market.
"It's time to work, and what he has to do is he's got to earn the respect from everybody," Kubiak said. "If Matt is not practicing a day, he has to continue to have this football team practicing well. They've got to know if something happens to Matt, we still win. That's your job as a backup quarterback."
May, 25, 2010
5/25/10
1:00
PM ET
»
NFC Big Question
:
East
|
West
|
North
|
South
»
AFC
:
East
|
West
|
North
|
South
How will star receiver Brandon Marshall's absence impact quarterback Chad Henne and the Dolphins' offense?
The Dolphins traded for Marshall with the idea he would transform their offense and facilitate Henne's growth into a franchise quarterback. But we learned last week Marshall won't be able to practice until training camp because he had hip surgery.
[+] Enlarge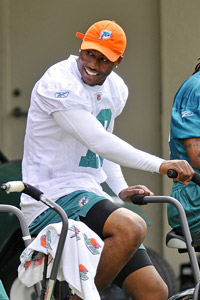 Steve Mitchell/US PresswireHip surgery will keep Brandon Marshall out of practice until training camp.
I wanted to find out how the absence of such a dazzling target, who must learn a new offense that will morph with him, might hurt the Dolphins' offseason plans. So I reached out to ESPN analyst and 13-year NFL quarterback Trent Dilfer for his take.
Dilfer said he generally believes "the offseason is somewhat overrated," but not when it comes to a quarterback developing synergy with a top receiver. Dilfer doesn't like the word "chemistry" because that indicates the teammates like each other, and that's overrated, too.
"You have to have an intuitive feel for what that person's going to do," Dilfer said. "A lot of that's developed in the offseason, in the grass basketball format, when you're in shorts. You get to discuss how you see things, how things look, how you like doing things, what it's like to roll out of a route at a certain depth, how do you like the ball, how you like the speed. The offseason's a great time to develop that. "
Most critical to foster is timing on intermediate and vertical patterns such as deep outs, corners and posts. Henne must get a feel for how Marshall maintains angles and speed and learn his ability to decipher coverages in the second and third levels.
Dilfer insisted excessive reps can make up for lost time in training camp.
"But if Marshall is coming back from a hip injury, then his training camp reps are going to be limited," Dilfer said. "To some degree this will negatively affect Chad and Brandon's ability to develop that synergy they need. It's going to take longer.
"The first part of the season, there'll still be a learning curve for the two. That doesn't mean they can't be effective. But the learning curve will bleed into the season a little bit longer than it should. That's not good, but it isn't devastating."
Dilfer added Marshall "can get away with being a little rusty" because of the style of receiver he is. He thrived with the
Denver Broncos
on bubble screens, quick slants, hitches and shallow crossing routes.
"He's not a guy that has to get himself open," Dilfer said. "You can scheme to get him the ball in open spaces. That's one of the things that makes him elite. You can get the ball in his hands quick and let him do damage."
May, 25, 2010
5/25/10
1:00
PM ET
»
NFC Big Question
:
East
|
West
|
North
|
South
»
AFC
:
East
|
West
|
North
|
South
Does participating in five preseason games impact regular-season success?
Brad from Atlanta sent an interesting thought to our
AFC North inbox
. He wondered if the Hall of Fame game had a positive or negative impact on teams in the regular season.
Because of the risk of injuries, there is some debate whether it is fair to ask only two NFL teams to play five exhibition games during the summer, while the other 30 teams play four preseason games. But the Hall of Fame game has a rich history, and it is an honor to represent the league in the first preseason game of the year.
On Aug. 8, the
Cincinnati Bengals
will play the
Dallas Cowboys
in Canton, Ohio. Cincinnati wanted to participate in this game for years because of the deep connection between Bengals founder Paul Brown and northern Ohio. Also, Dallas has Cowboys great
Emmitt Smith
being inducted in what should be a tremendous, weeklong celebration for its franchise.
On the field, there hasn't been any significant impact one way or the other with teams playing a fifth preseason game. The overall record of the last 10 Hall of Fame game participants is 83-77, which is slightly above .500. Five of those teams had winning records, three had losing records and two finished 8-8.
That means Bengals and Cowboys fans shouldn't worry. If they have a good team, like the 2008
Indianapolis Colts
and 2007
Pittsburgh Steelers
, the latest Hall of Fame game participants will make the playoffs this year. If they don't have a good team, like the 2009
Buffalo Bills
, the postseason won't be in their future.
But there's no statistical proof that playing an additional preseason game will cause Dallas or Cincinnati to have a poor season.
May, 25, 2010
5/25/10
1:00
PM ET
»
NFC Big Question
:
East
|
West
|
North
|
South
»
AFC
:
East
|
West
|
North
|
South
Will Chiefs wide receiver Dwayne Bowe bounce back from a rough season?
Theoretically, Bowe is one of the better young receivers in the NFL. But he has to show it again.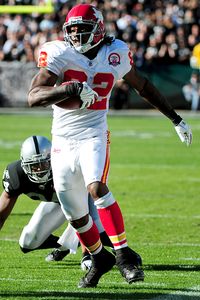 Kyle Terada/US PresswireKansas City wide receiver Dwayne Bowe didn't perform to expectations last season.
Bowe had a miserable season last year, his first under new coach Todd Haley. Bowe quickly got in Haley's doghouse when he showed up heavy for offseason camps. Then he dropped so many passes and was so lackadaisical in training camp he was temporarily dropped to third string. During the season, he was suspended for four games for using a banned substance.
Bowe had only 47 catches and four touchdowns last season. The Chiefs' top pick in 2007 had a total of 156 catches and 12 touchdowns in his first two seasons.
The new Kansas City brass has been impatient with holdovers who have not adjusted. Still, even though he's tough on Bowe, I get the feeling Haley believes in him. Haley knows that Bowe can be the team's best receiver. But Bowe has to show it.
His 2010 season has gotten off to a rocky start. He dropped some passes in the OTA practices last week. He also caused waves when he told a story to ESPN The Magazine about veteran players bringing women to the team hotel the night before a game.
This could cause issues for him with some of his teammates.
But the biggest issue, I believe, for the Kansas City staff is if Bowe can keep straight and become the player he was in his first two seasons. He has the talent to do it.
If he struggles again, this probably will be his final season in Kansas City.

NFL SCOREBOARD
Thursday, 9/25
Sunday, 9/28
Monday, 9/29
WEEKLY LEADERS