NFL Nation:

The Big Question AFC 61510
June, 15, 2010
6/15/10
1:00
PM ET
»
NFC Big Question
:
East
|
West
|
North
|
South
»
AFC
:
East
|
West
|
North
|
South
Who is the most reviled figure in the AFC East?
That's a question I've wanted to explore for a while now, and with plenty of chirping going on among rival fans at the AFC East blog, this seems to be as good a time as any.
There's an abundance of players, coaches and even executives people fans love to hate.
[+] Enlarge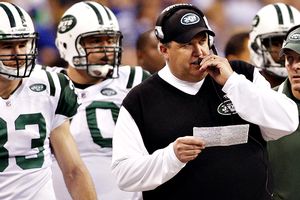 Jerry Lai/US PresswirePlenty of AFC East readers hate Jets coach Rex Ryan and his loud mouth.
As we saw in the comments section of last week's edition of the Big Question, there's
plenty of bitterness toward Bill Belichick and Bill Parcells
.
Readers were quick to bring up Belichick's role in the Spygate video-taping scandal, the way he left the
New York Jets
by scrawling his resignation on a napkin and the way he ran for the tunnel before the end of Super Bowl XLII. Or maybe he's disliked because he has won for a decade.
Parcells is a gruff, larger-than-life character who has worked for every AFC East club but the
Buffalo Bills
. He has influenced the division for decades, most recently as the
Miami Dolphins
' reclusive football ops director.
Or maybe you'd like to vote for unashamedly outspoken Jets head coach Rex Ryan.
Perhaps you're more the type to root against quarterbacks. In that case, the top candidate is Patriots leading man
Tom Brady
, who already has everything but seemingly could drop by your house and take whatever he wants if he were in the mood.
Jets quarterback
Mark Sanchez
is another one who seems to drive fans bananas. Many believe he's overrated and a little too glamorous for a kid who hasn't accomplished much.
At other positions, names to consider might include Dolphins-to-Jets turncoat
Jason Taylor
, gnat-persistent Patriots receiver
Wes Welker
, fur-coat wearing Patriots receiver
Randy Moss
, controversial Dolphins receiver
Brandon Marshall
and hothead Dolphins guard
Richie Incognito
.
The Bills haven't been much of a factor for the past decade, which means their players don't get opposing fans too riled up.
Terrell Owens
would be on this list if he still were around.
But if you'd ask Bills fans who they dislike, then running back
Marshawn Lynch
is in the discussion.
Who's your pick? Feel free to make a case for any of the above or go off the board with one of your own ideas.
June, 15, 2010
6/15/10
1:00
PM ET
»
NFC Big Question
:
East
|
West
|
North
|
South
»
AFC
:
East
|
West
|
North
|
South
Will Oakland receiver Darrius Heyward-Bey make big strides in his second NFL season after a disappointing rookie campaign?
Heyward-Bey will be one of the most closely watched second-year players in the NFL.
[+] Enlarge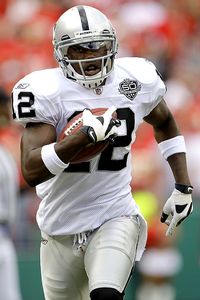 AP Photo/Charlie RiedelOakland receiver Darrius Heyward-Bey had just nine catches his rookie season.
He must show improvement after a terrible rookie season. Heyward-Bey had only nine catches for 124 yards in 11 starts. Those are staggering numbers. Heyward-Bey's college reputation for having unreliable hands continued in his rookie season.
The Raiders were widely criticized for taking the Maryland product with the seventh pick over
Michael Crabtree
, who was considered the best receiver prospect available. Crabtree, who went at No. 10 to San Francisco, had 48 catches despite holding out for five games.
The Raiders believe in Heyward-Bey. Last weekend, they sent out a
rare press release expressing their expectations for Heyward-Bey
. Recent reports say he has looked good in OTAs.
The Raiders clearly think Heyward-Bey can provide big things. But after his rookie season, hopes must be tempered. It's terrific that he has made offseason strides, but the kid must show he can perform and hold onto the ball when it counts.
Heyward-Bey has the ability to make plays in the NFL. He is very fast and a hard worker. But he has a lot of work to do.
If Heyward-Bey can stay in the starting lineup, learn to catch consistently and come up with 40 to 50 catches this season, it would have to be considered a success for him. But the key for Heyward-Bey is to continue to get better catching the ball. Until he shows he can do that on a regular basis, the jury is still out.
June, 15, 2010
6/15/10
1:00
PM ET
»
NFC Big Question
:
East
|
West
|
North
|
South
»
AFC
:
East
|
West
|
North
|
South
Will quarterback Ben Roethlisberger's conditional six-game suspension cost the Pittsburgh Steelers a playoff berth?
[+] Enlarge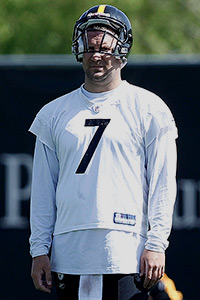 Jared Wickerham/Getty ImagesThe Steelers need to perform well in quarterback Ben Roethlisberger's absence if they hope to make the postseason.
On paper, the Steelers are as talented, deep and experienced as any team in the NFL. They have Pro Bowlers on offense and defense and nearly all their starters are back and healthy from their Super Bowl run two years ago.
But there's one huge concern: Roethlisberger will miss up to six games this season for violating the NFL's personal conduct policy. The punishment can be reduced to four games if the embattled quarterback stays out of trouble. But that may be enough to dash Pittsburgh's hopes of getting back to the postseason after missing the playoffs in 2009.
Backup quarterback
Byron Leftwich
or
Dennis Dixon
will run the Steelers' offense during Roethlisberger's suspension. Pittsburgh is guaranteed to play without Roethlisberger against the
Atlanta Falcons
,
Tennessee Titans
,
Tampa Bay Buccaneers
and
Baltimore Ravens
in the first four games. If the suspension is six games, Roethlisberger also will miss games against the
Cleveland Browns
and
Miami Dolphins
.
The Steelers must play at least .500 football during Roethlisberger's suspension to have a good chance at the postseason. But if the Steelers fall below that, they will have to play nearly perfectly the rest of the way to earn a playoff spot, and that will put a lot of pressure on "Big Ben" when he returns.
Atlanta, Tampa Bay and Tennessee were all non-playoff teams a year ago. The Baltimore game will be the toughest, but the Steelers-Ravens rivalry is always close, no matter the records. Last year, with Roethlisberger sidelined by a concussion, the Ravens needed overtime at home to edge the Dixon-led Steelers, 20-17.
Playing in the AFC North won't be easy this year. Baltimore and the reigning division champion
Cincinnati Bengals
are playoff contenders, and the Browns are also expected to improve. But Pittsburgh must win without its most important player for the first month so the suspension won't ruin the entire season.
June, 15, 2010
6/15/10
1:00
PM ET
»
NFC Big Question
:
East
|
West
|
North
|
South
»
AFC
:
East
|
West
|
North
|
South
Can the Tennessee Titans count on fifth-year quarterback Vince Young?
[+] Enlarge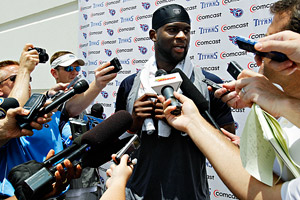 AP Photo/Mark HumphreyVince Young answered questions Monday following a fight in a Dallas strip club.
His recent
misdemeanor assault citation
in a Dallas strip club calls into question again his maturity. Young has raised eyebrows before by skipping out of the team hotel and missing a flight.
It's reasonable to expect that he'd be smart enough not to put himself in a situation that would draw such negative attention. And what if he'd broken his hand when he took a swing, or if someone on the other side of the altercation pulled a gun?
Many will say this has little to do with his play on fall Sundays, but the Titans still are not sure exactly what they have. He's a moody guy who can be a delight or down in the dumps. He throws a nice deep ball but still struggles with short stuff to the flat. Young can be wildly inaccurate.
His game should have evolved more by now.
Still, with the right degree of patience and coaching touch, the team might continue to get the one thing from him he's consistently managed to produce: wins.
When a former NFL quarterback like Tim Hasselbeck says Young is "
not a franchise quarterback
" and asks for someone to let him know when
Donovan McNabb
or
Drew Brees
does something like this, it makes you pause.
A good share of NFL teams are looking for stable production and leadership out of the quarterback position. The Titans long not to be ranked as one of them. But for the time being, it's certainly hard to count Young as a lock.