NFL Nation:

The Big Question AFC 62910
June, 29, 2010
6/29/10
1:00
PM ET
»
NFC Big Question
:
East
|
West
|
North
|
South
»
AFC
:
East
|
West
|
North
|
South
With the Miami Dolphins and New York Jets improving at receiver, will the New England Patriots' cornerbacks be good enough in 2010?
The AFC East will be up for grabs this year. With the Jets and Dolphins making acquisitions that could open up the passing game for their young quarterbacks, strong cornerback play will be vital.
[+] Enlarge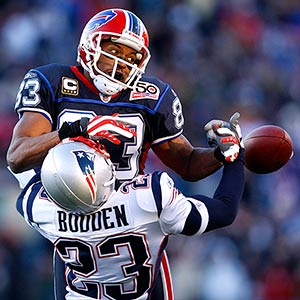 AP Photo/Mike GrollAdding veteran Leigh Bodden should help solidify the New England secondary.
The Patriots have an interesting situation at cornerback. They re-signed veteran
Leigh Bodden
to play on the right side, but released
Shawn Springs
, who they trusted enough to start nine games, including their final five, at the all-important left cornerback spot.
The Patriots otherwise are young and relatively unproven. Plus, their dubious pass rush could put added strain on the secondary.
In each of the past three drafts, they have selected a cornerback within the first two rounds.
Darius Butler
, the 41st overall pick last year, looks like the left corner and has the potential to be a force in the division for years to come. But he has started only five games, two as a nickel or dime back.
Jonathan Wilhite
, a fourth-round pick in 2008, has surpassed second-round classmate
Terrence Wheatley
. Wilhite started eight games last year, four on the left side, three on the right side and one at nickel. Wheatley has played in only 11 games because of injuries.
The Patriots drafted
Devin McCourty
with the 27th pick in April.
I asked Scouts Inc. analyst Matt Williamson if the Patriots' cornerbacks will be up to snuff in a division that added
Brandon Marshall
and
Santonio Holmes
in the offseason.
"My initial impression is no, but that mostly stems from a below average pass rush," Williamson said. "I don't dislike the Pats' cornerbacks as a whole. There is a lot of very young talent that should be on the upswing.
"Wilhite and Wheatley worry me. They seem like nickel cornerbacks or even dime guys, but if everything goes as planned with McCourty and Butler, those two will be fine in such roles. Butler is a little more of a finesse player than Bill Belichick really seems to like, but there is a ton of ability there. It would be surprising if he doesn't bring more to the table as a cover man this season."
Despite doubts about being able to get after quarterbacks, Williamson mentioned another way the Patriots can assist their cornerbacks. If the offense can light it up, then the Patriots will have the advantage of defending obvious pass situations for significant portions of the game.
"I do think
Tom Brady
and company are going to score a ton of points," Williamson said. "So, in a way, that balances things out. That pass defense does not have to be elite in order for New England to win games."
June, 29, 2010
6/29/10
1:00
PM ET
»
NFC Big Question
:
East
|
West
|
North
|
South
»
AFC
:
East
|
West
|
North
|
South
San Diego's Marcus McNeill and Vincent Jackson may stage contract holdouts. Is there a chance San Diego general manager A.J. Smith will cave in and give the two players new contracts to avoid the holdouts?
[+] Enlarge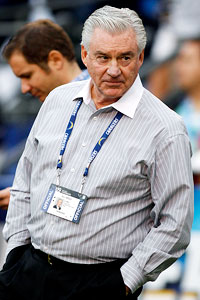 AP Photo/Denis PoroyExpect Chargers general manager A.J. Smith to play hardball with holdouts Marcus McNeill and Vincent Jackson.
Let's get to the meat of this quickly. I don't see any chance that Smith will give in to these two guys.
I think that is the big reason why there is such a dire feel here. I believe everyone involved realizes that Smith is ready to play hardball.
This is a man who doesn't blink.
If we get to early September and McNeill, a standout left tackle, and Jackson, a Pro Bowl receiver, are still staying away, Smith will simply move forward.
Jackson is well aware that Smith is entrenched and knows if he does stay away from the team (which he plans to do) Smith will be ready for a fight.
There is little chance Smith will give McNeill and Jackson new contracts before training camp to avoid this mess. His stance: If these players don't want to play for him, he doesn't want them to play for him.
That's why he signed
Tra Thomas
as insurance for a McNeill holdout and
Josh Reed
as insurance for a Jackson holdout. That's why when McNeill and Jackson didn't sign their restricted free-agency tenders by the deadline, Smith said things like "we lost two players today." He acted as if McNeill and Smith left the league. And if they hold out, they might as well leave the league as far as Smith is concerned.
Smith is a calculated, smart man who is not going to be bullied. He is going to fight his fight.
So, if you think Smith will cave, think again. It won't happen.
June, 29, 2010
6/29/10
1:00
PM ET
»
NFC Big Question
:
East
|
West
|
North
|
South
»
AFC
:
East
|
West
|
North
|
South
How do the AFC South safety tandems rank?
[+] Enlarge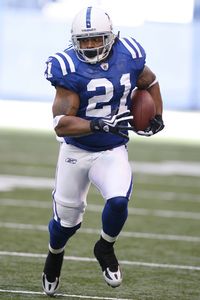 Brian Spurlock/US PresswireBob Sanders helps form the AFC South's most formidable safety tandem.
In a division with
Peyton Manning
and
Matt Schaub
, pass defense is at a premium, and division teams need pass rush and coverage to beat those two quarterbacks.
Beyond the Colts, who are three deep with
Antoine Bethea
,
Bob Sanders
and
Melvin Bullitt
-- there are far too many questions about the safety tandems than teams can afford.
Houston is second-best, though it's hardly cause for celebration. The Texans got excellent production and leadership out of strong safety
Bernard Pollard
when he joined the team and settled things down. But
Eugene Wilson
didn't make it through the season. He seems less than an ideal match for Pollard, but the Texans don't have any good alternatives unless
Troy Nolan
, a draft pick from last year who was hurt, can step up.
Tennessee's
Chris Hope
and
Michael Griffin
were Pro Bowlers two years ago. Last year they were quite shaky. Hope is aging and often seemed indecisive in 2009. He took some blame for not getting on Griffin enough, allowing their friendship to get in the way. Griffin admitted personal stuff was getting in the way last year. Can he compartmentalize better? That may be the biggest question for the defense.
Jacksonville has no real idea if
Reggie Nelson
will bounce back -- he also played some bad corner and nickel last season. Presuming he starts,
Gerald Alexander
is most likely the other guy, but
Sean Considine
and
Anthony Smith
are in the mix. Some scouts say all four are merely "guys," a way of saying the team can do better. Second-year man
Courtney Greene
could earn a chance.
I stack them in that order, but after the Colts, it's moveable ground based on camp and preseason performance. If things don't get better, however, look for Manning and Schaub to shred the deep middle.
June, 29, 2010
6/29/10
1:00
PM ET
»
NFC Big Question
:
East
|
West
|
North
|
South
»
AFC
:
East
|
West
|
North
|
South
With Ben Roethlisberger serving a conditional six-game suspension, will Pittsburgh Steelers third-year quarterback Dennis Dixon get a fair shot to win the starting job?
[+] Enlarge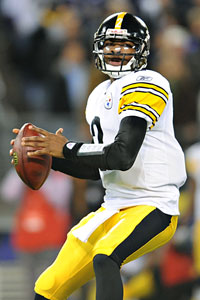 James Lang/US PresswireDennis Dixon will compete with Byron Leftwich for the starting quarterback spot while Ben Roethlisberger serves his suspension.
If there's a quarterback competition going on in Pittsburgh, the Steelers have an
odd way of showing it
.
Byron Leftwich
received a majority of the first-team reps this offseason. Roethlisberger also got some first-team reps when he returned late for organized team activities.
Meanwhile, Dixon -- last year's No. 2 quarterback -- is being iced out. He was relegated exclusively to the second team this spring, making Pittsburgh's quarterback competition appear anything but "open."
Is there a reason Leftwich has dominated the first-team reps? Does Dixon have a realistic chance to earn the starting job in Week 1? If Dixon is to get a fair shot, it will have to come in training camp and the preseason.
The Steelers have a culture of making young players earn their keep, and Dixon is no different.
With a decent performance on the road last year against the
Baltimore Ravens
, many thought Dixon could be the favorite to be under center for Pittsburgh in September. He accounted for two touchdowns (one passing, one rushing) in a 20-17 overtime loss to the Ravens. But the Steelers aren't letting Dixon get comfortable with his moderate success.
Coming off a chaotic offseason, perhaps Pittsburgh feels more comfortable with a stable veteran at quarterback. Leftwich knows the offense well and filled in admirably for Roethlisberger during the Steelers' last Super Bowl run in 2008.
Leftwich may very well be the best option for Pittsburgh. But Dixon at least deserves a fair chance this summer to prove otherwise.

NFL SCOREBOARD
Thursday, 9/4
Sunday, 9/7
Monday, 9/8