NFL Nation:

The Big Question NFC 31610
March, 16, 2010
3/16/10
1:00
PM ET
»
NFC Big Question
:
East
|
West
|
North
|
South
»
AFC
:
East
|
West
|
North
|
South
Is Green Bay justified in bringing back all five starters from an offensive line that allowed an NFL-high 51 sacks last season?
[+] Enlarge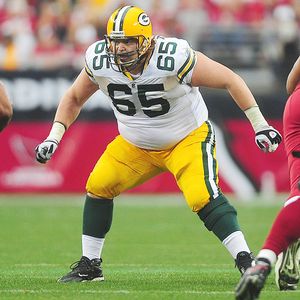 Mark J. Rebilas/US PresswireThe Packers re-signed right tackle Mark Tauscher, but have limited options behind him.
Over the past 10 days, the Packers re-signed left tackle
Chad Clifton
and right tackle
Mark Tauscher
. Meanwhile, center
Scott Wells
and right guard
Josh Sitton
received
strong endorsements
from coach Mike McCarthy. Left guard
Daryn Colledge
appears to be the only 2009 starter whose status remains in limbo; Colledge is a restricted free agent who has yet to sign his tender and could find himself in a competition with
Jason Spitz
for the job.
There is no debating the Packers' line improved over the course of last season, in a timetable roughly corresponding to Tauscher's return as a starter. But it's only fair to credit a number of factors for reducing the sack rate, including noticeable play-calling changes from McCarthy and a quicker release from quarterback
Aaron Rodgers
. To say the line worked through all of its problems would overstate its progress.
With that said, the Packers also learned a valuable lesson about entrusting new starters (i.e., right tackle
Allen Barbre
) with no safety net. So in an uncapped environment, the most prudent course of action might be to bring as many bodies to the table as possible -- incumbents, veteran reserves, new draft picks -- to provide multiple options in training camp. It's fine if Clifton, Tauscher, Wells and Sitton open camp as clear first-team players -- as long as the Packers have some options should they falter.
March, 16, 2010
3/16/10
1:00
PM ET
»
NFC Big Question
:
East
|
West
|
North
|
South
»
AFC
:
East
|
West
|
North
|
South
Why has the NFC South been so quiet in free agency?
The NFC South has been a virtual nonfactor in free agency. Aside from Atlanta adding cornerback
Dunta Robinson
, there hasn't been another signing of a true unrestricted free agent in the division.
[+] Enlarge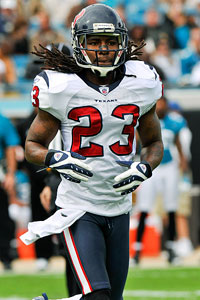 Fernando Medina/US PresswireDunta Robinson looks to be the division's only splashy free-agent signing this offseason.
Don't look for that to change dramatically. First off there's not much left in free agency. Even if there were, that wouldn't change things. The NFC South's silence is largely by design.
It may make for a boring time for fans, but the Falcons, Panthers and Buccaneers all like to say they're committed to building through the draft. Now, we're seeing them back it up.
The Bucs, 3-13 last year, have needs all over the place. But they're not known for being big spenders and they pretty much have been sitting out of free agency. They keep pointing to the 10 draft picks they have accumulated and saying that's how they're going to build their team. Like it or not, that's really what they're doing.
Atlanta has become pretty transparent since general manager Thomas Dimitroff and coach Mike Smith took over. They'll always tell you they believe in building through the draft and that's what they've done. They're good for one or two big moves in an offseason. In the past, that's been signing
Michael Turner
and
Mike Peterson
and trading for
Tony Gonzalez
. Robinson was this year's big splurge and there's not likely to be another. The Falcons might plug a hole or two with some mid-level or low-level free agents, but they basically started turning their attention to the draft the minute Robinson signed his contract.
Carolina long has followed the philosophy of building through the draft, which is fine in most years. But the Panthers are full of needs and currently without a first-round pick. They've been known to step away from their plan from time to time. One year, they spent a fortune on cornerback
Ken Lucas
and offensive lineman
Mike Wahle
. Those guys contributed, but their huge salaries caused big problems in the locker room and neither stayed long. That was a painful lesson for the front office, but it's only part of the reason the Panthers are so quiet this year. Perhaps more than any other owner, Carolina's Jerry Richardson is worried about the labor uncertainty. He seems to have given his football people orders to trim salaries and it sure doesn't look like he's given them permission to re-invest that money.
Then, there is the exceptional case of the Saints. They've been the division's most aggressive team in free agency in recent years. But their hands are tied because of their Super Bowl victory. In this uncapped year, the final eight teams from last year are playing by a set of rules in which their ability to sign free agents is limited. The Saints can only sign an unrestricted free agent if they lose one. That eliminates a lot of possibilities, but the Saints aren't sitting still. They've pursued some guys who have been cut by other teams, but that hasn't resulted in much. The good news is the Saints are a team without many holes and they can use the draft to fill their needs.
March, 16, 2010
3/16/10
1:00
PM ET
By
Matt Mosley
| ESPN.com
»
NFC Big Question
:
East
|
West
|
North
|
South
»
AFC
:
East
|
West
|
North
|
South
Should the Redskins select a quarterback at No. 4 overall?
[+] Enlarge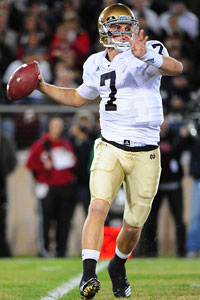 Kyle Terada/US PresswireJimmy Clausen will likely be available when the Redskins pick at No. 4.
Now that conventional wisdom (and mock draft specialists) point to the
St. Louis Rams
selecting Oklahoma's
Sam Bradford
No. 1 overall, the Redskins are in an interesting position. With Oklahoma State left tackle
Russell Okung
likely available, the Redskins could go a long way in replacing Pro Bowler
Chris Samuels
, who recently retired because of a neck injury.
Okung's probably the safest pick at No. 4 overall -- and I think it would be the wisest selection. But Mike Shanahan knows more than anyone the importance of the quarterback position, and it's hard to tell if he's sold on
Jason Campbell
. He's reportedly watched hours of film on
Jimmy Clausen
, so I'm sure he's formed a pretty strong opinion of the former Notre Dame quarterback. We keep reading that Clausen's alleged cockiness put off some teams at the combine, but I haven't heard that complaint from anyone in the Redskins organization.
ESPN draft gurus Mel Kiper and Todd McShay are split on Clausen. Kiper has the Redskins selecting Clausen at No. 4, but McShay's never been sold on him. The big thing Clausen has going for him is that he's played in Charlie Weis' pro-style offense and he's comfortable taking snaps from center. Players such as Bradford,
Tim Tebow
and
Colt McCoy
are having to make some major adjustments in terms of their drops, but Clausen's been doing it for years.
Redskins general manager Bruce Allen and Shanahan haven't made any knee-jerk moves in trying to change the culture of the organization. If you look at what Bill Parcells and the Dolphins did when they first got to South Florida, they took the best left tackle in the draft in
Jake Long
. He'll likely start at that position for the next eight or nine seasons. They eventually selected
Chad Henne
, but the Dolphins didn't rush the process. It was
Chad Pennington
who led the team to the playoffs in '08.
Taking Clausen in the first round might be the most exciting move the Redskins could make, but acquiring a cornerstone of the offensive line will provide a better foundation. You guys on board with Okung at No. 4 or do you want Clausen? Use the "comments" section to answer The Big Question.
March, 16, 2010
3/16/10
1:00
PM ET
»
NFC Big Question
:
East
|
West
|
North
|
South
»
AFC
:
East
|
West
|
North
|
South
Do the Cardinals still have the best one, two receiving punch in the NFC West after trading Anquan Boldin?
Of course they do. For now. I think.
[+] Enlarge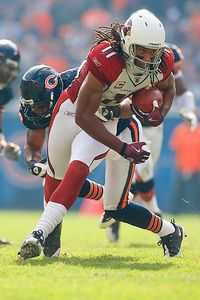 Dilip Vishwanat/Getty ImagesFitzgerald had 13 touchdown receptions and averaged 12.4 yards per catch last season.
Larry Fitzgerald
and just about any good No. 2 receiver will rank among the best in the league. And there's no denying
Steve Breaston
's status as a solid No. 2. He has 132 catches over the past two seasons while playing about 70 percent of the offensive snaps. Breaston should only play more with Boldin catching passes for Baltimore, even if the Cardinals lean harder on the running game.
Fitzgerald and Breaston should reign supreme among NFC West receiving tandems, but the 49ers'
Vernon Davis
and
Michael Crabtree
could make them work for the honor. They have a chance to overtake them, particularly if
Kurt Warner
's retirement costs the Cardinals a few octane rating points.
Davis matched Fitzgerald in touchdown receptions with 13 last season. His yards-per-catch average was superior (12.4 to 11.3) because he finished the season with more long receptions. Davis was more of a big-play threat.
Even if we give Fitzgerald the edge over Davis, which is reasonable, it's fair to think Crabtree could make significant gains. Crabtree already averaged more receptions and yards per game than Breaston last season despite missing minicamps, training camp and the first five games. The in-season assimilation he made was remarkable for a rookie. Eleven games and a full offseason should benefit Crabtree substantially in 2010.
"I would give it to Arizona just because of Larry," Matt Williamson of Scouts Inc. said. "Maybe I am a little biased on this one and Arizona does get nothing from the tight end, but Fitz is just such a special player. He tips the scales. My view might change by midseason, though."
It's something to think about.
NFL SCOREBOARD
Thursday, 12/5
Sunday, 12/8
Monday, 12/9
WEEKLY LEADERS