NFL Nation:

The Big Question NFC 42010
April, 20, 2010
4/20/10
1:01
PM ET
»
NFC Big Question
:
East
|
West
|
North
|
South
»
AFC
:
East
|
West
|
North
|
South
Packers general manager Ted Thompson traded into the bottom of the first round last year to select USC linebacker Clay Matthews, one of the NFL's top defensive rookies in 2009. Will Thompson make a similar attempt this year?
[+] Enlarge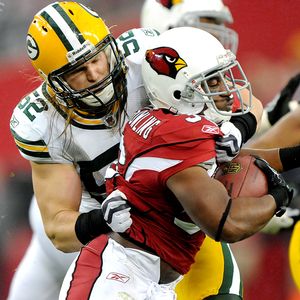 Kirby Lee/US PresswireMoving up in last year's draft paid off for the Packers when they selected Clay Matthews.
According to ESPN's Adam Schefter, the Packers have investigated the possibility of moving up from their current spot at No. 23 overall to the Nos. 10-12 range. You would assume the intent would be to draft one of the top four left tackles. Each player -- Oklahoma State's
Russell Okung
, Oklahoma's
Trent Williams
, Iowa's
Bryan Bulaga
and Rutgers'
Anthony Davis
-- is likely to be off the board well before No. 23 overall. That leaves the Packers in a
much-discussed no-man's land
when it comes to filling arguably their biggest need.
The cost would be considerable, however, and illustrates why such trades are far more discussed than actually executed.
We have acknowledged that the
traditional draft value chart
has its flaws, but let's use it as a guideline for this discussion. The chart assigns a point total to each pick. The No. 23 pick is worth 760 points. For argument's sake, let's consider the No. 11 pick. It's worth 1,250 points. That means the Packers would have to make up 490 points to make the deal work.
One way to do that: Giving up their second-round pick (No. 56 overall) and third-rounder (No. 86). Those picks add up to 500 points.
Would you give up your second- and third-round picks to move up 12 spots? First, it's possible the Packers could negotiate that price down. Second, remember that a true left tackle is one of the rarest of species. If you think you can get one, you might have to accept a premium price.
I still don't know if I see Thompson pulling the trigger on a deal that carries such a price tag, but it's certainly a big question with two days remaining until the first round begins.
April, 20, 2010
4/20/10
1:00
PM ET
»
NFC Big Question
:
East
|
West
|
North
|
South
»
AFC
:
East
|
West
|
North
|
South
Does Rams minority owner Stan Kroenke have the team's best interests in mind?
[+] Enlarge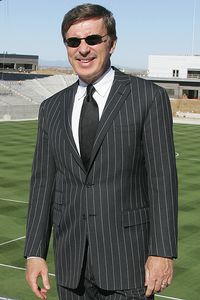 Garrett W. Ellwood/MLS/Getty ImagesRams minority owner Stan Kroenke's interests have been called into question.
A subscription-required report
Monday in the Sports Business Journal suggested Kroenke was more interested in leveraging his 40 percent stake in the Rams than taking over full ownership of the team.
Reporter Daniel Kaplan cited sources saying Kroenke told Rams bidder Shahid Khan he would decline to exercise his option to purchase full ownership of the team in exchange for a "mid-to-high eight-figure fee." Kroenke would have remained onboard as 40 percent owner in such a scenario. Khan declined, Kaplan reported, and Kroenke then exercised his option to trump the bid from Khan.
The report seemed to run counter to what
a source told Bernie Miklasz
of the St. Louis Post-Dispatch, that Kroenke "fully intends to work with the NFL to find a way for Kroenke to become the team's 100 percent owner."
The reporting from Kaplan and Miklasz isn't necessarily conflicting. The businessman in Kroenke could have simply been exploring his options before committing to buying full ownership of the team. That's his right and arguably his duty as a businessman.
This wasn't the first time Kaplan had reported Rams-related ownership news running counter to conventional wisdom. Kaplan previously
cited sources
saying the NFL had concerns about debt levels associated with Khan's bid to buy out 60 percent owners Chip Rosenbloom and Lucia Rodriguez.
That news and the conventional wisdom -- that Khan' financial footing appeared sound -- weren't necessarily at odds, either. The NFL could have had specific concerns. Khan could have been on solid footing overall.
My take? We're operating without enough information to fully assess the balance between Kroenke's interests and the extent to which those interests benefit the Rams.
Don Elliman, described by The New York Times as chief operating officer for the state of Colorado and former president of Kroenke Sports Enterprises, has suggested Kroenke isn't much for minority ownership. He wants full control. Elliman put it this way for
a Times profile
on Kroenke: "There was once a great line by one of George Steinbrenner's partners that there's nothing so limited as being a limited partner. A lot of people get into sports and wake up later and realize, 'I'm along for the ride; I'm beholden to the other guy.' That's not Stan's nature."
It's not much to go on.
The timing of this ownership uncertainty is undoubtedly inconvenient for the Rams as they approach the 2010 NFL draft holding the top overall choice and hoping to win over fans. But the business of changing ownership is bigger than the business of the draft. Assurances from Kroenke would certainly help. The absence of those assurances naturally leads to skepticism, which is warranted, but if this process has taught us anything, it's that we shouldn't assume too much too soon.
April, 20, 2010
4/20/10
1:00
PM ET
By
Matt Mosley
| ESPN.com
»
NFC Big Question
:
East
|
West
|
North
|
South
»
AFC
:
East
|
West
|
North
|
South
Could a free-falling Dez Bryant be too much for Cowboys owner Jerry Jones to resist?
[+] Enlarge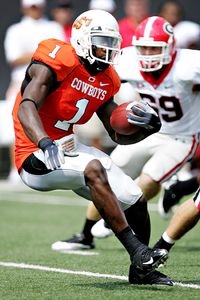 Paul Jasienski/US PresswireIf Dez Bryant is available later in the first round, the Cowboys could be one team to make a play for him.
In talking to scouts around the league and perusing dozens of mock drafts, it's pretty clear that Oklahoma State's Dez Bryant is the top wide receiver in this draft. But for a variety of reasons, a lot of folks have him falling into the 20s in Thursday's first round. Most scouts I've visited with agree that Bryant is essentially a "good kid."
It's annoying to hear folks talk about "character" issues and then not back it up with anything of substance. We all know about Bryant's harsh punishment for not being truthful with the NCAA about a meeting with Deion Sanders. But I don't think that's what is causing his stock to drop. He's represented by the same agent, Eugene Parker, as 49ers wide receiver
Michael Crabtree
. And you'll recall that Crabtree didn't exactly have a smooth entry into the league. Crabtree's uncle, David Wells, was very involved in that process. Wells is now advising Bryant. After watching what happened with Crabtree last season, you can see why teams might be leery of Bryant early in the draft.
That said, Cowboys owner Jerry Jones has met with Bryant and he's very familiar with both Parker and Wells. If Bryant slips into the 20s -- as many mock drafts are now suggesting -- Jones could make a play for him. Some draft gurus (Rick Gosselin of The Dallas Morning News for one) even have Bryant slipping all the way to the Cowboys at No. 27. If that happens, I'm almost certain the Cowboys would select him. But also keep in mind that the Ravens are sitting at No. 25. Something tells me they'll want to see what the Cowboys are willing to give up for Bryant.
I think Bryant might be the most compelling player in the first round. Don't be surprised if the Cowboys take the story to the next level.
April, 20, 2010
4/20/10
1:00
PM ET
»
NFC Big Question
:
East
|
West
|
North
|
South
»
AFC
:
East
|
West
|
North
|
South
What if defensive tackles Ndamukong Suh and Gerald McCoy are gone before the Buccaneers pick at No. 3?
[+] Enlarge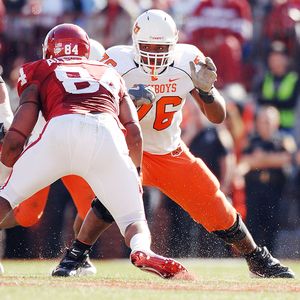 John Rieger/US PresswireIf the top defensive tackles are off the board, the Bucs could consider offensive tackle Russell Okung.
The general consensus is that the Rams will pick quarterback
Sam Bradford
at No. 1 and the Lions will pick one of the two defensive tackles at No. 2, leaving the other for the Buccaneers. But the Rams haven't definitively said they're taking Bradford. It seems as if Suh would be the likely candidate for the Rams if they do pull a surprise.
Let's say they took Suh. Detroit almost certainly will go with McCoy because the Lions need a defensive tackle as much as the Bucs do. If that happens, the Bucs suddenly wouldn't be in a very good spot. Their best hope then would be that someone would be anxious enough to trade up for Bradford. That would be nice because the Bucs probably could get a good player if they move back a few spots and they'd probably be adding at least one more draft pick. But draft trades are easier said than done.
If the Bucs are at No. 3 and Suh and McCoy are gone, the choice likely will come down to safety
Eric Berry
or offensive tackle
Russell Okung
. The argument there opens a whole can of worms. Do you really draft a safety that high? The Bucs certainly could use help back there, and Berry's the best defensive back in the draft. But how many problems is a safety going to solve if you don't upgrade your front four?
Okung would have to be intriguing. He is a franchise left tackle and could protect franchise quarterback
Josh Freeman
. But the Bucs already have a decent left tackle in
Donald Penn
. But Penn has been making some noise about wanting a new, long-term contract. If the defensive tackles are gone, the Bucs might have to switch up and get an offensive tackle.