NFL Nation:

The Big Question NFC 51810
May, 18, 2010
5/18/10
1:00
PM ET
By
Scouts Inc.'s Matt Williamson
| ESPN.com
»
NFC Big Question
:
East
|
West
|
North
|
South
»
AFC
:
East
|
West
|
North
|
South
What would the Redskins' defensive line look like without
Albert Haynesworth
?
[+] Enlarge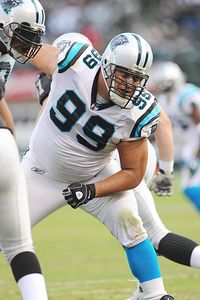 G. Newman Lowrance/Getty ImagesMaake Kemoeatu's bulk and power make him an ideal fit as a 3-4 nose tackle, but can he stay healthy?
Haynesworth doesn't want to play in a 3-4 scheme, which is exactly what is being implemented in Washington as we speak. It still remains a real possibility that the Redskins will move their star defensive lineman. If that happens -- and no defensive players are received in the deal -- who will line up in the Redskins' front three and what will be the impact of his departure?
There isn't a more disruptive player in the league than Haynesworth when he is on his game and he is capable of doing more or less whatever he wants on a football field. If motivated, he could be a fantastic nose tackle, or better yet, a 3-4 end for Washington. But enough about his abilities. For the sake of this piece, Haynesworth is elsewhere.
At nose tackle, the Redskins were shrewd in signing
Maake Kemoeatu
. Health could be a concern, but he is custom-made to man the nose in this scheme with his bulk, power and run-stuffing abilities. Still, the fact that Kemoeatu missed all of 2009 with an Achilles tendon injury has to give you pause. I am not a doctor, but I am guessing that his extreme mass puts a lot of stress on a recovering Achilles and this injury surely hasn't helped this massive human being's conditioning in the meantime.
Kedric Golston
is the other candidate for nose tackle. He is more of an upfield player than Kemoeatu, but he isn't as massive or stout. These two should be solid in a rotation, but if Kemoeatu's health becomes a major problem, I would worry about Golston's ability to hold down the spot full time. He plays hard, though, and has starting experience. Still, you need more than that to excel at nose tackle in the NFL, even on a two-down basis.
With the current group of nose tackles, it is feasible that Haynesworth could be a disruptive end in this scheme, a la
Richard Seymour
. To me, that is the way to best utilize his skills, while also making him happier with the scheme change. Of course, he also could play nose tackle and on throwing downs would be a beast as an interior pass-rusher. But without him, the Redskins are very light at the end position.
Phillip Daniels
looks pretty set as a starter. He is a bigger base end in the 4-3 whose abilities should translate well to the new scheme. And this switch should extend his career, but he is 37, so who knows how long he can contribute. If he can hold up, Daniels should be solid enough as a run stopper. But how many snaps can he play?
Two others whom I see potentially making an impact are
Adam Carriker
and
Jeremy Jarmon
. Both have ability. When they were running a 4-3, the Redskins used a third-round supplemental pick on Jarmon, but he probably would have been drafted higher than that in the typical draft format. But now he is playing in a 3-4, where his upfield abilities will not be utilized as much and he will be asked to anchor into the ground and stack and shed against bigger men. I am not writing him off for this detail -- he has the size to adapt, he is very young and improved as his rookie season went along -- but it is not what he was drafted to do.
In the 2007 draft, St. Louis used the 13th overall pick on Carriker to play in its 4-3 scheme. But he was miscast in that role and is clearly better suited to play end in an odd front. Injuries have been the big problem for Carriker and even when healthy, he has yet to show much in the NFL in any capacity. But I was extremely high on Carriker coming out of Nebraska as a 3-4 end prospect, so it wouldn't shock me if he revitalized his career to some degree in Washington.
Recognizing the problem at defensive end, the Redskins signed
Vonnie Holliday
on Monday. Much like Daniels, he is a veteran without upside, but he does have the grit and experience needed to hold his own in the trenches. In fact, he played quite well for the Broncos last season and might still be the best pass-rusher of the current group of defensive ends in Washington. Still, keeping his snaps low would be wise at his age (34).
Trust me, I am not a believer in keeping unmotivated players who do not want to be with the team. And in the 3-4, you can often get by with tough, try-hard guys who do their job without a lot of fanfare. But if Haynesworth leaves town, the Redskins' defensive line looks pretty atrocious to me.
May, 18, 2010
5/18/10
1:00
PM ET
»
NFC Big Question
:
East
|
West
|
North
|
South
»
AFC
:
East
|
West
|
North
|
South
Are the Packers who we think they are?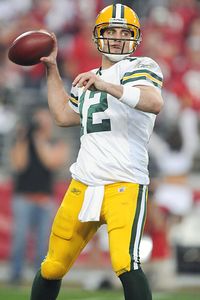 Kirby Lee/Image of Sport/US PresswireWith nearly the entire team returning, and Aaron Rodgers at quarterback, the Packers should be elite this season.
I thought I was stepping out on a limb by suggesting the Packers should be the
preseason favorites in the NFC North
. This week,
Sports Illustrated's Peter King
took things up a notch by placing the Packers atop his spring power rankings. For the entire NFL.
Here's what King wrote:
It's not just the maturation of Aaron Rodgers. It's the carryover from a fluky end to 2009 (the weird playoff loss at Arizona) and the fact that only one team in football -- New Orleans -- had a better point differential than the Pack's plus-164 last year. I like Jermichael Finley to become a great player in his second starting season. I don't trust the pass-rush (where Clay Matthews is the only real thing), and I worry about two of the top three corners coming off ACL surgery, and aging. But the defensive front is formidable, and a very good match for the good run teams of the NFC North. I also like Weeks 2 through 5 on the schedule (Buffalo, at Chicago, Detroit, at Washington), which sets up for a strong start.
I agree with much of King's assessment, especially the
Packers' early schedule
-- one that could have them 5-1 or 6-0 entering an Oct. 24 Lambeau Field showdown with the
Minnesota Vikings
. We've discussed
Finley's projection
several times this offseason. Most importantly, the Packers have every reason to believe they have an elite quarterback -- a critical ingredient for any championship-caliber team. Everything about Rodgers' first two seasons suggests he should be considered among the game's five best starters.
But that's as far as we can go. Preseason projections give us something to talk about in May -- when the regular season is a tortuous four months away -- and nothing more. Division champions? Super Bowl winners? Who knows. There are too many unpredictable hurdles in an NFL season to make any kind of serious projection.
All we can say with certainty is the Packers will return the same team that won seven of its last eight regular season games last season.They have the makings of a really good team -- and should be deeply disappointed if they aren't.
May, 18, 2010
5/18/10
1:00
PM ET
»
NFC Big Question
:
East
|
West
|
North
|
South
»
AFC
:
East
|
West
|
North
|
South
Are the Tampa Bay Buccaneers ready to give up on Sabby Piscitelli as their starting strong safety?
[+] Enlarge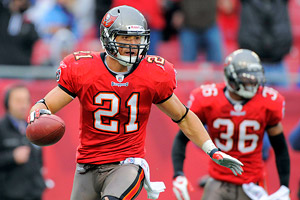 Scott A. Miller/US PresswireSabby Piscitelli's future with the Bucs is a little uncertain heading into the season.
If you watched Piscitelli in Monday's workout, you saw him line up with the first-team defense. Maybe it's just a matter of giving
Sean Jones
time to learn the playbook. Or maybe the Buccaneers really are giving Piscitelli a chance to keep his job.
If you watched Piscitelli last season, it was ugly. He had all sorts of problems in coverage and his tackling was bad. That's a pretty brutal combination for a strong safety. But the Bucs did see something last year that inspired them to move
Jermaine Phillips
to linebacker in an effort to get Piscitelli on the field.
In the eyes of the fans, Piscitelli quickly went from being the next John Lynch to the symbol of all that was wrong with Tampa Bay's defense. He certainly deserved some criticism, but I'm not ready to write this guy off just yet.
Strong safety is a position like right field in Little League or softball. When you've got a good defense, it's not all that important. Fact is, the Bucs had a horrible defense last year and Piscitelli went from being hidden to being exploited badly.
Maybe -- and I'm just saying maybe -- all the moves on defense will make the Bucs better and give Piscitelli a chance. In theory, their pass rush should be better and the cornerback tandem of
Ronde Barber
and
Aqib Talib
should keep the pressure off the safeties.
I think back to this time a year ago when a lot of New Orleans fans wanted to run off strong safety
Roman Harper
. On a bad defense in 2008, Harper was hung out in coverage a lot and he struggled. In 2009, the Saints upgraded their defense all over the place. Harper no longer got stuck in long-term coverage and turned in an excellent season. He was allowed to do what he does best, which is to make hits and sort of be an extra linebacker.
That's kind of the ideal role for a strong safety. Maybe the improvements to Tampa Bay's defense will prevent Piscitelli from having to do too much deep coverage and that would be a big plus. But if Piscitelli really is going to be the next Lynch, he has to start hitting like Lynch. Or, at very least, he has to make the tackles that are in front of him. If he can't do that, Jones is waiting in the wings.
May, 18, 2010
5/18/10
1:00
PM ET
»
NFC Big Question
:
East
|
West
|
North
|
South
»
AFC
:
East
|
West
|
North
|
South
What does it mean to be a franchise player and will the 49ers wind up using the designation for Pro Bowl tight end Vernon Davis?
[+] Enlarge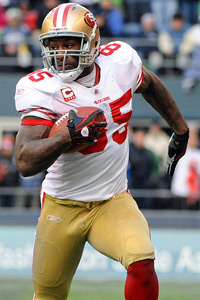 Kirby Lee/US PresswireAfter an underwhelmng start to his career, Vernon Davis has really come on, hauling in 13 TDs in 2009.
Davis is probably too good to become a franchise player based upon what the designation has come to mean in recent seasons.
The franchise tag remains, in theory, a tool for teams to prevent their best players from hitting the market should a long-term agreement prove elusive. The franchise tag has become a mechanism for teams to buy time so they can evaluate whether good players are really all that great. But the teams usually already know the player isn't all that great.
The Rams'
Oshiomogho Atogwe
, the Cardinals'
Karlos Dansby
and the Seahawks'
Leroy Hill
were franchise players in the NFC West last offseason. They have combined for zero Pro Bowls. Dansby left in free agency this offseason. Atogwe could leave the Rams in another couple of weeks. Hill's future in Seattle also remains unclear, with the team asking him to stay away from organized team activities amid off-field concerns.
The 49ers'
Aubrayo Franklin
was the division's only franchise player this offseason. He also has never been to a Pro Bowl.
Massive increases in salary-cap space (followed this offseason by the removal of any cap at all) made it easier for teams to pay franchise-player premiums for one season at a time. That beat the alternatives, which consisted of losing the player or overspending for him on a long-term deal. The abolition of a salary cap also brought rules making it tougher to do long-term deals, but the 49ers still managed to reach a long-term agreement with
Patrick Willis
, a three-time Pro Bowl player, because they knew he was an elite player.
Which brings us back to Davis.
Once a disappointment, Davis has become everything the 49ers want in their tight end. He was always a hard worker and ferocious blocker. He proved last season that he can become a dangerous receiver if featured in an offense. Davis isn't perfect as a route runner and he'll still drop a pass occasionally, but he appears to be the type of home-grown young player the 49ers have sought to reward (Willis and
Joe Staley
come to mind). That makes him too valuable for the franchise tag.

NFL SCOREBOARD
Sunday, 12/22
Monday, 12/23