NFL Nation:

The Big Question NFC 62210
June, 22, 2010
6/22/10
1:02
PM ET
»
NFC Big Question
:
East
|
West
|
North
|
South
»
AFC
:
East
|
West
|
North
|
South
Why is there a good chance tight end John Carlson could have his best season as a Seahawk?
Although he caught 51 passes for 574 yards last season, tight end John Carlson was an under-the-radar player on a 5-11 Seahawks team. But changes in the Seahawks' offense under new head coach Pete Carroll and injuries at wide receiver could allow Carlson to have a breakout year.
[+] Enlarge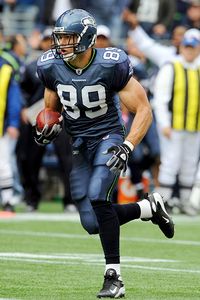 Steve Dykes/US PresswireJohn Carlson could be in line to have his best year yet.
Wide receiver
T.J. Houshmandzadeh
is only at 80 percent coming off sports hernia surgery, and fellow wideout
Deion Branch
still can't shake lingering problems from three knee operations. Plans are already being made to use more two-tight end sets this season because of the team's enhanced use of the Alex Gibbs zone-blocking scheme.
But Carlson's skills for getting downfield and catching the ball could allow him to be even more involved in the passing game this season. Last year, the line was so bad that Carlson had to block more than he did when he caught 55 passes for 627 yards as a rookie in 2008. Seattle added veteran
Chris Baker
to help as a backup tight end and a main cog in the two-tight end set. In the draft, the Seahawks got lucky when USC tight end
Anthony McCoy
fell to them in the sixth round. Both will help take blocking pressure off Carlson.
Carlson, who has 106 catches and 12 touchdowns in two seasons, is second only to
Vernon Davis
at tight end in the division. If quarterback
Matt Hasselbeck
stays healthy and the line does well with
Russell Okung
and
Ben Hamilton
on the left side, Carlson should be free to catch more passes and score more touchdowns.
June, 22, 2010
6/22/10
1:00
PM ET
»
NFC Big Question
:
East
|
West
|
North
|
South
»
AFC
:
East
|
West
|
North
|
South
The Detroit Lions forfeited two organized team activities this week for violating the NFL's collective bargaining agreement. Is that really a big deal?
[+] Enlarge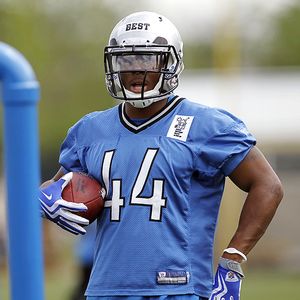 Leon Halip/US PresswireJahvid Best and the Lions had to forfeit two OTA sessions.
Aside from the obvious -- it's better to be practicing than not practicing -- no. Every franchise views OTAs differently, but even at their most intense, we're talking about 90-minute workouts that emphasize mental reps in an on-field environment. Even if a team installs its entire scheme during the course of these practices, it usually starts installation over on the first day of training camp.
I've watched far too many OTA practices over the years. They can be really, uh, uneventful. There is only so much to be gained from practicing in shorts, jerseys and T-shirts. In Minnesota, for example, they're so crucial that coach Brad Childress cancels at least two of them every year.
OTAs are most valuable for teams with first-year head coaches who are installing new schemes or want extended time to get incumbents on film. That's not the case in Detroit, where the Lions return the same head coach, offensive coordinator and defensive coordinator.
Coach Jim Schwartz was hoping to create a training camp-style schedule this week: five consecutive days of football activities, including a three-day mandatory minicamp. But I imagine that by the time the Lions finish their actual training camp, there will be little evidence that they lost two OTAs. And something tells me that, at the end of the season, we're not going to hear Schwartz or anyone else say, "Man, if we had just had those extra two days of OTAs."
If you're concerned about why the Lions were singled out as one of four teams required to forfeit OTAs this spring, make sure you check out
John Clayton's ESPN.com mailbag
this week. It's got much more to do with the NFL's brewing labor situation than it does with anything the Lions might have tried to sneak through.
June, 22, 2010
6/22/10
1:00
PM ET
By
Matt Mosley
| ESPN.com
»
NFC Big Question
:
East
|
West
|
North
|
South
»
AFC
:
East
|
West
|
North
|
South
Is everyone in Dallas on the same page about Doug Free starting at left tackle?
From the moment the Cowboys released perennial Pro Bowl left tackle
Flozell Adams
, I assumed his replacement would be Doug Free. But for whatever reason, the other NFC East teams aren't convinced. Free exceeded expectations while filling in for an injured
Marc Colombo
in '09, but he was overmatched when he saw emergency duty against
Jared Allen
in a playoff game.
[+] Enlarge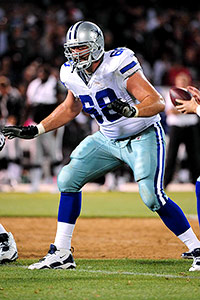 Kyle Terada/US PresswireDoug Free did well in seven games at right tackle last season.
The fact that Free has excellent footwork and quickness gives him the proper foundation to protect
Tony Romo
's blindside. Still, teams such as the Eagles don't seem convinced that Free will be up to the task. I recently took a peek at the Eagles' depth chart for the Cowboys, and they have
Alex Barron
's name next to Free's. They didn't do that with the other 10 positions on offense. And the Eagles aren't alone. There's a belief from the Giants and Redskins that Barron will eventually win the job because of his experience. That's not to say they're rooting for Barron, because they'd actually like
Trent Cole
,
Justin Tuck
and
Brian Orakpo
to have a go at Free.
So where's all this doubt coming from? I know that Free barely has any experience at left tackle in the league, but he was excellent on the right side in seven games last season. And his skill set is better suited for the left side. Cowboys offensive line coach Hudson Houck, who's tutored some of the best in the game, told me recently that nothing seems to faze Free. He's seen more of a sense of urgency from the player since he was named the starter and he admires Free's work ethic. There's nothing to suggest that Barron's going to light it up in training camp and surpass Free.
But even some of Free's teammates seemed to have their doubts in the days after Adams' release.
DeMarcus Ware
, a man who knows how to embarrass a left tackle, was completely caught off guard by the move and expressed surprise. He's since rallied behind Free, but it's hard to dismiss his initial reaction. I've also pressed Pro Bowl center
Andre Gurode
on the topic. He had immense respect for Adams, but he's trying to say all the right things about Free.
From my perspective, I'd have more concern with Colombo right now than Free. That's not to say Free's the better player, but Colombo's leg injury was pretty significant and he probably should not have returned for the Vikings game based on his performance. He's one of the toughest players in the league, but you can only do so much on one leg. I think Barron was brought in with Colombo's durability in mind.
But the rest of the division seems to think Barron was brought in to replace Adams. I guess we'll find out soon enough. By the way, how would you rank the starting left tackles in the division as of today?
I'd go with
Jason Peters
,
David Diehl
, Free and the Redskins' rookie,
Trent Williams
.
June, 22, 2010
6/22/10
1:00
PM ET
»
NFC Big Question
:
East
|
West
|
North
|
South
»
AFC
:
East
|
West
|
North
|
South
Can Carolina coach John Fox trust a rookie wide receiver?
He'd better. Although Fox is the ultimate creature of habit and rarely has given young wide receivers big opportunities in the past, that might not be possible this year. That's simply because Fox really doesn't have much choice.
[+] Enlarge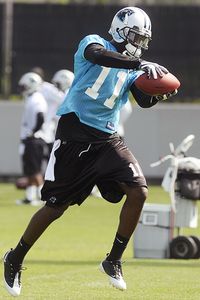 Sam Sharpe/US PresswireYoung receivers like Brandon LaFell may need to be called on this season.
The Panthers invested two early draft picks in wide receivers
Brandon LaFell
and
Armanti Edwards
. Beyond
Steve Smith
, who will miss at least part of training camp with a broken arm, the Panthers have virtually nothing else at wide receiver.
Dwayne Jarrett
is a guy who never has played up to his potential and Kenneth Moore might be able to be a role player.
Jarrett is a good example of Fox's tendency to go slow with young receivers. The coach doesn't like to play them because they're capable of making mistakes. Aside from
Keary Colbert
, who had a decent rookie year before disappearing, Fox never has given a rookie receiver much playing time.
But Fox, who is in the last year of his contract, needs to think more about possible big plays than possible big mistakes by LaFell and Edwards. The Panthers desperately need someone to take some of the defensive attention off Smith.
LaFell is big and strong and has all of the tools to be an every-down receiver. Edwards is speedy and dynamic and can give the Panthers a real slot receiver for the first time in years.
Fox has been given the parts he needs at wide receiver. Now he just has to use them.

NFL SCOREBOARD
Thursday, 12/18
Saturday, 12/20
Sunday, 12/21
Monday, 12/22