NFL Nation:

The Big Question NFC 62910
June, 29, 2010
6/29/10
1:00
PM ET
»
NFC Big Question
:
East
|
West
|
North
|
South
»
AFC
:
East
|
West
|
North
|
South
How should the NFL handle discipline for Detroit Lions president Tom Lewand, who was arrested on suspicion of drunken driving last Friday?
[+] Enlarge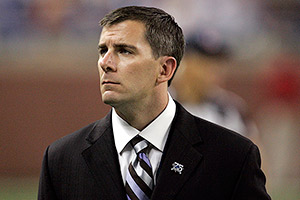 AP Photo/Carlos OsorioThe NFL's personal conduct policy applies to all league employees, including Lions president Tom Lewand.
We've gone through this routine with players: Arrest, NFL review, discipline sometimes announced. But I'm guessing many fans didn't realize the same procedures apply to all league employees in cases of legal trouble, from owners all the way down to the lowest-level staffers. Lewand's arrest compels commissioner Roger Goodell to consider his case the same way he would with any player.
Here's what Goodell said about the Lewand matter during a recent NFL Network interview: "Our policies apply to everyone: Yours truly, club presidents, players, coaches, everybody involved with the NFL. I think Tom recognizes that, and of course I will speak to him at some point in the near future. We'll be gathering the facts. But everybody is accountable and everybody is responsible."
Not all of you are buying that final statement, however
. Brian of Grand Rapids, Mich.,
voiced a common refrain:
With Goodell cracking down on player conduct over the last 2 years, what kind of discipline can we expect, if any, for Tom Lewand's drunk driving offense? I suspect he will ignore the issue but it doesn't seem right to hold the players to one standard and management to another. Both represent the NFL. I guess Goodell's true colors will come out.
I agree in the sense that we can't judge Goodell until he reaches his conclusion. And I am absolutely in favor of holding management to the same standards as players. But before we start calling for Lewand's head, we should remember a few things.
While Goodell has the right to punish league employees regardless of the legal verdict, he routinely examines any pattern -- or lack thereof -- before making decisions. Repeated drunken driving offenses usually lead to significant discipline. First offenses are sometimes handled internally with fines that aren't announced.

Observers should be careful to avoid the hypocrisy of calling for anyone -- a team president or a backup center -- to be made an "example of."
Everyone knows Goodell is serious about discipline. But at this point, we don't know all of the particulars of Lewand's legal history -- if there is one. Let's give Goodell the latitude to make an appropriate rendering of Lewand's fate and then evaluate it based on that.
June, 29, 2010
6/29/10
1:00
PM ET
»
NFC Big Question
:
East
|
West
|
North
|
South
»
AFC
:
East
|
West
|
North
|
South
Can the Atlanta Falcons have a winning record for the third straight season?
There was some minor celebrating at the end of last season when the Falcons won their final three games to finish 9-7 and record back-to-back winning seasons for the first time in franchise history. It still wasn't good enough for the Falcons to get to the playoffs in back-to-back seasons for the first time and that was mildly disappointing after a 2008 season in which rookie coach Mike Smith and rookie quarterback
Matt Ryan
took Atlanta to the postseason.
[+] Enlarge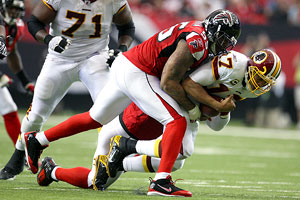 Kevin Liles-US PresswireThe Falcons need a stronger season from John Abraham and the Falcons' pass rush.
Blame last year on injuries and bad luck. But maybe a season in which everything that could go wrong did is exactly what the Falcons needed to raise the bar for 2010. They were a 9-7 team when everything was working against them.
They should be much better when things are going well. Things can always change, but, right now, the schedule doesn't look all that difficult. Injured guys like defensive tackle
Peria Jerry
, safety
William Moore
and receiver
Harry Douglas
are expected back at full strength. Running back
Michael Turner
is in much better physical condition than he was at this point a year ago and he seems to be on a mission to prove that his 2008 season wasn't a one-hit wonder.
The Falcons took their annual one large plunge into free agency by signing cornerback
Dunta Robinson
and that should solidify the secondary. First-round pick
Sean Weatherspoon
should give Atlanta a playmaker at linebacker. The only uncertainty is the pass rush. Maybe
John Abraham
can bounce back from a quiet season and maybe
Kroy Biermann
and
Lawrence Sidbury
can take the next step in their development.
The pass rush and the
New Orleans Saints
might be the biggest obstacles the Falcons face at the moment. Even with those issues hanging out there, this looks like a team that's on course for a third straight winning season.
June, 29, 2010
6/29/10
1:00
PM ET
By
Scouts Inc.'s Matt Williamson
| ESPN.com
»
NFC Big Question
:
East
|
West
|
North
|
South
»
AFC
:
East
|
West
|
North
|
South
What does Seattle Seahawks quarterback Matt Hasselbeck have left?
This isn't an easy question to answer, as Hasselbeck has continually battled injuries and his supporting cast has been less than stellar. And that includes his protection and those catching the football. But it also must be noted that Seattle didn't go out of its way to acquire
Charlie Whitehurst
for no apparent reason.
[+] Enlarge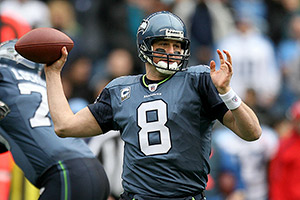 Otto Greule Jr/Getty ImagesMatt Hasselbeck threw 17 touchdowns and 17 interceptions for the Seahawks last season.
But as it stands today, I do feel as though Hasselbeck can still be successful. By successful, I don't mean Pro Bowl level or even how he was a few years ago, but he can be a productive quarterback capable of leading this offense. By several accounts, Hasselbeck has quickly acclimated to the Seahawks' new offense. That isn't surprising given his work ethic, and these leadership traits will be valuable to the entire young squad during this coaching transition.
But I don't trust him. I don't trust him to elevate those around him -- which is what the young Seahawks offense needs. I don't trust him to stay healthy for 16 games. I don't trust him to be someone whom Seattle can count on going forward. He turns 35 during the season and played the worst football of his career as a starter during the second half of the 2009 season.
Once excellent at valuing the football, he was responsible for too many turnovers. Over the past two seasons, Hasselbeck has five more interceptions than touchdowns. He was making throws like someone whose body hurt him, which just doesn't work at this level. So, let's return to the original question: What does Matt Hasselbeck have left? My response is not much.
Why do I say that? First of all, the supporting cast has promise, but it is far from ideal. The Seahawks are transitioning to a zone-blocking run scheme and are breaking in a new blindside protector (
Russell Okung
) -- albeit a talented one. But overall, I can't see the line play as being high end yet, even with Alex Gibbs as the line coach. It should be improved, but I still worry about the hits Hasselbeck will take, especially considering his back problems.
But the receivers really worry me.
John Carlson
could re-establish himself as a truly threatening tight end, and
Justin Forsett
and
Leon Washington
are able and dangerous receivers out of the backfield, but you need wide receivers who can threaten a secondary to succeed in this league. I don't see that in Seattle and I don't think Hasselbeck is able to escalate the play of average wideouts at this stage of his career.
Compounding matters, Hasselbeck's contract is up after this season -- so Seattle must have a read on Whitehurst before entering next offseason. Whitehurst will be the starter during the last month of the season. I have no reservations about saying that, even in late June. Actually, I could see Whitehurst taking over after the Seahawks' Week 5 bye.
June, 29, 2010
6/29/10
1:00
PM ET
By
Matt Mosley
| ESPN.com
»
NFC Big Question
:
East
|
West
|
North
|
South
»
AFC
:
East
|
West
|
North
|
South
Should we expect Donovan McNabb to hit the ground running this season?
[+] Enlarge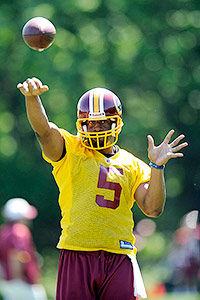 AP Photo/Nick WassThe Redskins are counting on Donovan McNabb to lead them out of the NFC East cellar.
Some folks immediately gave the
Washington Redskins
six more wins when they traded for McNabb. That seemed a little on the optimistic side after witnessing this offensive line's performance last season. And it's not like
Malcolm Kelly
and
Devin Thomas
have truly
arrived
at wide receiver.
But there's also this little thing about McNabb having to learn Mike Shanahan's offense while blending with his new teammates. It seems like everyone automatically assumes that McNabb won't have much of a learning curve because he's been one of the league's top quarterbacks. But I think there will be some growing pains.
He could run Andy Reid's offense in his sleep, and from time to time, that's what it looked like. On the positive side, though, McNabb will operate with a true running game for the first time in years. Shanahan believes in his zone-blocking scheme and he's going to stay with it longer than most coaches.
I think that will make McNabb a more dangerous quarterback and he might not feel as much pressure to carry the offense. When he was with the Eagles, McNabb would often invite his receivers to Phoenix to work out with him. He needs to be establishing that type of rapport with his new teammates.
The Redskins appear to have a good thing at tight end with
Chris Cooley
and
Fred Davis
, but they're a mixed bag at wide receiver. Even if
Santana Moss
can move past his association with a doctor accused of smuggling performance-enhancing drugs across the border, he's going to have to show more consistency on the field.
Jason Campbell
rarely had enough time in the pocket to find Moss racing downfield.
Moss has to hope that Shanahan and son can revitalize his career. He also needs to be connected at the hip with McNabb during training camp. Most players don't suddenly get the opportunity to play with an elite quarterback. But for the ones who do (ask
Sidney Rice
about it), it can elevate their careers.
I think McNabb makes the Redskins better, but there will be plenty of bumps along the way.