NFL Nation:

The Big Question NFC 70610
July, 6, 2010
7/06/10
1:00
PM ET
By
Matt Mosley
| ESPN.com
»
NFC Big Question
:
East
|
West
|
North
|
South
»
AFC
:
East
|
West
|
North
|
South
Is Eagles head coach Andy Reid's coaching reputation on the line in 2010?
[+] Enlarge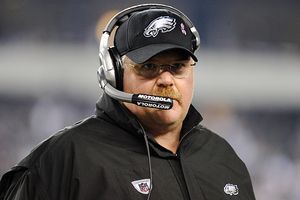 Barbara Johnston/US PresswireAndy Reid is confident the Donovan McNabb trade will not dampen the team's playoff ambitions.
I didn't realize this until I stumbled upon it during a thrilling Google search, but Andy Reid's the eighth-longest tenured coach in professional sports. He's also one of only three NFL coaches who have ultimate authority when it comes to personnel moves.
That means that
Donovan McNabb
would still be with the Eagles if Reid had decided to fight for his quarterback. Reid not only signed off on a trade, but he approved trading McNabb to a team that will have two cracks at the Eagles every season for the foreseeable future. Reid's been an outrageously successful coach since taking over the Eagles in 1999, but all those wins can't overshadow the fact that he's never won a Super Bowl in Philadelphia. Truth be told, Reid and Joe Banner thought they'd have two or three Super Bowl titles by now.
But the two men (plus new general manager Howie Roseman) have raised the stakes this season. They truly believe they can trade the best quarterback in the history of the franchise while he still has some tread on the tires and not take a step back. If Reid can lead the Eagles deep into the playoffs with
Kevin Kolb
at quarterback, it will cement his status as one of the best coaches in the league. But this is an absolute high-wire act from the start. If the Eagles flame out and miss the playoffs, Reid would automatically be on the hot seat heading into 2011.
That may not be fair, but that's how it would play out. The Eagles have taken a tremendous gamble by trading an elite quarterback to a division rival and replacing him with an inexperienced player. Roseman told me recently that the Eagles know enough about Kolb that they don't view this is a big risk.
But in many ways, Reid's reputation was tied to McNabb's. Now that they've gone their separate ways, Reid will feel more pressure than ever. If he pulls this off, it will be the most impressive coaching job he's ever done.
July, 6, 2010
7/06/10
1:00
PM ET
By
ESPN.com's John Clayton
| ESPN.com
»
NFC Big Question
:
East
|
West
|
North
|
South
»
AFC
:
East
|
West
|
North
|
South
Did the Detroit Lions make one of the best moves in the draft by trading into the first round to take running back Jahvid Best?
[+] Enlarge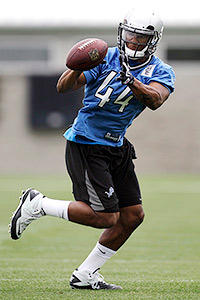 AP Photo/Paul SancyaJahvid Best is capable of helping Detroit as both a runner and pass target.
This might have been one of the most unusual moves in the draft. There was no question the Lions were targeting a running back with their second-round pick, which was scheduled to be the 34th overall selection. Starting running back
Kevin Smith
was coming off a knee reconstruction and the Lions needed a running threat to take some of the pressure off quarterback
Matthew Stafford
.
Not wanting to risk the chance of losing him between picks No. 30 to 33, the Lions gave three picks to the rival
Minnesota Vikings
to move up to No. 30, where they grabbed Best. Despite Stafford's strong arm and the presence of
Calvin Johnson
at wide receiver, the Lions didn't have the running attack to make life easier for their rookie quarterback in 2009. Jets QB
Mark Sanchez
ended up making the playoffs as a rookie because his team could run the ball.
Joe Flacco
of the Ravens and
Matt Ryan
of the Falcons had rookie-season playoff runs on good running teams. The Lions averaged only 101 rushing yards and 25.6 rushing attempts a game last season. Neither mark was good enough to put Stafford in position to win games.
Early reports on Best are excellent. He catches the ball well and has explosiveness. There was still a decent chance Best could have fallen to the Lions at No. 34. The Colts, Saints and Rams had the next three picks, and of those three teams, St. Louis was likely the only real threat to take Best.
The Lions are a draft or two away from being competitive. Making life tougher for Detroit is a division stacked with good quarterbacks --
Brett Favre
in Minnesota,
Aaron Rodgers
in Green Bay and
Jay Cutler
in Chicago. It's still possible the Lions could go 0-6 in division play, but if Best and Smith kick-start the running game, the Lions could be more of a factor this year.
July, 6, 2010
7/06/10
1:00
PM ET
By
Scouts Inc.'s Matt Williamson
| ESPN.com
»
NFC Big Question
:
East
|
West
|
North
|
South
»
AFC
:
East
|
West
|
North
|
South
What wide receivers does Josh Freeman have to throw to this season?
[+] Enlarge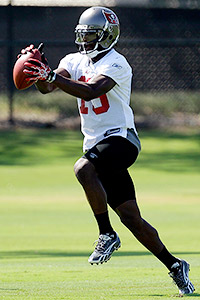 AP Photo/Chris O'MearaFourth-round pick Mike Williams has looked sharp in minicamps.
As it was with its defensive tackle weakness, Tampa Bay was very proactive on draft day bolstering its wide receiver corps. Before the draft, the Buccaneers may have had the worst set of wideouts in the NFL. While this wideout group grows up with a very promising second-year quarterback in Freeman, there will be a learning curve, but the future is pretty bright at this position. I commend Tampa Bay for acquiring talent for Freeman to develop with. Too many teams select a quarterback in the first round but don't do enough to help him be successful in a difficult transition to the NFL.
Fourth-round pick
Mike Williams
and second-round selection
Arrelious Benn
are obviously the players to watch. Rarely does a situation present itself so well for a pair of rookies to come in and make an immediate impact. While it wouldn't necessarily be reason for concern if it didn't occur, Tampa Bay would love to see Williams and Benn establish themselves as the starting wideouts. By most accounts, and obviously it is extremely early in the process -- Williams is ahead of Benn and has been very impressive. Benn also has battled an ankle injury. Williams probably offers more big-play vertical ability. Neither player is afraid of contact, but Benn is the more physical wideout in all areas of his game. These two hold the fate of the Bucs' receiving corps in their hands. That is pretty exciting, and I can't wait to watch them work with Freeman during the preseason.
The two talented rookies stand apart from the pack at this position, but Tampa Bay does have another youngster to pay attention to in
Sammie Stroughter
. I like this second-year receiver's game. He is a pure slot guy, but he is quick, tough and reliable. His skill set probably will never translate into a starting role, but he is perfect for the slot and with Williams and Benn in the fold, Tampa should be set with their top three wideouts for years to come.
If the youngsters hit stumbling blocks,
Reggie Brown
would most likely pick up the slack in 2010. Brown isn't real dynamic and quickly fell out of favor in Philadelphia, but he has been productive and can be a bridge player for the short term.
Michael Clayton
and
Maurice Stovall
are two more big-bodied wideouts who could surprise. Everyone knows Clayton's story -- a one year wonder right out of college who hasn't done a thing since. But now, there isn't any pressure. Will he step up and make an impact? I doubt it, as I see little explosion and he struggles to get consistent separation. But is it possible? Sure, why not? Stovall also is talented, but has never put it all together. Injuries have played a factor, but he just hasn't shown any level of consistency.
This season might not be pretty and surely the Bucs will feature a ball-control approach in the passing game. I also expect a lot of throws in the middle of the field to Benn, Williams, Stroughter and
Kellen Winslow
-- whom I also expect to be a factor in a wideout role detached from the formation. But the future is bright here and the young players will get every opportunity to succeed.
July, 6, 2010
7/06/10
1:00
PM ET
»
NFC Big Question
:
East
|
West
|
North
|
South
»
AFC
:
East
|
West
|
North
|
South
What impact will Scot McCloughan's hiring in Seattle have on the NFC West?
The
San Francisco 49ers
' former general manager hasn't relocated to the Northwest and he might not for a while. His hiring as a "senior personnel executive" could remain vaguely defined for the upcoming season.
[+] Enlarge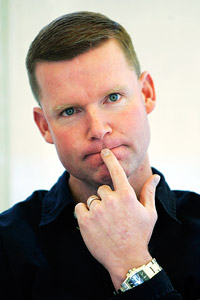 AP Photo/Paul SakumaFormer 49ers general manager Scot McCloughan will make an immediate impact on the Seahawks.
McCloughan has immediate value for the Seahawks, however, because he knows so much about the division and specifically the 49ers, who visit Seattle in Week 1. Much of the Seahawks' new leadership is new to the division. Coach Pete Carroll couldn't possibly have as strong a feel for the 49ers as he would after a season or two in the NFC West.
McCloughan helps fill in some of the gaps. He can provide insight into and an overall feel for how the 49ers' coaches think. He'll know what makes them uncomfortable and how they're likely to react to specific situations. He'll know where the 49ers are most vulnerable from a scheme standpoint. He can offer similar knowledge about nearly every prominent player on the 49ers' roster. The result is that Seattle's coaching staff should be more comfortable entering the season opener and division play in general than it would have been without McCloughan's recent addition to a senior personnel position.
Overall, McCloughan should make the Seahawks more comfortable heading into Week 1.
The situation is unusual even though NFL personnel people change teams regularly. McCloughan and Seahawks general manager John Schneider happened to get their NFL start together in Green Bay. The Seahawks happened to hire McCloughan months after his surprising departure from the 49ers. The NFL happened to pit the Seahawks and 49ers against one another in Week 1 this season.
In some ways, McCloughan will be working against his own legacy. Had he signed with a team outside the division, he could have more naturally rooted from afar for
Alex Smith
and some of his other 49ers draft choices to succeed.