May, 18, 2011
5/18/11
1:00
PM ET
Examining the most crucial event in the history of every team in the division.
Fly into the city of Pittsburgh, and there is no doubt what is the most memorable moment in Steelers' history.
Inside Pittsburgh International Airport there is a life-sized statue of Hall of Fame running back Franco Harris' "Immaculate Reception." Harris caught a deflection off teammate Frenchy Fuqua late in a 1972 AFC divisional playoff game to score the winning touchdown in a 13-7 victory over the
Oakland Raiders
.
Msdmr writes:
"[Pittsburgh] had only been to playoffs twice at that point. It got them out of the doormat category, gave them tangible proof that they could win."
Krankor
watched the "Immaculate Reception" live on television nearly four decades ago: "I was a kid at the time, about 10 years old. What I remember most clearly was that, after the play, the delay while the officials decided what to call was unprecedented. I'd never seen anything like it, before or since."
Not everyone is impressed by the memorable play, especially those outside of Steeler Nation.
Washed_up_ball_player writes:
"Funny how the No. 1 selection, the 'Immaculate Reception,' is just a lucky play where the football gods smiled down on the Steelers. That sounds like the definition of the Steelers to me."
The "Immaculate Reception" led the way with 34 percent of the 40,000-plus votes as of 3 p.m. ET Tuesday, edging Pittsburgh's 1974 draft (31 percent) that included four Hall of Famers in linebacker Jack Lambert, center Mike Webster and receivers Lynn Swann and John Stallworth. The Steelers' 1974 draft is often considered the greatest in NFL history. We may never see four Hall of Famers drafted by one team in the same year again.
Former Steelers Hall of Fame coach Chuck Noll also had his share of supporters. Noll's hiring in 1969 received a solid 26 percent of the vote. Noll coached Pittsburgh to four Super Bowl wins in the 1970s before retiring in 1991. He started an impressive run of only three head coaches -- Noll, Bill Cowher and Mike Tomlin -- running the Steelers since 1969.
Jebei_espn also writes:
"The Steelers were always bad before they hired Chuck Noll and have been consistently good since then. Noll turned the franchise around and with great support from the Rooney family they started a great tradition that continues to this day."
RAVENS: First draft was huge
Speaking of impressive draft classes, the
Baltimore Ravens
had one of their own during their inaugural season in 1996.
The Ravens landed two future Hall of Famers in the first round. Baltimore selected left tackle
Jonathan Ogden
with the No. 4 overall pick and middle linebacker
Ray Lewis
at No. 26 overall, which received an impressive 54 percent of the vote as of Tuesday afternoon. Both players were longtime stalwarts on offense and defense, and Lewis, 36, still leads the Ravens entering his 16th season.
DaReel2008
summed it up best by writing: "Drafting Lewis and Ogden was our defining moment, and the others mentioned -- even the Super Bowl -- aren't even close. Ray Lewis and Jonathan Ogden are two of the best players to ever play their positions. They not only helped carry the Ravens to a Super Bowl, but made us a perennial contender for most of the last 12 years. Our team prides itself on its character and its toughness, both of which are embodied by these two players, who will be in the HOF upon their first year of eligibility."
The Ravens also got a nice sleeper in the fifth round of the 1996 draft by getting receiver and return specialist
Jermaine Lewis
. He was the first of many gems Baltimore's front office was able to discover in the middle and late rounds.
Baltimore's Super Bowl XXV victory over the
New York Giants
following the 2000 season came in second place with 40 percent of the vote. It remains the Ravens' only Super Bowl victory.
Clifford from Baltimore
makes a good case for Super Bowl XXV when he writes: "It solidified the identity of the franchise. The Ravens were a good defensive football team for two years or so before their Super Bowl run, but winning a championship with defense effectively defined the entire culture of the team as a whole."
BROWNS: Hard luck adds to Cleveland curse
Now we get to the downtrodden segment of our "Flash Points" series. After more than 50,000 votes -- the highest total in the AFC North -- "The Fumble" and "The Drive" led the way among Browns fans with 37 percent.
Cleveland's championship drought in pro sports is at 47 years and counting. The Browns' teams of the late 1980s were solid and had a chance to break that streak. But Hall of Fame quarterback
John Elway
and the
Denver Broncos
broke Cleveland's heart in back-to-back years with a pair of late-minute victories.
Denver and Cleveland met in the AFC title game one year later, and
Earnest Byner
's late fumble on the 3-yard line thwarted a chance for the Browns to tie the score in regulation. Following a late safety, Denver held on to win 38-33.
Daffy87 writes:
"I would lean towards 'The Fumble' and 'The Drive' since that's the first thing that comes to people's minds when they bring up the Browns. Anytime anything bad or strange happens in a game, announcers roll the film."
I interviewed Byner
a few years ago to discuss his fumble. The play serves as a cruel reality, because Byner had a solid career, rushing for 8,261 yards, but he will be most remembered for one bad play.
"To be honest, it helped me be a better man and a better person," said Byner, who now is an assistant coach with the
Jacksonville Jaguars
. "Going through something like that really gives you perspective that life is not over when you have something tragic happen or something that definitely challenges you."
Both Denver teams lost in the Super Bowl. Cleveland fans can always wonder if those Browns teams would have been a better representative for the AFC and perhaps won at least one championship following the 1986 or 1987 season.
BENGALS: Downhill since Montana
The
Cincinnati Bengals
have had some highs and lows in their history. But an overwhelming 49 percent of Bengals fans chose
Joe Montana
's late, game-winning drive to lead the
San Francisco 49ers
over the Bengals in Super Bowl XXIII as Cincinnati's biggest turning point.
GreatestBengalsFanOfAllTime writes:
"The last-minute loss to the 49ers defines the Bengals, forever and always. Many fans like to say it was the
Mike Brown
era, but the truth is, the Bengals weren't exactly legends under Paul Brown, either. The last-minute loss to the 49ers accurately sums up the entire history of Bengaldom in one simple phrase: 'So close, yet so far.'"
Trailing 16-13, the 49ers needed to drive 92 yards in the final three minutes to win the Super Bowl. Montana got in rhythm and connected with receiver
John Taylor
with 34 seconds left to win the game, 20-16. It was the last Super Bowl appearance for the Bengals, who in turn have struggled mightily for the past two decades.
Bengals owner Mike Brown taking over the franchise was a distant second with 27 percent. Brown's father, Hall of Famer Paul Brown, starting the franchise in 1968 was third with 13 percent, and drafting left tackle Anthony Munoz in 1980 was fourth with eight percent.
May, 11, 2011
5/11/11
1:03
PM ET
What key event significantly changed the fortunes of the Browns -- for better or worse? Give us your take and we'll give you our definitive moment May 18.
Few NFL teams have a more polarizing history than the
Cleveland Browns
. It's filled with championship highs and the lowest of lows, including horrible postseason luck and a franchise move.
Using our SportsNation poll, we ask Browns fans to narrow it down and pick one moment that best defines the team's history.
Was it the Browns' first NFL championship in 1950? The team had won titles before, but this was the first of four since joining the NFL. The Browns' last NFL championship in 1964 remains the most recent pro sports title in Cleveland.
How about drafting Hall of Fame running back Jim Brown in 1957? Brown is often viewed as the greatest running back in NFL history -- and some believe the best overall player. He remains Cleveland's most recognizable face.
On the negative side, you have "The Fumble" and "The Drive" in which the
Denver Broncos
broke the hearts of the Browns fans in back-to-back years. Were these the defining moments for the franchise? Or was it when former Browns owner Art Modell moved the team to Baltimore, a move Cleveland is still trying to recover from?
If you vote Other, give us your suggestion in the comments area below.
July, 9, 2010
7/09/10
10:00
AM ET
Cleveland is a city that is no stranger to heartbreak. Whether it's "The Drive," "The Fumble," "The Shot" or being championship-deprived since 1964, northeastern Ohio has suffered misfortune time after time.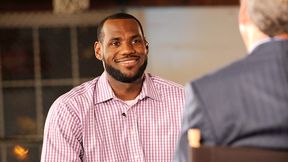 Rich Arden/ESPNLeBron James announced Thursday night that he would not re-sign with the Cavaliers.
But LeBron James leaving
Cleveland Thursday cuts the city
deeper than most. James was a homegrown talent, a prodigy from nearby Akron who was expected to end Cleveland's lengthy title drought.
Things didn't turn out as planned and James bolted to the Miami Heat in a quest to secure his legacy and win multiple championships. With the Cleveland Cavaliers now left to pick up the pieces, can the Browns do their part this year to heal the city's heartbreak?
There isn't much that could help Cleveland get over James' decision. But a surprising playoff run by the Browns in 2010 might do the trick.
Cleveland is a football town first. Only the Browns' struggles since 1999 combined with a once-in-a-generation basketball talent were able to challenge that. But with James now in South Beach, it's official the Browns are the unquestioned biggest game in town once again.
Perhaps James' decision to leave places added pressure on the Browns. But it's also a golden opportunity for Mike Holmgren and Eric Mangini & Co. to unify a struggling city that's experienced another reason not to believe in its sports teams.
Can the Browns pull it off?
June, 23, 2010
6/23/10
12:30
PM ET
Notable players:
RB Jim Brown, WR Paul Warfield, K Lou Groza, G Gene Hickerson, RB Leroy Kelly, QB Frank Ryan, LB Jim Houston.
Analysis:
Jim Brown and Paul Warfield in the same offense.
Does any more need to be said?
[+] Enlarge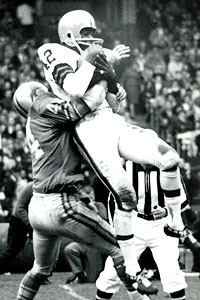 Malcolm Emmons/ US PresswirePaul Warfield averaged 17.7 yards per catch during his rookie season in 1964.
Often you hear Cleveland fans longing for the glory days, and this group led by Brown and Warfield -- perhaps the two best to play their respective positions -- tops the list.
This team was ahead of its time. Cleveland, which finished 10-3-1 in 1964, scored more than 400 points in an era when that was extremely difficult. For perspective, only eight teams scored more than 400 points in 2009 with two more regular-season games (16) and numerous advancements in the NFL game.
Brown, 28 and in his prime, rushed for 1,446 yards and averaged 5.2 yards per carry. He averaged more than 100 yards rushing per game. Warfield, then a 22-year-old rookie, had 920 receiving yards and nine touchdowns, as he was a key figure who helped revolutionize the vertical passing game. He averaged 17.7 yards per catch in '64, a stat that would still be impressive today.
To further prove Cleveland's dominance, they won the NFL Championship, 27-0, over the Baltimore Colts. The high-powered offense with Brown, Warfield and Ryan (25 touchdown passes) at quarterback was too advanced. Cleveland scored 30 points or more in half of its games that season.
Brown, Warfield, Groza, Hickerson and Kelly -- who was a rookie kick returner in '64 -- are all Hall of Famers from this group.
Most impressive win:
As mentioned earlier, Cleveland's 27-0 rout of the Baltimore Colts was the exclamation point of the '64 season.
Both teams had an amazing collection of talent. But Baltimore Hall of Famers such as quarterback Johnny Unitas, running back Lenny Moore and tight end John Mackey were stifled by Cleveland's defense, which forced four turnovers. Brown rushed for 114 yards for Cleveland and Ryan threw three touchdown passes in the blowout win.
Research room:
Groza had one of the most interesting careers in football history. He played 22 years in Cleveland and arrived as an offensive lineman. He made the Pro Bowl nine times as a left tackle and also played some right tackle, center, defensive tackle and kicker during his career. Groza was the kicker for the '64 team at age 40. He made 22 field goals and all 49 extra-point attempts.
Sudden retirement:
Following the championship in '64, Brown would play one more season before suddenly retiring to pursue a movie career.
Brown rushed for an astounding 1,544 yards and 17 touchdowns in his final season. Most of Brown's rushing records have been broken. But he's widely considered the best running back of all time.
Honorable mention:
1950:
Another elite, championship team stacked with talented players such as Otto Graham and Marion Motley. This Browns team would give the '64 group a run for its money. But not having Warfield or Brown on this squad makes the difference.
1953:
The Browns, again led by Graham at quarterback, ran off 11 consecutive wins before losing a meaningless final regular-season game. But Cleveland lost to the Detroit Lions, 17-16, in the NFL Championship for a disappointing end to an otherwise dominant season.
1986:
This team is best known for falling victim to "The Drive" led by quarterback John Elway of the Denver Broncos. Elway orchestrated a 15-play, 98-yard drive in Cleveland to force overtime and Denver eventually won the game, costing a talented Browns team a shot at the Super Bowl. One year later, a chance at revenge against Denver in the AFC title game was thwarted by "The Fumble."

NFL SCOREBOARD
Thursday, 12/18
Saturday, 12/20
Sunday, 12/21
Monday, 12/22
WEEKLY LEADERS