NFL Nation:

Thomas Gafford
March, 19, 2013
3/19/13
7:10
PM ET
As he gets to know his new team, Kansas City coach Andy Reid has looked back at old film to get a feel for his players.
To help get a feel for star running back
Jamaal Charles
, Reid studied film of the 2010 AFC West champion Chiefs, whose offensive coordinator was Charlie Weis. Reid said Weis' offense is similar to his and he liked what he saw of Charles.
[+] Enlarge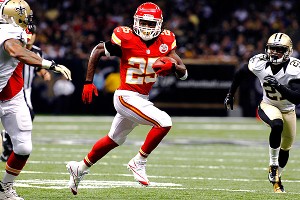 AP Photo/Jonathan BachmanOne can hardly blame new Chiefs coach Andy Reid for being eager to work with RB Jamaal Charles.
"Charlie kind of moved him around like we did with our guys [in Philadelphia]," Reid said Tuesday at the NFL owners meetings. "I did that just to see how [Charles] handled the quick passing game or the deep passing game from the wide receiver position. He handled it well. So that gives you another dimension that you know is in there that he wasn't utilized … they just didn't use it in him the last couple years."
In 2010, Charles had 1,467 yards rushing and 45 catches for 468 yards receiving. It was his second- highest rushing season total and a career high in catches and receiving yards.
There have been questions whether Charles will fit with Reid because Reid is a pass-first coach. But he is also a smart coach. He knows Charles, who had 1,509 rushing yards last season, is special on the ground and Reid will use him. But he also will give defenses multiple looks at Charles.
Tiny receiver
Dexter McCluster
is another player who excited Reid. He said McCluster can line up all over the field. It will be interesting to see if McCluster can flourish in Reid's offense.
"You know what, I kind of like him," Reid said. "He's not the biggest guy in the world, but he's got a heart of a lion. He's got that MO, tremendous quickness and can catch. He's pretty good at running the football, so there is a place for him. You line him up everywhere. You can move him around and kind of do some unique things with him."
Reid was less expansive on his answers when the subject of 2011 first-round pick, receiver
Jon Baldwin
, came up.
"Baldwin is kind of a tweener," Reid said. "He does have good, long speed, not great long speed. He's somebody that needs to continue to develop. That's a position that you need time to develop in. We'll see how he does."
Baldwin has talent, but reading Reid's comments, I get the idea he isn't exactly counting on Baldwin.
Reid reiterated that he will call the offensive plays.
Meanwhile,
Sports Illustrated
reports Jacksonville may consider taking West Virginia quarterback Geno Smith with the No. 2 pick. That could be good news for the
Kansas City Chiefs
who have the No. 1 pick. If the Jaguars are getting interested in Smith, it could create a trade market for the Chiefs.
Also, long snapper
Thomas Gafford
has reportedly re-signed with the Chiefs.
In other AFC West news:
Oakland safety
Mike Mitchell
is reportedly visiting Carolina.
March, 10, 2009
3/10/09
4:49
PM ET
Posted by ESPN.com's Mike Sando
Longtime Cardinals snapper Nathan Hodel has landed with the Patriots not long after Arizona released him. New England announced the signing Tuesday.
We've seen veteran snappers hit the market regularly this offseason. The Broncos released Mike Leach and signed the Patriots' snapper, Lonie Paxton, as an unrestricted free agent. The Texans' Bryan Pittman also hit the unrestricted market.
The Seahawks and Cardinals remain in the market for veteran snappers, although Tyler Schmitt hopes to get another chance with Seattle, Danny O'Neil notes.
Snappers are expendable until you can't replace one. The Seahawks have employed Thomas Gafford, Jared Retkofsky, Derek Rackley, Boone Stutz, Tim Lindsey, Jeff Robinson, Ryan Senser and Schmitt since watching J.P. Darche leave after the 2006 season. They have also brought in Pittman, Mike Schneck, Matt Overton and Joe Maese for tryouts.
Releasing Hodel spared the Cardinals from paying a $200,000 roster bonus this offseason. Hodel has snapped in every game for Arizona since 2002.
August, 30, 2008
8/30/08
8:59
PM ET
Posted by ESPN.com's Kevin Seifert
You can view the Packers' list of roster moves here.
Biggest surprise: You knew some good running backs would get released given the Packers' depth at the position, but you just didn't know who. As it turned out, the Packers released two veterans -- Vernand Morency and Noah Herron -- in favor of rookie Kregg Lumpkin. (The Packers had already waived DeShawn Wynn.) Lumpkin was one of the surprises of training camp and impressed coaches with his tenacity as well as his skills. Of course, the majority of the Packers' carries this season will go to Ryan Grant and Brandon Jackson.
No-brainers: The receiver position was another area of depth for the Packers, so it wasn't surprising to see them release four wideouts Saturday. Most notable was seventh-round pick Brett Swain. But few rookies were going to crack a group that includes Donald Driver, Greg Jennings, James Jones and Ruvell Martin. (Second-round draft choice Jordy Nelson was the only one.)
What's next: Although his injury was not believed to be season-ending, the Packers placed long-snapper J.J. Jansen on injured reserve because of a sprained lateral collateral ligament. The means they will have to find a new long snapper this week. Thomas Gafford, waived by the Bears on Saturday, could be a possibility. The Packers could also bring in several players for tryouts before deciding what direction they're going. Meanwhile, although quarterbacks Matt Flynn and Brian Brohm both made the roster, there are no guarantees the Packers won't seek a veteran backup for Aaron Rodgers this week.
August, 30, 2008
8/30/08
10:50
AM ET
Posted by ESPN.com's Kevin Seifert
Saturday is the NFL's official roster cutdown day. But the best story might be that of Chicago Bears cornerback Charles Tillman, who revealed Friday that his personal absences from training camp this summer were due to the serious heart condition of his six-month-old daughter, Tiana.
As David Haugh of the Chicago Tribune writes, Tiana Tillman was rushed to a Chicago-area hospital May 20 because of an enlarged heart. She was kept alive with a device known as a Berlin Heart -- an external pump that maintains blood flow in cases of a damaged heart -- until finally receiving a heart transplant July 31.
Tiana must remain on medication for the rest of her life, but Tillman said: "She'll be a normal kid. She can ride a bike, play little league soccer if she wants to. I'm optimistic. This has made us stronger as a family."
At a news conference Friday, Tillman urged citizens to register as an organ donor. Sounds like a noble cause to us.
Moving back on the field in the NFC North:
July, 28, 2008
7/28/08
8:25
AM ET
Posted by ESPN.com's Kevin Seifert
GREEN BAY, Wis. -- Were it not for this little quarterback situation, on top of the unfortunate running back issue, the Green Bay Packers were actually headed for a training camp light on drama. If you take a look at their roster, the Packers' most obvious competition is at long-snapper.
That's right. The retirement of Rob Davis has left this job in question for the first time since 1997, as the Green Bay Press-Gazette pointed out. Davis now works in the team's front office. Rookie J.J. Jansen and first-year player Thomas Gafford are competing for the job.
Anytime you have a chance to enter camp with long snapper as your biggest drama, you're doing pretty well. That was the scenario the Packers were facing on June 19, their final day of minicamp before players were dismissed for summer.
The next day, retired quarterback Brett Favre called coach Mike McCarthy and told him he was considering a comeback. (You know how that one's worked out). And as the summer moved along, precious little progress was reported in the contract negotiations of tailback Ryan Grant.
As the Packers open camp Monday with an 8:45 a.m. CT practice, they still are trying to figure out how to deal with Favre's request. And Grant is nowhere near Green Bay, holding out after receiving what his agent termed an "insulting" offer from the Packers late last week.
We're on site and will bring you updates as the day progresses. For now, here's a quick swing through the rest of the NFC North.
NFL SCOREBOARD
Thursday, 10/2
Sunday, 10/5
Monday, 10/6