NFL Nation:

Thomas Johnson
August, 19, 2010
8/19/10
1:37
PM ET
Atlanta coach Mike Smith has talked several times about how he wants to use a seven- or eight-man rotation on his defensive line. He also has said repeatedly he wants to make sure none of his defensive linemen are on the field for more than 35 or 40 plays a game.
Sounds nice in theory, but the Falcons are going to have to make some changes and get bigger contributions from several new guys and players who were injured last year to really make this plan work.
[+] Enlarge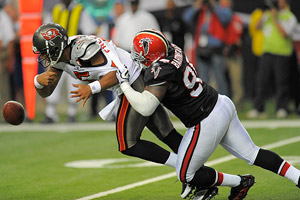 Dale Zanine/US PresswireJonathan Babineaux was on the field for 81.8 percent of the Falcons' defensive plays last season.
I just gathered up the numbers on how much playing time each of Atlanta's defensive linemen played last season and several things jumped out.
The biggest thing was that defensive tackle
Jonathan Babineaux
averaged 53 plays a game last year. Of Atlanta's 1,034 defensive snaps, Babineaux was on the field for 846 (81.8 percent of the defensive plays). That's a huge amount for a defensive tackle.
To put it in perspective, Babineaux ranked behind only Minnesota's
Kevin Williams
, who was on the field for 86.1 percent of his team's defensive plays, among all the defensive tackles in the league. There were only a handful of defensive tackles across the league that even reached the 60 or 70 percent range.
It's great that Babineaux was able to hold up physically through all that, but the Falcons wound up playing him a lot more than they wanted to. A large reason for that was because they lost rookie defensive tackle
Peria Jerry
to injury very early in the season. That took away the depth behind Babineaux because guys like
Thomas Johnson
(41 percent of the plays),
Vance Walker
(23.5 percent) and
Trey Lewis
(19.7) had to pick up snaps in Jerry's spot. The Falcons also rotated defensive end
Jamaal Anderson
to defensive tackle at times. I don't have a breakdown on how many snaps Anderson got at each position, but he was on the field for 550 snaps (53.2 percent).
You can bet that Babineaux's not going to be on the field as much this season. First, he'll miss the opener against Pittsburgh because he's suspended for violating the league's substance abuse policy. Even when he comes back, the Falcons aren't going to ask Babineaux to stay on the field as much as he did last year. Jerry is expected to be fully healthy for the opener and the Falcons are very happy with third-round draft pick
Corey Peters
, who should be a big part of the rotation. Although Anderson still is getting some work at end, he's probably going to get more time at tackle because the Falcons have asked him to bulk up for a bigger role in the interior.
That's actually good news for Babineaux. When a defensive tackle is playing as much as Babineaux did last year, he's bound to get tired at times. In a rotation, the Falcons will be able to keep Babineaux, who led the team with 6.5 sacks last season, much fresher.
[+] Enlarge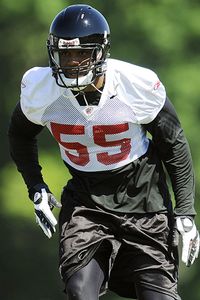 Dale Zanine/US PresswireThe Falcons may limit John Abraham's playing time to maximize his effectivemess as a pass-rusher.
The other guy that jumped out at me was defensive end
John Abraham
. He averaged 42.3 snaps a game last year. Now, that might not sound far off of Smith's goal of 35 to 40 snaps for each defensive lineman. But Abraham's a little different than the rest because of his age. Abraham was on the field for 676 plays (65.4 percent) last season. I think the Falcons would like to keep Abraham to 35 or fewer snaps a game to maximize his ability as a pass-rusher.
Keep in mind, Abraham's production dropped last season. He produced only 5.5 sacks. That came after he produced 16.5 in 2008. So I went back and checked on Abraham's 2008 playing time. In that season, Abraham was on the field for 60 percent of the plays. That might not sound like a huge difference from last year, but it's significant when you're talking about a player of Abraham's age.
I think what the Falcons want to do with Abraham this year is keep him fresh and try to limit his play, as much as possible, to obvious pass-rushing situations.
That might mean using
Chauncey Davis
, who was on the field for 49 percent of last year's plays, mostly on running downs and Anderson still will get some work on the outside in those situations. But the two defensive ends who are likely to see their playing time increase are
Kroy Biermann
and
Lawrence Sidbury
. Biermann was in for 46.9 percent of last year's snaps. Sidbury was only on the field for 10.3 percent of the defensive plays. Both of those guys are young and the Falcons think they're emerging as pass-rushers. I think you can count on Biermann and Sidbury being on the field more often this season.
August, 3, 2010
8/03/10
7:21
PM ET
The NFL's announcement that Atlanta defensive tackle
Jonathan Babineaux
will be
suspended for the season opener
is not good news in any way. But it certainly wasn't unexpected and it absolutely was something the Falcons prepared for.

Babineaux
Babineaux got into some legal trouble last year and the one-game suspension is officially for violating the league's substance abuse policy. The Falcons almost certainly knew this was coming throughout the entire offseason and they had time to prepare for the fallout.
This is part of the reason they used a third-round pick on defensive tackle
Corey Peters
. They're also expecting last year's first-round pick,
Peria Jerry,
to be back from an injury that forced him to miss almost his entire rookie season. There are plenty of other options.
"Last year on our depth chart
Vance Walker
played (Babineaux's) position and DT
Trey Lewis
would have backed up on the other side, but the positions are interchangeable,'' coach
Mike Smith
said. "We are playing both left and right defensive tackles."
Babineaux's spot in the starting lineup for the long term is safe because he was the team's best defensive lineman last year. The Falcons also slide defensive end
Jamaal Anderson
inside sometimes, so there are plenty of options and veteran
Thomas Johnson
got 10 starts last year.
Sure, the absence of Babineaux is in no way a positive. But it's only for one game. Keep in mind, that game is against Pittsburgh, which will be without quarterback
Ben Roethlisberger
.
For the record, Babineaux will be allowed to continue practicing and playing through the preseason. He'll have to be away from the team starting exactly one week before the opener. He'll be eligible to return to practice the day after the game with the Steelers.
September, 24, 2009
9/24/09
2:29
PM ET

Posted by ESPN.com's Pat Yasinskas
I just got off the phone with Atlanta general manager Thomas Dimitroff after doing an interview for a column that will run Friday. Gee, with the Falcons going to New England on Sunday, anybody think this one might be a look at how Dimitroff's time with Bill Belichick and Scott Pioli could be playing a role in Atlanta being built into one of the league's best young teams?
| | |
| --- | --- |
| | |
| | AP Photo/Carlos Osorio |
| | Thomas Johnson will get a chance to start in place of the injured Peria Jerry. |
Anyway, we'll get much more into that Friday. But I did take the opportunity at the end of the interview to ask Dimitroff about Atlanta's situation at defensive tackle after first-round draft pick
Peria Jerry
went down Sunday with a season-ending knee injury.
"It's very unfortunate,'' Dimitroff said. "As you know, we had big expectations for Peria and he was off to a nice start. He was grasping the system and really coming along.''
But Dimitroff said the Falcons are prepared to move on and he has high hopes for the rest of the defensive tackles, even if there aren't many big names. The Falcons have
Jonathan Babineaux
, who I think might be the most underrated player in the NFC South, as their other starting defensive tackle and that's a good starting point.
But I asked Dimitroff to run through the rest of the group and I respect his judgment because the guy is a top-notch personnel man and I can't say I've seen him make a true mistake since taking over the Falcons.
Atlanta likely will move
Thomas Johnson
into the starting role. This guy was out of the league the last two years, but the Falcons believe they've got a diamond in the rough -- maybe even a couple of diamonds. We'll start with Johnson: He was a part-time starter for Houston in 2006.
The Falcons took a shot on signing Johnson and he showed some of his old promise in training camp. He performed so well that the Falcons decided to make him their third tackle. Johnson rotated in quite a bit behind Jerry and Babineaux in the first two games and graded out very well. The Falcons think he can make the next step and develop into a solid starter.
But what does that do to the back end of the rotation? Well, remember this, the Falcons didn't panic and go out and sign some washed-up veteran. That means they believe they've got some other young guys who can grow into bigger roles.
They have
Trey Lewis
, who is coming off two major knee injuries, but showed some promise as a rookie in 2007. They also elevated Vance Walker off their practice squad.
"We knew we had Thomas and Trey and we drafted Vance (in the seventh round) and like him,'' Dimitroff said. "Trey is coming along well after his ACL injuries and we like what we have. We believe we have a strong, stout rotation. I'll even go ahead and say that we believe that even with Peria's injury, we are still further ahead on the defensive line than we were last year at this time.''
September, 22, 2009
9/22/09
11:05
AM ET

Posted by ESPN.com's Pat Yasinskas
Falling
Julius Peppers, Panthers DE.
Did you see him do anything Sunday?
Nope, neither did I. It always seems to be feast or famine with Peppers, but it shouldn't be that way. The guy is one of the league's best pure athletes and should be good for a couple of plays every game.
The fact he's eating up $18 million in salary-cap space and the Panthers have holes elsewhere only magnifies things when Peppers has one of his two-tackles, zero-sacks games.
Gaines Adams, Buccaneers DE.
This was supposed to be a break-out year for the former first-round pick. So far, he's produced very little. Coach Raheem Morris came out Monday and said Adams isn't producing.
Consider that a last-ditch attempt to light a fire under Adams. The Bucs want sacks out of this guy and they're not getting them. They've got Stylez G. White, a former starter, on the bench and Morris' patience is wearing very thin. If Adams doesn't produce in the next few weeks, he could end up on the bench.
Antonio Bryant, Buccaneers WR.
He sat out Sunday's game at Buffalo because of a knee injury and his status for the next game is in doubt. Bryant had a great year last year and was hit with the franchise tag. He's making almost $10 million and, on paper, he's Tampa Bay's top offensive weapon.
But paper hasn't translated into reality so far this year.
Rising
Marques Colston, Saints WR.
Deservedly, there's a lot of talk about
Drew Brees
being the league's best quarterback. Time to start throwing Colston's name into the argument for wide receivers. His eight catches for 98 yards and two touchdowns Sunday gave official confirmation Colston is back at full health after being banged up for most of last season.
Prior to that, Colston used his first two seasons to establish himself as one of the best young receivers in the league. His progress got delayed last year, but he's starting to take the next step. Brees threw for more than 5,000 yards last season without having a receiver reach the 1,000-yard mark. That shouldn't be an issue this year. Colston's numbers could end up being ridiculous.
Thomas Johnson, Falcons DT.
With rookie starter
Peria Jerry
now out for the season with a knee injury, Johnson is likely to take his place in the lineup. Pretty amazing for a guy who last played for the
Houston Texans
in 2006. But the Falcons were impressed with what Johnson did in the preseason and have used him in a rotation with Jerry and
Jonathan Babineaux
in the first two games.
Trey Lewis
, who has had two major knee injuries, will play a role as the third defensive tackle. But Johnson will play a more important role and the Falcons believe he can handle that.
Steve Smith, Panthers WR.
On a team filled with inconsistency, Smith is the one constant. He's always going to show up and he did on Sunday against the Falcons. With quarterback
Jake Delhomme
rebounding from a couple of brutal games, he and Smith showed they still have great chemistry.
As long as Delhomme can get the ball near Smith, the little receiver is going to make his share of catches.
September, 21, 2009
9/21/09
3:51
PM ET

Posted by ESPN.com's Pat Yasinskas
Some very bad news out of Atlanta. Coach Mike Smith just announced that rookie defensive tackle
Peria Jerry
will
miss the rest of the season
with a knee injury.
It's not a huge surprise because it was pretty obvious Sunday that Jerry's injury was serious and Falcons' scouts were scanning lists of available defensive tackles Sunday night. The worst-case scenario was confirmed Monday.
Jerry had been off to a solid start, playing next to
Jonathan Babineaux
.
Thomas Johnson
, who was rotating in behind those two, likely will move into the starting role.
The Falcons also have
Trey Lewis
, who has been inactive for the first two games and he likely will become the third defensive tackle. The Falcons also plan to activate Vance Walker from the practice squad and may consider bringing in another defensive tackle.