July, 24, 2014
Jul 24
12:00
PM ET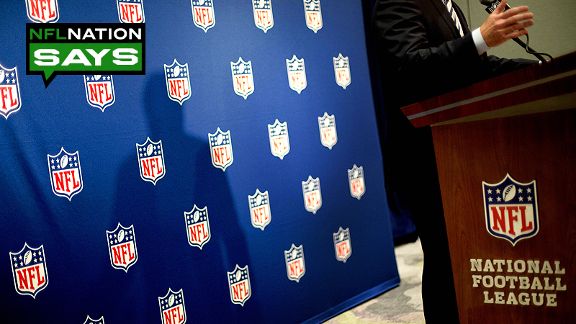 AP Photo/David GoldmanWhat would our panel of Hall of Famers change about today's game if they could?
There's little doubt that the NFL has seen a rise in popularity over the past several decades, perching it atop the American sports landscape.
But as the game has grown, rules have changed. Much of the emphasis has been on player safety, with quarterbacks and other offensive players increasingly afforded greater protection.
Reaction to the changes has been mixed. To some, it's part of a natural evolution toward a faster-paced, speed-based game. To others, football has shifted away from its roots as a physical sport.
Given the chance to be NFL commissioner for a day, which rule would you change?
That's the question we asked several Pro Football Hall of Famers at the Hall's inaugural Fan Fest in Cleveland in May. From stars of the 1960s to players who earned their gold jackets playing a more modern version of football, there was no shortage of opinions about how to change the game -- even some you wouldn't expect.
"Well, I'd put the head slap back in," former defensive lineman Carl Eller cracked.
Eller, a member of the
Minnesota Vikings
' famed "Purple People Eaters" of the early 1970s, took a more serious note when he offered a popular commentary about the modern NFL: It's becoming too much of an offensive game.
Here are more proposed rule changes and thoughts from Hall of Famers in our latest NFL Nation Says:
Contributing:
Coley Harvey, Pat McManamon and Michael C. Wright.

"I would probably ease up on the fining of guys. I know the player-safety thing is a big issue, which is a great thing. But a lot of those things they are emphasizing, those rules have been in place for quite a long time. So just emphasize rules the way they should be, clarify the rules. Probably one thing I really want to see -- I know we're probably not gonna get full-time refs for all of them -- but at least give me full-time [with] the head refs. The guys that are wearing the white hats, give me 20 of those guys, who know the rules, who can interpret the rules. We don't have to go to some common place on the sidelines to interpret what rules are being broken on a consistent basis."
-- Steelers DB Rod Woodson, Class of 2009
---

"They'll get mad at me probably, but I'd cut the teams. I'd cut the rosters. I wouldn't protect the quarterback. I would let the defensive backs mug that receiver until that quarterback released the ball. I'd get a tighter holding rule on the offensive linemen and make them be inside that framework, sort of wrap them around. I'd get it back to a contact sport. And in that way kind of create and enforce a little more of the running game."
-- Patriots G John Hannah, Class of 1991
---

"Holy cow, man. I don't know (laughs). Maybe I'd still let the guys celebrate a little bit. How's that? I think it's OK to show a little excitement when you score a touchdown. The dunk -- what's wrong with that? I'm not sure what I would change, but I would let them have a little more fun when they score."
-- Vikings G Randall McDaniel, Class of 2009
---

"I think they need to throttle today's players a little bit, too. You go out there and you play. You don't go out there and celebrate and dance around and jump up in the stands. I guess that's what the fans maybe want. But I'd fine the living daylights out of a player if I was a coach. If you jump in the stands, maybe it's costing you $50,000. So you jump up there as many times as you want. Why risk injuring yourself doing something foolish? Maybe it's just me, but I think it's just ridiculous. And you'll find a guy where, team's behind 20 points, it's the fourth quarter, he breaks through and sacks the quarterback and you'd think he just broke the world record for something, celebrating and pumping his fists. That's not what you're out there for. You've got to utilize some good common sense."
-- Redskins LB Chris Hanburger, Class of 2011
---

"I would give all the old guys a raise. Get some money to them. In the 1950s, pro football was looked upon like professional wrestling today. ... Guys struggled. And then ... because we put on a product that was pleasing to the public, people started coming through the turnstiles. TV got involved -- ESPN and others -- and now all the sudden you got this big thing going on. Teams have these hundreds of millions of dollars, in some cases billion-dollar stadiums, they got all this parking, all these loges, all these sky boxes -- everybody's making big money. These young guys who make $20-30 million a year, if they think they're getting it just because they're so great, nobody's going to pay you a million dollars that's not making a million and a half themselves. The reason why the owners are making that million and a half is because what we did for them. These guys don't understand. They only make that money because a lot of guys made a lot of sacrifices. All these stadiums, it's amazing. And if I was commissioner, I would make it very, very clear to the athletes today that you owe -- you don't owe, you should say thank you to the old-timers to be able to get that contract. The game has changed so much because guys made big sacrifices with their bodies and everything else, and I just feel like the commissioner or somebody needs to do something."
-- Packers LB Dave Robinson, Class of 2013
---

"Well, I'd put the head slap back in. They've made a lot of changes. There's been massive changes. They've been mostly offensive oriented. I feel for the guys that are in the defensive backfield. They really have a tough time. And it's become a passing game, a scoring game. So I don't know, I'd tighten up some of those rules and not be so lax on the receivers."
-- Vikings DE Carl Eller, Class of 2004
---

"Concussions are up on a higher level now. So to take some of the things out of the game, it would still be football. But maybe increasing the helmet protection as best as they can may be a way to reduce a lot of the concussions that are going on."
-- Lions CB Lem Barney, Class of 1992
---

"I would make it required that the running backs have to get the ball at least 30 times a game (laughing). That's what I would do. But I understand it's a passing league. Just being kind of funny or whatever, but I would love to see the running backs be a little more part of the game than they are today."
-- Bills RB Thurman Thomas, Class of 2007
---
Contributing: Coley Harvey, Pat McManamon, Michael C. Wright
NFL SCOREBOARD
Thursday, 10/30
Sunday, 11/2
Monday, 11/3