February, 22, 2014
Feb 22
11:30
PM ET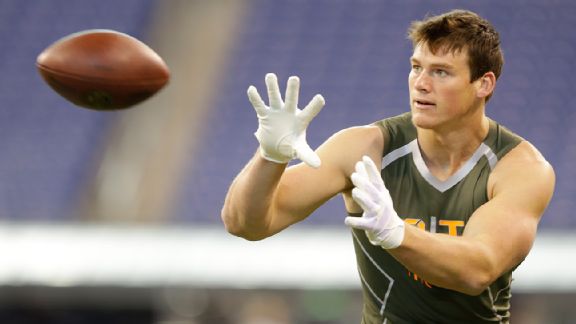 AP Photo/Michael ConroyTroy Niklas, who worked out at the combine on Saturday, says he's a "prototypical tight end."
INDIANAPOLIS --
Troy Niklas
walked off Podium C in Indianapolis on Thursday afternoon, answered one more question and laughed at the proposition of it.
Unlike a lot of tight ends in this NFL draft, the former Notre Dame tight end is a rarity at the NFL combine as opposed to a decade ago, when more players at his position were like him.
Or, as he put it, "last of a dying breed."
The breed being the tight ends who can both block and catch passes, whose skills aren't limited to one or the other as an obvious strength/weakness comparison but rather a dual-threat tight end who can do a little bit of everything.
Niklas understands this, too.
"I guess in some senses, I think I'm more of a prototypical tight end," Niklas said. "One that can really block and one that you can also use in the pass game and be pretty effective."
Teams want guys who can do both of those things, and the value of players who can do that is high, in part, because of the way tight ends are being coached now versus a decade ago.
"You don't see many guys who are good at doing both," Detroit general manager Martin Mayhew said. "But there are guys who can block coming out of college this year and there will be guys in free agency that can block."
And in many offenses, those players become premium options. In the draft, Niklas is one, as are
Austin Seferian-Jenkins
from Washington and
C.J. Fiedorowicz
from Iowa and is a position of potential need for Detroit.
But the position has evolved dramatically over the past 10 years, turning from a definitive spot on the line next to a tackle to potentially lining up anywhere from out wide to the slot, backfield and in the traditional spot next to a tackle on the line.
And a lot of it has to do with the transition of college offense from drop-back passing run-first pro-style and west coast offenses to shotgun, spread, zone-read ones.
The proliferation of spread offenses has often eliminated the use for a traditional tight end, instead turning the position into a mismatched bigger receiver against a linebacker or safety and becoming a headache for more than opponents but those looking to evaluate them as well.
"You don't see a lot of in-the-line tight ends, true blocking tight ends very often anymore, and when you do, it's different,"
Washington Redskins
coach Jay Gruden said. "But there are still some guys that utilize the tight end position in college and those are the guys that you get a good chance to look at.
"But the ones (who don't), you would have to see how he would fit because he hasn't been asked to do it. No fault of theirs, but it's a tough position to evaluate right now because of all the spread offenses."
That is one of the tougher things for coaches, general managers and scouts to decipher over the next few months. Depending on a team's offensive system, finding a tight end who can both block and pass could be an issue.
Blocking on the line of scrimmage is becoming more of a lost ability for tight ends, who see players like
Jimmy Graham
and how he is used and end up being utilized in similar ways.
"I think right now people are looking for tight ends to catch more balls," Texas Tech tight end
Jace Amaro
said. "Than they are to make more blocks."
So if a team wants a tight end who can line up on the line of scrimmage to be able to run block as well as run routes, it has become somewhat more of a guessing game as to when and if some of the spread offense tight ends will adapt.
"A couple of years ago we were looking at a prospect and we and it took us two years (of film) to see five snaps where he lined up in a two point stance," said
Atlanta Falcons
coach Mike Smith. "You have to do some projecting when you're looking at the tight ends. But I do think it's an evolving position. It's changing.
"Offensive coordinators are being very creative in how they align the tight end. He can line up in that fullback position. He can line up as an H back. He can line up in the No. 1 wide receiver position as well."
How a team views the tight end in their system will often define what type of tight end they are looking for -- more of a specialist or a guy who can do a little bit of everything, just like the modern tight end has turned out to be.
March, 29, 2011
3/29/11
1:10
PM ET
Pittsburgh Steelers
quarterback
Ben Roethlisberger
often calls teammate
Heath Miller
the best tight end in football. But according to ESPN.com's positional Power Rankings, Miller is not even in the top 12 at his position.
Miller came in at No. 13 in this week's ranking of the NFL's best tight ends. ESPN.com senior writer John Clayton and I were the only two voters who had Miller on their ballots. Clayton voted Miller ninth and I ranked Miller seventh.
This confirms what most of us in the AFC North blog already suspected: Miller remains one of the league's most underrated players. Injuries hurt his numbers in 2010 (42 receptions for 512 yards). But Miller was recently an AFC representative in the Pro Bowl two seasons ago with 76 receptions for 789 yards and six touchdowns.
Miller is not flashy and will never catch 100 passes per season playing in Pittsburgh's offense. But in my opinion, Miller is one of the NFL's most complete tight ends and worthy of being on this list.
Miller makes the most of his limited opportunities. He's sure-handed and great at running downhill after the catch. He's also a phenomenal run- and pass-blocker, and essentially serves as Pittsburgh's third offensive tackle.
The Steelers know how important Miller is to their offense. His contributions cannot be measured strictly by numbers because Miller adds much more with his toughness, blocking ability and being a safety valve over the middle for Roethlisberger.
Miller may not be tops at his position. But I would not select 12 tight ends for my team before taking Miller.
ESPN.com's Tight End Power Rankings
1.
Jason Witten
,
Dallas Cowboys
2.
Antonio Gates
,
San Diego Chargers
3.
Dallas Clark
,
Indianapolis Colts
4.
Vernon Davis
,
San Francisco 49ers
5.
Chris Cooley
,
Washington Redskins
6.
Tony Gonzalez
,
Atlanta Falcons
7.
Kellen Winslow
Jr.,
Tampa Bay Buccaneers
8.
Marcedes Lewis
,
Jacksonville Jaguars
9.
Brandon Pettigrew
,
Detroit Lions
10.
Jermichael Finley
,
Green Bay Packers
Walker's Tight End Power Rankings
1. Jason Witten, Dallas
2. Antonio Gates, San Diego
3. Dallas Clark, Indianapolis
4. Kellen Winslow Jr., Tampa Bay
5. Vernon Davis, San Francisco
6. Tony Gonzalez, Atlanta
7. Heath Miller, Pittsburgh
8. Chris Cooley, Washington
9.
Zach Miller
,
Oakland Raiders
10.
Dustin Keller
,
New York Jets

NFL SCOREBOARD
Sunday, 12/28
WEEKLY LEADERS