December, 11, 2013
12/11/13
1:30
PM ET
EARTH CITY, Mo. -- As the music keeps playing, the
St. Louis Rams
offensive line continues to shuffle chairs.
After the leg injury to center
Scott Wells
, the Rams plugged
Tim Barnes
in at center last week against Arizona. But it was actually the return of a healthy lineman that created more movement than the loss of Wells.
Right guard
Harvey Dahl
returned to the mix last week after missing four games with a knee injury. Rams coach Jeff Fisher said after Sunday's loss to Arizona that in general his players don't lose their starting job to injuries.
[+] Enlarge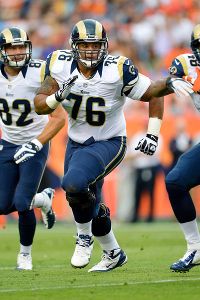 AP Photo/G. Newman LowranceRams offensive lineman Rodger Saffold is expected to start at right guard for the Rams.
But Dahl's return came with something of a quid pro quo. While he still started against the Cardinals, he found himself in a bit of a timeshare.
Rodger Saffold
, the converted tackle who filled in for Dahl, started back at right tackle but also split time with Dahl at right guard to keep
Joe Barksdale
, the usual right tackle, in the mix.
Got all that?
"We wanted to get Harvey an opportunity to play," Fisher said. "He worked hard to come back. We also had Rodger play right tackle. I don't believe Rodger came out of the game. Our plan was not to bring Rodger out of the game. It was to let him play, and so Rodger played right tackle and right guard."
The approach was interesting, to say the least. Since the Rams made it a point to keep Saffold on the field the whole game -- he played all 54 offensive snaps -- they clearly believe he's the best option out of the three players. In a bit of a football quirk, Dahl and Barksdale actually ended up playing exactly half the time with 27 snaps each.
But if we operate under the assumption that Saffold is the best option of the three since he never left the field, it's strange to see him as the one who had to rotate.
Despite the constant movement, Saffold actually played quite well at both spots though after watching him at guard in the previous three games, that spot appears to be where he can be at his best.
Per usual, Saffold didn't complain about all the moving around but did acknowledge that it's not easy to go back and forth so much in a game.
"It's just tough because you can't really catch a rhythm," Saffold said. "After I came in playing right tackle and then having to come in and play guard in the two-minute drill was kind of tough. … I basically try to do everything I can for the team. They asked me to do a job and I tried to do it to the best of my ability."
In looking at the Arizona game, the Rams offensive line had its share of struggles but very few of those leaks seemed to spring from the right side, which would indicate the rotation actually worked out OK.
Fisher said Dahl didn't play too bad for someone who hadn't played in a month.
"It looked like it was his first week back," Fisher said. "He didn't play all the snaps. He did OK. I expect him to be better this week, but he played hard like he does. He was down field, was correct in everything that he did."
As for Barnes at center, his performance was about what you'd expect from a young lineman making his first NFL start.
"Tim was good," Fisher said. "He was challenged, but he knew what to do and how to do it. He was overmatched at times, but everybody is when you play that front. But, I thought by and large he did a good job in protections. He didn't have any protection issues, those came outside."
In the big picture, the Rams offensive line could undergo some major renovations this offseason. Saffold and left guard
Chris Williams
are scheduled for unrestricted free agency and Wells and Dahl are candidates to become cap casualties should the Rams need some extra money to spend.
Aside from
Jake Long
being set at left tackle, the Rams find themselves with decisions to make with the other 80 percent of the line. That leaves three games left for evaluation of the current group.
After watching Williams struggle against the Cardinals, it says here that plugging in Saffold at yet another position, this time left guard, and leaving him there would offer the best chance to win now but also take a look at the current group for the future.
A combination of Long and Saffold would put the team's two best linemen next to each other. It would also give the Rams a chance to see Saffold more at the position where he looks to have the most upside.
"I think we're just taking anything that happens and trying to go out and play to the best of our ability," Saffold said. "You look at the grand scheme of things and these guys [on the right side] did an excellent job."
Until a more definitive decision is made, Saffold and his teammates will keep switching chairs until the music finally stops.
October, 21, 2012
10/21/12
12:46
PM ET
ST. LOUIS -- A primer on how the
St. Louis Rams
wound up with two players making their first NFL regular-season starts Sunday against Green Bay:
Left tackle
Joe Barksdale
makes his first NFL start. The Rams claimed him off waivers from Oakland on Sept. 27. Projected starter
Rodger Saffold
is expected back from a knee injury in the next couple weeks. Backup
Wayne Hunter
missed practice Friday with a back injury and was named inactive Sunday. The team used a 2009 first-round draft choice for
Jason Smith
with the expectation Smith would be the long-term starter at left tackle. Smith struggled in the role, moved to right tackle and was traded before this season. Barksdale will presumably have help matching up against the Packers'
Clay Matthews
, who has eight sacks.
Left guard
Shelley Smith
makes his first NFL start. The Rams claimed him off waivers from Houston on Sept. 2. Smith has shown the potential to become a powerful run-blocker. It's less clear whether he's ready for pass-blocking responsibilities.
Jacob Bell
was the starter last season. The Rams cut him. Bell then retired. Fifth-round pick
Rokevious Watkins
was a potential starter, but he's on injured reserve.
Robert Turner
could have started, but the Rams need him at center.
Center
Turner makes his seventh consecutive start and the ninth of his career. The Rams made veteran
Scott Wells
one of their high-profile signings of the offseason. They expected him to man the position and help quarterback
Sam Bradford
with the line calls. Wells underwent knee surgery during the offseason. He later suffered a foot injury. Wells is on injured reserve with a designation for return. He could be back in Week 10.
Jason Brown
, the starter last season, was released. He's out of the league at present.
Right guard
Harvey Dahl
makes his seventh start of the season and 23rd consecutive start since the Rams signed him in free agency from Atlanta. This position has worked out as planned.
Right tackle
Barry Richardson
makes his seventh start of the season. He started 16 games for Kansas City in each of the previous two seasons. Smith was the projected starter heading into the season. Coaches wanted him to become more patient in his pass blocking. They didn't wait long before turning to Richardson. Once they did, Smith became expendable. They traded him to the
New York Jets
for Hunter.
August, 31, 2012
8/31/12
10:04
PM ET
Click
here
for the complete list of
St. Louis Rams
roster moves.

Most significant move:
The Rams released No. 2 quarterback
Kellen Clemens
even though Clemens knew the offense better than any player on the roster. Clemens, who spent time with the
New York Jets
when Rams offensive coordinator Brian Schottenheimer held the same job there, lost out to impressive undrafted free-agent quarterback
Austin Davis
.
Davis, drafted by the Boston Red Sox this year, stood out during preseason for his poise. Some players appear as though they belong. Davis did, at least initially. The preliminary assumption here is that Davis fared well enough to win the No. 2 role, although rosters remain fluid and the Rams will consider veterans at every position as they become available. The Rams also released
Tom Brandstater
, who was initially thought to be competing with Davis for the third-string role.
Onward and upward:
Clemens could catch on with another team. Overall, however, the Rams had more holes than front-line talent to fill those holes. The players they released will not be coveted elsewhere. That was partly because the suspension
Austin Pettis
faces for the first two games bought the Rams time at wide receiver, where the team has quite a few mid-level prospects. With Pettis on the reserve/suspended list and not counting against the 53-man limit, the Rams kept the six receivers considered most likely to stick, including veteran
Steve Smith
and second-year pro
Greg Salas
.
Veteran fullback
Ovie Mughelli
received his release and could appeal to the dwindling number of teams valuing a traditional blocking fullback. The Rams kept only four running backs on this initial 53-man roster. They parted with
Chase Reynolds
after coach Jeff Fisher lauded the 24-year-old back as someone with the ability to close out a game.
The Rams also cut
Aaron Brown
,
Cornell Banks
,
Cory Harkey
,
Jamaar Jarrett
,
Jose Valdez
,
Scott Smith
,
Mason Brodine
,
Nick Johnson
,
Ben Guidugli
,
Kendric Burney
,
Deangelo Peterson
,
Sammy Brown
, T. Bob Hebert,
Tim Barnes
,
Bryan Mattison
,
Vernon Gholston
and
Joe Long
. Gholston could be running out of chances.
What's next:
The Rams need help throughout their roster. They have the No. 2 priority in waiver claims. Expect them to put that privilege to use. The Rams should be active in pursuing help at defensive tackle after losing first-round pick
Michael Brockers
for a month (estimated) with a high-ankle sprain.
Trevor Laws
is already on injured reserve.
The Rams have only eight offensive linemen, one fewer than teams generally prefer to keep. They could use another one. They kept six linebackers, on the low side. The team is carrying 11 defensive backs at present. I wouldn't be surprised if they shopped former starting corner
Bradley Fletcher
, who was playing deep into games in preseason.

NFL SCOREBOARD
Thursday, 9/18
Sunday, 9/21
Monday, 9/22
WEEKLY LEADERS