November, 6, 2011
11/06/11
12:55
PM ET
NEW ORLEANS -- A lot of readers have been asking where Tampa Bay rookie defensive end
Da'Quan Bowers
has been this season.

I don't know the full answer to that. But I can tell you Sunday might be the day Bowers finally makes an impact.
In a bit of an interesting move, the Bucs made
Tim Crowder
inactive. Crowder has been used as the third defensive end.
George Johnson
is active today and he's been inactive recently.
I've heard Johnson has practiced well, but that's not so much what this move is about. Johnson's likely to be the fourth defensive end. I'm pretty sure all signs point to more playing time for Bowers.
August, 6, 2011
8/06/11
6:27
PM ET
TAMPA, Fla. -- For all those who are claiming the
Tampa Bay Buccaneers
aren't spending any money, I've got some news for you.
According to figures I just obtained, Tampa Bay's current salary-cap figure is $108,086,940. That's 88 percent of the $123 million salary cap. In other words, the Bucs have $14,857,394 in cap space.
Also, those numbers don't reflect whatever contract defensive end
Tim Crowder
agreed to because that deal hasn't been fully processed yet. Here's a rundown of the team's leaders in terms of salary-cap figures. You've got to assume Crowder's deal puts the Bucs right around 90 percent.
April, 29, 2011
4/29/11
8:45
PM ET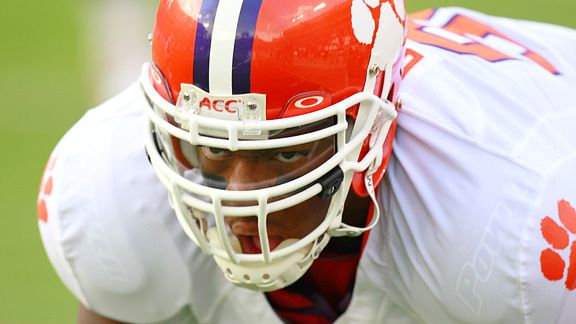 Kevin C. Cox/Getty ImagesDa'Quan Bowers amassed 74 tackles and 15.5 sacks for Clemson last season.
We've all heard of the law of diminishing returns. Well, I think we just saw an example of the law of diminishing risk.
The
Tampa Bay Buccaneers
just used their second-round pick on Clemson defensive end
Da'Quan Bowers
. The pick was No. 51, which is precisely 50 spots below where most people were saying Bowers would go back when talk about this draft really started in January.
He's the most dynamic pass-rusher in the draft and a freakish athlete. But he tumbled beyond all expectations as concerns about what could be a chronic knee problem surfaced and continued to grow.
The Bucs supposedly considered Bowers in the first round at No. 20. But that's where the law of diminishing returns might have played a role. Instead, the Bucs went the safer route and chose Iowa defensive end
Adrian Clayborn
. He's not as dynamic a pass-rusher as Bowers, but he's a complete defensive end and doesn't come with a lot of questions.
But the law of diminishing risk kicked in as the second round kept rolling and Bowers kept sliding. At No. 51, the risk isn't nearly as great as it would have been at No. 20.
The Bucs have played this game before and played it quite well. They took their shot on receiver
Mike Williams
in the fourth round last year. He came with some background questions and might have been a big risk if he had been taken any sooner. The returns came quickly as Williams instantly turned into Tampa Bay's No. 1 receiver.
I don't know all the details that are in the medical reports about Bowers' knee, but the Buccaneers obviously do. Like every other team, they do their homework on these matters.
They must feel like Bowers can at least be a productive player for a few years. With Clayborn and Bowers, even if his knee is a bit of an issue, the Bucs suddenly look a lot better at defensive end than they did last season.
Stylez G. White
and
Tim Crowder
were starters most of last year and they generated almost no pass rush.
Even if the Bucs want to start off cautiously with Bowers and use him as a situational pass-rusher for 15 or 20 snaps a game, that gives them more of a threat than White and Crowder did over the course of an entire game. Clayborn's the kind of guy who should play a lot of downs because he can play the run and generate a decent pass rush.
There's another theme emerging here. The Bucs used their first two picks on defensive tackles
Gerald McCoy
and
Brian Price
in last year's draft. This time, they did it with defensive ends. McCoy and Price showed promise last year and they should get a lot better with some help around them on the outside.
Suddenly, there's at least the potential for the Bucs to have a very good defensive line. That should make the entire front seven a lot better. There weren't a lot of big plays from the front seven as the Bucs ranked 30th in the league in sacks. In a 10-6 season that was highlighted by the emergence of quarterback
Josh Freeman
, Tampa Bay's secondary was the only area of the defense that made plays.
Now, there's the potential for pressure up front, which should translate into more big plays for the secondary and maybe more wins for the Bucs.
Even if his role is limited, Bowers should help the Bucs. In a best-case scenario, Bowers' slide could end up bringing back very happy memories from the franchise's past.
Once upon a time, 1995 to be exact, there was a defensive lineman tumbling fast. He also had initially been projected as the No. 1 overall pick. But there were reports of a different nature (failed drug tests). The Bucs watched as that player slid. When their time came, they assumed the risk.
They drafted
Warren Sapp
. That worked out pretty darn well. If Bowers can bring half the impact Sapp did, this pick will be well worth the risk.
April, 28, 2011
4/28/11
11:21
PM ET
In instant hindsight, the
Tampa Bay Buccaneers
took the safe approach Thursday night.

Clayborn
With the 20th overall pick in the draft, they took Iowa defensive end
Adrian Clayborn
. He might not have the same upside as a pass-rusher as Clemson's
Da'Quan Bowers
or Georgia's
Justin Houston
, but he sure as heck doesn't have the downside they do.
Bowers and Houston were on the board when the Bucs picked and both come with questions. Bowers, once expected to be the first overall player taken, was sliding as reports about many teams having concerns about his knee surfaced. Houston's name surfaced in reports about players who had failed drug tests.
This wasn't the time for the Bucs to take a chance. They've been under the character microscope recently because of a series of off-the-field problems and they still get criticism for taking chances on receiver
Mike Williams
and running back
LeGarrette Blount
.
The Bucs are very sensitive to that criticism and that might be part of the reason why they didn't switch gears and go for Colorado cornerback
Jimmy Smith
, who also was on the board. Smith's a guy with some background questions of his own and it wouldn't have made a lot of sense to take him to replace
Aqib Talib
, who probably is on his way out after a series of off- and on-the-field issues.
Clayborn might not be the most exciting pick. He's known as a guy who plays the run very well, but he wasn't the most dynamic pass-rusher in college. He did have 11 sacks in 2009, but only had four in 2010.
Clayborn's probably not the kind of guy who's going to come in and give you 16 or 18 sacks in a season. What he represents is a guy who might be the most balanced defensive end in the draft. He can come in and start right away and play a lot of downs.
He probably is an instant upgrade over either of the guys who started much of last season (
Tim Crowder
and
Stylez G. White
) and he's also another big piece of a defensive line that could be a franchise cornerstone.
The Bucs used their first two picks last year on defensive tackles
Gerald McCoy
and
Brian Price
. Both showed some promise last season before having their rookie years cut short. Both are expected to be healthy this year. Put Clayborn next to them and McCoy and Price suddenly could be a lot better. Put McCoy and Price around Clayborn and he suddenly could become a lot better.
Oh, while we're on the subject of Price and McCoy, don't be surprised if there's another double dip on the horizon. Clayborn's better than any defensive end on the roster. The Bucs need another guy to go with him. I'm not saying the Bucs necessarily go defensive end with their first two picks. But I think there's a decent chance the Bucs come out of this draft with at least one more defensive end.
March, 17, 2011
3/17/11
3:10
PM ET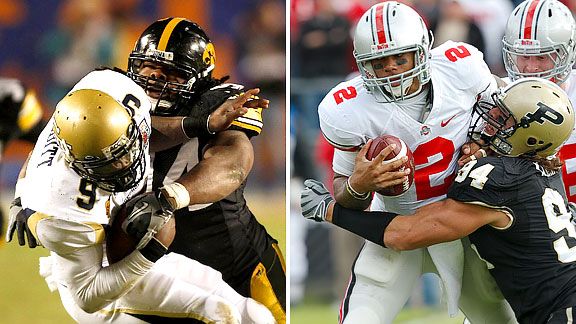 Getty ImagesIowa's Adrian Clayborn, left, or Purdue's Ryan Kerrigan would be a nice addition to any NFC South team looking to improve its pass rush.
Let's have a little bit of fun and play a game of NFC South word and name association.
I'll start it off and say "franchise quarterbacks." This is where you chime in and say what pops into your head. Your venue for that generally is the comments section or the mailbag, but I'll go ahead and read your minds. I feel safe on this.
Your answer, with only the slightest bit of room for argument, is
Drew Brees
,
Josh Freeman
and
Matt Ryan
. If you want to argue any of that, hold it for now, but I probably won't listen anyway.
Now, I'll throw out the words "elite pass-rushers."
I can't hear you now and I can't even read your minds. You might be saying
John Abraham
,
Charles Johnson
and
Will Smith
. Or you might not.
Let's face it: The NFC South is a division with three franchise quarterbacks. Maybe four if the
Carolina Panthers
take Cam Newton or Blaine Gabbert with the No. 1 choice in this draft and actually hit on that pick.
You stop or slow great quarterbacks by putting pressure on them. Amazingly, the NFC South isn't really set up to do that, but that could change quickly. Although most of the attention on the April draft has centered on the Panthers and their quarterback situation, there's another huge storyline out there.
When all is said and done, 2011 could be the year of the defensive end both for the NFC South and the draft. There at least is a possibility the Buccaneers, Saints and Falcons each could use first-round picks on defensive ends.
The time might be right because that's a position of strength in this year's draft. I'm
looking at Mel Kiper's Big Board
and seeing seven defensive ends (when you count college outside linebackers and defensive tackles as guys who may project as NFL defensive ends) among the top 25 players.
The NFC South often is referred to as the NASCAR division, so, gentlemen and general managers, start your pass rush. Please.
It's overdue. If things don't change dramatically, and soon, we could be looking at somewhere close to a decade of Brees, Ryan and Freeman having all day to throw. That's the way it was last season when the NFC South had two big flashes (Johnson in Carolina and Abraham in Atlanta) and not much else in the way of a pass rush.
We'll leave Abraham's 13.0 sacks and Johnson's 11.5 in the mix because last year's division numbers would be laughable without them. Even with them, things were pretty ugly.
Tampa Bay produced an NFC-worst 26 sacks. Carolina and Atlanta each had 31. New Orleans led the division with 33 sacks, which tied the Saints for 10th in the NFC. The NFC average was 35.9 and the league average 35.3.
If you want to throw out the old lines that "stats are for losers'' or "sacks don't tell the whole story with defensive ends,'' go ahead. But I'll throw this back at you: The
Pittsburgh Steelers
led the league with 48 sacks and the
Green Bay Packers
tied for second with 47. Those two teams played in the Super Bowl.
The NFC South had both its playoff representatives, Atlanta and New Orleans, bounced the first time they took the field. The Falcons and the Saints are just fine on offense and, for the first time in franchise history, so are the Buccaneers.
But no NFC South team is going to get to the Super Bowl without improving its pass rush, and that's not going to happen without some help in the draft. This division simply does not have a ... oh, let's just say,
Julius Peppers
. This division doesn't have a sure-fire dominant pass-rusher. (Note: Carolina's Johnson could turn into that guy if he can string together more seasons like the last, and if he ends up staying with the Panthers amid some potential uncertainty about his status as a free agent in a new labor agreement. But this column's more about the need to improve the pass rush in the other three NFC South cities).
Atlanta's got Abraham, but he's going to be 33 in May and he's only one season removed from a disappointing 5.5-sack year. The Falcons can't count on Abraham to put up big numbers much longer, and guys like
Kroy Biermann
,
Chauncey Davis
and
Jamaal Anderson
don't scare anybody.
Maybe someone like Iowa's Adrian Clayborn or Purdue's Ryan Kerrigan could scare someone. But the Falcons are going to have competition within their own division for guys like that. Atlanta has the No. 27 pick. Look at the myriad mock drafts out there and you see those same names frequently tied to Tampa Bay at No. 20 or New Orleans at No. 24.
It all makes sense. The Bucs were starting
Stylez G. White
and
Tim Crowder
much of last season. If they didn't get really good play out of their secondary, things would have been really ugly. Tampa Bay turned a corner by going 10-6 last season, but the Bucs easily could slip back to mediocrity -- or worse -- if they don't address the pass rush.
They used their first two picks last year on defensive tackles
Gerald McCoy
and
Brian Price
. Both showed a little promise before suffering season-ending injuries. They at least have the potential to generate a surge in the middle, but McCoy and Price aren't going to really blossom until they have some help on the outside.
In New Orleans, the need also is obvious. The Saints have Smith, but he's nearing Abraham territory, which means uncertainty. Smith dropped to 5.5 sacks last season after having 13 in the 2009 Super Bowl season. Smith will turn 30 in July. He might be able to bounce back and have a few more good seasons, but that's not likely to happen if the Saints don't add a threat on the other side. They got through last season with
Alex Brown
and
Jimmy Wilkerson
serving as functional veterans.
But a Gregg Williams defense is supposed to thrive on pressure, and the Saints need more. Kerrigan or Clayborn could fit. Throw in California's Cameron Jordan or Missouri's Aldon Smith. Any of them could fit in with the Saints.
Or the Bucs. Or the Falcons.
March, 10, 2011
3/10/11
12:00
PM ET
»
NFC Draft Watch
:
East
|
West
|
North
|
South
»
AFC
:
East
|
West
|
North
|
South
Each Thursday leading up to the NFL draft (April 28-30), the ESPN.com blog network will take a division-by-division look at key aspects of the draft. Today's topic: biggest team needs.
Atlanta Falcons

Perhaps the biggest positive to come out of a 13-3 season that ended with a disappointing playoff loss to Green Bay is that it made Atlanta's offseason needs so clear. Coach Mike Smith and general manager Thomas Dimitroff have said, in no uncertain terms, the Falcons need to become more explosive on both sides of the ball, and they have established a track record of working together to get what they want.
It's no secret that Atlanta's biggest need is to improve the pass rush. Veteran
John Abraham
stepped up with 13.5 sacks last season, but there's no guarantee that will continue. Even if Abraham produces another big season, the Falcons need another defensive end to help provide a more consistent pass rush. Although the team used its first-round pick on linebacker
Sean Weatherspoon
last year, another athletic outside linebacker is a possibility, because
Mike Peterson
is getting older and
Stephen Nicholas
might leave via free agency. Speed and athleticism also will be targets on offense. The Falcons have a good power running game with
Michael Turner
and
Jason Snelling
, but need a speed back to make some big plays.
Roddy White
is one of the game's best receivers, but the Falcons would like to add a speedster to stretch the field.
Offensive line also is a possibility, because the Falcons have several possible free agents and it remains to be seen if the team is really sold on left tackle
Sam Baker
.
Carolina Panthers

New coach Ron Rivera takes over a roster that's not as depleted as last year's 2-14 record might suggest. There are some areas of strength -- defensive end, running back and linebacker. Some consistent play at quarterback would go a long way toward making the Panthers competitive quickly. It remains to be seen if the Panthers will take a leap on
Cam Newton
or
Blaine Gabbert
in the draft, or try to get a veteran through free agency or via trade.
Whatever the Panthers decide at quarterback, there are some other big needs that will have to be addressed in the draft. The middle of the defensive line has been a problem spot the past two seasons, and Auburn's
Nick Fairley
is a candidate for the No. 1 overall pick. The wild card in all this could be LSU cornerback
Patrick Peterson
. Some say he's the best player in the draft, and there is uncertainty about the futures of cornerbacks
Richard Marshall
and
Chris Gamble
. The rule of thumb is that you don't take a cornerback with the top pick of the draft. But Peterson might be the most complete player in the draft, so the Panthers have to at least consider breaking the rules.
New Orleans Saints

Assuming the restricted free agent tags hold up with a new labor agreement, the Saints should be able to keep a pretty strong roster intact. That said, there are some obvious areas of need. On defense, the Saints could use another pass-rusher to team with
Will Smith
.
Alex Brown
and
Jimmy Wilkerson
were adequate last season, but not dynamic. The basis of a Gregg Williams defense is to create turnovers, and that starts with a pass rush up front. An athletic outside linebacker also is high on the list. The Saints thought they had enough young guys last year to let
Scott Fujita
walk in free agency. But several of those young linebackers were injured, and that spot became a problem.
Offensively, the Saints are pretty well set at the skill positions, but it's possible they could at least look to add another running back at some point.
Reggie Bush
's future remains uncertain and the Saints were hampered by injuries at running back last season. Although the Saints drafted
Charles Brown
last year, offensive tackle could be addressed again. Brown might get a shot to start ahead of
Jermon Bushrod
at left tackle, but the Saints might like to add one more person to that competition.
Tampa Bay Buccaneers

Despite a surprising 10-6 record last season, the rebuilding job is far from done in Tampa Bay. The Bucs still need to upgrade the talent level at several positions, and defensive end appears to be first on the list.
Stylez G. White
and
Tim Crowder
ended up as the starters last season and weren't able to generate much of a pass rush. After using the first two picks of last year's draft on defensive tackles
Gerald McCoy
and
Brian Price
, the Bucs would like to surround them with young talent on the outside.
The Bucs could be looking for a middle linebacker if
Barrett Ruud
leaves via free agency, and more depth at outside linebacker also is a possibility. The uncertain future of suspended safety
Tanard Jackson
means the Bucs might have to look for depth at that position. The offensive needs aren't as big, but the Bucs could use a running back to help share the load with
LeGarrette Blount
.
February, 15, 2011
2/15/11
12:00
PM ET
With the offseason in full swing, let's take a look at one major question facing each NFC South team as it begins preparations for the 2011 season:

ATLANTA FALCONS
How do the Falcons take the next step?
Atlanta went an NFC-best 13-3 in the regular season, but got eliminated at home in the playoffs by Green Bay. That was painful proof that the Falcons haven't quite arrived despite three consecutive winning seasons since coach Mike Smith took over. The Falcons played like a well-oiled machine through most of the regular season and it would be easy to say the machine just got clogged in the playoffs. But that's not what really happened. The Falcons were successful during the regular season because they played smart football and didn't do anything to beat themselves. But the reality here is the machine might need a few more parts for the Falcons truly to go out and beat other teams.
The core is solid with guys like quarterback
Matt Ryan
, receiver
Roddy White
, running back
Michael Turner
and linebacker
Curtis Lofton
. But White was the only real playmaker on offense last season, and defensive end
John Abraham
, who is nearing the end of his career, was the only one on defense. Whether it's a speed back or a wide receiver who can provide a deep threat, the Falcons need to find a difference-maker on offense. They need the same thing on defense, and a pass-rusher to complement, and eventually replace, Abraham could be the top priority in the draft.
CAROLINA PANTHERS

What does Carolina do at quarterback?
A new era is starting with the arrival of coach Ron Rivera, and everyone in the organization knows it can't be like the final few seasons of John Fox's tenure. The Panthers simply stopped having a legitimate NFL offense. Fox's conservative approach to offense certainly played a role, but the real problem is that the Panthers simply haven't had a dependable quarterback since
Jake Delhomme
fell apart in a playoff loss to Arizona at the end of the 2008 season. That's handcuffed the entire franchise and was the major reason the Panthers went 2-14 last year.
In typical Fox fashion, he handed the starting job to career backup
Matt Moore
. When that didn't work, Fox reluctantly turned to
Jimmy Clausen
and didn't help the rookie's confidence by yanking him out of the lineup several times. Although some in the organization believe, with a fresh start, Clausen can develop into a decent starter, the Panthers can't rely totally on that. This franchise has to do something major to get a viable alternative at quarterback. With the No. 1 pick in the draft, the Panthers could take a leap on Blaine Gabbert or Cam Newton, but neither comes with any guarantees. With talk that
Donovan McNabb
,
Carson Palmer
,
Vince Young
and
Kevin Kolb
could be available, the Panthers might have to break from tradition and sign or trade for a veteran. With receiver
Steve Smith
, running backs
DeAngelo Williams
and
Jonathan Stewart
and a talented offensive line, the Panthers can't afford to continue to let the offense rot away due to ineffective play at quarterback.
NEW ORLEANS SAINTS

Can the Saints get back to the Super Bowl?
The nucleus of the 2009 team that went on to win the Super Bowl remains largely in place, so there's no reason the Saints shouldn't at least be in contention for a deep playoff run. They never really suffered the collapse that's been common for many recent Super Bowl winners as they went 11-5 in 2010. But they weren't the same dominant and explosive team. Injuries played a role in that and a few holes were exposed.
But a little better luck on the injury front and a few tweaks could put the Saints right back where they were. After the season, quarterback
Drew Brees
admitted he played part of the year with a sprained knee. That might explain why he wasn't as precise as the Super Bowl season, and a healthy Brees automatically would make the Saints better. But the biggest issue on offense is the running game. With
Pierre Thomas
and
Reggie Bush
banged-up for most of the season, the Saints weren't able to run the ball consistently.
Chris Ivory
stepped in and did a nice job at times, but the Saints know they have to upgrade in this area. Thomas probably will be allowed to leave as a free agent. The Saints probably will use an early draft pick on a running back or sign someone of significance in free agency. On defense, the Saints have to get back to being opportunistic and taking advantage of turnovers like they did in the Super Bowl season. Upgrading the pass rush is the best way to make sure that happens.
TAMPA BAY BUCCANEERS

Where will the Bucs find an outside pass rush?
Not on their current roster.
Stylez G. White
and
Tim Crowder
are just "guys'' and that showed all too often as Tampa Bay's pass rush was anemic. The Bucs broke from tradition and won with offense -- mainly quarterback
Josh Freeman
-- for the first time in franchise history last season. There is talent elsewhere on defense, but the Bucs need to improve the pass rush to elevate the overall play of the defense and make this a complete team.
Look for something similar to last offseason when the Bucs realized they had problems at defensive tackle. They went out and used their first two draft picks on
Gerald McCoy
and
Brian Price
. Both ended up having their seasons shortened by injuries, but both showed some promise. They'll be back healthy and will be joined by
Roy Miller
in the middle. That trio should create a decent inside pass rush, but the Bucs know they need more talent on the outside. It might not be the same scenario as last year with the Bucs using their top two picks on defensive ends. They may draft one early and look for another potential starter in free agency.
February, 8, 2011
2/08/11
1:20
PM ET
As with just about everything else in the NFL, there is huge uncertainty when it comes to the use of franchise tags.
Get ready to start hearing a lot more about this. According to the league and its teams, franchise tags can be assigned starting Thursday. According to the NFL Players Association, franchise tags cannot be used – at least until there is a new Collective Bargaining Agreement in place, which could take months.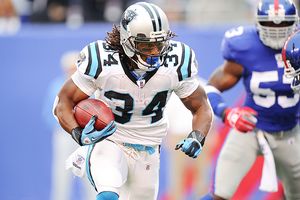 Rich Kane/Icon SMIWould Carolina keep running back DeAngelo Williams by using the franchise tag?
You're probably going to see the two sides fight this one out and some teams will probably cast the first stone by announcing Thursday, or soon after, that they are assigning franchise tags. We'll see how that plays out in the long run. But, at very least, we can take a look at guys who could get franchise tags in the NFC South.
I just went through all my contract stuff and I'm seeing three prime candidates. Again, there is some uncertainty here because there is no labor agreement and the way any potential deal is structured could play a big role in deciding if some players are restricted or unrestricted free agents.
But the three guys that could come into play are Carolina running back
DeAngelo Williams
, Tampa Bay offensive guard
Davin Joseph
and Tampa Bay linebacker
Barrett Ruud
. Each team can only use a franchise tag on one player, if they chose to use it at all.
We don't know the price of 2011 franchise tags, but we can look back to 2010 as a reference point. The tag for a running back was $8.2 million. For an offensive lineman, it was $10.7 million. For a linebacker, it was $9.7 million.
Let's take a look at the significant players for each team who currently are not under contract for 2011 and see how this might play into the situation with franchise tags. Again, some players may fall into the category of restricted free agents, depending on how a potential labor agreement is structured.

Atlanta:
Mike Peterson
,
Tyson Clabo
,
Harvey Dahl
,
Jerious Norwood
,
Jason Snelling
,
Brian Williams
,
Justin Blalock
,
Brian Finneran
,
Matt Bryant
,
Michael Koenen
,
Stephen Nicholas
,
Brent Grimes
and
Eric Weems
.
Summary:
Grimes is coming off a breakout season and likely will be classified as a restricted free agent. Most of the veterans on this list are role players and wouldn't be considered for the franchise tag. The two long-shot exceptions could be kicker Bryant and punter Koenen. The Falcons used the franchise tag on Koenen in 2009 and let him play for the restricted free agent tender last year. The 2010 franchise tag for punters and kickers was $2.8 million. I have a tough time seeing general manager Thomas Dimitroff using a franchise tag on a punter or kicker. The Falcons don't really have any need to use the tag.

Tampa Bay:
Ronde Barber
, Barrett Ruud,
Cadillac Williams
, Davin Joseph,
Stylez G. White
,
John Gilmore
,
Maurice Stovall
,
Jeremy Trueblood
,
Quincy Black
,
Tim Crowder
and
Adam Hayward
.
Summary:
The Bucs should have a ton of cap room to work with, so they should be able to handle a franchise tag easily. But it remains to be seen if they want to use it on either of the two realistic candidates: Joseph or Ruud. Joseph is a guy they want to keep in the middle of their offensive line, but they might be able to work a long-term deal that would be a lot more cap friendly. Ruud has made it clear to the Bucs for two years that he would like a long-term contract. That's never happened. Maybe he's just not in their long-range plans.

New Orleans:
Jonathan Goodwin
,
Scott Shanle
,
Roman Harper
,
Darren Sharper
,
Jimmy Wilkerson
,
Lance Moore
,
Jermon Bushrod
,
Pierre Thomas
,
Anthony Hargrove
,
Courtney Roby
,
David Thomas
,
Remi Ayodele
,
Heath Evans
and
Carl Nicks
.
Summary:
The Saints have more than 20 potential free agents and even the guys I singled out above aren't huge stars. Nicks is probably the best player on the list. But he has three years of service in and almost certainly would qualify as a restricted free agent in any new agreement. Goodwin's a good player, but I think the Saints would rather take their chances on working a new deal with him than using the franchise tag on a center.

Carolina:
Thomas Davis
,
Matt Moore
, DeAngelo Williams,
Jeff King
,
Richard Marshall
,
James Anderson
,
Ryan Kalil
,
Charles Johnson
and
Dante Rosario
.
Summary:
Kalil and Johnson are key players, but they could end up as restricted free agents. Williams is the key guy. The Panthers have depth at running back with
Jonathan Stewart
and
Mike Goodson
. But Stewart has had durability issues and Williams is a playmaker on a team that needs all the offense it can get. Maybe the Panthers try to work a long-term deal with Williams, but they might try to protect him in the short term by using the franchise tag.
January, 5, 2011
1/05/11
1:00
PM ET
»
NFC Wrap-ups
:
East
|
West
|
North
|
South
»
AFC
:
East
|
West
|
North
|
South
Arrow indicates direction team is trending.

Final Power Ranking
: 13
Preseason Power Ranking:
30
[+] Enlarge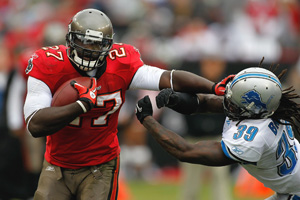 J. Meric/Getty ImagesLeGarrette Blount went from undrafted free agent to 1,000-yard NFL rusher in a matter of months.
Biggest surprise:
LeGarrette Blount
. The running back wins a very close call over receiver
Mike Williams
, mainly because Blount was an undrafted free agent and Williams was a fourth-round pick. Blount initially signed with the Titans, but was cut by Tennessee at the end of the preseason. The Bucs took a shot on Blount and brought him along slowly. With
Cadillac Williams
starting the season ineffectively, the Bucs turned over their running game to Blount. He produced 1,000 yards and gave the Bucs a power running game. The best part of all is that Blount is still very raw. An offseason of coaching and working with his teammates could make him a lot better.
Biggest disappointment:
Tanard Jackson
. The safety was one of the best players on the team and big things were expected of him this season. But Jackson was suspended early in the season for violating the league's substance abuse policy. His absence created a scramble at safety, but that at least allowed the Bucs to find out that
Cody Grimm
and
Corey Lynch
can play a bit. But this is an area that probably still needs to be strengthened in the offseason. Jackson isn't eligible to apply for reinstatement until late September and there is no guarantee he will be back with the Bucs.
Biggest need:
A pass rush. The Bucs used their first two draft picks to solidify the middle of their defensive line. They selected defensive tackles
Gerald McCoy
and
Brian Price
. Each showed some potential before getting injured. Both should be back and healthy next season, and they should bring some push to the middle of the defensive line. But the Bucs need to focus on the outside of the line this offseason.
Stylez G. White
and
Tim Crowder
are not elite pass-rushers. The Bucs have assembled an offense that can score some points. Now, they need to fix up the defense to generate some sacks and turnovers to put teams away when the Bucs take a lead.
Team MVP:
Josh Freeman
. In his second season -- and first full season as a starter -- Freeman left no question that he truly is a franchise quarterback. He carried the team all season and seemed to get better each week. The Bucs are letting Freeman and his young receivers grow up together, and that means the rapport should only get stronger. Freeman established himself as a leader on and off the field, and this is his team now. Freeman hasn't even hit his full potential and the Bucs came close to making the playoffs. He should continue to get better, and that means nothing but good things for the Buccaneers.
Can't stand still:
The Bucs showed a knack for finding guys who can play at the bottom of the scrap pile. Players such as Blount, Williams and Grimm prospered when they were given chances, and the Bucs were proud to tell you how many rookies they were playing this year. That's great, but you're not going to hit on every player you reach for. The Bucs need to continue with their youth movement because it's working nicely. But they might be wise to at least do a little in free agency and sign a proven player or two to help the youth movement along.
November, 21, 2010
11/21/10
3:49
PM ET
November, 14, 2010
11/14/10
12:34
PM ET
TAMPA, Fla. – The Panthers and Buccaneers just announced a few lineup changes for today's game.
Center
Jeff Faine
, who is returning from injury, will start for the Bucs. There had been some thought that
Jeremy Zuttah
, who had played center in Faine's absence, would move to left guard. But that's not happening.
Ted Larsen
will start at left guard and
James Lee
will start at right tackle in place of
Jeremy Trueblood
, who had been injured, but is active today.
Erik Lorig
will start at fullback in place of the injured
Earnest Graham
.
On defense,
Tim Crowder
will start at end in place of the injured
Kyle Moore
. DeKoda Watson will start at strongside linebacker in place of
Quincy Black
.
For Carolina,
Mike Goodson
will get the start at running back because
DeAngelo Williams
,
Jonathan Stewart
and
Tyrell Sutton
all are out with injuries.
Nick Hayden
will start at defensive tackle in place of
Ed Johnson
.

NFL SCOREBOARD
Thursday, 9/11
Sunday, 9/14
Monday, 9/15
WEEKLY LEADERS