August, 25, 2012
8/25/12
3:56
PM ET
Three things to look for tonight as the Texans go against the Saints in their third preseason game of the summer tonight (8 ET) in New Orleans.


The three young receivers:
Heading into the biggest preseason game, it seems
Keshawn Martin
,
Lestar Jean
and
DeVier Posey
rank in that order, but there is still a chance for some jockeying for roles and snaps. When they are on the field, any success they can have with quarterback
Matt Schaub
will help their cause. A good outing for Martin would likely solidify his standing, but Jean may be more explosive. Gary Kubiak can find roles for both at the start of the year if he feels they are worthy.
Rotating tackles:
When
Duane Brown
became the Texans left tackle, the Texans
eased him in
his first few games by rotating him with veteran
Ephraim Salaam
. They are now at least considering doing the same with the two guys competing for the right tackle job now, veteran
Rashad Butler
and youngster
Derek Newton
. I wonder about the chemistry and rhythm such a platoon can get in the way of. But if one of them doesn't distinguish himself, then they could both be in line for time in the season opener Sept. 9 against Miami.
Nose tackle:
Shaun Cody
(back) and Sunny Harris (done for the year with a torn triceps) won't play, so
Earl Mitchell
and undrafted rookie
Hebron Fangupo
are the lone nose tackles available for the Texans. Ends
Jared Crick
and
Tim Jamison
are also rated by coaches as being able to play the nose in the Texans' defense as well. The position isn't generally part of the nickel package and barring an injury, it should be a problem. Also out on defense, inside linebacker
Brian Cushing
(ribs) isn't with the team.
August, 18, 2012
8/18/12
11:22
PM ET
Some brief, quick thoughts on the Texans following their
20-9 preseason win
over the 49ers on Saturday night.


August, 3, 2012
8/03/12
3:29
PM ET
With
J.J. Watt
rehabbing the after-effects of a dislocated elbow, the
Houston Texans
will see just how deep they are at defensive end.

Tim Jamison
moves into Watt's spot and coach Gary Kubiak pointed to "Sunny" -- nose tackle
Ra'Shon Harris
-- as a versatile guy who can play a lot of spots as the Texans sort through things. Kubiak said the team expects the team will add one player to fill out the roster.
The team expects Watt will be back in place in time for the season opener Sept. 9 against Miami.
"Timmy (Jamison) is a grinder," Kubiak said. "He's a hard worker, plays with a lot of effort. He gave us a lot of time last year, and now he gets the chance to act like a starter, so we'll see how he handles it."
Watt played 77.37 percent of the team's snaps at end last season,
Antonio Smith
played 71.59 percent and Jamison played 33 percent.
Kubiak did not mention rookie
Jared Crick
, who recently suffered a slight neck injury. He's a fourth-round draft pick out of Nebraska.
As the Texans turn to their nickel package without Watt, they could also leave Smith outside rather than shifting him inside, looking to a nose tackle -- Harris,
Shaun Cody
or even
Earl Mitchell
-- to stay on the field inside.
Watt was a great presence last year, a tone-setter with his non-stop motor who was part of a group that swarmed the passer and did well to get his hands up to be an obstacle to quarterbacks when they did get throws off.
October, 18, 2011
10/18/11
1:00
PM ET
»
NFC Stock Watch
:
East
|
West
|
North
|
South
»
AFC
:
East
|
West
|
North
|
South
FALLING
1. Jacob Lacey, Indianapolis Colts cornerback:
Lacey is ideally a dime guy, maybe a nickel. But the Colts married themselves to him as their No. 2 starter right after the lockout in a move many of us still struggle to understand. Lately they've been using
Terrence Johnson
some. Sunday in Cincinnati it sure seemed like they went with Lacey early and then pulled him for Johnson. If there was anyone on the roster who was capable of putting real pressure on Lacey, he'd have to get some time on the bench to get his game together.
Drew Brees
will look his way and see red meat.
2. Rashean Mathis, Jacksonville Jaguars cornerback:
In a poor first half for the Jaguars in Pittsburgh, Mathis was exceptionally noticeable. He had a crack at a hit that would have prevented a
Rashard Mendenhall
touchdown run, got stiff-armed out of another run play, he dropped a ball I thought he could have picked and was in defense on a touchdown pass to
Mike Wallace
(yes he's tough to defend, but still). Mathis is a quality leader and a quality guy. He told the team after the game that it's on the cusp of winning a game. They may be, but he's one of the guys who's got to do better to make it happen.
3. Leroy Harris and Eugene Amano, Tennessee Titans interior offensive linemen:
Mike Munchak's team has been very good in pass protection, which is why
Matt Hasselbeck
's been able to be such a significant story. But run blocking is an issue, and these two guys are the root of it. Munchak is steadfastly loyal to the group that started for him last season when he was offensive line coach, but asked recently if he was considering any line changes, his answer wasn't "no," it was "not yet." That's as close as this pair may come to getting put on notice.
Fernando Velasco
is the one legitimate alternative on the bench.
[+] Enlarge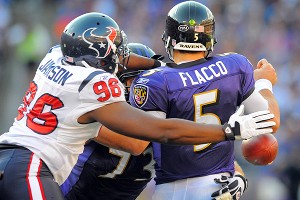 Zuma Press/Icon SMITim Jamison has stepped up admirably in Mario Williams' absence.
RISING
1. Tim Jamison, Houston Texans defensive end:
As the Texans started life without injured outside linebacker
Mario Williams
, Jamison exploded with a big first-half performance: two sacks, including one that forced a fumble he recovered that set up a touchdown. It was an impressive showing, and it's the sort of effort from a member of the supporting cast that the Texans can really use. Gary Kubiak said he sees Jamison as a young
Antonio Smith
. That's high praise considering what a player Smith is.
2. The Tennessee Titans' health:
Coming off a bye, the Titans appear pretty healthy. Safety
Chris Hope
(arm) is out for a long stretch. Backup linebacker and special-teamer
Colin McCarthy
(hamstring) may be the only other issue. If tight end
Craig Stevens
(ribs) is feeling better, things will be looking up for the Titans. And considering the Texans just played the very physical Ravens and have a banged-up quarterback in
Matt Schaub
, it's a nice advantage to have.
3. Indianapolis' pass protection:
The Colts have scrambled to patch things together with a bunch of injured guys, but quarterback
Curtis Painter
has gone over 100 pass attempts without an interception and he's had time the past few games to make his reads and make his throws.
Pierre Garcon
and
Reggie Wayne
have been beneficiaries. This line's taken a beating when things have been bad, and run blocking is no strength. But the group is stepping up to give the young quarterback a chance.
October, 16, 2011
10/16/11
5:38
PM ET
BALTIMORE -- We asked this week if the Texans could come to M&T Bank Stadium minus
Andre Johnson
and
Mario Williams
and
hang with the Ravens
.


Through the first half, it's a definite yes.
Though the Texans trail
10-7
, they're doing some very good things at this point.
The best: getting hits on quarterback
Joe Flacco
in their first game since losing Williams for the season with a pectoral injury.
Tim Jamison
has two sacks, including a strip sack and fumble recovery that set up Houston's touchdown.
Jamison's hardly been alone in the backfield.
J.J. Watt
,
Antonio Smith
(who gave the Ravens two first downs with penalties),
Brian Cushing
and others have been in on the action.
That's the encouraging news. On the other side, Houston's not been a great adjusting team this season.
The Texans have been outscored 24-6 in the third quarter and 76-37 in the second half.
August, 21, 2009
8/21/09
1:05
PM ET
| | |
| --- | --- |
| | |
| | Bob Levey/Getty Images |
| | Linebacker DeMeco Ryans and the Texans defense have a new attitude. |
Posted by ESPN.com's Paul Kuharsky
HOUSTON -- React or act?
Give a group of guys who've spent a lot of time doing the former to do the latter and you'll be greeted with glee.
That's the Houston Texans' defense's feelings for first-year coordinator Frank Bush, promoted by Gary Kubiak to replace Richard Smith.
"His leadership and the way he comes off to the players, it's a different feeling," middle linebacker
DeMeco Ryans
said. "It's a different attitude, a different mentality which carries over to the guys and our attitude. We're a lot more physical team. I don't want to say we were too passive.
"I think we had guys thinking too much, we had so many checks and this and that. It was too much, you're thinking so much to where you can't just line up and go tee off on someone. Now we can just line up and get it, there isn't so much too it. It's simplified to where we don't have all the checks."
The primary word being used for the team's new approach is "aggressive," and that's not a term that characterized them too often with Smith at the controls. The mild mannered Bush has the defense excited and determined not to let the Texans be known exclusively as an offensive team.
While Matt Schaub, Andre Johnson, Steve Slaton and Owen Daniels will go a long way towards determining if the Texans can build on consecutive 8-8 seasons and make the playoffs, Mario Williams, Ryans and linebacker Brian Cushing, a first-round pick, bring a good dose of star power to the defense.
Fantasy Football: 32 Questions

Is Matt Shaub a No. 1 fantasy QB? ESPN.com fantasy expert Brendan Roberts answers that question. Story

"They are getting tougher and tougher to go against every day," offensive coordinator Kyle Shanahan said. "They've improved themselves with a bunch of players, they've been rushing the passer better and they are making it tough on us."
To graduate to being a playoff team, the Texans have to reverse some trends. They'll need to play better early so they aren't left to fight so hard to get back to .500. They need to fare better within the division, finding ways to finish off their primary rivals when they have the chance.
They expect the Titans and Colts to be strong again. The Texans will likely have to chase one or both of those teams down.
Anything less than double digit wins and a playoff berth won't be considered a success.
Key questions
1. Can the offense fix turnover and red-zone issues?
The Texans ranked third in total offense last year, but it didn't mean as much as it should have because they were 17th in points per game. The two big themes heading into the 2009 season are cutting turnovers and getting better production once they get inside the 20.
They were minus-10 in takeaways/giveaways last year, third worst in the NFL. They scored touchdowns on just 45.9 percent of their red zone possessions.
"I think if we can make those two adjustments, we can win at least two more games," Shanahan said. "If we can do that I think we will be a playoff team. We were a good offense last year statistically. But that was the first thing I talked about on the first day of OTAs this year, that doesn't mean anything. The top three offenses in the league last year were New Orleans, Denver and us. None of us made the playoffs. Moving the ball does not matter unless you move it across that goal line."
2. Do they have enough in the secondary?
Their top cornerback, Dunta Robinson, has not been with the team because he's upset about getting slapped with a franchise tag, but he will ultimately sign it and play for a guarantee of nearly $10 million.
Jacques Reeves will miss the start of the season with a fractured fibula, which means Fred Bennett will get some time as the second starter. Rookie Glover Quin is currently the nickel and they like his physical play.
But the safeties and the defensive backfield depth are question marks, even if the defensive front gets more of a pa
ss rush and forces the ball out quicker. Can they get steady enough play from Eugene Wilson and second-year man Dominique Barber, the presumptive starters at safety on opening day against the Jets?
| | |
| --- | --- |
| | |
| | Defensive end Mario Williams |
| | Defensive end Mario Williams accounted for 12 of the Texans' 25 sacks last season. |
3. Does Williams have enough pass rush help?
The Texans had just 25 sacks in 2008, fewest in the division. And Williams accounted for 12 of them. Houston made moves intended to get pressure from elsewhere -- first by signing free agent defensive lineman Antonio Smith, then by drafting Cushing and defensive end Connor Barwin with their first two picks. New defensive line coach Bill Kollar is a fiery type who preaches pocket penetration and may just be the team's biggest addition.
An effective rush from the front can help take a lot of pressure off the secondary, which ranks as the team's weak link.
Market watch
Ideally, Jacoby Jones would be in line to replace Kevin Walter as the No. 2 receiver in a year if the team doesn't or can't re-sign Walter. But Jones lacks maturity and consistency and his job security could be in jeopardy. The team is looking at kickoff return man Andre Davis, a better receiver, as a punt return possibility. If Davis succeeds there, Jones could be expendable.
Jones can be very good, but he can also put the ball on the ground too much as a punt returner. And Kubiak is not a fan of specialists. He wants football players who can fill multiple roles. That describes Davis, who can cover kicks as well as return them in addition to catching passes. It may not cover Jones much longer.
Newcomer to watch
Smith wasn't regarded as any sort of premier pass rusher when he hit free agency. But he's a versatile lineman who is very good with his hands. If things go the way the Texans hope, he can be an early down end and a third down tackle, having a positive influence and taking on a leadership role for youngsters Williams,
Amobi Okoye
and Barwin.
"He's a kid that can move from outside to inside, he's a big man that's a real good athlete," said Bush, who also worked with him in Arizona. "He's a 285-pound guy with good knee bend. He's extremely tough, has no problem playing over a center, guard or tackle. He takes a lot of pride in his performance and he came up through the ranks the hard way, he honed his craft and made himself what he is.
"That whole sense of a guy that came from virtually nothing to what he is right now kind of helps our team. Other guys can see it and aspire to be that way."
Observation deck
Antwaun Molden got hurt in his rookie season when the team wanted to bring him along slowly. He's a physical cornerback who could provide some great insurance or become a real alternative now if he's needed. ... Dan Orlovsky hasn't looked very good, but the team knows it will take him a while to be comfortable in the system and are convinced with coaching he can be a quality No. 2 quarterback for them. Even before a hamstring injury Rex Grossman wasn't going to challenge him for the backup quarterback job. ... Ryan Moats is like Slaton style-wise and Arian Foster is Chris Brown-like. But the undrafted rookie back may have missed his chance with a preseason injury and a too-slow return. Brown's ability to stay healthy will be a big question for the offense. ... While he's a popular fall guy with media and fans, defensive tackle Travis Johnson, who's missed camp so far recovering from hernia surgery, generally does what the team asks, taking up blockers. That it's a contract year won't hurt his motivation either. ... Undrafted free agent John Busing hits and plays good special teams, which may give him a shot at a roster spot that has belonged to Nick Ferguson or Brandon Harrison. ... The team also likes undrafted defensive end Tim Jamison, but will there be room for him? ... Frank Okam is big, quick and smart and he's been a pet project for coaches. When Kubiak complimented his offseason, Okam knew it meant something, "because it's difficult for an Aggie to give a Longhorn a compliment." ... Rookie tight end James Casey can play fullback, line up wide or throw. That's versatility that makes him Houston's Wildcat candidate. ... Want an undrafted possibility on offense? If Jones is out, there could be room for receiver Darnell Jenkins.

NFL SCOREBOARD
Thursday, 9/11
Sunday, 9/14
Monday, 9/15
WEEKLY LEADERS