May, 10, 2012
5/10/12
3:42
PM ET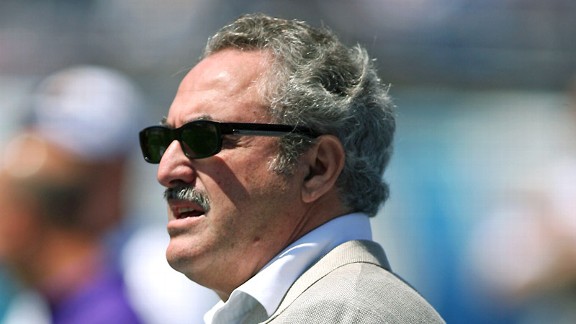 Icon SMIZygi Wilf was able to secure a new stadium for the team without resorting to threats of relocation.
More than a decade of memories came flooding back after seeing the
Minnesota Vikings
' stadium bill
pass through the state Senate
and head toward the inevitable signature of Gov. Mark Dayton on Thursday, ensuring at least 30 more years of franchise continuity.
I picked up the beat in 2001, when state leaders began years of inattention by insisting the Sept. 11 attacks made for an inappropriate time to discuss stadium subsidies. I remember calling a young state legislator named Tim Pawlenty, who cheerfully suggested the team's top stadium lobbyist secure a straight salary rather than working on commission. "There's just no appetite here for more stadiums," Pawlenty said a few years before he was elected governor.
I took a trip to San Antonio, home of former owner Red McCombs, to scout it out as a potential relocation site. I wrote about an NFL meeting in 2003 in which league officials made a preliminary plan to place the Vikings in the NFC West if they eventually relocated to Los Angeles. I watched plans to share a stadium with the University of Minnesota collapse, as did suburban collaborations in Anoka and Arden Hills.
But most of all, I remember sitting in a converted racquetball court in the Vikings' cramped practice facility on June 16, 2005. On that day, new owner Zygi Wilf made a pledge that astonished all of us and figured to haunt him for the rest of his tenure atop the franchise.
Wilf said he would never move the team, regardless of a revenue deficit that forced McCombs to sell. He acknowledged he would like a new stadium but said: "If we're stuck in the Metrodome, then we'll be stuck in the Metrodome."
Given the years of inaction we had already witnessed, most of us figured the only way the Vikings would secure a new stadium would be by waving a ready-made offer to relocate elsewhere. But here, on one of his first days as an owner, Wilf had cut his leverage out from beneath himself and guaranteed a struggle to upgrade the franchise's home.
So on this day, it's worth noting that Wilf and his staff have agreed to relatively equitable terms on a bill for a new stadium without so much as an indirect or implied threat of relocation -- much less engaging in any substantive discussions with another locale.
Really, the only tense moment came last month when a state committee derailed the bill in a spate of political infighting. NFL commissioner Roger Goodell swooped into St. Paul to
add some weight to the Vikings' campaign
, and from then on final approval has seemed nearly inevitable. In the context of stadium debates, Wilf and the Vikings kept the tone cordial, amicable and most importantly aboveboard, securing a state legacy for the franchise and the owner himself.
It's been months since Wilf has spoken publicly on the stadium issue, a strategic decision the Vikings made to minimize attention on the "billionaire subsidy" argument and focus it on Dayton and the resulting job creation a stadium would bring. I'm sure there will be plenty of people who can't get past the additional revenues Wilf and his investors will receive in this deal, and I understand that. But in the context of professional sports, I truly think Wilf and his investors deserve some credit for saving the franchise for Minnesota.
Think about it. For years, state leaders fully exercised the leverage they held by virtue of the Metrodome lease and Wilf's publicly stated willingness to continue playing there. When the tables turned, Wilf declined to reciprocate and instead pursued a deal with the same people who wouldn't take the Vikings' phone calls in previous years.
Really, from a cold business standpoint, Wilf would have been better off minimizing his expenses, awaiting the expiration of the lease then shopping the franchise to the highest bidder from around the country. He paid $600 million in 2005 and, six years later, the
Jacksonville Jaguars
were sold for $760 million with a stadium situation much worse than the Vikings'. Outsiders bidding for the franchise almost certainly would have left the Minnesota legislature to match a much less equitable deal to keep the team, if it had the opportunity at all.
Instead, over the past seven years, Wilf and his partners have funneled the team more than $100 million in personal funds to account for a competitive player payroll, a larger front-office staff and modernization of the practice facility. Wilf aggressively pursued the stadium issue but passed on every opportunity to up the ante or enhance his leverage by turning his attention elsewhere. You might disagree with some of his decisions as a franchise operator, but Wilf and his investors have proved exemplary franchise stewards.
I can't control how you view Wilf and his group of out-of-town investors. But, Vikings fans, you guys lucked out. This could have been ugly and easily might have ended differently. Zygi Wilf made sure it didn't.
Earlier:
The first
post-approval questions
the Vikings must consider.
May, 17, 2010
5/17/10
12:06
PM ET
Minnesota's state legislature
will adjourn Monday
after a marathon budget session that predictably ended with no further attention on the Vikings' stadium proposal. So unless Gov. Tim Pawlenty calls a special session for the specific purpose of voting on a stadium bill -- a highly unlikely scenario -- the issue won't be picked up again in a substantive way until February 2011 at the earliest.
As you know, the team's Metrodome lease expires in February 2012.
[+] Enlarge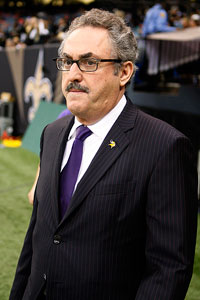 John David Mercer/US PresswireZygi Wilf may need to play a more public role if he hopes to advance talks of a new stadium.
When we last discussed the stadium bill, it had been torn apart and left unrecognizable less than 24 hours after its introduction. An optimist would suggest the Vikings pushed the conversation forward by getting a formal bill in writing; a pessimist would note the bill provided few, if any, building points for future efforts.
Barring an unexpected development, we can close the door on this issue for 2010. This moment offers an opportunity to catch up on where we are and where we're going -- or not, as the case may be. In no particular order:
Don't allow anyone to tell you this bill's advancement was scuttled by a Minnesota State Supreme Court ruling that essentially invalidated the state's 2009 budget, throwing the 2010 legislative session into chaos. That ruling came only after one committee rejected the stadium proposal and two others stripped it of its financing mechanisms. In the end, there were no breakthroughs on how to come up with some $525 million in public money -- and that was clear before the court ruling. Until someone hatches a financing idea that works for everyone, no stadium will be built.

Only a small group of state leaders considered this so much as a mildly urgent issue. For now, the rest of them -- including Pawlenty -- seem convinced the Vikings have no other options but to continue playing in the Metrodome beyond the expiration of their lease. As of today, that's probably a safe bet. Los Angeles is nowhere close to luring a team, and the NFL's primary focus is on solving its labor dispute. Los Angeles might enter the picture some day, but to this point it has not.

The November gubernatorial election could be a game-changing event prior to the presumed 2011 debate. Throughout his two terms, Pawlenty made clear he wouldn't approve general state taxes for a new stadium. Will the next governor follow the same pattern or take a different approach?

The Vikings have hoped that a significant elected official would emerge as a state-wide leader on this issue. That hasn't been the case, leaving the effort without the political clout or public profile it needs to succeed. I understand why it would be better for a governor or prominent mayor to be the point person rather than a team official, but in the end I think owner Zygi Wilf -- or his brother, Mark -- will have to take a much more public role in order to get something done. After all, their bottom line is the central issue in building a new stadium. There's no sense running from that reality.
December, 17, 2009
12/17/09
2:29
PM ET
Here's a good indication of the current dysfunction in Minnesota stadium politics: On Thursday, the government entity that owns the Metrodome presented several updated proposals to replace the 27-year-old structure for less money than originally contemplated. Depending on the plan, the new facility would generate anywhere from $20 million to $31.5 million in additional revenue for the Vikings.
But because of infighting amongst the parties, the Vikings boycotted the presentation and refused to endorse any of the proposals. And so it goes.
You can read the specifics on the
Web site
of the Metropolitan Sports Facilities Commission (MSFC), or in this
Star Tribune news story
. One proposal projects a completely new stadium as costing $870 million, about $84 million less than an earlier cost analysis. Another proposal, which would use part of the existing structure, projects at $771 million.
The Vikings, however, are
still smarting
from a recent MSFC request that the Vikings sign a two-year lease extension at the Metrodome or face reinstituted rent charges. Without it, their lease would expire after the 2011 season.
In a statement released Thursday, the Vikings said they "appreciate" the commission's efforts but said they are "moving forward with those leaders who want to resolve this issue in 2010."
At this point, it's not clear who those leaders are. Owner Zygi Wilf recently met with Gov. Tim Pawlenty, but Pawlenty said he is not in favor of using public money to fund the project. When the price tag was at $954 million, Wilf was offering to pay $250 million while the public came up with the rest.
June, 3, 2009
6/03/09
7:38
AM ET
Posted by ESPN.com's Kevin Seifert
Chip Scoggins and Judd Zulgad of the Star Tribune report that Minnesota cornerback Antoine Winfield did not attend Tuesday's voluntary organized team activity.

Normally, you can't get too excited when a player skips a voluntary workout. But the absence comes immediately after Winfield missed the Vikings' mandatory minicamp to attend the funeral of a close friend's mother last weekend. Coach Brad Childress acknowledged Winfield was at the funeral but would not discuss whether the absence was excused.
Childress also made clear that all veterans had been "invited" to attend this week's OTAs. It's well-known that Winfield is entering the final year of his contract and has yet to reach an agreement on an extension. Are the two issues connected? Winfield deserves the benefit of an opportunity to explain before we jump to any conclusions. But the evidence, at least, is mounting.
Continuing around the NFC North:
May, 7, 2009
5/07/09
7:49
AM ET
Posted by ESPN.com's Kevin Seifert
You'll find a bit of interesting news embedded in this story from Judd Zulgad and Chip Scoggins of the Star Tribune: Brett Favre is willing to undergo a relatively minor procedure on his partially torn right biceps tendon.
During the surgery, believed to be a tenotomy, surgeons would complete the partial tear Favre suffered last year. Once fully torn, the injury will no longer cause pain, irritation or inflammation. It also isn't likely to have much impact on his ability to throw and will allow him to recover long before training camp would begin in July.
Vikings coach Brad Childress reportedly was en route to a meeting Wednesday with Favre. With the question of a possible surgery already solved, the pair could make a quick agreement for Favre to join the Vikings, according to the Star Tribune.
We'll keep you updated. For now, let's take a spin around the division:
March, 30, 2009
3/30/09
8:23
AM ET
Posted by ESPN.com's Kevin Seifert
We're now T-minus one month to the 2009 draft and are entering a period in the NFL offseason when teams wrap up their scouting trips and hunker down to the basement to determine their final draft board. We'll have a trickle of free-agent news and other items of interest, but for the most part it will be all draft, all the time.
Many of the final pre-hunkering steps will happen early this week, most notably with Detroit's private workout of Georgia quarterback Matthew Stafford on Tuesday followed on Wednesday by the Lions' attendance at the USC pro day to watch quarterback Mark Sanchez. We'll bring you as much information as we can about both events.
For now, let's catch up on a quiet weekend in the Black and Blue:
March, 24, 2009
3/24/09
12:00
PM ET
| | |
| --- | --- |
| | |
| | Scott Boehm/Getty Images |
| | Little progress has been made toward securing a new stadium for the Minnesota Vikings, and the team's current Metrodome lease expires in 2011. |
Posted by ESPN.com's Kevin Seifert
DANA POINT, Calif. -- There is an empty hill about 50 miles from here. A real estate magnate wants to dig into the side of it and build an NFL-sized stadium for the nation's second-largest city. He's got a Web site and preliminary local approval and everything else. All he needs is a team.
Conveniently, there is a team that plays in an outdated stadium halfway across the country. Its lease there expires in two years. Only incremental progress has been made toward a new facility, and it's now clear there won't be a new stadium to move into when the lease expires in 2011.
It's only natural to connect the dots between Ed Roski's Los Angeles Stadium project and the Minnesota Vikings, who have lobbied unsuccessfully for 10 years to secure approval for a new stadium. Isn't it possible the Vikings will go the way of the old Minneapolis Lakers and move west? Or, at the very least, couldn't that possibility provide ample leverage to motivate Minnesota politicians to action?
The answer, based on the current buzz here at the NFL owners' meeting, is no. The Los Angeles option is such a low priority for the league that it's not even on the formal agenda for this annual session, despite the geographic proximity to a possible solution. The league appears skeptical of Roski's project, which would not begin until a team formally committed to moving, and this week commissioner Roger Goodell downplayed its existence while emphasizing the necessity for Minnesotans to work it out among themselves.
"We've got a number of issues we're addressing this week," Goodell said in explaining why an NFL return to Los Angeles isn't one of them. "You know the climate we're operating under here. It's clearly a challenge. And I think as it relates to L.A., and I've said it before: Until there is a solution that works for the community and works for the NFL, we're obviously not going to pursue that."
February, 19, 2009
2/19/09
7:53
AM ET
Posted by ESPN.com's Kevin Seifert
INDIANAPOLIS -- Hello there. I'm on the ground at the epicenter of NFL draft preparation, where we were greeted Wednesday evening to a very NFC North-like mixture of rain and snow.
I'll be heading over to the Lucas Oil Stadium in a bit and will start firing off dispatches as soon as I encounter something that's fire-off-able. I'm expecting to run into at least one NFC North coach and one personnel man Thursday morning. I'll let you spend the next few hours guessing who.
Thanks to those of you who let me know what their combine-specific interests were. I'll do my best to accommodate. In the meantime, let's make our regular shuffle through the NFC North:
February, 12, 2009
2/12/09
11:41
AM ET
Posted by ESPN.com's Kevin Seifert
EDEN PRAIRIE, Minn. -- In the middle of Wednesday's FavreMadness, I spent an hour or so at Minnesota's practice facility for a couple of pre-arranged group interviews. I'll get to what vice president of player personnel Rick Spielman said about the scouting combine later this week. Of a bit more immediate interest is the increasing rhetoric between the Vikings and Minnesota state leaders over the team's increasingly gloomy stadium outlook.
| | |
| --- | --- |
| | |
| | Judy Griesedieck/Time Life Pictures/Getty Images |
| | The Minnesota Vikings' Metrodome lease expires following the 2011 season. |
To review: Last month, one of the state's top legislators said there is "no chance" the Vikings will get approval in 2009 to use public money for a new stadium in downtown Minneapolis. In response, Vikings vice president of public affairs/stadium development Lester Bagley said that owner Zygi Wilf is growing frustrated with the situation and might "throw in the towel" on long-term plans to own the team.
The Vikings' Metrodome lease expires after the 2011 season. Assuming a stadium would take three years to build, construction needs to begin this summer in order to have a new facility ready for the 2012 season. If not, the Vikings could be "free agents" and available to relocate if another community is interested.
Wednesday, Bagley verbally hammered Minnesota governor Tim Pawlenty for the lack of action on the issue. The Vikings are close to issuing a revised plan for a near-$1 billion project that would require some $700 million in public funds. Here is the relevant quote from Bagley:
"Some of [Pawlenty's] people, some of his key people that surround him, have been supportive and understanding what the facts are. That we've got to solve this issue if we want an NFL team. But they are still slow to the game. The governor has been, with all due respect, he's been governor for six years, and he hasn't done anything. He hasn't lifted a finger to engage in a problem-solving discussion to help us on our issue. And that's the frustration that the NFL feels, that our ownership feels and a lot of our allies, whether they be elected officials or not, there's a lot of frustration and there's been no meaningful engagement by the executive branch."
(A Pawlenty spokesman told the Star Tribune that he is working to solve the state's $5 billion budget deficit and considers it his top priority during this legislative session.)
Pawlenty has been no champion of the Vikings' efforts over the years, and so the team probably isn't concerned about offending him. This type of rhetoric doesn't mean the issue will never be solved, but it demonstrates the level to which the Vikings are digging in. For the first time under Wilf, they seem willing to play the relocation card if that's what it takes.
Bagley distributed a memo that notes the Vikings have 30 games, including the preseason, left on their Metrodome lease. He also said that representatives of Los Angeles developer Ed Roski have "periodically" checked in on the Vikings' potential interest in playing in a planned stadium in Industry, Calif. Wilf has declined to meet with Roski, but Bagley has implied that Wilf could one day sell to someone who might be more interested.
Given what will be, at best, incremental progress during the 2009 legislative session, this situation figures to get uglier before it gets better. You have to wonder if there will come a point where Wilf faces a very, very difficult decision: Keep the Vikings in the Metrodome until better economic times arrive, or putting the team up for sale.