September, 8, 2011
9/08/11
11:09
AM ET
Cool note from ESPN Stats & Information: First-year
San Francisco 49ers
coach Jim Harbaugh is the last quarterback other than
Peyton Manning
to start a regular-season game for the
Indianapolis Colts
.
That will change when
Kerry Collins
replaces an injured Manning in the Colts' lineup for Week 1.
The first preseason game I covered as an NFL beat reporter featured Manning making his first start against the
Seattle Seahawks
in the Kingdome. His very first pass found
Marvin Harrison
for a 49-yard touchdown. Preseason games are generally without much meaning, but could there have been a more fitting beginning for Manning?
For a fuller appreciation of Manning's durability and consistency in starting 227 consecutive games, I went through Pro Football Reference counting how many quarterbacks had started for current NFC West teams since Manning made his regular-season debut. There have been 48. That figure includes 14 for the
St. Louis Rams
, 13 for the 49ers, 11 for the
Arizona Cardinals
and 10 for the Seahawks.
A few notes on the 48 players to start for current NFC West teams since 1998:
There have been two Brocks (Berlin, Huard), two Charlies (Frye, Whitehurst), two named Chris (Chandler, Weinke), two Jeffs (Plummer, Martin), three Johns (Friesz, Navarre, Skelton), one Jon (Kitna), two Matts (Hasselbeck, Leinart), two Shauns (Hill, King), three Steves (Young, Bono, Stenstrom) and two Trents (Dilfer, Green).
Two, Young and Warren Moon, have been enshrined in the Pro Football Hall of Fame since Manning's streak began.
Dilfer and Warner started for more than one current NFC West team since Manning's streak began. Warner started 57 games for Arizona and 50 for St. Louis. Dilfer started 12 for Seattle and six for San Francisco.
Hasselbeck has the most total starts for current NFC West teams with 131, followed by Marc Bulger (95 for St. Louis), Jake Plummer (73 for the Cardinals) and Jeff Garcia (71 for the 49ers).
Smith -- Alex, not Troy -- owns the most starts among current NFC West players with 50, all for San Francisco.
Eight of the 48 were one-and-done as starters: Berlin, Scott Covington, Ty Detmer, Glenn Foley, Friesz, Frye, Navarre and Weinke. Nineteen have made at least 10 starts.
The NFC West will have two starters new to the division in Week 1:
Tarvaris Jackson
and
Kevin Kolb
.
The chart shows start totals by team for the 48. The NFC West changed membership with realignment in 2002. I'm going back to 1998 for the four teams currently in the division.
November, 15, 2010
11/15/10
9:42
AM ET
Teams usually get six days between games to take inventory of their roster and get healthy.
The
Miami Dolphins
get three days to recover from Sunday's carnage and significantly less time to come up with a game plan for Thursday night's game against the
Chicago Bears
in Sun Life Stadium.
Expect several roster moves in the coming hours for a team that lost its top two quarterbacks, star left tackle and maybe its sacks leader.
General manager Jeff Ireland will be combing the streets for free agents. It's hard enough to find somebody to contribute on the fly, but to get them up to snuff on a playbook within 72 hours is practically impossible.
JaMarcus Russell
,
Patrick Ramsey
and
Chris Simms
all have been reported as quarterbacks of interest for Miami. The United Football League season ends in a couple weeks. That would make former NFL starters such as
Daunte Culpepper
,
Jeff Garcia
,
Brooks Bollinger
,
Tim Rattay
and
Josh McCown
available. Former starter
Cleo Lemon
is almost done with his Canadian Football League season.
Starting quarterback
Chad Pennington
suffered a shoulder injury. Previous starter
Chad Henne
went down with a knee injury. Pro Bowl left tackle
Jake Long
reportedly dislocated a shoulder. Outside linebacker
Cameron Wake
hurt a hip.
The Dolphins have been scrappy in staying above .500 and in the AFC playoff race. But their 29-17 victory over the
Tennessee Titans
might have been their Waterloo because of the injuries.
The Dolphins won the game but still failed to gain any ground on the
New York Jets
or
New England Patriots
, who won on the road to remain two games ahead of the Dolphins.
Now Miami must scramble to field a team and identify somebody on its roster who won't get
Tyler Thigpen
destroyed.
Vernon Carey
played left tackle in 2007, but hasn't seen time there since Long was drafted first overall in 2008.
Check back for updates on the Dolphins' roster.
October, 29, 2010
10/29/10
4:00
PM ET
»
NFC Final Word
:
East
|
West
|
North
|
South
»
AFC
:
East
|
West
|
North
|
South
Five nuggets of knowledge about Week 8:
Too early to sit down Hall.
Kurt Warner
generously said he saw a little of himself in new
Arizona Cardinals
quarterback
Max Hall
. That was before Hall played in a game. Hall hasn't led a touchdown drive in any of
his 25 possessions
. Warner, meanwhile, tossed 21 touchdown passes with only three interceptions in his first eight NFL starts. Even so, the Cardinals are right to stick with Hall in Week 8 amid
negative reviews
. Once the Cardinals made the decision to give Hall a chance, they needed to give him more than two games. Hall does own a 1-1 starting record. There's a decent chance that record will hit 2-1 after facing Tampa Bay. Plenty of time remains to bench Hall if he doesn't improve. It could happen Sunday if Hall falters.
[+] Enlarge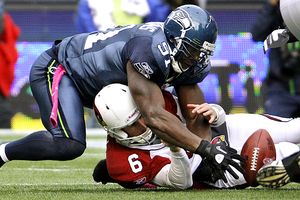 AP Photo/Elaine ThompsonChris Clemons returned to Oakland, where he had his best season as a pass-rusher in 2007.
Oakland homecomings.
The Seahawks' game at Oakland could mean a little more to three of Seattle's most significant players. Running back
Marshawn Lynch
, acquired from Buffalo, grew up in Oakland and sports an "OAKLAND" tattoo across his chest.
Mike Williams
, the Seahawks' leading receiver, started one of the six games he played for the Raiders in 2007. Defensive end
Chris Clemons
set a career season high with eight sacks for the Raiders, also in 2007. Clemons already has 5.5 sacks in six games since the Seahawks acquired him from Philadelphia. That puts Clemons on pace for 14.5 sacks. Oakland has allowed seven in its past two home games (and only four in its past two road games).
Troy Smith, come on down.
Nine quarterbacks have started games for the
San Francisco 49ers
since the team last posted a winning record in 2002. Troy Smith becomes the 10th when the 49ers face the
Denver Broncos
in London. The others, ranked by most starts:
Alex Smith
,
Shaun Hill
,
Tim Rattay
,
Jeff Garcia
,
Ken Dorsey
,
J.T. O'Sullivan
,
Trent Dilfer
,
Chris Weinke
and
Cody Pickett
. Four threw more touchdowns than interceptions during that time: Hill (23-11), Rattay (22-18), Garcia (18-13) and Weinke (1-0). None owns a higher rating in those games than Hill (87.3). Carr is the only 49ers quarterback since 2003 to attempt passes for the team without starting a game, according to
Pro Football Reference
.
Saluting Isaac Bruce.
The Rams are honoring one of their all-time greats, Isaac Bruce, during a ceremony before the game. Unfortunately for rookie quarterback
Sam Bradford
, Bruce might be good enough in retirement to help the Rams against Carolina in Week 8. Bradford badly missed injured receiver
Mark Clayton
when the Rams needed to make a play in the second half against Tampa Bay.
Danario Alexander
provided a short-term spark, but his knee is bothering him and he might not play Sunday.
Danny Amendola
has turned into a solid option from the slot, but Bradford needs more targets. With Bruce in the building and
Steve Smith
returning to the Panthers' lineup last week, top-flight receivers will be everywhere in the Edward Jones Dome except where the Rams need one most: in a St. Louis uniform.
Must-win for the Rams.
Sure, it's only Week 8, but after squandering opportunities in close defeats to beatable opponents (Arizona, Oakland and Tampa Bay), the Rams are just about finished with the easier portion of their schedule. Losing at home to the 1-5 Panthers could send this team plummeting following its bye week. The Rams play four of five games on the road following their Week 9 bye. The lone home game falls against Atlanta, arguably the best team in the NFC.
December, 18, 2009
12/18/09
4:07
PM ET
»
NFC Final Word
:
East
|
West
|
North
|
South
»
AFC
:
East
|
West
|
North
|
South
Five nuggets of knowledge about Week 15: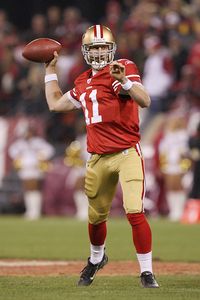 Jed Jacobsohn/Getty ImagesSan Francisco's Alex Smith is hoping to fare better than most quarterbacks have in Philly this season.
Alex Smith in perspective.
The 49ers' quarterback has a much higher rating on the road (93.3) than at home (73.8) this season, but he is facing an Eagles defense that makes life rough on quarterbacks. Quarterbacks have 21 touchdowns, 20 interceptions and a 77.3 rating against the Eagles this season. Those numbers could be helpful when analyzing how Smith performs in this game. It's a bigger deal if Smith plays well and leads the 49ers to victory than if he struggles some and the 49ers lose the game. The progress Smith is making should be measured over the second half of the season -- not one game, even with the 49ers' playoff chances potentially at stake.
Wakeup call in Philadelphia.
Upsetting the Eagles at Lincoln Financial Field would keep alive the 49ers' playoff hopes no matter what division-leading Arizona does against the Lions. Few teams have found themselves in the 49ers' current predicament. San Francisco is only the third West Coast team to visit the Eagles for an early kickoff since the beginning of the 2005 season. The Seahawks won a close game there in 2007. The Chargers lost a close game there in 2005. The 49ers also lost there in 2005, 42-3, but Smith was behind
Tim Rattay
on the 49ers' depth chart back then. Only two current 49ers starters -- center
Eric Heitmann
(then at right guard) and cornerback
Shawntae Spencer
-- were in the lineup for that 2005 game at Philly. While much has changed, including the stakes, the 49ers are 0-4 this season and 2-21 since 2005 in games kicking off at 1 p.m. ET.
Shuffling along the lines.
All four NFC West teams could have new starting combinations on their offensive lines this week. The Seahawks are moving right guard
Max Unger
to center. The Rams will have two new starting guards after releasing
Richie Incognito
and placing
Jacob Bell
on injured reserve. The 49ers could get left tackle
Joe Staley
back from injury. The Cardinals could move
Jeremy Bridges
into the lineup at left tackle while
Mike Gandy
continues to battle an injured pelvis. The changes appear most problematic for the Rams, who are already a mess offensively. They haven't scored more than 23 points in a game this season (the Texans, who visit St. Louis in Week 14, scored 24 points in the first 18 minutes of their game against Seattle last week).
Wells, Hightower in focus.
The Cardinals can probably beat the Lions over ground or through air. This might be a good week for the team to restore confidence in running backs
Beanie Wells
and
Tim Hightower
after both lost critical fumbles last week. Arizona faces a Lions team that allowed 308 yards rushing to the Ravens last week. Wells ranks second in rushing yards to Denver's
Knowshon Moreno
among rookie running backs. He has appeared due for a 100-yard game for some time. Despite the fumble against San Francisco, Wells carried 15 times for 79 yards, an impressive showing against a strong run defense. Wells runs hard and seems to relish contact. If he's going to have a breakout game during the regular season, this would seem like a good time.
Seahawks have been here before.
For the second time this season, Seattle coach Jim Mora has challenged his team following a blowout defeat in Texas. Just like last time, the Seahawks are facing one of the NFL's worst teams the following week. Last time, Mora suggested jobs were on the line following a 38-17 defeat to the Cowboys. The Seahawks failed to respond, falling behind 14-0 at home against the Lions before finally rallying to win the game. This time, Mora shook up his offensive line following a 34-7 defeat to the Texans. The Seahawks face the 1-12 Bucs at home this week. Tampa Bay has failed to exceed seven points in three of its past four games. For the Seahawks, falling behind 14-0 cannot be an option. Can it?
February, 11, 2009
2/11/09
11:11
AM ET
Posted by ESPN.com's Kevin Seifert
Call me a cynic. I apologize in advance. But am I the only one who has trouble believing Wednesday morning that Brett Favre has absolutely, positively and without question retired from the NFL?
| | |
| --- | --- |
| | |
| | Jonathan Daniel/Getty Images |
| | Is Brett Favre done for good? We thought so last March. |
It seems to me that anyone who watched Favre's flip-flop in Green Bay last year has to be wary of his stated intention to leave the game for good. And I felt that way before reading the entire story produced by ESPN's Ed Werder and Chris Mortensen. The report contained this passage:
While Favre did not directly broach the subject of the team simply releasing him so that he might have the option of signing with another team such as the Minnesota Vikings, a source said that [agent Bus] Cook informally discussed the option with the Jets. The Jets respectfully declined that option, the source said.
There is only one reason to have even an informal discussion about a release: To ensure the option, however unlikely, that Favre can choose his next team should he change his mind. If Favre was 100 percent committed to retirement, such a safety net would be irrelevant. But even Favre -- or at least Cook -- knows there is no way to predict whether his winter defiance will melt into a summer desire.
If Favre tried to build a contingency plan into this departure, then there's no way I can rule out a repeat of last summer's return.
There are other reasons to question whether Favre will stick to his plan this time. If you recall, he has often stated he wasn't totally ready last year to make a decision about his career in Green Bay. The Packers asked him for an answer prior to the start of free agency, and he told them what he felt at the time: That he was ready to retire.
But, Favre pointed out, many veteran players don't want to think about the prospect of next year so early in the offseason. It wasn't until the late spring and early summer when he started experiencing the "itch" felt around the NFL.
| | |
| --- | --- |
| | |
| | NFL.com Video |
| | NFL Total Access counts down the top 10 performances in Brett Favre's legendary career. |
A similar scenario played out this winter with the New York Jets. Team officials were hoping to get an indication prior to the annual scouting combine, which starts Feb. 18. So Favre told them how he feels at this moment. Who is to say he won't get the same itch again this summer?
And, even if he doesn't, you can't rule out a team that is dissatisfied with its quarterback situation -- or loses its starter to injury -- approaching the Jets about a trade. The poison pill that effectively prevents the Jets from trading him to an NFC North team remains in place, but that doesn't mean a fast-talking general manager or coach from another division couldn't convince Favre to give it another go.
Favre threw an NFL-high 22 interceptions in 2008. But if you're in mid-August and your other option is, say, Tim Rattay, don't you at least look into Favre's availability? And if you're the Vikings, how fast would you jump if the Jets reversed course and decided to release him?
I think it's more likely that Favre will remain retired than it is that he will seek a return. But that's as far as I'm willing to go.
Maybe I'm jaded. Perhaps I spent too much time last summer in Green Bay. But if I learned anything during that episode, it's never to underestimate Favre's willpower -- or his indecisiveness. They are competing attributes that combine to make him one of the least predictable professional athletes of modern times.
October, 28, 2008
10/28/08
10:48
AM ET
Posted by ESPN.com's Kevin Seifert

Culpepper
You can say this much about the Detroit Lions' quarterback position: It's up for grabs. So in that vein, it's not surprising to learn that free agent Daunte Culpepper emerged from two months in retirement to visit the team's practice facility Tuesday.
Tom Kowalski of Mlive.com has the story.
Culpepper, who last played with Oakland in 2007, has been unwilling to join a team that doesn't offer the prospects of a long-term starting job. And while the Lions might not be promising him much, the state of their depth chart -- Dan Orlovsky, Drew Stanton and Drew Henson -- at least gives Culpepper a chance to win the job.
Culpepper announced his retirement last month but said last week he would consider offers from NFL teams. He initially planned to visit Kansas City on Tuesday but apparently changed his mind after learning of the Lions' interest.
The Lions' immediate interest is not known. They worked out free-agent quarterback Tim Rattay last week but did not sign him.
Posted by ESPN.com's Bill Williamson

Denver

Kansas City

Oakland

San Diego

September, 8, 2008
9/08/08
3:12
PM ET
Posted by Scout's Inc.'s Keith Kidd
When an injury occurs in the NFL, the wheels start spinning immediately -- diagnoses are made, lists are checked and phone calls are placed either during the game or immediately after. And when your quarterback goes down for the rest of the season, like Tom Brady did on Sunday, there is an even bigger sense of urgency.
Once Brady was diagnosed by the team's doctors and the staff understood the extent of his injury, the process began. If a player is deemed to be out for an extended period, the team starts looking for someone to fill the 53-man roster. The first place they look is to their own practice squad, and in this case the Patriots will find QB Matt Gutierrez. However, the Patriots will probably not add him because they already have enough inexperienced quarterbacks on their roster.
The next place a team will look to fill their roster is its emergency list. Every team has an emergency list of five to seven players per position who could fill a roster spot vacated by injury, players that team scouts have determined are the best available without jobs in the NFL. This list provides each player's position, test score, height, weight, speed, age, agent's name and phone number, player's phone number, minimum salary for that player and a small comment area. These lists are finalized every Friday throughout the regular season in case an injury occurs during that week's game.
The Patriots probably placed calls during the game to players' agents to find out their status and willingness to sign, and the ideal situation is to bring in players on Monday or Tuesday for a workout and physical. If all that checks out, then the team will sign that player. Right now, New England is looking for the quarterback who can contribute the quickest, and once they identify that player offensive coordinator/quarterbacks coach Josh McDaniels begins a process to determine what the newly-signed quarterback is comfortable with and help the player understand the team's terminology. Regardless, whichever veteran quarterback the Patriots decide to sign, he will be a help for the inexperienced quarterbacks on the roster, including QB Matt Cassel.
We know some of the players the Patriots are looking at, and here's a look how the top six on their emergency list might look:
1. Chris Simms -- He has had success as a starter in the NFL. Simms has good arm strength and good presence in the pocket. He was derailed in Tampa Bay by an unfortunate spleen injury, but he could help the Patriots win if needed. However, he will take time to learn their system and has not been a cold-weather quarterback at any point in his career.
2. Tim Rattay -- He is a journeyman quarterback who could finish a game if necessary. He can process quickly, get rid of the ball fast and it shouldn't be hard for him to learn the system. He is at his best in a controlled, short-to-intermediate passing attack.
3. Vinny Testaverde -- The 45-year-old quarterback is very familiar with the Patriots' system and was signed late last year after Cassel's poor play in the regular season. His age might be a limiting factor, though.
4. Daunte Culpepper -- Even though he is retired, he could probably be convinced to apply for reinstatement. Culpepper has been in three different systems -- Minnesota, Oakland and Miami -- and he has been productive as a starter. Plus, he already has a very good relationship with WR Randy Moss from their time in Minnesota.
5.
Craig Nall
-- He is a journeyman backup quarterback who doesn't have much starting experience. But he is also familiar with the AFC East.
New England head coach Bill Belichick is a tremendous evaluator of talent and knows how to assess a player's strengths and weaknesses. He has surely studied all of the players above in preparation for games against their former teams. You can be sure that there will be a good reason for the Patriots passing on any player on their emergency list.
Scouts Inc. watches games, breaks down film and studies football from all angles for ESPN.com.
August, 6, 2008
8/06/08
4:21
PM ET
Posted by ESPN.com's Pat Yasinskas
| | |
| --- | --- |
| | |
| | Doug Benc/Getty Images |
| | Jon Gruden said "anything is possible" when asked if his offense could be picked up quickly. |
LAKE BUENA VISTA, Fla. -- Jon Gruden gave a very interesting response when asked how quickly someone could pick up his offense.
"In my experience in the league, I haven't had the good fortune to have -- other than [Rich] Gannon -- a guy play a very long period of time," Gruden said. "The guy played three consecutive years for me. Brad Johnson went two consecutive years for me. We got Tim Rattay ready to play and he won a game for us in Cleveland. We brought him in during the midseason. Anything is possible if you put your heart in it and if you put your soul into it and you can believe it can happen."
Gruden then went on to compare Brett Favre's situation to receiver Jerry Rice landing in Oakland.
"This is an unprecedented situation, at least in my opinion," Gruden said. "I was in Oakland when we got Jerry Rice. That was similar to this from the standpoint that he was probably the best receiver to ever play. He switched zip codes, but he didn't change houses. He changed colors. I used to spend more time talking about how Jerry feels in a silver hat.
Gruden's offense has been hailed as one of the league's most complicated. But it doesn't sound like that would scare Gruden away from Favre.

"Everybody says our offense is like Greek -- it's hard to figure out and hard to write," Gruden said. "Well, Bruce Gradkowski started as a rookie, OK? [Jeff] Garcia went in and went to the Pro Bowl in his first year. Brad Johnson went to a Pro Bowl and won a world title as a first-year quarterback. Cadillac [Williams] was the Rookie of the Year. Michael Clayton did good as a rookie. Arron Sears started as a rookie. I get tired [of hearing] how hard it is. It's demanding now, especially in training camp because we're trying to get our defense ready for a lot of things, too. We're not just running our offense. We're running the Cleveland Browns offense. We're running the Minnesota Vikings running attack so we get some familiarity with their schemes. Anything is possible, in my opinion, if you have a group of guys that are committed to getting it done."

NFL SCOREBOARD
Thursday, 9/18
Sunday, 9/21
Monday, 9/22
WEEKLY LEADERS