September, 21, 2013
9/21/13
1:00
PM ET
EARTH CITY, Mo. –
Sunday's game between the St. Louis Rams and Dallas Cowboys has plenty of intriguing matchups, making it difficult to boil it down to just a few. Here are three to keep an eye on when the teams kick it off at 1 p.m. ET at AT&T Stadium.
Rams CB Janoris Jenkins vs. Cowboys WR Dez Bryant
Another week, another elite receiver for Jenkins and the Rams secondary to deal with. Last week it was Atlanta's
Julio Jones
doing the damage, beating Jenkins for an 81-yard touchdown -- though Jenkins should've had some help from safety
Rodney McLeod
on the play.
Bryant battled a back ailment all week, but is listed as probable and coming off a big outing last week in Kansas City. The Rams have been torched in the passing game the first two weeks -- and Bryant might be the most dynamic of all the wideouts they've faced yet.
Jenkins has been better than the rest of the Rams' corners so far, but this might also be his biggest challenge. Rams defensive coordinator Tim Walton took responsibility this week for the big days top wideouts like Jones and Arizona's
Larry Fitzgerald
have had against his secondary.
[+] Enlarge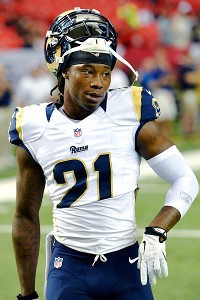 AP Photo/G. Newman LowranceThe tests get tougher for Rams cornerback Janoris Jenkins: This week it's Dez Bryant.
Look for Jenkins to get his chances to go up against Bryant -- but for Walton to find ways to provide more help for his young corner.
"You've got to make sure you take care of him," Walton said of Bryant. "You've got to double him. It's the same thing, he's one of the best receivers in the league -- physical and they're going to get him the ball. We have to try to do a better job of taking away guys' No. 1 threat and he is their No. 1 guy."
Rams DE Robert Quinn vs. Cowboys LT Tyron Smith
Quinn has been, perhaps, the league's most dominant pass-rusher in the first two weeks and has also made major strides as a run defender.
"He has really taken a big step forward, but he does it every day at practice," Walton said. "(Defensive line) coach (Mike) Waufle has done a great job with him -- technique, leverage, alignments. And he's done that through (organized team activities), training camp and you can see now in the first couple games of the year, he's off to a great start with that. He plays with a great motor."
Along the way, Quinn has done his work against Arizona's
Levi Brown
and Atlanta's
Sam Baker
but he has yet to see a tackle the caliber of Dallas' Smith.
Smith didn't allow a sack in games against Kansas City or the
New York Giants
, and has proved himself to be one the league's top up and coming tackles.
In many ways, Sunday's matchup will be between two of the league's best young players at their respective positions.
Rams OL vs. Cowboys DE DeMarcus Ware
Technically, this matchup should read "Rams left tackle
Jake Long
vs. Cowboys DE DeMarcus Ware," but the reality is that the Cowboys have showed no inclination to put Ware in one spot and let him operate from there.
Long has been excellent in the first two weeks, particularly in Atlanta in Week 2, but in Ware he'll find his most difficult challenge yet and one of the most difficult challenges in the league.
Ware spent his first eight seasons as a rush linebacker in a 3-4 but has showed no signs of slowing with his hand in the ground as a 4-3 end with a pair of sacks through two games.
With
Rodger Saffold
out because of a knee injury, the Rams will likely start
Joe Barksdale
at right tackle, so don't be surprised if the Cowboys look to test the younger Barksdale by having Ware switch sides on occasion.
"I think they're going to move him around all the time, just try to get different matchups at different times," Rams offensive coordinator Brian Schottenheimer said. "Again, a player like that, they'd be crazy not to move him around."
September, 7, 2013
9/07/13
6:00
PM ET
EARTH CITY, Mo. –
Three things to watch in Sunday's regular season opener between the St. Louis Rams and Arizona Cardinals. The game kicks off at 4:25 p.m. ET at the Edward Jones Dome.


1. Getting vertical
A big part of Sunday's matchup is trying to know the unknown. Arizona has a new coaching staff and along with it new schemes on both sides of the ball. It's the offense that figures to change the most under the guidance of new coach Bruce Arians.
Arians has long been known for his preference to attack down the field with a vertical passing game. That philosophy brought the offseason acquisition of quarterback
Carson Palmer
.
As interim coach and offensive coordinator in Indianapolis in 2012, Arians was no different. The Colts tied for sixth in the league with 35 completions of 25-plus yards and ranked first in the league with an average depth of completion of 7.8 yards. Furthermore, the Colts tied for first with 59 pass attempts of 21-30 yards.
It's safe to assume Arizona will want to attack in similar fashion, with Palmer targeting the likes of
Larry Fitzgerald
,
Andre Roberts
and
Michael Floyd
. For that to work, the Cardinals will look to establish the running game with a variety of zone runs and then look to beat the Rams with play-action passes.
The onus then falls on two first-time starters at safety --
T.J. McDonald
and
Rodney McLeod
-- to ensure that Palmer and Arians aren't able to go deep for big plays.
"They do a good job of blending in misdirection runs, shifts, motion, different personnel groups, and off of that, throwing the ball down the field," Rams defensive coordinator Tim Walton said. "That's been his staple. That's what he's about. They get you so they can try to take the top off the defense, and if you get soft to cover that, that's when the run game can get you. So we have to be well-balanced."
2. A new look
Arizona isn't the only team ready to debut a new-look offense Sunday. The Rams have worked hard to keep their new toys under wraps through training camp and the preseason, and Sunday will provide the first chance to see quarterback
Sam Bradford
with tight end
Jared Cook
, receiver
Tavon Austin
and others in what is expected to be a more spread-out, up-tempo offense.
Rams offensive coordinator Brian Schottenheimer has said his group plans to pick its spots in turning up the pace, and acknowledged that there will be some new things mixed in with what they've already done.
"At the end of the day it comes down to, we have a plan," Schottenheimer said. "They have rules to adjust to our plays, and they have [a] defense that they're going to show that we have seen in our rules. It certainly will have more to it [than] you saw in the preseason, but there'll certainly be some similarities, as well."
3. Under control
For the second consecutive year, the Rams have the league's youngest squad. Of the 53 players on the active roster, 28 are entering their first or second season.
Rams coach Jeff Fisher & Co. have made it clear they don't intend to use that as an excuse for any mistakes they make, but they've also acknowledged the reality that a younger team is going to be prone to some miscues. The Rams were hit with 43 penalties for 294 yards in the preseason, but many of those infractions came courtesy of players no longer on the roster or further down the depth chart.
Still, the Rams did lead the league in penalties in 2012. If nerves were ever going to be raging for a young team, opening day would seem to provide a platform. Avoiding penalties, blown coverages and other mental mistakes, and maintaining composure, will be imperative for a young Rams team.
"
We'll keep them rested and hydrated, but, yeah, they just need to keep their heart rate down and just relax," Fisher said. "That's the key for the young guys – just relax and go play hard."
August, 11, 2013
8/11/13
12:00
PM ET
EARTH CITY, Mo. -- While crowds at Rams Park are up about 70 percent from last year's training camp, the longtime attendees who have muddled through the summer heat in recent years must feel like they're watching practice with the fast forward button permanently pushed.

That's because, if nothing else, the 2013 edition of the
St. Louis Rams
is noticeably faster after an offseason in which big money and valuable draft picks were spent to upgrade an offense that's been sorely lacking in the speed department.
"There's no doubt that this offense has a totally different feel than the one last year," quarterback
Sam Bradford
said. "I think if you look at some of the pieces that we've added, we're faster. We're faster at almost all the positions on the field now. I think that puts a lot of stress on the defense. If they hesitate for a second, we're by them. We're going to have to figure out how to best utilize that speed and the things that we can do with that."
Therein lies the challenge for Bradford and, more specifically, offensive coordinator Brian Schottenheimer.
Like Bradford, Schottenheimer says this season's offense has more speed than any group he's ever been around. In addition to returning starting receiver
Chris Givens
, the Rams added one of the fastest tight ends in the league in
Jared Cook
via free agency and the most dynamic multipurpose weapon in the draft in
Tavon Austin
.
They also have a speedy stable of running backs, headlined by
Daryl Richardson
and
Isaiah Pead
.
How that all manifests itself when the regular season arrives remains to be seen, but all signs in this camp point to a far different offensive personality than the grind-it-out Rams of the
Steven Jackson
era.
Bradford is quick to point out that the Rams are using a lot more "11" (one running back, one tight end, three receivers) and "12" (one running back, two tight ends, two receivers) personnel. The alignment options they have within those personnel groupings vary nearly every play during camp.
Those personnel groupings will likely turn into a more up-tempo offense meant to play off the additional speed the team has added.
"I think that gives us the flexibility to move people around and play them in different spots," Bradford said. "Last year, I think, there were times where we were pretty predictable as far as who was going to be where and what we were going to do. I think just changing the looks, changing the formations slightly, moving guys around … I think that confuses the defense a little bit."
Entering his second season in Schottenheimer's offense, Bradford's understanding of the scheme is advanced beyond any of the offenses he's worked in previously. This is the first time he's been in the same offense for more than one season.
That wouldn't mean much if coach Jeff Fisher, general manager Les Snead and Schottenheimer hadn't taken steps necessary to surround him with talent.
In fan and media circles, the phrase "make or break" has been thrown around quite a bit as it pertains to Bradford, but Fisher insists those conversations aren't taking place within the walls of Rams Park.
"He's improving, which is good," Fisher said. "But I've said this all the time, the better the people that are surrounding him are, the better chance he has of taking another step. I think we've done everything we can to this point doing that with Cook, and the young receivers from last year,
Austin [Pettis]
is improving, so it's a good group around him. Now we've got to protect him, which I feel like we can. It's early, but our offensive line is certainly a lot different than it was to start last year."
THREE HOT ISSUES
1.Who steps up at the skill positions?
[+] Enlarge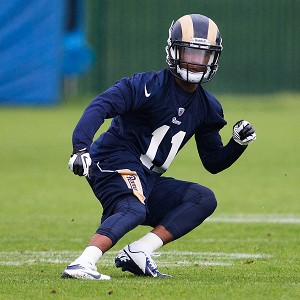 David Welker/Getty ImagesOne of the biggest questions facing St. Louis is whether fast players like Tavon Austin can turn talent into production.
All of the speed the Rams added to the offense won't mean much if the young Rams receivers and running backs don't turn raw potential into production.
Pettis is the longest-tenured receiver or running back on the roster, and he's entering just his third season in the league. Cook, who is in his fifth season, is the most experienced pass-catcher of the group but technically qualifies as a tight end. He's clearly formed an early bond with Bradford in camp.
Givens looks to be the one receiver whose spot on the depth chart is etched in stone as he heads into his second season. Second-year wideout
Brian Quick
has been mostly inconsistent in camp, but his size makes him an appealing possibility as a potential foil opposite the speedy Givens. For now, it's Pettis holding firm in that spot.
Rookie
Stedman Bailey
could also force his way into the picture as he's made a solid first impression during camp.
At running back, Richardson looks to be the leader in the clubhouse as he and Pead enter their second NFL seasons. Rookies
Zac Stacy
and
Benny Cunningham
, as well as second-year back
Terrance Ganaway
, are also trying to work their way into the mix.
In a perfect world, all of those players will be ready to contribute right away and Schottenheimer can find ways for everybody to be a factor.
"I think, honestly, if we just design good plans and the guys work hard and know what they're doing, the ball's going to get spread around -- that's the key," Schottenheimer said. "Sam's got to read his progressions. The ball is going to go to the open guy. You get in trouble when you're limited and you try to force a ball to a guy or two, but when you have multiple weapons, the ball gets spread around pretty good."
The Rams have made it clear they have no issue with relying on young players, but it could be asking a lot of such an inexperienced group to take big steps forward for the offense to take shape right away.
2. The Walton Effect
Although he's just entering his first season as an NFL defensive coordinator, Tim Walton is certain to be an upgrade over the person who filled the position in 2012: nobody.
Walton comes to the Rams from Detroit, where he coached defensive backs in a similar system under head coach Jim Schwartz.
The Rams played the entire 2012 season without a defensive coordinator after the NFL suspended Gregg Williams for his role in the Saints bounty scandal. Williams' son Blake, who was working as the linebackers coach, handled most of the defensive play-calling duties but was not asked to return after he didn't mesh well with the rest of a veteran defensive coaching staff.
The defense won't take on any major modifications under Walton as the system remains the collaboration of Fisher, assistant head coach Dave McGinnis and others. Those collaborative efforts will remain in place when it comes to game planning, but Walton will call the plays on game day.
Walton's history working with defensive backs has also come in handy with a young group aside from cornerback
Cortland Finnegan
. Throughout camp, Walton has been regularly seen working with the secondary during individual periods.
While opinions about whether having a defensive coordinator will make a big difference are mixed, Finnegan believes it can only help a unit that improved to the middle of the pack in 2012 make another move up in the upcoming season.
"I think that's huge for us," Finnegan said. "You talk about not having that voice last year, and we still did well. I think, this year, having him being able to say yea or nay to stuff and really working on fundamentals, I think that's something someone like myself and the guys can really benefit from him."
3. Can the offensive line stay healthy?
The only position group on the Rams offense that boasts plenty of meaningful NFL experience is the offensive line. That's a great place to have it, so long as that group can stay intact.
While the left-guard job still needs to be sorted out between
Chris Williams
and
Shelley Smith
, the other four on the line -- left tackle
Jake Long
, center
Scott Wells
, right guard
Harvey Dahl
and right tackle
Rodger Saffold
-- have combined for 289 regular-season starts. If Williams wins the job, that number jumps to 327.
Expecting any group of offensive linemen to remain healthy for an entire season is probably an exercise in folly, but it might be even more wishful given the age, injury history, or both, of each of the four already entrenched on the line.
Long, brought in to protect Bradford's blind side, was the team's biggest offseason addition and has been sharp in camp. But he's 28 and coming off a season during which he missed four games because of a triceps injury on the heels of a back injury that cost him a pair of games in 2011.
Wells is 32 and never had an injury history of note before a foot issue cost him nine games in 2012. That came after offseason knee surgery that cost him part of last season's training camp.
Like Wells, Dahl has never had many injury issues, but, also like Wells, he's 32 and coming off a triceps injury that kept him out of the team's final two games of 2012.
While Saffold is the youngest of the group at 25, he actually has the most problems staying on the field. He missed six games in 2012 after hurting his knee and seven in 2011 because of concussion, ankle and pectoral injuries. He suffered a dislocated left shoulder injury Thursday against Cleveland and is expected to miss a preseason game or two because of it.
Injury issues for Saffold could complicate things further given that he's moving to right tackle after spending his first three seasons on the left side.
None of those concerns would matter much if the Rams had a roster stocked with experienced depth on the line, but as experienced as the starters are, the backups are pretty green.
Smith started six games last season, and swing tackle
Joe Barksdale
got his first two starts under his belt in 2012, but that's it in terms of game experience among the backups.
Fisher has taken steps in camp to protect his linemen, regularly offering them repetitions off throughout practice. That leaves the members of the line hoping for the type of good luck that doesn't come easily to many teams.
"I hope so," Long said. "The last couple years for me, I have had the injury bug. And I know Scott has had some injuries and Rodger and Harvey. Hopefully, we can all stay healthy and strong. We are all feeling good right now, so, hopefully, we can continue that and just keep getting better."
REASON FOR OPTIMISM
[+] Enlarge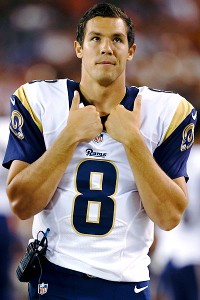 Rick Osentoski/USA TODAY SportsThe Rams have surrounded fourth-year quarterback Sam Bradford with more weapons than ever before.
The Rams defense moved into the top half of the league in 2012, buoyed by a dominant defensive line, which returns all of its key players from a season ago. That group helped the Rams tie Denver for most sacks in the league (52), and the front seven was further fortified with the addition of linebacker
Alec Ogletree
. The offense boasts more raw speed and athleticism than any group the Rams have put together in nearly a decade. Bradford finally has some stability with the scheme as he and Schottenheimer embark on Year 2 together.
REASON FOR PESSIMISM
While talented, the Rams are almost entirely unproven at the offensive skill positions. Bradford is the elder statesman of the group, and he's entering just his fourth season in the league. Compounding matters is an offensive line that takes on the complete opposite look from the skill positions with a group of mostly older players who have dealt with various injury issues in recent seasons. The defense will return eight starters but has some questions on the back end at safety. Taking the next step to compete in a treacherous NFC West against a difficult schedule will require big progress for young players at running back and receiver and a fair amount of luck in terms of health on the offensive line.
OBSERVATION DECK
While Austin and Cook are garnering a lot of the attention, Givens has been perhaps the most consistent pass-catching option the Rams have in camp. Matched up against cornerback Janoris Jenkins more often than not, Givens has continued to make tough, contested catches and is running crisper routes than he did as a rookie, particularly in the intermediate areas.

Rookie safety T.J. McDonald has been better than expected in coverage. He struggled in that regard for most of his senior season and again at the Senior Bowl, but aside from some problems covering Cook and a couple of mixups in the preseason opener, he's been solid on the back end.

Defensive tackle Michael Brockers remains the most physically intimidating presence on the roster and actually added about five to seven pounds in the offseason while packing on muscle to get to 326 pounds. If there's one player here who seems poised for a true breakout, it's Brockers.

In February, Fisher all but anointed second-year quarterback Austin Davis as Bradford's backup. Not long after, the Rams re-signed Kellen Clemens, and neither has done much in camp to separate from the other.

After parting ways with blocking tight end Matthew Mulligan as a salary-cap savings move in the offseason, the Rams already had some in-house options. Cory Harkey is the presumptive favorite in the role, but don't sleep on veteran Zach Potter. He brings more experience and could be in the mix to compete with, or be kept in addition to, Harkey.

It's highly unlikely the Rams will have as many undrafted free agents make the opening-day roster as they did a season ago, when they started with seven, but it seems as though there is room for one or two to make it, specifically at linebacker. Ray-Ray Armstrong has been consistent throughout camp, and if he can perform on special teams in the preseason, he could make it.

The Rams have three running backs jockeying for position in Pead, Richardson and Stacy, but if they opt to keep a fourth, there's a good battle brewing between Ganaway and Cunningham for the spot. Fisher personally called Cunningham after the draft to sway him to sign, and he's flashed the type of speed that could give him a leg up.
March, 12, 2013
3/12/13
9:40
PM ET
What day is it? Only Tuesday? We've had a wild week already here in the NFC North. On normal days, I might have made separate blog posts of each of the following bits of information. On the first night of free agency, they become Quick Hits. I'll add as needed to this post for the rest of the evening, barring major news.
Item:
Chicago Bears
linebacker
Brian Urlacher
is a free agent.
Comment:
Lost in the afternoon frenzy was that Urlacher had never reached free agency in his career. The Bears have interest in his return, but clearly the sides hadn't been able to find common financial ground. Perhaps Urlacher will test his value on the market before taking his next step.
Item:
The
Minnesota Vikings
re-signed All-Pro fullback
Jerome Felton
to a three-year contract.
Comment:
This deal needed to get done. Tailback
Adrian Peterson
averaged about twice as many yards per carry when Felton was on the field as when he wasn't.
Item:
The Vikings re-signed linebacker
Erin Henderson
to a two-year contract.
Comment:
If the Vikings chose Henderson over middle linebacker
Jasper Brinkley
, also a free agent, they picked well. Henderson is more of a playmaker and could play in the middle if needed.
Item:
The
Seattle Seahawks
gave receiver
Percy Harvin
a six-year, $67 million contract with about $25 million guaranteed.
Comment:
If Harvin asked the Vikings for "
Calvin Johnson
money," then it was just to accelerate his departure. He didn't even get
Mike Wallace
or
Dwayne Bowe
money.
Item:
The
Indianapolis Colts
made one of the more stunning deals of the day, signing former
Green Bay Packers
linebacker
Erik Walden
to a four-year deal worth $16 million, via
Bob McGinn of the Milwaukee Journal Sentinel
.
Comment:
Walden won back his starting job last season only by default after
Nick Perry
's injury, and his poor performance against the
San Francisco 49ers
' read-option scheme in the playoffs will go down in Packers lore. There were few indications the Packers wanted Walden back. Clearly the Colts saw value that perhaps some others did not. I guess.
Item:
The Colts also gave former Lions right tackle
Gosder Cherilus
a five-year contract worth $34 million.
Comment:
It has been clear for a while that the Lions planned to move on at the position.
Corey Hilliard
and
Jason Fox
are the top two candidates for the 2013 right-tackle job.
Item:
The
St. Louis Rams
appear to be targeting Lions safety
Louis Delmas
.
Comment:
The Rams' defensive coordinator, Tim Walton, is the Lions' former defensive-backs coach. The Lions appear ready to move on from Delmas and are hosting free agent
Glover Quin
.
Item:
Defensive lineman
Chris Canty
, who had visited the Green Bay Packers, signed with the
Baltimore Ravens
.
Comment:
The Packers
reportedly had concerns about Canty's knee
. Regardless, defensive line remains an offseason priority.
March, 11, 2013
3/11/13
12:17
AM ET
The
St. Louis Rams
valued the hits
Quintin Mikell
put on opponents, but not enough to offset the hit his contract was going to make against their salary cap in 2013.
That explains why the Rams released Mikell in a move
ESPN's Adam Schefter reported
Sunday night.
Mikell was set to earn $6 million in salary. Releasing him means the Rams will not have to pay that money or count the salary against their cap. However, the team still must absorb $3 million in annual bonus-related cap charges for 2013 and 2014 that they previous paid him.
Had Mikell remained on the roster, St. Louis would have taken a $9 million cap hit this season. That figure reflects the $6 million salary and the $3 million bonus charge scheduled to hit in 2013. Releasing Mikell forces the Rams to account for all $6 million in bonus money this year even as the salary vanishes from the books.
The net savings against the cap is $3 million for 2013. The net savings for 2013 could grow to $6 million after June 1 if the Rams elected to use their lone annual post-June 1 designation for Mikell. In that case, the team would absorb one $3 million bonus charge this year and another in 2014.
Mikell joins a crowded safety market featuring
San Francisco 49ers
projected free agent Dashon Goldson and former longtime
Arizona Cardinals
safety Adrian Wilson. Ed Reed, Charles Woodson and LaRon Landry are also on the market or scheduled to become free agents.
The chart lists Pro Bowls for some of the notable safeties on the market or expected to hit the market. Woodson converted from cornerback. Houston's
Glover Quin
is another notable safety on the market.
The Rams have options, in other words. Another projected free-agent safety,
Louis Delmas
, was with new Rams defensive coordinator Tim Walton at Detroit.
February, 11, 2009
2/11/09
7:58
AM ET
Posted by ESPN.com's Kevin Seifert
Minnesota owner Zygi Wilf is ramping up efforts to sell his stadium plan as a way to spur job growth and stimulate the local economy, according to reports in the Star Tribune and St. Paul Pioneer Press.
Wilf hosted a meeting of the Minnesota Building and Construction Trades Council on Tuesday, hoping to gain its leaders' support in spreading the message. Dick Anfang, the council's president, estimates the project could net $500 million for local contractors and at various times provide jobs to as many as 5,500 people during the four-year construction period.
There are many questions left to be answered about those figures, including whether any of the jobs would be permanent and if the stimulus would compensate for the taxpayer contribution -- expected to be $700 million or more -- the project would require.
Every indication from Minnesota state leaders has suggested the Vikings won't get serious consideration during this year's session of the state legislature. But it's clear Wilf will not go quietly. His stadium point man is already elevating the rhetoric, noting the Vikings have 30 games left on their Metrodome lease (which expires after the 2011 season).
Continuing around the NFC North:

NFL SCOREBOARD
Sunday, 2/2
WEEKLY LEADERS