NFL Nation:

Titans-Seahawks 010310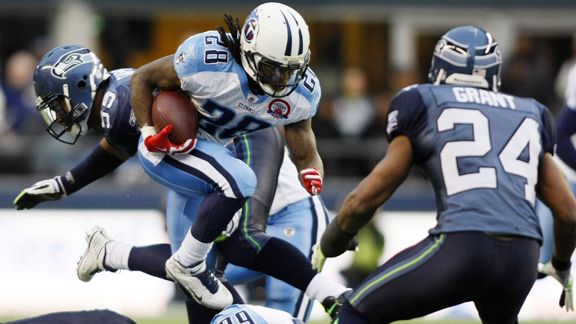 AP Photo/John FroschauerChris Johnson becomes the sixth player in NFL history to go over 2,000 yards rushing.
SEATTLE -- The packaging wasn't what he wanted.
How great would it have been to go over 2,000 rushing yards on the season with a 62-yard touchdown sprint?
It got called back on a debatable holding call and
Chris Johnson
had to join an exclusive club weaving together smaller runs, with nothing longer than 12 yards, during a
17-13
win over the Seahawks.
The hosts managed to prevent the big play, keeping Johnson away from Eric Dickerson's all-time record, but allowed him to become the sixth running back to reach the magical number.
It took 36 carries, seven more than he's ever had before, for him to get to 134 rushing yards and a season total of 2,006. That is the fifth-best ever, ahead of O.J. Simpson's 2,003 in 1973.
He was already talking about targeting Dickerson's 1984 record 2,105 yards next year, a season
Vince Young
said won't end until the Super Bowl.
"I didn't get the record (this) year, so that's what's next for me," Johnson said. "That would be my goal coming into next year. That would be something I can work hard for."
Based in the Bible Belt, Johnson has spent his second season converting a lot of football people. He's got swagger. He's got a sense of humor. And, having talked about 2,000 yards back in training camp, he's got the right to predict the outlandish without drawing raised eyebrows and scoffs.
Johnson thinks he can beat Usain Bolt over 40 yards, because Bolt's best work in the 100 comes after that. Go ahead and laugh. That's what everyone did when he talked 2,000 back in July or August.
(A bit of context: Johnson finished second in a Florida state high school final to Walter Dix in the 100-meter dash, and Dix finished third behind Bolt in the Beijing Olympics. And again, we're talking 40 not 100.)
"He set a goal and people kind of laughed it off," Titans tight end
Alge Crumpler
said. "And every week as we got closer and closer people realized it was attainable. I'm proud of him."
Johnson just ran for 2,000 yards for an 8-8 team, a team that started 0-6 and trailed by enough often enough that running plays on offensive coordinator Mike Heimerdinger's play sheet should have been crumpled up and tossed in a sideline garbage can.
The club he joined, for reference: Dickerson,
Jamal Lewis
,
Barry Sanders
,
Terrell Davis
and Simpson.
Now, with your permission, I will meander a bit rather than take the straight line Johnson prefers.
Called back
Just before he got to 2,000, Johnson had one of his signature breakaway runs -- darting through the line, he left the people chasing him looking like they were in slow motion as he went those 62 yards.
But fullback
Ahmard Hall
was called for a hold of linebacker
David Hawthorne
.
Referee Ed Hochuli said he had no question about throwing the flag.
"The ruling was that he hooked him with both arms at the point of attack, and pulled away from where the ball carried ran right by him," Hochuli told a pool reporter.
But Hawthorne said while he was happy for the flag, he didn't know it involved him until a couple reporters surrounded him when the locker room opened.
"You just told me," he said.
Hall was surprised by the call and said it's a block he makes all the time.
Tennessee's veteran center
Kevin Mawae
talked with Hochuli about it and the ref said he wouldn't have called it unless it was legit.
"My opinion now, not talking bad about the referee because I don't want to get fined, but unless it's just so blatant and a takedown, you've got to just let the guy go," Mawae said. "We're on the cusp of breaking an all-time record and to have it take away like that is just disappointing."
It's hard to know what unfolds from there if the 62-yard run stood. Take away the six yards Johnson was credited with on that play, the eight additional yards he gained on that drive and figure he would have had at least 48 more than he finished with. That gets him within 51 yards of Dickerson and puts him third all-time.
And if Dickerson was in range at the end, Mawae said Jeff Fisher would have allowed for more carries at the end of the game instead of instructing Vince Young to kneel down twice to run out the clock.
A young face of the league
By all accounts including mine, Johnson's a good guy. If you're scared off by gold teeth or dreads or less than perfect grammar, you're missing out on friendly and funny.
Peyton Manning's not vacating any major endorsement slots anytime soon, but should Johnson be near the front of the line of the next wave of marketable NFL stars?
"I feel I should," he said from behind a podium under Qwest Field, a sparkling cross hanging over a sharp purple, silver and white tie loose at the collar under a gray vest. "I don't know if any back has done it in two years. That's what any guy wants to plays any sport. They want to be the next Michael Jordan, Kobe Bryant or whoever you want to name. They want to be that guy."
His name doesn't sing. But Crumpler said he doesn't see an Average Joe moniker slowing down the running back.
"If you can get a Chad Johnson that level of attention, you can get it for Chris Johnson," Crumpler said.
Said Hall: "With the braids and everything, a lot of people try to stereotype him. He's a good guy. He's a great guy. He doesn't get in trouble. He's never been in trouble. He definitely should be up there with the rest of the guys as a face of the league, according to his accomplishments."
A special line on a resume
Mawae has played in 241 games in 16 seasons and been named to seven Pro Bowl teams.
The big hole in his career is the Super Bowl, and he still expects to get to one.
At this point, though, where does being part of the line that blocked for one of just six 2,000 yards back in history rank for him? What slot on his NFL resume should it occupy?
"This would probably have to be No. 1 right now," he said. "No. 2 is winning the rushing title in 2003 (with the Jets and
Curtis Martin
)."
Johnson doesn't know that yet, and I'm certain he will be flattered by it. As the Titans go through a Monday meeting and take exit physicals, Mawae said he expects there will be a moment he will let the running back know how he feels about what he did.
Others will too.
While they have several alternates that will likely get to the game, Johnson's the only Pro Bowler now. He once promised cars to his linemen if he got to 2,000, then quickly backed off. But premium gifts have been purchased and will be presented Monday.
And he's inviting them all to join him at the Pro Bowl, though he's unsure how many will accept and be with him in Miami.
The next big number
Hold 2,106, Johnson's yardage, up against $560,000, his scheduled base salary for next year, and even the staunchest opponent of contract renegotiation might allow agent Joel Segal to broach the topic.
Johnson's also slated for $800,000 in 2011 and his base should jump from $960,000 to $2.5 million in 2012 because of an escalator.
The 24th pick in the 2008 draft is outperforming his five-year, $12 million deal, with $7 million guaranteed, but that's what the Titans get for being smart enough to draft him.
Running backs have short life spans, Segal knows. If Johnson waits for his sixth year to get what he's worth, odds are he won't be worth it any more. Still it's awfully early for any renegotiation.
"We've talked about that, about the money situation," Hall said. "I think he and his agent will handle that well, but I don't think the team will want to risk anything with CJ. I think he's the best running back in the league right now as far as production goes.
"I think both sides will handle it well and get something done, because you definitely don't want to break up this chemistry that's going on with CJ. …He's outplayed the contract and I think he deserves more money."
General manager Mike Reinfeldt said the Titans haven't even begun to ponder such things.
"He's had a very special year," Reinfeldt said. "But it's also very rare that going into the third year people redo a deal."
January, 3, 2010
1/03/10
7:53
PM ET
The Seahawks failed in their two primary objectives Sunday.


They could not stop Titans running back
Chris Johnson
from reaching 2,000 yards rushing for the season, and they could not win the game.
Their chances ended fittingly with
Matt Hasselbeck
's ninth interception in his last three games.
Seattle continued to make strides with its own ground game, but the team's 5-11 record and four-game losing streak to end the season raises significant questions for a team already without a general manager.
Is coach Jim Mora's job in serious jeopardy? What is Hasselbeck's future with the team? Where does the next GM begin in rebuilding a team that has gone 4-12 and 5-11 in consecutive seasons?
The next few weeks should start to provide some answers.
January, 3, 2010
1/03/10
7:26
PM ET
SEATTLE -- While
Chris Johnson
became only the sixth runner in league annals to hit the prestigious 2,000-yard mark, he's the first to do it for a non-winning team.
Tennessee got to 8-8 with the
17-3 win over the Seahawks
that lacked the electricity anticipated with so many records and such history a possibility.


Johnson passed Earl Campbell for the franchise single-season rushing record. He passed Marshall Faulk's record for yards from scrimmage set in 1999. And he's the first of the six 2,000-yard rushers to also have 500 yards receiving.
And I will bet when we talk to him in a bit he will still say he's disappointed he didn't break Eric Dickerson's mark for the best rushing season in NFL history.
He wound up 99 short of that. He had 36 carries for 134 yards, which landed him at 2,006 for the season.
After a 0-6 start, Tennessee is getting a lot of accolades for its 8-2 finish. But there is so much the Titans could have figured out earlier to get to 9-7 or even 10-6 that a big-picture review has to focus more on the start than the finish.
But Johnson's accomplishment in the final win gave the offense a huge source of pride. Johnson's already bought gifts for his linemen, and will likely reveal what they are in a bit down underneath Qwest Field.
The line, fullback
Ahmard Hall
, tight ends
Alge Crumpler
and
Bo Scaife
and even a receiving corps that does fine work blocking all had a big hand in a remarkable season.
They'd all trade it for a playoff spot, don't you think?
January, 3, 2010
1/03/10
5:49
PM ET
SEATTLE -- A few thoughts from Qwest Field at the half of Titans-Seahawks, where we're tied 7-7.
Chris Johnson has 73 rushing yards and 20 receiving yards. The all-time record for yards from scrimmage and the franchise record for rushing yards in a season are his. He needs 55 rushing yards for 2,000. The Titans can give him a boost by finding a few more first downs elsewhere.
Gerald McRath was penalized for lining up in the neutral zone. I know he's a rookie, but there is no reason anyone creeping up the line of scrimmage standing beside a defensive lineman should ever draw such a flag.
How does the field goal team take a delay of game penalty with eight seconds on the clock at the end of a half with a timeout in hand? Isn't that what you saved the timeout for? Rob Bironas made the 42-yarder that was wiped away as the play was whistled dead, then missed the 47-yarder well left.
Vince Young's short throws haven't been hurting him, but he's back to traditional form today. Missed a wide open Johnson on a big third down with a barely catchable low pass to the left.
Ken Griffey Jr. raised the 12th man flag in the pregame ceremony. Still looks like a kid. Pretty cool. I imagine in a winning season that tradition can really be something.
January, 3, 2010
1/03/10
5:00
PM ET
SEATTLE -- I've been saying that
Chris Johnson
closing in on these records and the Titans doing their best to win go hand in hand.
But early in this Titans-Seahawks game I've realized maybe that's no longer the case.
I liked the aggressive play calling that included bypassing a field goal to keep a game-opening touchdown drive alive. Johnson scored to put the Titans up 7-0.
But when the officials called unnecessary roughness against the Seahawks as the Titans took possession, we joked in the press box about declining it to maintain the longer field. And when refereed Hochuli clarified that the penalty was actually against the Titans
Eric Bakhtiari
, we joked about it being better.
There are a lot of interesting wrinkles like that we'll be considering.
Johnson's got 40 yards rushing and 10 receiving through the first quarter.
NFL SCOREBOARD
Sunday, 2/2
WEEKLY LEADERS