NFL Nation:

Titans-Texans 112309
November, 24, 2009
11/24/09
2:43
AM ET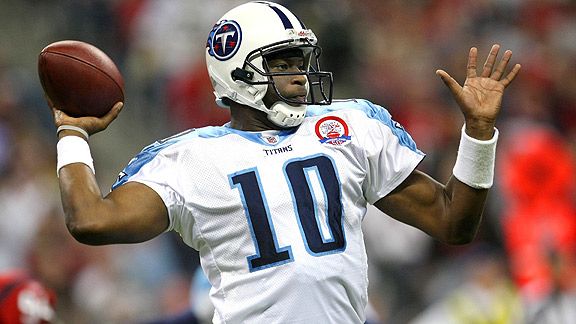 Stephen Dunn/Getty ImagesVince Young, who threw for 116 yards and ran for 73 more, led the Titans to their fourth consecutive victory.
HOUSTON -- On the definitive series of Monday night's game,
Vince Young
did what so many players and teams have tried and failed to do.
He turned Titans running back
Chris Johnson
from a primary to a complementary player.
On third-and-3 from the Tennessee 48-yard line, finding nothing as he looked downfield, Young took off.
And before he sneaked out of bounds for a 12-yard gain and another conversion, he picked up a block from Johnson. It was the NFL's top rusher and perhaps most dynamic playmaker who got between the quarterback and Houston's excellent rookie linebacker,
Brian Cushing
.
Four plays later, Titans kicker
Rob Bironas
connected on a 53-yard field goal for the final points of a
20-17 Titans win
that ended when kicker
Kris Brown
's 49-yard attempt to force overtime sailed wide left.
Houston defenders were left to explain how Young evaded them on so many crucial plays.
Cornerback
Dunta Robinson
flailed at Young's feet on at least one occasion.
"It was devastating," he said. "… It's easier said than done, to go out there and try to stop it."
"You're just thinking you've got to get him down," Texans defensive lineman
Antonio Smith
said of Young on the run. "You're thinking you've got to find a way to get to him. You know he's going to run. So you've got to find a way to adjust to it, and when you expect him to run to come off a block and strip the ball."
Johnson topped 100 yards (151) for the fifth game in a row as the Titans won their fourth consecutive game. With Young and Johnson running some option plays and Young scrambling out of some pass plays, Tennessee put on a show on Houston's big date with "Monday Night Football."
The high-powered Texans got a 305-yard passing effort from
Matt Schaub
but didn't get the points to match, while giving up 228 yards on the ground and watching Brown miss a long but makeable field goal that could have forced overtime for the second game in a row against a divisional foe.
[+] Enlarge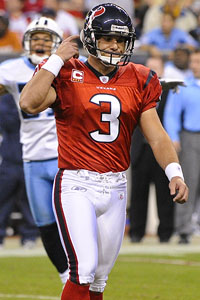 AP Photo/Dave EinselKris Brown missed a 49-yarder in the closing seconds that would have sent the game to overtime.
Young gained confidence running as the game went on. And he did the bulk of his damage in the second half with first downs on five of his nine rushes as he gained 61 yards.
In the final period he had first-down runs of 10, 11 and 12 yards, with the receivers, backs and tight ends who started the play running routes for him shifting into blocker mode and helping him get easily out of bounds past the marker.
Johnson was happy to transform into a downfield blocker.
"I've blocked before, that's not the first time it occurred," he said. "If you want to be a complete back, you've got to do all the little things."
Young said the Texans were in a lot of man coverage, and when the defensive linemen pushed upfield he was left with a lot of room to operate against defensive backs who weren't facing toward him. The Texans went to Cover 2 a few times, but Young was able to pull it down and use his legs to make things happen even then.
The uptick in Young's running success coincided with the sort of late-game tiredness that makes getting ahold of him even tougher than usual, Robinson said.
"You've just got to stay in your lanes and you've got to take proper angles," he said. "Sometimes fatigue sets in and angles, that thought kind of goes out the window. And that's when he's most dangerous."
It wasn't all legs. Young didn't light it up throwing it, but had another efficient passing performance -- 11-of-22 for 116 yards, a touchdown and no picks.
On a second-quarter play in the red zone, Young rolled right and had Johnson open on a short route in front of him for a first down. He decided against the safe throw to Johnson that many would expect him to make and fired to
Kenny Britt
for a 13-yard score.
He also tossed a beautiful deep ball over a defender for
Nate Washington
and watched it skim off the receiver's hands.
When he was installed ahead of
Kerry Collins
following the Titans' 0-6 start, Young inherited a team with little more to lose. While the Texans seemed to feel the pressure as the moments that would decide the game arrived, the easygoing demeanor Young prides himself on was still evident.
He put his arm around coach Jeff Fisher's shoulder when he arrived at the sideline after failing to realize the 2:00 warning was upon the team in the first half. He patted an official on the backside after he was marked down, correctly, short of the goal line on one scamper. And he said he talked after the game amiably with Cushing, who was flagged for a late hit on Young out of bounds, telling his one-time USC rival that he should be defensive rookie of the year.
After the game, Young continued to work hard to say the right things.
"I just want to continue to lead my team," he said, "and win the respect of my teammates as well as my coaches."
He's winning a lot more than that.
November, 23, 2009
11/23/09
11:58
PM ET
HOUSTON -- These were two different teams from the ones that met in Week 2.


They produced a different result, as the Titans got a fourth win in a row and dropped Houston to 5-5.
Chris Johnson
said he wanted to top 200 yards against the Texans. As the game ended he looked perfectly content to settle for 151 and a
20-17 win
.
It's a win that may have achieved Titans linebacker
Keith Bulluck
's stated goal of destroying the Texans' playoff aspirations.
Seven teams now rank ahead of Houston, which blew its chance to get to two games over .500 and fell into third place in the AFC South behind undefeated Indianapolis and 6-4 Jacksonville.
It was a slugfest and a nail-biter with a fair share of personal fouls and controversy.
Antonio Smith
took a swing at
Kevin Mawae
on the ground.
Tim Bulman
tried to trip
Vince Young
.
John Busing
got called for a phantom horsecollar tackle of Chris Johnson.
And as the Texans examine consecutive losses to Indy and Tennessee, they'll be left looking at two left-leaning field goals.
Kris Brown
missed from 42 yards in Indy with a chance to force overtime two weeks ago. He missed again after a bye week, this time from 47, missing out on a chance to force overtime at Reliant Stadium on the final play.
Everything, it seems, is difficult for the Texans when it matters the most. The Titans, meanwhile, surely can't help but think about how different things would be if they'd found a way to start 1-5 instead of 0-6.
November, 23, 2009
11/23/09
10:41
PM ET
HOUSTON --
Kris Brown
missed a 42-yarder wide left at the end of the Texans' last game that could have forced overtime. He just missed a 49-yarder wide right that could have given the Texans a lead against the Titans.
This one had plenty of distance, but slid to the right.
Not ideal work from a guy known for his ability to connect from long distance.
Titans kicker
Rob Bironas
also has a big leg.
After
Vince Young
keyed a drive with two great third-down runs, Bironas hit from 50 to give the Titans a
17-14 lead
.
November, 23, 2009
11/23/09
10:22
PM ET
HOUSTON -- Some halftime thoughts from Texans-Titans, which is tied
14-14
.
November, 23, 2009
11/23/09
9:49
PM ET
HOUSTON -- The Texans let it be known this week that
Steve Slaton
would be back as their starting running back.
But it's
Chris Brown
who's gotten a big share of the work for them so far and is a more physical option.
The Titans are playing defenses that prioritize stopping
Andre Johnson
, who hurt them badly in the first meeting.
The Texans are playing defenses that prioritize stopping
Chris Johnson
, who hurt them badly in the first meeting.
So will Brown or Slaton be able to prompt Tennessee to add a defender to the box? Or will
Vince Young
make the Texans pay for leaving corners singled up?
Or both?
Or neither?
The answers may tell the story of this game, currently
knotted at 7-7
.
November, 23, 2009
11/23/09
9:32
PM ET
HOUSTON -- That was an odd timeout by Jeff Fisher with just a second left on the first quarter clock. He could have simply let it run out and gotten the break between quarters.

Vince Young was unhappy, and barked at Kenny Britt, the rookie receiver who had been lined up wide right in the formation.

The Titans came out of the timeout and ran a nice option play on which Young pitched to Chris Johnson, who gained 17 yards.

Will the lost timeout come back to haunt Fisher?
November, 23, 2009
11/23/09
9:07
PM ET
HOUSTON -- Goal-line runs haven't been a strength for the Texans this season. They just
went up 7-0
on the Titans with a little third-and-goal creativity.
Credit the bye week. Credit coach Gary Kubiak and his coordinator Kyle Shanahan. Credit
Matt Schaub
and
Steve Slaton
for execution and the blockers ahead of them for helping make it work.
Out off the shotgun, Schaub waited for the rush, then flipped an underhanded pass to Slaton cutting across.
Dave Ball
had him, but got dragged into the end zone.
Now the Texans have the Titans pinned deep in their own end.
November, 23, 2009
11/23/09
8:40
PM ET
HOUSTON -- Is this the biggest game in
Houston Texans
history?
A case can certainly be made that it is. Just like their last game, a narrow loss at Indy was. Just like, win or lose tonight, the rematch Sunday against the Colts will be.
That's life as an expansion franchise in the playoff conversation this deep into the season for the first time.
And while Gary Kubiak, coach of a 5-4 team, downplays it a bit, he likes it too.
"I think it's positive that we're here in the back half of the season and talking about playing in some big games," he said. "That obviously hasn't been the case around here in the early stages of this franchise. We've got a long, long way to go and we've got seven football games left. So much changes in this league week-to-week. We know each one is a very pivotal game for our football team. That's what you what to be in. Heck, that's why you're part of this business."
November, 21, 2009
11/21/09
5:31
PM ET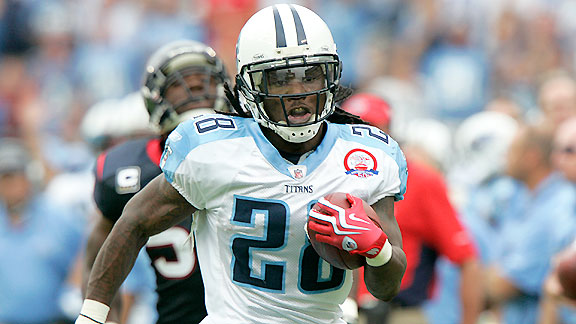 AP Photo/Wade PayneThe last time the Titans faced the Texans, Chris Johnson had a huge day, with 284 total yards and three touchdowns.
Chris Johnson
's ridiculous season kicked into high gear on Sept. 20. The Titans couldn't beat the Texans that day, but he embarrassed Houston, running for 197 yards and setting concerns about the Texans' run defense at DEFCON 1.
In the nine weeks since, Houston has transformed into a much more effective defense, and Johnson's moved past 1,000 yards.
So while
Vince Young
's return to his hometown as the starting quarterback of the much-improved Titans is a big story, the key to the "Monday Night Football" rematch at Reliant Stadium is Johnson. If he can come close to his Week 2 performance, Tennessee is now equipped to ride it to victory. If the Texans can better control him, their chances of improving to 6-4 in front of a raucous crowd will jump significantly.
The Texans' defense in general, and run defense in particular, has improved for several reasons.
The team's done better with the message of first-year coordinator Frank Bush and is more fundamentally sound.
Bernard Pollard
was signed and took over as the starting strong safety. His reliable positioning and sure tackling have helped raise the standard in both departments.
And the rushing offenses of the Texans' last six opponents now average 22nd in the NFL while the first three opponents -- the Jets, Titans and Jaguars -- are first, second and sixth, respectively.
They gave up an average of 205 rushing yards in the first three and have cut the number to 60.5 since.
"Stopping the run has really been the big thing," rookie linebacker
Brian Cushing
said. "Guys really started coming together. I know my game, mentally, has stepped up and a couple other guys have really stepped up too. This defense is just really jelling and we enjoy playing with each other."
"Hell guys, it had to get better," Gary Kubiak said of the run defense. "It was as bad as it could possibly be after three weeks this year. It had no way to go but up."
Titans offensive coordinator Mike Heimerdinger said watching film of the Texans to prepare for the game showed a different team.
"They're playing with much more confidence," he said. "The first time we played them, there were some breakdowns in assignments and gaps and now you don't see that any more. They're in the right gaps, they're flying to the ball. I don't think they'll play us the same way, and it's not so much the success we've had, I think it's more some of the breakdowns they had. You don't see confusion anymore."
Johnson said he thinks he might see some five-man lines from the Texans and he doesn't expect to be able to slip outside as a receiver and be left uncovered as he was on a 69-yard catch and run for one of his three touchdowns in the first matchup.
And because he expects the Texans to adjust and be better coming out of their bye, he said the Titans need to adjust and be better.
"They have more time to prepare against me, some of the things you like to do, some of the plays you like to run," he said. "So basically as an offense, we've got to go in there and mix it up and do some new things. Because they are going to expect us to do some of the same things since we had so much success."
He was upset to come up three yards short of 200 rushing and said he hopes to get there this time.
"I think I'm unstoppable," he said. "I've got great confidence. I expect to do well every time I am on the field."
In three games since Young took over at quarterback, Johnson's rushed for 495 yards. A run threat at quarterback as compared to a pocket passer in
Kerry Collins
has opened up even more for Johnson.
They've even been running some option plays.
"With Vince doing some of the things we're doing now, they have to look out for him too," fullback
Ahmard Hall
said. "It's not just about stopping CJ anymore."
This is the Texans' one shot in prime time this year, and Cushing said they know much of their national reputation will be founded on how they perform. The Titans lost in overtime in Pittsburgh in the NFL's opening night game and were crushed 31-9 by Indianapolis in Sunday Night Football as part of their 0-6 start.
Creative on the field, Johnson hasn't had a chance to play a set of bongo drums in a touchdown celebration like he did in Kansas City last season. Maybe he's imagining Monday night will provide a chance to show off not just his speed, but his smile.
"This kid's amazing," Kubiak said. "What type of year he's having and the pace he's on, you don't see that very often in this league. He's tremendous and it's, of course, the biggest challenge we've had all year long… He's a great player. In this league you play great people and understand that they're going to make plays. But hopefully you can find a way to contain them over a period of three and a half hours."
November, 19, 2009
11/19/09
8:53
PM ET
Since joining the Texans in 2007,
Matt Schaub
is second in the NFL in yard per attempt at 7.98.
His YPA with the Texans would tie him with Steve Young for fifth-highest in league history, and his 66.6 completion percentage would be the highest among the top 10 in the category.
I asked Schaub what a big number in the category says about a quarterback, and here's his reply:
"I think as an offense it means guys are making plays down the field and they're getting open. Obviously, the offensive line is doing a heck of a job and the backs in protection, and allowing us to get down field and make some plays. It ties 11 guys together that are executing their job at a high level and guys are making plays."
The numbers come from the Texans.
I thought it a little narrow to keep of his statistics from three years as a backup in Atlanta, but he was in a different system with the Falcons that serves to reduce the number. His yards per attempt in the 38 games he played for them was 6.42, and combining from there and Houston his career number is 7.75 -- still quite strong.