October, 12, 2014
10/12/14
3:00
PM ET
EARTH CITY, Mo. -- Long before the
St. Louis Rams
traded for running back Marshall Faulk or hired Mike Martz to run the offense or any of the other moves they made that eventually turned the offense into what is now known as the "Greatest Show on Turf," the Rams' offense was perpetually stuck in the mud. Even in practice.
That's because even as the Rams struggled to win games, they actually had the defensive pieces in place to become a good team if only the offense could keep them off the field long enough to come up for air.
"I just don't think they talk about our defense enough," receiver Torry Holt said. "We were the No. 1 offense in the National Football League, but our defense was top five in the NFL. But they were so overshadowed by what we were doing offensively and the speed and the points that we were generating, the energy that we created. But I think our defense just didn't get talked about enough and still doesn't get talked about enough.
[+] Enlarge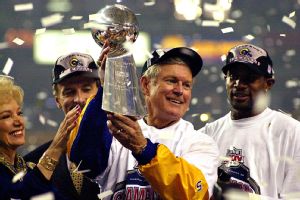 Scott Rovak/USA TODAY SportsThe Rams and Dick Vermeil won the Super Bowl thanks in part to an under-the-radar defense that dominated in the shadow of an explosive offense.
"Some would say there wasn't a lot of household names. I beg to differ. Todd Lyght, Kevin Carter, Mike Jones, D'Marco Farr, Ray Agnew, Keith Lyle, the list goes on and on of guys that were more than able to start on any team in the National Football League. They played together as a cohesive unit all the time for a long period of time for 16 weeks. They created a lot of turnovers and gave us as an offense the opportunity to get the ball back and generate more points."
As the Rams offense burst on to the scene in 1999, the defense made a similar move to rank near the top of the league in most categories. Though the two were simultaneously impressing on a weekly basis, the defense was quietly flying under the radar by offering big plays and shutting down opponents in blowout victories.
Although it was easy to point to the large leads the offense often staked the defense to as the reason for success, such leads were also a product of a defense capable of getting enough early stops for the points to accumulate. And in many cases, the defense also provided the points.
That season, the Rams were fourth in the NFL in points allowed per game (15.1), first in run defense (74.3 yards per game) and tied for the league lead with 57 sacks. They also finished sixth in takeaways with 36 and scored three defensive touchdowns.
Defensive end Carter posted a then-franchise record with 17 sacks on his way to a Pro Bowl berth. Defensive tackle Farr and cornerback Lyght joined Carter in Hawaii. It was a group that also featured the young versions of future difference-makers London Fletcher and Leonard Little.
"We all did our job," Farr said. "The Greatest Show on Turf thing where it became just about the offense, that's something else from outside this room. We all worked together. When we stopped them and got the ball back, we knew we were going to score. It was a personal challenge. They'd be up watching us play defense and we'd be up watching them play offense. If you don't do it, we're going to do it. If you have a whole group like that, the next thing you know you are in the Super Bowl."
In no place was that more evident than on the practice fields at Rams Park. For the previous two seasons under coach Dick Vermeil, the Rams' defense would regularly dominate the proceedings in practice. Receiver Isaac Bruce remembers the helpless feeling of playing on an offense that couldn't even score in practice let alone in games.
But after the offseason additions of guys like Faulk, Martz, Holt, Adam Timmerman and others, it didn't take long for the defense to realize that things were about to change.
"It's not like you don't have much respect for the guys you play with, you do," Farr said. "They're your teammates, you love them, but we were facing a whole lot better on game day than we were getting in practice. So practice got boring some of those years. We could shut those guys down anytime we needed to, so how were we getting better? Then all of a sudden it switched where we're on our heels, we're backing up and you look up and start to recognize signals and demeanor. Then it became something different and they started to compete with us and beat us."
In many ways, the practices became tougher than the games for the defense. Where Farr could once have his way with any nondescript guard on the roster, players like Timmerman and Tom Nutten would offer much more resistance. Tales of left tackle Orlando Pace's dominance of end Grant Wistrom in practice still get talked about anytime an offensive tackle beats an end consistently in pass-rush drills. But Pace's excellence only made things easier for Wistrom.
Though the defense still doesn't get the credit it might deserve 15 years later, there is no denying the Rams wouldn't have even gone to Super Bowl XXXIV, let alone win it, without a strong defensive performance. When the offense finally struggled against Tampa Bay's stout defense in the NFC Championship Game, it was the Rams' defense that rose to the occasion.
The Rams held Tampa Bay to 203 total yards and came up with two turnovers, five sacks and a safety in leading St. Louis to an 11-6 victory.
"We got into a dogfight," Farr said. "It made me respect Tampa more on defense, because if you can slow those guys down, then you can play. But we were more than capable of going into a dogfight with anybody. That type of game is what that defense was used to before the offense took off. It was nothing new to us. It was 'OK, that's what type of game this is? Great.' We'd been there before. So we were trained for it."
They became champions because of it.
June, 24, 2010
6/24/10
9:15
AM ET
Notable players:
QB
Kurt Warner
, RB
Marshall Faulk
, WR
Isaac Bruce
, WR
Torry Holt
, LT
Orlando Pace
, WR/PR
Az-Zahir Hakim
, DE
Kevin Carter
, DE
Grant Wistrom
, DT
D'Marco Farr
, CB
Todd Lyght
.
[+] Enlarge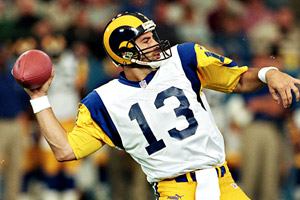 Tom Pidgeon/Getty ImagesKurt Warner threw for 4,353 yards and 41 touchdowns during the 1999 season.
Analysis:
The 1999
St. Louis Rams
were tied with the
Tennessee Titans
in the final minutes of the Super Bowl.
Conventional wisdom called for a clock-killing drive to the winning field goal, but convention didn't appeal to the 1999 Rams. They had shrugged off losing their starting quarterback during the preseason. They had knowingly backed Warner without much evidence to suggest he would succeed. They passed the ball first when tradition called for establishing the run. They pushed the ball downfield when West Coast schemes were favoring shorter timing throws.
And so with the 2-minute warning approaching in a 16-16 game, the Rams went deep to Bruce for a 73-yard touchdown. The aggressiveness came with a price when the Titans, armed with plenty of time, moved within a yard of the tying touchdown. But the Rams won their way -- defiantly and with an offense few teams in NFL history could challenge for pure multidimensional flair.
The only team in Rams history to win a Super Bowl gets my vote for best team in franchise history. The 1951 version also won an NFL title, but that team finished the regular season with an 8-4 record. It played only one postseason game. Chuck Knox's Rams of the early 1970s were very good. John Robinson had some solid Rams teams in the 1980s. The 2001 Rams had a chance to be the best in franchise history, but the 1999 team separated itself by becoming the only Rams team to win a Super Bowl.
Dick Vermeil was coach of the year. Warner was MVP and Super Bowl MVP. Faulk was offensive player of the year.
This was a team of signature players and also signature plays:
Ricky Proehl's dramatic juggling catch to beat the Tampa Bay Buccaneers in the NFC title game (he hadn't caught a touchdown pass all season);
Bruce's daring 73-yard touchdown grab in the Super Bowl;
Mike Jones' game-saving tackle of the Titans' Kevin Dyson at the 1-yard line as time ran out in the Super Bowl.
Most impressive win:
For years the Rams had watched the
San Francisco 49ers
dominate them and the NFC West. That's what made the Rams' Week 5 victory over the 49ers so meaningful that season. Bruce caught four touchdown passes during a 42-20 victory as the Rams improved to 4-0. Fans wanted to believe after a 38-10 victory over the
Cincinnati Bengals
a week earlier. The blowout against San Francisco provided validation (no one knew the 49ers would finish with a 4-12 record that season).
Return to sender:
Offense wasn't the only way the 1999 Rams found the end zone. Hakim averaged 10.5 yards per punt return with one touchdown.
Tony Horne
averaged 29.7 yards per kickoff return with two touchdowns. The Rams scored seven touchdowns on interception returns and one more on a fumble return.
Honorable mention
2001:
The Rams rebuilt their defense and made another run to the Super Bowl.
Tom Brady
and the
New England Patriots
kept St. Louis from winning another title and challenging for the title of best team in Rams history.
1973:
First-year head coach Chuck Knox turned around the Rams quickly, leading them to a 12-2 record with No. 1 rankings in total offense and total defense. John Hadl tossed 22 touchdown passes with 11 interceptions in his only full season as the Rams' starter.
1951:
The Rams won a championship for Los Angeles thanks to Bob Waterfield, Norm Van Brocklin and Elroy Hirsch. Four-time Pro Bowl fullback Dan Towler averaged 6.8 yards per attempt.