NFL Nation:

Todd Sauerbrun
April, 27, 2012
4/27/12
11:50
PM ET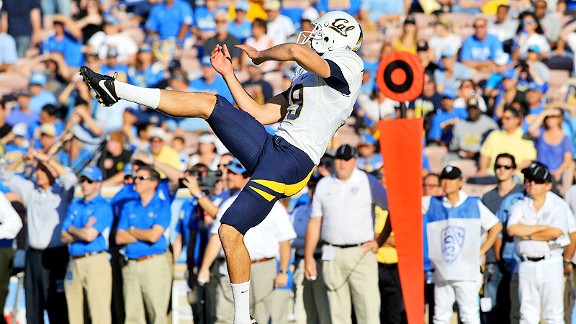 Cal Sport Media/AP ImagesUsing the 70th pick on Cal punter Bryan Anger hurts the Jaguars more than it helps them.
The
Jacksonville Jaguars
have been accused (occasionally by me) of not doing well enough in assessing how the rest of the league's teams value some players they draft.
Some personnel people around the league say the Jaguars simply don't care about that. In a way, I admire them for it. Don't be overly concerned and influenced by the forces around you, by the competition. Do your own thing. Bank on your convictions.
But when it comes to taking Cal punter
Bryan Anger
in the third round, the Jaguars absolutely should care about league context.
I know at least one other team had him rated as a fifth-rounder.
Anger is first punter to go in the top 100 picks since 1995, when Todd Sauerbrun went in the second round to Chicago, 56th overall. (Correction: In 2005, Kansas City took Dustin Colquitt in the third round, 99th overall. Apologies.)
There is a reason for that.
It's important that you don't punt terribly. But it's not so important that you punt fantastically, certainly not important enough that you sacrifice the chance to improve at a position that could be on the field for three downs a game.
"I think it will be evident when you get a chance to see him punt: He's got a strong history which I feel will transfer to this level in helping us defensively with the yardage we can gain in field position," general manager Gene Smith said.
"… He's the player in that round at your pick that you feel can upgrade your football team. I think that's an easy decision for me, to get a starter in the third round."
Calling a punter a starter is beyond a stretch.
The Jaguars' defense played 970 plays in 2011. The Jaguars' offense played 958 plays. The Jaguars punted 99 times.
"I think it's first downs that you gain," Smith said in a further defense of the pick. "And I feel like in the third round it's not a round that you always get proven starters."
Really?
In Smith's three previous drafts, he picked four times in the third round. Guard
Will Rackley
, defensive tackle
Terrance Knighton
and cornerback
Derek Cox
are starters. The only non-starter, defensive tackle
D'Anthony Smith
, has missed his first two seasons with injuries.
Jacksonville averaged 41.9 yards per punt last season, 31st in NFL. It averaged 36.5 net yards per punt, 28th in NFL. Those numbers were, in part, a testament to the team's foolish conclusion that greybeard
Matt Turk
was the man to replace
Adam Podlesh
, who left for Chicago as a free agent.
The Jaguars cut Turk after five games, going with
Nick Harris
the rest of the way. Harris was 3 yards, and 5.1 net yards, better per punt than Turk had been.
A longer punt is easier to cover, so this is too simple.
Nevertheless, here is my counterproposal to drafting Anger 70th:
Jacksonville uses an average punter and boosts its net average to what was the midpoint for 2011. By my calculations, that would give the Jaguars an extra 15.5 net yards a game. Then use the 70th pick on an offensive lineman who, as part of a better scheme, could help cut the Jaguars' sack yardage in half. That would give the team an extra 10.3 yards a game, and also help young quarterback
Blaine Gabbert
not worry so much about getting crunched.
The overall gain from my plan -- not just estimating that the average that will come with a big leg, but actually factoring in context -- would be better.
The goal is not to punt, and you drafted a punter. That was the first thing a reporter in Jacksonville said to coach Mike Mularkey after the pick.
"And hold, hold for extra points," Mularkey said. "If you want to write about him, he's a really good holder for extra points and field goals, and he just so happens to be a difference-maker when it comes to punting."
Oh, he holds, too? Well, that changes everything.
No, actually, any guy on offense with good hands, starting with your backup quarterback, should be able to function as a holder.
Maybe Anger is the league's best punter and holder for 15 years.
Even if he is, it says here there will be at least three dozen players among the picks after Anger who have more impactful careers than he will. And that's a modest 20 percent of the 183 guys we're talking about. If the Jaguars missed on him by two rounds, maybe it's 64 players. It could be more.
Are the Jaguars, coming off a 5-11 season, good enough that they can pass on such potential people? They are not. Perhaps are they expecting Gabbert to be terrible again, knowing they'll be punting a ton and being proactive?
They need more guys who can score touchdowns or stop touchdowns. Get more guys who can get you first downs and you'll punt less, kicking more field goals and scoring more touchdowns. Get more guys who can stop a third-down run or break up a third-down pass and you'll be fielding punts, not covering them.
Do those things and getting a few additional yards when you have to kick the ball away doesn't mean so much.
Know where you have a chance to add guys who fit that bill?
With the third-round pick you just used on a punter.
Too often the Jaguars are a punching bag or a punch line.
This time, they deserve it.
November, 11, 2011
11/11/11
1:00
PM ET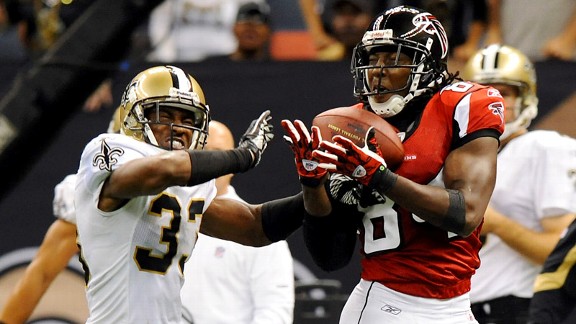 Chuck Cook/US PresswireAfter saying plenty about the Saints last season, Roddy White's twitter account has been quiet.
Perhaps the best indicator of how big Sunday's game is between the
New Orleans Saints
and
Atlanta Falcons
is Roddy White's
verified Twitter account.
For nearly a week now, it's gone almost silent. White, who never has been one to hold back what's on his mind, has weighed in a few times on the Joe Paterno controversy, but he hasn't written a word about the Saints.
That says a lot about what this NFC South rivalry has become. If White's staying quiet and the Saints aren't getting their cameras ready for postgame pictures, you know players from both teams are taking this game very seriously. There also is a very good chance they're following orders from New Orleans coach Sean Payton and Atlanta coach Mike Smith, who realize you don't need to throw gas on a fire that's been burning for about four years, and still may not have reached its peak.
It might not have the historic significance of, let's say, Green Bay-Chicago or Washington-Dallas, but it's hard to find a rivalry that's been more heated the past few years.
"This is one of the most overlooked rivalries in football right now,'' Atlanta running back
Michael Turner
said. "We've been playing some great games. We know we don't like each other. We've been fighting each other since 2008 for this division. It's a rivalry game."
The part about not liking each other is about as close as any Saint or Falcon has come to fanning the flames. But that part is pretty well known if you've spent any time around either team. It extends even to the fans.
"If you're just kind of walking around town, fans say, 'If you do one thing this year, just beat Atlanta,' " New Orleans quarterback
Drew Brees
said. "I think that's probably the sentiment of fans that have been longtime Saints fans, I'm sure. Maybe longtime Falcons fans say the same thing to them about beating the Saints, I don't know.''
It's pretty safe to say that Atlanta fans -- longtime or not -- do feel the same way about the Saints.
Two incidents from last season demonstrate just how strong this rivalry has become.
[+] Enlarge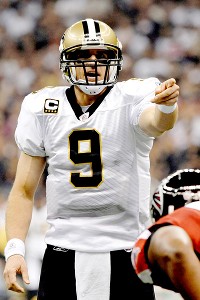 Chuck Cook/US PRESSWIRE"If you're just kind of walking around town, fans say, 'If you do one thing this year, just beat Atlanta,' " Drew Brees said.
One came long before White turned to more tame tweets -- or Smith ordered him to. Before a game with New Orleans last season, White tweeted that the "grace of God'' was the reason the Saints won their Super Bowl so the "city wouldn't fall apart."
That caused outrage by New Orleans fans and probably didn't score much goodwill with the Saints. But this rivalry flows both ways. After New Orleans defeated Atlanta in the Georgia Dome last season, some of the Saints were seen dancing and having their pictures taken on the Falcons' logo. Former New Orleans defensive tackle
Remi Ayodele
made a comment that indicated the Saints were intentionally showing the ultimate disrespect to the Falcons.
That caused a stir, but the Saints insisted they had the utmost respect for the Falcons and the pictures were taken to commemorate an important victory.
As word of that scene spread through the Atlanta locker room, defensive end
John Abraham
, generally one of the more subdued Falcons, grew visibly angry.
"We can never let that happen again,'' Abraham said.
The Saints and the Falcons weren't biting this week when the media asked them about that incident. Not even White.
"They came down here and got a W,'' White said. "They can kind of do whatever they want to do. That's kind of what happens. When we won down there, we kind of went on the field. It happens. We kind of did our thing when we went down there and won the game. They won, so congratulations to them.''
But don't let the diplomacy fool you.
"I'm not too familiar with that. I heard about it,'' said Atlanta linebacker
Sean Weatherspoon
, who tried to be coy when first asked about the incident.
That didn't last.
"But at the same time, I don't forget a lot of stuff,'' Weatherspoon said. "Sometimes you have to have the memory of an elephant."
Although the Saints and Falcons are the oldest of the four NFC South franchises and played together in the NFC West before realignment in 2002, the rivalry hasn't been this volatile for long. Both teams struggled through much of their early existence. When one team was good, the other wasn't.
When Carolina entered the league in 1995, the NFL tried to make the Falcons and Panthers a natural rivalry because the cities are less than a four-hour drive apart. But that never really took off because the Panthers and Falcons were seldom good at the same time.
Without any encouragement by the NFL, the
Tampa Bay Buccaneers
and
Carolina Panthers
became the NFC South's only real rivalry, soon after the division came into existence. In those days, Carolina's
Brentson Buckner
and
Kris Jenkins
and Tampa Bay's
Warren Sapp
and
Kenyatta Walker
, lobbed verbal shots back and forth. Even Carolina punter
Todd Sauerbrun
and Tampa Bay kicker
Martin Gramatica
got into the rift and the teams played a series of brutally physical games through the middle of the past decade.
That rivalry has faded. But it's been replaced by the Falcons and the Saints.
"If you look at the past four years, ever since Mike Smith has been there and Sean has been here, both teams have been up there as far as first or second in the division quite a few times,'' Brees said. "So I'd say that's part of the reason why it's even more competitive now than maybe it ever has been."
There's no doubt. When two good teams are going at each other, it makes things more interesting. The Saints are 6-3 and the Falcons are 5-3 and they'll be playing for first place when they meet Sunday in the Georgia Dome.
Things tend to get heated between the Falcons and Saints these days. But that's a good thing. It's the sign of a healthy rivalry. The best rivalry the NFC South has ever had.
January, 8, 2010
1/08/10
1:26
PM ET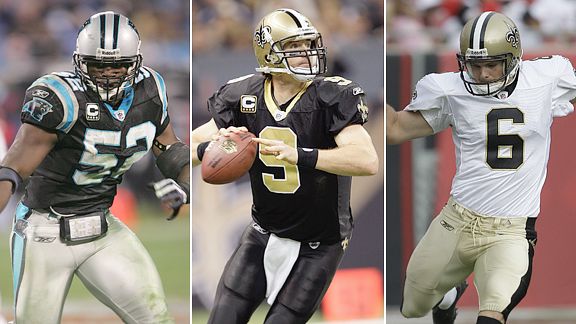 Getty Images/AP PhotoJon Beason, Drew Brees and Thomas Morstead headline the list of NFC South players receiving end-of-the-year honors.
We've rolled out the All-NFC South
offense
and
defense
for the 2009 season already and we'll get to the special teams, coaches and front offices very soon. But with the Saints on a bye for the first round of the playoffs and the rest of the NFC South done for the season, it's time for our annual awards.
Some are pretty conventional and some are not, but put them all together and, hopefully, you'll have a comprehensive review of the season.
Most Valuable Player:
Drew Brees
, Saints. Do I really have to explain? Let's save time and move on.
Most Valuable Player not named Brees and not with the Saints:
Jon Beason
, Panthers. Consistently excellent. Should have been named to the Pro Bowl. Best player on the division's best defense.
Rookie of the Year:
Thomas Morstead
, Saints. Yes, I'm going with a punter and it's not because the pickings are slim. There were some other decent options. But Morstead was so good punting and on kickoffs that he earned this award.
Best win:
The Saints steamrolling the Patriots on Monday night. If the Saints play like that in the postseason, they'll win the Super Bowl. That said, I'm a little concerned that the Saints might already have played their best game.
Worst loss:
Carolina's
20-9 home loss
to Buffalo. The Panthers had a chance to get to 3-3 after an 0-3 start. They had one of the worst teams in the league coming into Bank of America Stadium. They didn't just lose. They got embarrassed. Think about what might have happened if they just had been able to win that game?
Worst injury:
You could see right away that Atlanta rookie defensive tackle
Peria Jerry
was going to be an impact player. He was making everybody around him look better. Problem is, Jerry went down with a knee injury on Sept. 20 and missed the rest of the season. You instantly could see the rest of Atlanta's defensive line start to slide.
Best injury:
The leg injury that New Orleans linebacker
Dan Morgan
suffered in minicamp. It wasn't major, but it was enough to prompt the star-crossed Morgan to retire for the second time. Sure, it's a shame that he missed out on being part of what became a very fun season in New Orleans and a healthy Morgan truly might have prospered on that defense. But Morgan made the right call in walking away. The guy put his body through too much and had some concussion issues in his Carolina days. He's got a family and his health is more important than football.
June, 16, 2009
6/16/09
7:00
AM ET
Posted by ESPN.com's Pat Yasinskas
We're down to the punters in our series of NFC South position rankings. The return men will come Wednesday before we move on to coaches and the front office.
But let's not sell the punters short. This spot might be one of the division's strongest areas. The first three guys in the rankings each drew serious consideration for the top spot. Here they are:
1. Michael Koenen, Atlanta. His coverage unit helped a lot, but opponents had only 49 return yards on Koenen last season. No wonder the Falcons used the franchise tag on their punter.
2. Josh Bidwell, Tampa Bay. Has the strongest leg in the division. Would be in the top spot if Koenen and the Falcons had given up more in returns.
3. Jason Baker, Carolina. The division's most consistent punter. Baker's averaged over 44 yards a punt each of the last three seasons and, mercifully, has helped the world forget Todd Sauerbrun ever was in Carolina.
4. Glenn Pakulak. The guy is only eight games into his NFL career, but he did average 47.7 yards a punt last year. The Saints like his leg strength, but used a fifth-round pick on Thomas Morestead because they aren't sure about Pakulak's consistency.
May, 20, 2009
5/20/09
12:30
PM ET
Posted by ESPN.com's Pat Yasinskas
ESPN analyst Herm Edwards sees three possible landing spots for Michael Vick -- and two of them are in the NFC South.
| | |
| --- | --- |
| | |
| | NFL.com Video |
| | A chronology of events around Vick's troubles, ending with a guilty plea for dog fighting. |
Edwards mentions Carolina and New Orleans as possibilities along with Jacksonville. And let's remember, Edwards isn't reporting any of these teams are showing interest in Vick -- he's just offering his opinion on three teams he thinks could make sense. I don't disagree with Edwards on New Orleans (more on that in a moment) and Jacksonville, but I respectfully disagree with him on Carolina.
That's entirely because of Panthers owner Jerry Richardson. I just don't see any way Richardson would take a chance on Vick. Richardson has been burned badly twice in the past by Kerry Collins and Rae Carruth.
Those situations bothered Richardson to his very core and he was totally embarrassed that the off-field problems of Collins and Carruth reflected so poorly on a franchise the owner takes enormous pride in. Since Carruth, Richardson has gone out of his way to avoid any player with a checkered past and he's gotten rid of a bunch of other players (Todd Sauerbrun, Chris Terry and Lamar Smith) as soon as they've run into trouble. This one's not going to happen.
As for New Orleans, like I said, I don't disagree with Edwards. His logic is that coach Sean Payton is an offensive guru. Payton has a great quarterback in Drew Brees. But Payton could figure out all sorts of ways to use Vick in a hybrid role or at quarterback in a Wildcat scheme. I say this one's at least possible.
We all know we can rule out a Vick return to Atlanta and Tampa Bay has just made Josh Freeman the franchise quarterback. Although, if Jon Gruden were still coaching the Bucs, they'd almost certainly be in the conversation about Vick.
February, 3, 2009
2/03/09
3:17
PM ET
Posted by ESPN.com's Pat Yasinskas
Kickers and punters pretty much have been ignored by the Pro Football Hall of Fame. Although some guys who kicked and played other positions have been inducted, Jan Stenerud is the only true kicker to ever make it.
That's not likely to change any time soon, but there finally is a place for kickers and punters to be honored. Rick Sang founded the American Football Kicking Hall of Fame last year and it probably won't be long before the NFC South has some strong representation.
With that in mind, I've decided to pick the best kicker and punter in the history of each NFC South franchise.
Kicker: Morten Andersen. This one's incredibly easy. Andersen spent 13 seasons with the Saints and some would make a case he's the best kicker ever.
Punter: Tommy Barnhardt. Mark Royals had a couple of great seasons with the Saints, but Barnhardt gets the nod because of longevity.
Kicker: Morten Andersen. Yes, he gets the award for the Falcons, too. Andersen did two stints with the Falcons and spent eight seasons with them.
Punter: John James. The Falcons have a great punter right now in Michael Koenen. But James a three-time Pro Bowler back in the 1970s.
Kicker: John Kasay. This one's as easy as picking Anderson for the Saints and Falcons. Kasay has been with the Panthers since their start in 1995 and has been their kicker throughout their existence, except for a little time off because of injuries. He's been as steady as they come and could kick well into his 40s.
Punter: Todd Sauerbrun. This guy is the best punter to ever walk the planet. But he's a tragic story. In a league that's willing to overlook a lot, Sauerbrun can't even get a job because of his repeated off-field problems.
Kicker: Matt Bryant. I'm taking Bryant over Martin Gramatica simply because the current kicker has been more consistent.
Punter: Josh Bidwell. Again, I'm going with the incumbent. After looking at the history of Tampa Bay's punters, that's really the only choice.
October, 29, 2008
10/29/08
6:29
PM ET
Posted by ESPN.com's Pat Yasinskas
FALCONS
You could kind of see this one building earlier when the Falcons signed veteran tackle Wayne Gandy this morning. Now, the team says rookie left tackle Sam Baker will have lower back surgery on Thursday. The team won't say how long Baker will be out or if he'll be placed on the injured reserve list. But it's not too much of a stretch to at least speculate that Baker's season might be over. Too bad, if that's the case, because he had been having an impressive rookie season.
BUCCANEERS
Pencil in Sabby Piscitelli as the new starting strong safety. With Jermaine Phillips out with a broken arm, Piscitelli is going to get his chance to earn the job and it could end up being on a long-term basis. Phillips is in the final year of his contract and the coaches believe Piscitelli has a bright future. He's been excellent on special teams and decent when he's had playing time on defense.
PANTHERS
John Kasay doesn't have an agent, so he's not going to leak the details of his new contract. But it's a pretty safe bet he'll be making in excess of $2 million a year.
SAINTS
Just about every punter and kicker available worked out for the Saints. Interestingly, Todd Sauerbrun, who is one of the most talented punters ever, didn't get a look. Then again, with all the controversy about reported positive tests for banned substances by New Orleans players, the Saints can't afford to even think about a punter who once was reported to be tied to a steroids investigation and once was suspended for using a banned dietary product.
NFL SCOREBOARD
Thursday, 10/23
Sunday, 10/26
Monday, 10/27
WEEKLY LEADERS