January, 31, 2011
1/31/11
5:21
PM ET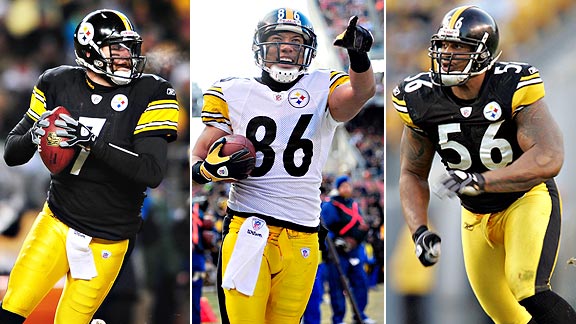 US PresswirePittsburgh's Ben Roethlisberger, Hines Ward and LaMarr Woodley are all playing in Super Bowl XLV, but could they have ended up in the NFC West coming out of college?
FORT WORTH, Texas -- The
Pittsburgh Steelers
appeared loose and comfortable during their first Super Bowl 45 media session.
They've been in big games before, and frequently, thanks largely to shrewd drafting.
This is the Steelers' third Super Bowl appearance in the last six seasons.
The team made available
James Farrior
,
Flozell Adams
,
Hines Ward
,
Brett Keisel
,
Ben Roethlisberger
and
LaMarr Woodley
during its initial media session Monday -- just the opportunity I needed to produce an item corresponding to the one titled, "
Draft hindsight: Aaron Rodgers and beyond
".
The idea: to examine a Super Bowl team's featured players -- in this case, the ones made available Monday -- with an emphasis on draft status and the decisions NFC West teams made in the same rounds. Not every team held a choice in every featured round.
The
Arizona Cardinals
had a shot at Steelers quarterback Ben Roethlisberger, but they came out OK.
Here goes ...
1997 Draft: James Farrior, LB, Virginia
Round:
First (eighth overall, by the
New York Jets
)
NFC West spin:
Farrior is a two-time Pro Bowl choice, but the NFC West offers no apologies for passing over him.
Orlando Pace
and
Walter Jones
became perennial Pro Bowl tackles. Jones became the best player in Seahawks history, in my view.
Shawn Springs
made one Pro Bowl trip and picked off 33 passes during a 13-year career. The Cardinals had no shot at Farrior. They chose Tommy Knight one pick later. He started 54 games in six NFL seasons. Rumor says the 49ers selected a quarterback in the first round of this draft.
First-round selections in the division:
1998 Draft: Flozell Adams, T, Michigan State
Round:
Second (38th overall, by Dallas)
NFC West spin:
Adams became a five-time Pro Bowl choice with Dallas. His career appeared finished, or close to it, until injuries led the Steelers to call on him this season. Arizona passed on Adams twice. Safety
Corey Chavous
, chosen five spots before Adams, went to a Pro Bowl with Minnesota. He was a productive player for roughly a decade. Tackle
Anthony Clement
, chosen two spots before Adams, started more than 100 games for three teams.
Second-round selections in the division:
1998 Draft: Hines Ward, WR, Georgia
Round:
Third (92nd overall, by Pittsburgh)
NFC West spin:
The Rams and Seahawks found Pro Bowl-caliber players when they passed over Ward in the third round. Seattle gave up on
Ahman Green
prematurely, however, after coach Mike Holmgren grew weary of early fumble problems. The 49ers missed on tackle
Chris Ruhman
three choices before Ward went to Pittsburgh. Ruhman played in six games with the 49ers, starting none. He played in 11 NFL games with two starts overall. The 49ers passed on Ward even though
Jerry Rice
had suffered a devastating knee injury in the 1997 opener.
Third-round selections in the division:
2002 Draft: Brett Keisel, DE, BYU
Round:
Seventh (242nd overall, by Pittsburgh)
NFC West spin:
The 49ers drafted longtime starting guard and center
Eric Heitmann
three spots before the Steelers found Keisel. Pittsburgh could use Heitmann this week after the Steelers' starting center,
Maurkice Pouncey
, suffered a severely sprained ankle during the AFC Championship Game. Keisel became a Pro Bowl choice for the first time this season, distinguishing him from 2002 NFC West seventh-rounders. The Rams found their mainstay snapper in this draft. Keisel was gone when the 49ers found guard
Kyle Kosier
, who started 29 games for them and remains a starter with Dallas.
Seventh-round selections in the division:
2004 Draft: Ben Roethlisberger, QB, Miami of Ohio
Round:
First (11th overall, by Pittsburgh)
NFC West spin:
The Cardinals passed over Roethlisberger and came away with a potential Hall of Fame receiver. No complaints there, even though quarterbacks are more valuable than receivers. None of the other NFC West teams had a shot at Roethlisberger. Seattle and St. Louis were set at quarterback, anyway.
First-round selections in the division:
2007 Draft: LaMarr Woodley, OLB, Michigan
Round:
Second (46th overall, by Pittsburgh)
NFC West spin:
The Cardinals could certainly use Woodley now, and badly, but they had already invested millions in the position heading into the 2007 draft. Free-agent additions
Chike Okeafor
and
Bertrand Berry
had combined for 14.5 sacks during the 2006 season. Unfortunately for the Cardinals, they haven't gotten enough from their second-round investment in
Alan Branch
.
Second-round selections in the division:
OK, all done, and just in time. ESPN.com teammates Mike Reiss, Kevin Seifert and I are heading out to the Packers' media session next. Seifert is driving and he doesn't wait for anyone. Gotta jam.
July, 23, 2009
7/23/09
11:30
AM ET
Posted by ESPN.com's Pat Yasinskas
Atlanta Falcons
Training camp site: Flowery Branch, Ga.
Campfires: The offense is pretty much set with last year's starters virtually intact and the addition of tight end Tony Gonzalez. That's going to put the focus of camp on a defense that overachieved last year and will have five new starters.
The hottest battles will be in the secondary, where the Falcons have to replace safety Lawyer Milloy and cornerback Domonique Foxworth. Atlanta's coaching staff is hoping second-round pick William Moore can step in and start at safety, but second-year pro Thomas DeCoud provides a decent fallback option if Moore's not ready. DeCoud had a strong showing throughout the offseason and isn't going to give up the job without a fight.
Cornerback might be the most intriguing spot to watch in camp. The Falcons are set with Chris Houston on one side, but it's a wide-open competition for the other starting spot and the nickelback job. The plan is to throw Brent Grimes, Von Hutchins, Chevis Jackson and rookies Christopher Owens and William Middleton out there and see who rises up. Keep an eye on Jackson, who came on strong in the second half of his rookie season last year.
Camp will be a downer if ... there are any injuries on the offensive line. The Falcons have a starting five that probably played over its head last year and very little depth. Veteran Todd Weiner retired after last season and the Falcons tried to replace the flexibility he gave them by signing veteran Jeremy Newberry. But Newberry retired earlier this week because of knee problems.
| | |
| --- | --- |
| | |
| | Paul Abell/Getty Images |
| | Tony Gonzalez gives quarterback Matt Ryan another target in the Falcons' passing game. |
Coach Mike Smith is very good at mixing up the tempo of his practices, but he may have to be more cautious with his offensive line. Left tackle Sam Baker had back problems last year and center Todd McClure has wear and tear on his 32-year-old body. If some young linemen don't step up -- and there aren't many likely candidates -- the Falcons may have to keep an eye on the waiver wire for some depth.
Camp will be a success if ... quarterback Matt Ryan masters the offense he looked so good in as a rookie. That's a strong possibility. Although he already was very good, Ryan looked noticeably better in minicamp practices in the spring.
The Falcons didn't hold back much of the playbook from Ryan last season, but they're going to expand it significantly this year. The addition of Gonzalez suddenly gives the Falcons the pass-catching tight end they lacked last year. That should only help receivers Roddy White and Michael Jenkins, who blossomed with Ryan last year. And don't forget second-year receiver Harry Douglas. He showed some promise last year, but looked ready to take on a bigger role in offseason workouts.
The Norwood factor: One player to keep an eye on in camp and preseason games is running back Jerious Norwood. The Falcons realize they put a very heavy load on starter Michael Turner last season and they don't want him approaching 375 carries again. Offensive coordinator Mike Mularkey has to find a way to give Norwood some of Turner's carries. That's not as simple as just swapping them out. Turner i
s a power runner and Norwood is a speed guy. The Falcons need to put in some wrinkles to take advantage of Norwood's skills.
---
Carolina Panthers
Training camp site: Spartanburg, S.C.
Campfires: The Panthers are returning 21 of 22 starters from a team that went 12-4. But the disastrous playoff loss to Arizona means that Carolina can't be complacent. Coach John Fox never has been able to put together back-to-back winning seasons and he needs to if he wants to stay off the proverbial "hot seat."
| | |
| --- | --- |
| | |
| | Paul Spinelli/Getty Images |
| | Jake Delhomme and the Panthers need to put last season's playoff loss to Arizona behind them. |
Fox needs to revitalize a defense that collapsed down the stretch last season and much of that responsibility will fall to new coordinator Ron Meeks. Barring injury or upset, the only new starter will be cornerback Richard Marshall, who will replace Ken Lucas. A lot of fans are wondering if Marshall is ready to be a starter. The coaching staff wouldn't have let Lucas go if Marshall wasn't ready. He's been a very good nickelback the past couple of years and should do fine opposite Chris Gamble.
The bigger question might be who's going to replace Marshall at nickelback? The Panthers seem to have rookie Sherrod Martin ticketed for that spot. That may seem a little risky, but Fox has a pretty good track record when it comes to playing rookie cornerbacks quickly. Marshall and Ricky Manning Jr. were able to step in and contribute as rookies.
Camp will be a downer if ... Steve Smith pulls a repeat of last year. Early in camp, Smith punched out Lucas, who was kneeling on the sideline. That led to a two-game suspension for Smith. The incident may have helped pull the team together in some ways, but the Panthers can't endure something like that again.
Things tend to get hot in Spartanburg, but Fox and his staff need to keep the ultra-competitive Smith cool. Smith's nasty streak is a big part of what makes him such a great receiver. But he needs to save that for the regular season and let the team get through camp peacefully.
Camp will be a success if ... the Panthers can put the Arizona playoff loss behind them. Losing badly at home was a terrible end to what had been a very nice season, and Fox has to eliminate any hangover from that. One of Fox's strengths is his ability to motivate and he's got to convince this team it can win big games when it matters most.
Fox has been adamant about sticking with quarterback Jake Delhomme, who had a disastrous outing against Arizona. That's a strong show of confidence from the coach. But Fox may have to spend part of camp convincing the rest of the team that the move is a result of confidence and not stubbornness.
It starts up front: Early in Fox's tenure, his defensive line was dominant and the team was built around the front four. That hasn't been the case in recent years. The back seven is very good, but it can become great with more production up front.
Although end Julius Peppers is the only big name on the line, the Panthers have the ingredients to be good up front. They didn't draft Everette Brown to spend his rookie season on the bench. He'll join in a rotation with Peppers, Charles Johnson and Tyler Brayton. If Peppers can play at a level close to his $17 million franchise tag, there could be a lot of sack opportunities for Brown, Johnson and Brayton.
---
New Orleans Saints
Training camp site: Metairie, La.

Campfires: As far as pure numbers, the Saints have the most legitimate position battles in the NFC South. That competition should be a good thing for a team that underachieved, particularly on defense, last season.
General manager Mickey Loomis and coach Sean Payton did a nice job of creating competition with a bunch of offseason moves geared at making the defense better. Last year's biggest problem area was in the secondary and that's where the best camp battles will be. The Saints paid free-agent cornerback Jabari Greer big money and that probably makes him a starter.
| | |
| --- | --- |
| | |
| | Crystal LoGiudice/US Presswire |
| | Rookie cornerback Malcolm Jenkins will battle for one of the starting cornerback spots. |
But the battle for the other starting cornerback spot should be intense. The Saints used their first-round pick on Malcolm Jenkins, who probably has the most physical talent of any rookie on the roster. But Jenkins truly will have to earn the starting job because the Saints think very highly of Tracy Porter, who got off to a strong start before suffering an injury in his rookie season. Porter brings a high level of confidence and he's not going to give up a starting spot very easily. If the Saints open the season with Jenkins as their nickelback, they'll have far more depth than they've had in recent years.
Camp will be a downer if ... it's anything like last season. A rash of injuries started in last year's training camp and the plague continued through the regular season. That was a major reason why the Saints missed the playoffs. Even with added depth, they can't endure another season like last year. Payton ran the NFC South's most-intense camp last season and he may have learned from it.
The Saints have moved their camp back to their practice facility and a look at their schedule shows a large amount of afternoon practices in the indoor facility. There also are a fair amount of days where the Saints will practice only once. That should help keep the team fresh and cut down on the injuries. That's hugely important for a team that will open the season witho
ut starting defensive ends Will Smith and Charles Grant, who are suspended for the first four games.
Camp will be a success if ... Gregg Williams' defensive system takes hold quickly. Coordinator Gary Gibbs took the fall for last season's defensive failures and the Saints went out and spent big money to bring in Williams. Once viewed as one of the league's top defensive minds, Williams is looking for redemption after recent struggles in Jacksonville and Washington.
There will be some changes in the defensive scheme. But, more importantly, he'll be trying to install a mindset. Williams is known for having high-motor, aggressive defenses. The Saints haven't had anything that resembled that throughout Payton's tenure. There is plenty of talent in place and the defense showed signs it was developing an aggressive attitude in minicamp. If that continues, the Saints could have the one thing that's separated them from the playoffs the past two seasons.
Who will run the ball? That remains a huge question for a team whose passing game is pretty close to perfect. Payton's not going to take the ball out of the hands of quarterback Drew Brees, but the coach has made it clear he wants to develop a running game that's more consistent than last season.
With Deuce McAllister gone, the Saints have made it clear they plan to go with the tandem of Pierre Thomas and Reggie Bush. Payton will use camp and the preseason games to experiment with their roles and try to put Bush and Thomas in spots that play to their strengths.
---
Tampa Bay Buccaneers
Training camp site: Tampa, Fla.

Campfires: Fans are going to need rosters for this training camp. Derrick Brooks, Joey Galloway, Jeff Garcia and Warrick Dunn are gone. Tampa Bay's youth movement, which starts with new coach Raheem Morris, is in full swing as the Bucs truly look for a new identity.
Starting jobs are open all over the place, particularly on defense. The Bucs have moved safety Jermaine Phillips to Brooks' old spot at weakside linebacker and are putting Sabby Piscitelli in Phillips' old spot. If either of those moves fail, the Bucs could always move Phillips back to safety, but the team is planning on this switch working out. It better because the Bucs have plenty of other questions elsewhere. Is veteran cornerback Ronde Barber still capable of playing at a high level? Is defensive end Gaines Adams finally ready to play up to his potential?
| | |
| --- | --- |
| | |
| | J. Meric/Getty Images |
| | Play him or sit him? That's the decision the Bucs face regarding rookie quarterback Josh Freeman. |
But the biggest question of all -- and the one most fans will be watching -- is at quarterback. Tampa Bay used its first-round pick on Josh Freeman and Morris already has dubbed him as the franchise quarterback. The Bucs initially threw out all sorts of hints that Freeman, who left college a year early, would sit as a rookie. But he came on faster than expected in minicamp and that could change the thinking. The Bucs probably will enter the preseason looking to start either Luke McCown or Byron Leftwich. But it's not out of the question that Freeman could outshine both veterans. If that happens, the Bucs would have to speed up their plan.
Camp will be a downer if ... none of the quarterbacks steps forward. The rest of the offense is pretty solid, but this team won't go anywhere without a quarterback who can make the passing game work. There are reasons why McCown has never been a true starter and why Leftwich has gone from being a franchise quarterback in Jacksonville to being just a guy.
McCown has enough athleticism to make you believe there's upside, and Leftwich still throws the ball very nicely at times. But nothing is certain with either of these guys. If Freeman plays like a rookie in camp, the Bucs may have to settle on a quarterback by attrition. That's not a great situation because if McCown or Leftwich starts slowly, fans will be screaming for Freeman before he's ready.
Camp will be a success if ... the new schemes catch on. The Bucs aren't going to look anything like Jon Gruden's Bucs. New offensive coordinator Jeff Jagodzinski is installing a power running game and a vertical passing game. New defensive coordinator Jim Bates is going away from the famed Tampa 2 defense and going with a system that relies heavily on pressure from up front.
The Bucs are young in a lot of ways, but they'll need new leaders like Barrett Ruud, Derrick Ward, Kellen Winslow and Antonio Bryant to step up and lead this team through the transition process.
Whatever happened to Michael Clayton? After a brilliant rookie year, the wide receiver spent the past few seasons buried in Gruden's doghouse. A lot of people were stunned when the new regime handed Clayton a big contract, instead of letting him walk as a free agent. There's a reason for that.
The new regime believes Clayton can be a productive starter. Forget all the talk about what a good blocker Clayton is in the running game. Sure, that will help. But Clayton isn't getting big money just to block. He got paid because Morris, general manager Mark Dominik and Jagodzinski think he can be a solid No. 2 receiver.
Trey Wingo, Cris Carter and Marcellus Wiley preview the NFC South.
Posted by ESPN.com's Pat Yasinskas
The Falcons signed free-agent center
Brett Romberg
on Monday.
This is one of a very few moves the Falcons have made so far and it's probably not going to have a big impact on a starting offensive line that remains intact. But adding Romberg, a five-year veteran adds some solid depth and versatility to a unit that lost some crucial experience when veteran Todd Weiner retired after last season.
Romberg played for the Rams the last three seasons and started six games in 2008. Prior to joining the Rams in 2006, Romberg played for the Jacksonville Jaguars.
January, 2, 2009
1/02/09
10:10
AM ET
| | |
| --- | --- |
| | |
| | Dale Zanine/US Presswire |
| | Michael "Burner" Turner had eight 100-yard games and two 200-yard games this season for the Falcons. |
Posted by ESPN.com's Pat Yasinskas
PHOENIX -- In this age of "Smash and Dash" and "Double Trouble," people in Atlanta only need a one-word nickname to describe the Falcons' running game.
That's because Michael "Burner" Turner is the Falcons' running game.
No running back carried the ball more often in the regular season. Turner had 376 carries (23.5 a game) for 1,699 yards and 17 touchdowns. If you think that sounds like a case of overusing a single player at a time when most coaches prefer some sort of two- or three-headed backfield, you'd be wrong.
The proof is in the end result. Giving the ball to Turner repeatedly has worked wonders for the Falcons. They're 11-5 and in the playoffs for the first time since 2004 when they take on the Arizona Cardinals on Saturday.
"Michael just gets stronger and stronger as the game goes on,'' first-year coach Mike Smith said. "Going into the playoffs, we want to be able to run the football and it looks like Michael is very healthy."
Insider: Scouting Report
Scouts Inc.'s Tag Ribary


breaks down Saturday's NFC wild-card game between Atlanta and Arizona. Scouting Report

It's tough for any running back to stay completely healthy for an entire season and that's why so many coaches like to spread carries around. But Turner and the Falcons are the exception and it's not by accident.
This is exactly what the Falcons planned when they wouldn't let Turner leave their facility without signing a contract at the start of free agency. What the Falcons essentially were purchasing was a new car that had been test driven only a handful of times.
Although Turner had been in the NFL for four seasons, his odometer showed only 228 carries after playing behind LaDainian Tomlinson in San Diego. Fresh legs and a fresh body made Turner precisely the type of workhorse running back the Falcons knew they needed and this was long before they even knew they would draft quarterback Matt Ryan to run the offense.
In the complicated world of the NFL, Smith is as simple a guy as there is. As he inherited the mess caused by Bobby Petrino and Michael Vick, Smith came with a strong defensive background and only one philosophy on offense.
No matter what, he wanted to be able to run the football and run it frequently. Smith cut veteran Warrick Dunn, a 10,000-yard career rusher, and knew he needed more than backup Jerious Norwood (a classic speed back).
Turner had shown some flashes in his time with the Chargers, but the Falcons were taking a leap of faith in thinking he could give them 23 carries a game. That turned out to be the single-best move in all of free agency last year.
Ryan has been better than anyone expected, receivers Roddy White and Michael Jenkins have turned into a nice tandem, the special teams are excellent and the defense has played over its head.
But Atlanta's success story all stems straight from Turner.
"I believe in my abilities," Turner said. "I just show up to work every week and see what happens."
What's happened has been nothing but good things. Turner gave the Falcons eight 100-yard games and two 200-yard games. He has taken the pressure off Ryan and let the defense stay fresh by keeping the clock moving.
All that has come behind an offensive line that's full of no-name guys, unless you count rookie left tackle Sam Baker, who missed a large chunk of the season because of injuries. Todd Weiner, Todd McClure, Justin Blalock, Harvey Dahl and Tyson Clabo aren't especially talented as individuals. But they're strong as a group and they're coached by one of the league's best offensive line coaches, Paul Boudreau.
"They were the hardest-working group in the offseason," Turner said. "They are tough on the football field. I wouldn't have that many yards if those guys weren't doing what they were doing on the football field."
Turner gets only an occasional breather. Norwood carried 95 times for 489 yards and four touchdowns while getting a lot of playing time in passing situations. But most situations are about running for the Falcons and that's why they keep Turner on the field so much.
He's only 25 and the wear and tear of this season hasn't shown any real negative effects. It's a pretty safe bet that, in the future, the Falcons don't want Turner carrying 376 times a season. Doing that for more than one season probably would be asking for trouble and a short career for Turner.
At some point, the Falcons would like to give Norwood more carries and maybe even bring in another running back to help lighten Turner's load a bit. But that's in the future.
Against the Cardinals and however long the Falcons last in the postseason, they're going t
o keep handing the ball to Turner as much as possible. Yes, that's a heavy load for one player. But Turner has shown he's strong enough to handle everything the Falcons put on his shoulders.
He has carried them this far and, at this point, there's no sense in the Falcons worrying about how many carries Turner is getting. Let the Cardinals and any other defense Atlanta plays worry about that.
November, 18, 2008
11/18/08
11:11
AM ET
Posted by ESPN.com's Pat Yasinskas
Here's my take on the morning headlines from the local newspapers.
SAINTS
Jeff Duncan writes the unthinkable: Monday could be Deuce McAllister's last game ever with the Saints in the Superdome. That thought may be troubling to Saints fans because McAllister might be the most popular player in franchise history. But Duncan relies on solid logic. He points out McAllister could be suspended as early as next week if his appeal for violating the league's rules on banned substances isn't won. McAllister could face a four-game suspension and that, effectively, could end his time with the Saints. It's become painfully obvious this season that McAllister is no longer a feature back. He still is making feature back money and that probably won't bode well when the Saints look at their roster (and salary cap) after the season.
PANTHERS
Whatever happened to former running back Tshimanga Biakabutuka? He's running a restaurant in Georgia.
The old "under the radar'' question came Monday. I truly don't think anybody's overlooking the 8-2 Panthers. But the fact is John Fox kind of prefers that perception. His team has been at its best in years when expectations weren't real high and has had some big letdowns in years when it was the trendy Super Bowl pick.
FALCONS
It looks like Todd Weiner against Julius Peppers on Sunday. Although rookie left tackle Sam Baker is making some progress in his recovery from back surgery, coach Mike Smith said he doesn't expect him to be ready for the Panthers.
BUCCANEERS
Undrafted rookie Clifton Smith has done a nice job as a return man and had a few bright moments as a running back. But Smith is likely to play a bigger role in the backfield rotation with Earnest Graham likely lost for the year. That's a scary thought because Smith has lost a fumble in each of his last three games. Coach Jon Gruden pledged to work with Smith on ball security.
October, 29, 2008
10/29/08
8:45
AM ET
Posted by ESPN.com's Pat Yasinskas
FALCONS
The news that left tackle Sam Baker's hip isn't responding to treatment and he's seeking additional medical opinions is more than a little concerning. The rookie has played very well when he's been able to play. But Baker also had problems with a concussion earlier in the season and the Falcons don't have a lot of depth on the offensive line. Veteran Todd Weiner filled in for Baker on Sunday, but his knees are shaky. Look for the Falcons to go out and sign a tackle shortly.
BUCCANEERS
Hardy Nickerson and Doug Williams are among five former Bucs on this year's Hall of Fame ballot. But they're all very long shots. The second Tampa Bay player to follow Lee Roy Selmon into the Hall of Fame will be either Warren Sapp or Derrick Brooks.
PANTHERS
Coach John Fox almost always defers to veterans, but there could be an exception on the horizon. Fox is going to have to choose between second-year pro Dwayne Jarrett and D.J. Hackett as the third receiver when the Panthers get back from their bye. Jarrett made a key catch against Arizona and finally may have worked his way out of the doghouse he's spent his career in. It also helps that Hackett has been injured and hasn't done a lot when he has played.
SAINTS
The team reportedly has cut punter Ben Graham and kicker Taylor Mehlhaff. That's not all that surprising because the Saints have shown very little patience on special teams and the holder/kicker duo was part of a missed extra-point attempt Sunday. Although Mehlhaff, who was a draft pick, has a chance to return at some point (maybe even on the practice squad), the Saints probably have seen the last of Graham. He was a one-game solution, mainly because he had a passport and it was easy to get him to London. The passport could have been the reason the Saints signed Graham, instead of someone like Todd Sauerbrun -- the best punter to ever live, breathe and reportedly hit a cab driver -- on short notice. The Saints will use the bye week to find a new kicker and punter.
September, 25, 2008
9/25/08
6:40
PM ET
Posted by ESPN.com's Pat Yasinskas
BUCCANEERS
FALCONS
SAINTS
PANTHERS
September, 16, 2008
9/16/08
10:21
AM ET
Posted by ESPN.com's Pat Yasinskas
A look at the coverage from this morning's local newspapers:
SAINTS
FALCONS
PANTHERS
One of the more humorous Hurney stories came at a playoff game in the Meadowlands a few years ago. The Panthers were putting the finishing touches on a shutout of the Giants. A reporter friend I'll call "Stan'' picked up his phone and started making a hotel reservation for Chicago the following weekend.
When Hurney heard that, he turned as red as a fire truck and started yelling, "Hang up that phone now. Don't jinx us." To his credit, "Stan'' stayed on the phone and booked the reservation.
BUCCANEERS
September, 5, 2008
9/05/08
10:46
AM ET
Posted by ESPN.com's Pat Yasinskas
A quick trip around the NFC South before heading off to the airport. I'll check in from New Orleans late this afternoon.
FALCONS
Coach Mike Smith said the team still isn't sure who will start at right tackle. Tyson Clabo got most of the work there in the preseason. But veteran Todd Weiner is progressing after knee surgery and could take Clabo's place.
PANTHERS
Defensive tackle Damione Lewis had some pretty strong words on what the Panthers should do about a possible contract extension for defensive end Julius Peppers.
He said the Panthers should "break their neck to keep him here."
SAINTS
The company that runs the Superdome is expecting a full staff -- and possibly more -- for Sunday's game between the Saints and Tampa Bay. Most of the employees who evacuated before Hurricane Gustav are expected to be back in New Orleans. Some additional workers are being brought in from other cities.
BUCCANEERS
It looks as if the Bucs will start Antonio Bryant at receiver opposite Joey Galloway. Bryant, who was out of the NFL last year, had an outstanding preseason. His emergence means former starter Ike Hilliard will be used as the No. 3 receiver.
August, 23, 2008
8/23/08
12:52
AM ET
Posted by ESPN.com's Paul Kuharsky
ATLANTA -- Jeff Fisher showed the Titans tape of the Falcons' first two preseason games and warned his guys that Atlanta would take things beyond the whistle tonight.
According to several Titans, it panned out over the course of a 17-3 loss just as Fisher predicted.
Defensive back Vincent Fuller was on the receiving end of a knee from tackle Todd Weiner in the first quarter that drew an unnecessary roughness call -- one of nine penalties for 101 yards assessed against Atlanta. The Titans had eight for 62.
"They just do a lot of cheap stuff," Fuller said. "Some of it is in between the whistle, but a lot of it is at the end of the play. If you're standing near a pile, offensive linemen will come and clean you from behind. They're blocking high then somebody else is chopping low. Some of it is illegal but it doesn't get called. A guy today took me to the ground, but instead of the play being over he put a knee on me. There was a lot of unnecessary stuff that we saw that they were doing that we knew we couldn't allow."
Atlanta coach Mike Smith was not happy about how far his players took the tone-setting at times.
"There are a lot of guys who are trying to impress coaches about their passion for the game and how hard they want to play," he said. "We had entirely too many personal foul penalties. It will be interesting to watch the tape. We've got to address that. It's a lot easier to address when you come out with a win."
Titans safety Michael Griffin got called for holding on a first-quarter punt return, and he wound up with his helmet pulled off. He tussled with Daren Stone and had to be restrained. Vince Young was among the players pulling him off the field and trying to settle him down.
Griffin said Stone crossed a line.
"He got my dreads, just pulled my hair," Griffin said. "That got me fired up, pulling my hair, man. My helmet got knocked off and then he grabbed my hair. That's really all there was to it. Hair is fair game, my helmet was off, we got into a little pushing and shoving and pulling match and he pulled my hair.
"When it comes to that, somebody pulling your hair? Not cool. That's disrespect you know? I'm not going to pull on your hair. You've got a problem, don't pull on my hair. Girls pull on hair."
Stone had a different version of events, of course:
"He tried to hit me hard, so I retaliated," he said. "We were just competing and went at it a little bit. But we shook it up at the end. Everything is cool. He kind of has a reputation of latching on and trying to pull you down. That's what he tried to do to me, but everything was within the rules."
The Titans said they figured Atlanta's extracurricular activities were part of the transition to new coach Mike Smith's attitude.
"We came into this game seeing what they did earlier in preseason games, we kind of anticipated it," Kyle Vanden Bosch said. "They kind of do some backside blocks away from the ball, they'll take a shot on guys, pull guys to the ground. We kind of expected it. Our big thing, especially for the young guys on our defense, we weren't going to back down.
"You have to be smart, but at the same time you can't be afraid of things like that. Obviously it's something they're being coached to do. It can make defensive players timid and afraid, but that's not our style. I'm extremely proud of the way we played, the way we stood up, the way we reacted."
Said Fuller: "They have a new coach, he's trying to set a tone. Maybe they didn't play as physical a football as they wanted to last year. And they want to be known as a physical team with coach Mike Smith coming from Jacksonville, so they have a hard core physical attitude and he's just trying to instill that in his players. But there is a right way to go about that, and I don't think they are always going about it in the correct way."
Thankfully, correct way or incorrect way, the three state troopers who guarded the Titans' locker room door after the game were never required to intervene. Seemed like overkill to me, but I guess you can't be too careful.