March, 11, 2010
3/11/10
9:51
AM ET
By
Matt Mosley
| ESPN.com
Sean Ryan
's nomadic NFL career continued Thursday when he
signed with the Washington Redskins
. Ryan, a fifth-round pick by the Cowboys in '04, has now been on six different rosters in as many seasons.
I was covering the Cowboys for The Dallas Morning News when Ryan entered the league. Bill Parcells loved him from the start because he was an extremely tough player from the Northeast. Parcells had an affinity for Boston College players (see
Marc Colombo
) and Ryan turned out to be a solid special-teams player who could be a punishing blocker. He played for former Cowboys assistant Todd Haley in Kansas City last season and had a career-high 14 catches and two touchdowns.
He's not going to take any touches away from
Chris Cooley
or
Fred Davis
, but he can replace unrestricted free agent
Todd Yoder
as the Redskins' blocking tight end. Next up, the Redskins will take a look at former Chiefs running back
Larry Johnson
. We'll let you know how that visit went later today.
February, 16, 2010
2/16/10
1:00
PM ET
By
Matt Mosley
| ESPN.com
»
AFC Free Agency
:
East
|
West
|
North
|
South
»
NFC
:
East
|
West
|
North
|
South
An early look at the free-agent situation in the NFC East.
Note
: These projected lists reflect notable unrestricted free agents for each team. The NFL will not issue an official list of free agents until the signing period begins March 5.
Dallas Cowboys
Unrestricted free agents:
G
Montrae Holland
Key figures:
The Cowboys don't have a huge interest in retaining Holland, a man who's never really challenged for playing time. But Dallas has a long list of restricted free agents because of the likely scenario of an uncapped 2010 season. Wide receiver
Miles Austin
is obviously the biggest name on the list. The Cowboys would like to get a long-term contract done, but Austin's going to be asking for big money after his breakout season. For now, the Cowboys will likely sign Austin to the highest tender, which would pay him roughly $3 million in 2010. There's also a chance Dallas will try to work something out with restricted free agent
Marcus Spears
. Owner Jerry Jones has been very complimentary of Spears' work in '09, so we'll see if he receives an extension. It will also be interesting to see whether the Cowboys reward safety
Gerald Sensabaugh
for a fine '09 season. He's seeking a multiyear extension. But with the potential of a lockout in 2011, negotiations are up in the air.
New York Giants
Unrestricted free agents:
QB
David Carr
, LB
Danny Clark
, P
Jeff Feagles
, DT
Fred Robbins
[+] Enlarge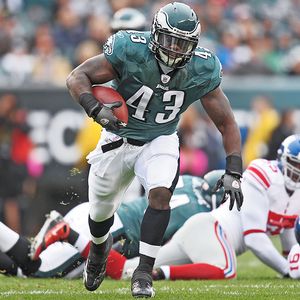 Drew Hallowell/Getty ImagesFullback Leonard Weaver rushed 70 times for 323 yards and two TDs in 2009.
Key figures:
The Giants would like an upgrade at the backup quarterback position, but it's not like there are a bunch of reliable candidates floating around. It will be interesting to see how much progress
Rhett Bomar
makes this offseason. Coach Tom Coughlin loves what Clark brings to the locker room, but the player looked slow in coverage and he's a progress stopper at this point in his career. It's time to let him move on. Feagles can punt until he's 50 -- and he might give it a try. Robbins was benched late in the season, so the writing's on the wall with him. His production has tailed off the past two seasons because he's been asked to stay on the field too much.
Philadelphia Eagles
Unrestricted free agents:
DE
Jason Babin
, S
Sean Jones
Key figures:
The man who's missing a major payday (for a fullback) is
Leonard Weaver
. He was an All-Pro for the Eagles and he would be an unrestricted free agent if not for the uncapped season in 2010. The Eagles now hold the hammer in negotiations -- and they've been known to use it at times. Babin is a decent pass-rush specialist, but he sort of faded down the stretch. Jones is a capable backup, but he should not be in the starting mix. Philadelphia would be wise to work something out with restricted free-agent guard/center
Nick Cole
. He's a versatile player who bailed out Andy Reid when the
Stacy Andrews
experiment didn't pan out in '09. And no matter his status as a restricted free agent, it's time to get something done with
Jason Avant
. He's quietly carved out a very important niche in this offense.
Washington Redskins
Unrestricted free agents:
LS
Ethan Albright
, OT
Levi Jones
, DE
Phillip Daniels
, C
Casey Rabach
, P
Hunter Smith
, G
Mike Williams
, DE
Renaldo Wynn
, P
Todd Yoder
Key figures:
Cornerback
Carlos Rogers
is a restricted free agent, but he's looking for a new destination. It will be interesting to see what Mike Shanahan and Jim Haslett choose to do with Rogers. Will they try to get him back on the right path or see if they can deal him for a mid-round draft pick? This unrestricted list doesn't have a lot of juice. Rabach could certainly help a team at center, but he didn't set the league on fire in '09. It's probably time to move on without aging players such as Wynn and Daniels. I enjoyed the Williams weight loss story, but it's hard to imagine him being part of the rebuilding process at Redskins Park.
This we'll be the dullest free-agency period in years, but we'll be here to cover all the non-action.
October, 28, 2009
10/28/09
4:34
PM ET
Posted by ESPN.com's Matt Mosley
Here's a bit of good news among the chaos at Redskins Park: Pro Bowl tight end
Chris Cooley
underwent successful surgery Wednesday on his lower right leg and could return in a month,
according to the club
. Coach Jim Zorn indicated Tuesday that Cooley would likely miss the rest of the season because of a broken bone suffered against the Eagles, but a doctor's second opinion has changed the outlook.
Given Cooley's prolific blogging and Tweeting habits, it shouldn't be difficult to keep up with his recovery. In his absence, rookie
Fred Davis
and backup
Todd Yoder
will get plenty of opportunities. Davis, a member of the Skins' infamous second round of the '08 draft, had eight catches for 78 yards and a touchdown against the Eagles. But his blocking was less than perfect.
When the Redskins face the Eagles next time, I'm thinking they might want to avoid having Davis block
Trent Cole
one-on-one. I'm just sayin'...
October, 7, 2008
10/07/08
3:23
PM ET
Posted by Scouts Inc.'s Keith Kidd
What has been a key to the resurgence of the Redskins' offense? Coach Jim Zorn has done a masterful job of utilizing his personnel within his formation designs.
Washington's offense has been at its most dynamic in groupings featuring multiple tight ends: "12" (one running back, two tight ends), "22" (one running back, one fullback, two tight ends) and "13" (one running back, three tight ends). When an opposing defense sees one of these packages on the field, it reads run and usually counters with a corresponding personnel, alignment and play call. But the collection of tight ends Chris Cooley, Fred Davis and Todd Yoder and fullback Mike Sellers provide the versatility and complete array of skills to force opponents into making some tough decisions on early downs.
Cooley excels at finding soft spots in underneath zones and sitting down in them to provide quarterback Jason Campbell a big target. He's also very effective out of these groupings on screen passes. The West Coast offense has allowed Cooley to move around within the structure of the passing game and make a lot more plays. Davis is a versatile player who has shown playmaking skills and some consistency as a run blocker. Sellers is a strong, massive run blocker who has deceptive speed and agility for his size. He can shift or go in motion. He can provide physical lead blocking or effective edge and move blocking. He can align in the backfield or detach from the formation as a wing.
That versatility creates alignment flexibility within the formation designs and allows the offense to gain an edge based on what the defense dictates. In other words, these groupings give Zorn choices: pound the ball on front-side power zones or detach Cooley to create passing-game mismatches. If a defense stays in base, Cooley gets a chance to get open against an overmatched safety or linebacker. Match up with sub personnel, and the Redskins can motion into a spread formation and attack the weakside bubble against six defenders in the box with running back Clinton Portis.
Portis still is an explosive player with breakaway speed, and he gets stronger as a game wears on. He runs with good vision and can press the hole in Washington's zone-blocking patterns. The Redskins' experienced offensive line consistently creates movement for him in the run game. Redskins opponents often position an extra safety near the line of scrimmage, depending on the situational down and distance, but these groupings force them to think twice about that strategy. And because Portis is a skilled receiver out of the backfield and an explosive after-the-catch threat, he gives Washington another potential matchup weapon in those heavy personnel packages.
Zorn has only scratched the surface of what his offense can do out of these groupings. In much the way Miami is doing with its single-wing "Wildcat" scheme, Washington can continue to create and build on his multiple-tight end sets from a play-selection standpoint. It's a truly great way to continue exploiting opposing defenses.
Scouts Inc. watches games, breaks down film and studies football from all angles for ESPN.com.