September, 13, 2011
9/13/11
2:40
PM ET
Jason Elam
was sitting in his Alaska home Monday night, watching his former team, the
Denver Broncos
host one of his favorite kickers,
Sebastian Janikowski
.
Elam admits that he thinks the impressive NFL record he has shared with Tom Dempsey for the past 13 years could be given the boot every week. Janikowski is the one of the most expected contenders. When the
Oakland Raiders
approached mid-field at the end of the first half Monday night of an eventual 23-20 win, Elam buckled in for history.
"I was excited," Elam said by phone Tuesday. "I don't watch football to see 21-yard field goals. [Monday] was my type of game."
When Janikowski's 63-yard field goal barely fell over the cross bar, tying him with Dempsey and Elam for the NFL record, Elam was thrilled to see another placekicker achieve greatness.
"I have such an appreciation for Sebastian as a kicker," Elam said. "He has such a strong leg, He's fun to watch. It was a great kick. I just wish it didn't come against my Broncos."
Elam thinks a new record will be established, perhaps soon. He thinks every kicker in the NFL is capable of making a 64-yard plus kick, but he counts Janikowski and Denver's
Matt Prater
as among the top candidates to establish a new record. Like Janikowski's 63-yarder, Elam's was done in Denver came at the end of the first half.
"His situation was perfect," Elam said. "I was watching, thinking he could do it."
September, 13, 2011
9/13/11
12:17
AM ET
DENVER --
Oakland Raiders
kicker
Sebastian Janikowski
just tied an NFL record with a 63-yard field goal at the end of the first half.
Oakland leads 16-3.
It barely made it but the man they call Seabass is in the record books. He tied Denver's
Jason Elam
(he did it in the old Mile High Stadium) and New Orleans' Tom Dempsey.
This is a horribly played game folks, but we just saw history.
May, 10, 2011
5/10/11
1:00
PM ET
What key event significantly changed the fortunes of the Saints -- for better or worse? Give us your take and we'll give you our definitive moment on May 25.
These events could be positives or negatives. In the case of the Saints, I elected to just stick with the positives because there have been a lot recently. This long-suffering franchise has done all sorts of good things since the devastation of Hurricane Katrina in 2005.
There have been two trips to the NFC Championship Game, a Super Bowl title and a future that still looks very bright, and most of your choices are from the modern era. You can trace all that's right with the Saints these days back to 2006, when coach Sean Payton and quarterback
Drew Brees
, who supposedly had a shoulder injury so bad he might not play again, arrived. For those with longer memories, I even included the arrival of Jim Mora as coach in 1986. That move triggered the first real surge of competitiveness as the "Dome Patrol'' and Bobby Hebert showed it was possible to win in New Orleans.
Prior to that, the highlights I left out were Tom Dempsey's 63-yard field goal and the days of Archie Manning running for his life, but also throwing some nice passes. Beyond that, there wasn't much else.
If you vote Other, give us your suggestion in the comments area below.
July, 1, 2010
7/01/10
11:00
AM ET
Notable players:
Running back Mel Farr, center Ed Flanagan, tight end Charlie Sanders, linebacker Paul Naumoff, defensive tackle Alex Karras, cornerback Lem Barney, cornerback Dick LeBeau.
[+] Enlarge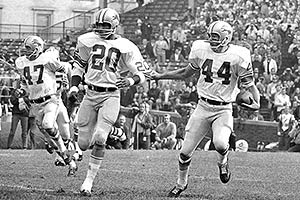 AP Photo/Jim PalmerCornerbacks Lem Barney and Dick LeBeau combined to snag 16 interceptions during the 1970 season.
Analysis:
I'm fully aware that this franchise played for four NFL Championships during the 1950s, winning in 1952, 1953 and 1957. It was without question the golden age of Lions football, but you can make a decent argument that the best team came two decades later.
The 1970 Lions ranked second in the NFL in points scored and points allowed, won their first two games by a combined score of 78-3 and finished the season with the league's second-highest average point differential (10.4), according to pro football-reference.com. They had the best turnover ratio in the league, were the victims of Tom Dempsey's then-record 63-yard field goal and produced an impressive five-game winning streak to end the regular season.
This team fielded two Hall of Fame cornerbacks, and both Barney and LeBeau had the best seasons of their careers. LeBeau intercepted nine passes, while Barney had seven -- returning two for touchdowns. The Barney/LeBeau team helped the Lions limit the powerful Dallas Cowboys to five points in the playoffs, and that total should have been enough for an offense that put up at least 28 points in six of its regular-season games.
But the offense inexplicably fell flat that day in a 5-0 defeat, leaving Lions fans their first in a series of torturous "what-ifs." At the time, there was a feeling the Lions were
bound for a Super Bowl victory
had they gotten past the Cowboys.
I realize there is some room for discussion here. But the 1970s were a newly competitive era for the NFL, and that's where I landed when comparing this team with the 1950s teams.
Most impressive victory:
I'll go with a tie for the Lions' collective performances in shutting out Green Bay twice -- 40-0 in the season opener and 20-0 in the season finale. The Packers weren't a good team that year but they did win six of their other 12 games.
Did you know?
The 1970 Lions were the first wild-card playoff team in NFL history. When the league merged with the AFL, the postseason was expanded to eight teams -- three division winners and one wild-card team.
Did you know, Part II?
Soul musician Marvin Gaye had a failed tryout for the 1970 team.
Honorable mention
1952:
A high-powered offense scored 40-plus points five times on the way to a 9-3 record and an NFL Championship.
1953:
A similar team scored a touchdown in the final minutes of the championship game to become the third team in NFL history at that point to win back-to-back titles.
1957:
The Lions overcame the training camp resignation of coach Buddy Parker and the broken leg of quarterback Bobby Layne to win its last NFL title.
January, 25, 2010
1/25/10
1:23
AM ET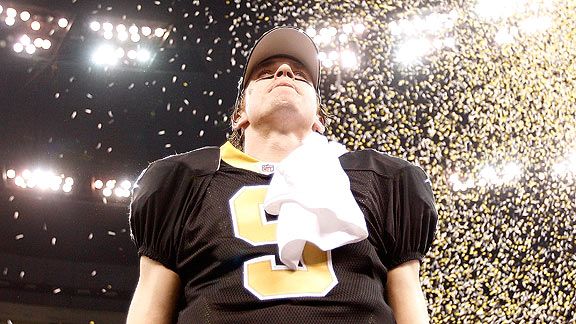 Chris Graythen/Getty ImagesDrew Brees and the Saints are going to the Super Bowl for the first time in franchise history.
NEW ORLEANS -- If you weren't in the Superdome on Sunday night, and a lot of
New Orleans Saints
fans are going to claim that honor for years, let's make you feel as if you were.
Let's turn it over to Jerry Romig, the official public address announcer in the Louisiana Superdome. If you've been to a Saints game, you've heard the voice because Romig has been here for a long time. Here's the microphone, Jerry:
"Ain't this beautiful?" Romig said over the speakers a couple of minutes after the Saints defeated the
Minnesota Vikings
31-28
in overtime in the NFC Championship Game. "The Saints are going to the Super Bowl.''
There, you heard the official word -- and isn't it kind of ironic that Romig used the word "ain't"? Yes, the team that once was called the Aints and had fans wearing bags over their heads, is going to the Super Bowl. They'll play the
Indianapolis Colts
-- and New Orleans native
Peyton Manning
-- in Super Bowl XLIV in Miami on Feb. 7.
It's over now, but what a strange path the Saints took to get there -- both Sunday night and throughout their history.
"Anybody want a rejuvenated ulcer?'' an elevator operator in the Superdome press box asked a few minutes after the game.
"I'm just trying to congest all this,'' a fan said as she walked down a Superdome tunnel.
Congest it, ingest it, digest it or whatever, but enjoy it. This was about more than one of the best postseason games in NFL history. This was about the city of New Orleans, really the whole Gulf region. From Bogalusa to Lake Charles, La., from Biloxi, Miss., to Mobile, Ala., and even into parts of extreme northwest Florida, they're celebrating more than the first Super Bowl trip in franchise history.
They're celebrating a way of life -- a way of life that's helped this region come back from one of the worst natural disasters in history.
"Brett Favre is a great story,'' New Orleans linebacker
Scott Fujita
said. "But the New Orleans Saints are a better story.''
Fujita's right. What happened Sunday night was about history and legacies, but not about Favre. Sure, the stage was set for another legendary Favre moment. You know, something like the old gunslinger comes home (he grew up just up the road in Kiln, Miss.), takes an incredible beating, spends most of the game limping around and, in the end, makes a play to take his team to the Super Bowl.
Another chapter in the storybook. And all of it except the very last part came true. On a night when
Adrian Peterson
and
Percy Harvin
were bouncing balls off the Superdome floor, Favre almost overcame them.
But you want to talk about overcoming things? Let's go back to the Saints and the community around them.
"This is for everybody in this city," coach Sean Payton said as he raised the George S. Halas Trophy over his head. "This stadium used to have holes in it and be wet. It's not wet anymore."
No, it's not. Looking out at the Superdome floor afterward, all you could see was confetti. Lots and lots of it. You also could see Payton dressed in a suit, throwing passes to his son and a few of his friends.
It's playtime for the Paytons and party time for Saints fans everywhere. The days of rooting for lovable losers are over. The misery is over. At least for one night, what happened a little over four years ago is a distant memory, kind of like Archie Manning and Tom Dempsey.
What happened was the world changed for New Orleans. Hurricane Katrina hit. The city and the region were devastated.
"The city is on its way to recovery and in a lot of ways it's come back better than ever," New Orleans quarterback
Drew Brees
said.
The Saints have come back better than ever, after temporarily seeking shelter in San Antonio, and that has done a lot to boost morale. But this moment is, without a doubt, the highest point yet.
"We said we were going to keep fighting until they kick us off the field and go home,'' New Orleans linebacker
Jonathan Vilma
said.
That's exactly what the Saints did Sunday night and, really, what their fans have been doing since the hurricane. The Saints beat the heck out of Favre, repeatedly stripped the ball from the hands of Peterson and Harvin and won the turnover battle five to one.
Still, in the end, they needed Favre to try to throw a cross-field pass that turned into an interception near the end of regulation, and a 40-yard field goal by 23-year-old kicker
Garrett Hartley
to win it nearly five minutes into overtime.
Hartley's kick replaces Dempsey's 63-yard field goal as the most famous kick, and probably the most famous play, in New Orleans history.
But you want one play to define this moment and the history of the Saints and New Orleans? Turn back to just before the end of the first half, with the score tied 14-14 and
Reggie Bush
standing near his own end zone waiting to field a punt.
Bush failed to catch the ball and the Vikings recovered at the New Orleans 10-yard line with 1:13 left in the first half.
"That's a gut-wrenching feeling," Bush said.
Bush could have been the goat to top all goats in Saints' history had the Vikings punched in a quick touchdown and gone on to win. Thing is, this time, it didn't happen.
Two plays later, Favre and Peterson messed up an exchange on a handoff and Fujita recovered. Payton made it a point to have Brees hand the ball to Bush on the next two plays as the Saints ran out the clock.
That was about keeping confidence and a shot at redemption. We're not just talking about Bush's confidence or about Bush's redemption, although he did score the final New Orleans touchdown. We're talking about redemption for a franchise, a city and an entire region. Bush just happened to sum it all up perfectly in what he did on the field and what he said after the game.
"For anybody who thinks we didn't deserve to win, they weren't watching the same game we were," Bush said.
NFL SCOREBOARD
Sunday, 2/2
WEEKLY LEADERS