February, 9, 2011
2/09/11
8:28
AM ET
I once heard Tom Donahoe, the former Buffalo Bills president and general manager, call quarterback Drew Bledsoe a future Pro Football Hall of Famer.
Then again, Donahoe used to say a lot of things.
I was reminded of this when taking a glance at players who will make their first appearance on the Hall of Fame ballot for 2012.
Buffalo News reporter Mark Gaughan, who's on the Hall of Fame selection committee and last weekend was elected president of the Pro Football Writers Association, blogged the
top newcomers to consider the next few years
.
[+] Enlarge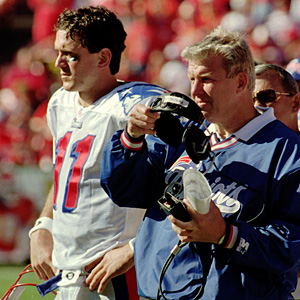 AP Photo/Ed ZurgaBill Parcells and his former quarterback Drew Bledsoe will be on the Hall of Fame ballot next year.
The lists are helpful in speculating when fan favorites such as Andre Reed and Curtis Martin will get their Canton calls. They both were finalists this year -- Reed for the fifth time, Martin for the first -- but
weren't added to the 2011 induction class Saturday
.
Perhaps that development was fitting for Martin because his coach with the New England Patriots and New York Jets will be on the ballot again. They could get in together in 2012.
Bill Parcells has been a finalist twice, but not since 2002 because rules for coaches changed. They now must wait five years from their last game to be eligible for induction, and Parcells returned to the sidelines with the Dallas Cowboys in 2003.
Is Parcells a Hall of Famer? I know Miami Dolphins fans aren't too thrilled with him these days, but he did add to an already remarkable legacy -- two championships, different teams to the Super Bowl, a few organizational turnarounds -- by guiding the Dolphins from 1-15 to the AFC East title as their football operations boss.
Also on the ballot next year will be Bledsoe, running backs Corey Dillon and Tiki Barber, fullback Mike Alstott, guard Will Shields and coaches Bill Cowher and Marty Schottenheimer.
Bledsoe had a fine career with the Patriots, Bills and Cowboys and ranks eighth all-time in passing yards. But he was a Pro Bowler only four times and never was first-team All-Pro. Bledsoe was helpful in getting the Patriots their first championship, so he does have a ring. But that was Tom Brady's team.
Dillon also was a four-time Pro Bowler and won a Super Bowl with the Patriots. He ranks 17th in rushing yards and never led the league in a major rushing category.
Schottenheimer played for the Bills and Patriots before winning 61 percent of his regular-season games as head coach of the Cleveland Browns, Washington Redskins and San Diego Chargers. His 200 victories rank sixth all-time, but his 5-23 playoff record will hurt.
That group of first-time candidates -- plus the newcomers for 2013 -- bodes well for Reed. There won't be any new receivers for him to box out. He already has jockeyed ahead of contemporaries Cris Carter and Tim Brown by making the cut from 15 to 10 in the selection process the past two years. Carter and Brown haven't.
Gaughan highlighted first-year players for next few classes.
2013:
Quarterback Vinny Testaverde, offensive linemen Larry Allen and Jonathan Ogden, defensive tackle Warren Sapp, defensive end Michael Strahan.
2014:
Running back Shaun Alexander, receiver Marvin Harrison, linebacker Derrick Brooks, safety Rodney Harrison and coaches Tony Dungy, Jon Gruden and Mike Holmgren -- if they don't return to sideline work.
2015:
Quarterback Kurt Warner, receivers Isaac Bruce and Torry Holt, tackles Orlando Pace and Walter Jones and linebacker Junior Seau.
February, 2, 2011
2/02/11
4:26
PM ET
Should Dick Jauron be sitting next to his phone?
He might want to be on the lookout for a 615 area code on his caller ID.
The Tennessee Titans apparently are gathering former Buffalo Bills head coaches for a job fair.
ESPN's Chris Mortensen and Adam Schefter report the Titans plan to
interview ex-Bills head coaches Mike Mularkey and Gregg Williams
for their head vacancy.
Jauron is the Cleveland Browns' defensive coordinator now, but why not interview him for a promotion, too?
The Titans have received permission from the Atlanta Falcons to interview Mularkey, their offensive coordinator. The Titans already have scheduled a Thursday interview with Williams, the New Orleans Saints' defensive coordinator.
Mularkey and Williams haven't been head coaches since they left the Bills.
They also are Buffalo's last two head coaches to post non-losing records.
Williams went 17-31 in three seasons. His best year was 8-8 in 2003. He was fired and replaced with Mularkey in 2004.
Mularkey then guided Buffalo to its only winning season in the past 11 years, a 9-7 record and one game out of the playoffs.
Mularkey went 5-11 in his second season and resigned in a bizarre sequence of events. The Bills fired president Tom Donahoe and brought in former coach Marv Levy as general manager. The Bills held a news conference to announce Mularkey would be retained as head coach, but later that day he announced his resignation.
August, 8, 2010
8/08/10
9:33
AM ET
Does
Drew Bledsoe
belong in the Pro Football Hall of Fame?
The numbers suggest he does.
The numbers, however, also show Hall of Fame milestones are changing.
[+] Enlarge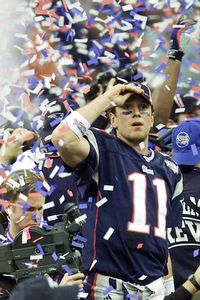 AP Photo/Beth A. KeiserDrew Bledsoe was the backup to Tom Brady in Super Bowl XXXVI.
In a piece for "The Fifth Down" blog at NYTimes.com, quarterback statistician Luis DeLoureiro takes a look at the traditional assurances for induction. In the past
multiple championships or 40,000 yards passing
have meant an automatic bronze bust in Canton.
All seven quarterbacks who've been eligible for the Hall and have thrown for 40,000 yards have gotten in. Two more are active and should enter on the first ballot:
Brett Favre
and
Peyton Manning
.
Dan Marino
,
Warren Moon
, Fran Tarkenton and Dan Fouts didn't win titles. Moon and Fouts never appeared in a Super Bowl.
So what about Bledsoe?
He threw for 44,611 yards and 251 touchdowns in 14 seasons with the
New England Patriots
,
Buffalo Bills
and
Dallas Cowboys
. He reached two Super Bowls with the Patriots, losing as a starter and winning as
Tom Brady
's backup.
But everyone knows the NFL has evolved. Passing numbers are prolific compared to 10 years ago.
New York Jets
and Patriots quarterback
Vinny Testaverde
is another example. He threw for even more yards than Bledsoe did. The Heisman Trophy winner rolled up 46,233 yards and 275 touchdowns, ranking among the top eight all-time in each category
DeLoureiro, who
also writes for NFLStatAnalysis.net
, noted the only two quarterbacks of the Super Bowl era to enter the Hall of Fame without 40,000 yards or multiple championships were
Steve Young
and
Jim Kelly
.
Both presented special cases. Young started only eight seasons and was a two-time league MVP. Kelly took the Bills to four straight Super Bowls.
Tom Donahoe, the former Bills general manager, use to refer to Bledsoe as a future Hall of Famer, a comment that always sounded ridiculous to me.
It still does.
Posted by ESPN.com's Tim Graham
The top issues facing each team in the division:
Primary issue: The Bills had the weakest pass rush for an NFL team that wasn't an out-and-out doormat. They recorded 24 sacks all season. Only the Cleveland Browns, Cincinnati Bengals and Kansas City Chiefs had fewer.
| | |
| --- | --- |
| | |
| | Brendan Maloney/US Presswire |
| | If available, Texas defensive end Brian Orakpo would fit in nicely with the Bills. |
A significant problem was the loss of Pro Bowl defensive end Aaron Schobel for all but the first five games because of a foot injury. But he managed only one sack when he was available. The Bills haven't gotten anything out of John McCargo, a defensive tackle they traded up to draft 26th overall three years ago. He has started zero times and has notched 2.5 sacks.
The Bills lost defensive line coach Bill Kollar, who accepted a promotion to be Houston Texans' assistant head coach. Fired Green Bay Packers defensive coordinator Bob Sanders has replaced him.
Solution: If Schobel recovers and Sanders can figure out a way to unlock the lackadaisical McCargo, then the Bills' defensive line might spring back nicely. The Bills hold the 11th overall draft choice, and top-rated pass rushers Brian Orakpo of Texas and Everette Brown of Florida State could be available.
Secondary concern: The Bills need to build some goodwill between themselves and their fans. Given the dreadful economy and the team's recent past, even the most ardent Bills supporter has plenty of reasons not to buy tickets. The Bills haven't made the playoffs in nine years. Fans are down on management's decision to stick with head coach Dick Jauron.
Solution: As much as Bills fans despised former general manager Tom Donahoe, they have to admit he knew how to get them excited with high-profile offseason moves such as the Drew Bledsoe acquisition and the first-round Willis McGahee gamble. Would it kill the Bills to provide a little excitement this spring?
---
| | |
| --- | --- |
| | |
| | Mitchell Layton/Getty Images |
| | California center Alex Mack could help solidify the Dolphins' offensive line. |
Primary issue: Miami's interior offensive line was a major source of frustration throughout the season.
At first, the Dolphins weren't happy with the depth, routinely circulating street free agents through the roster. Rookie Donald Thomas won the starting right guard job but suffered a season-ending foot injury on opening day. Left guard Justin Smiley, their top offseason free-agent acquisition, played well but went down with a gruesome leg injury in Week 13. The front office has decided center Samson Satele isn't sturdy enough to handle 3-4 nose tackles.
The Dolphins went into 2008 excited about their running-back tandem of Ronnie Brown and Ricky Williams, but their inability to run inside limited offensive options and forced the Dolphins to try the exotic Wildcat offense, which put two tackles on the same side of the line.
Right tackle Vernon Carey is a free agent. If the Dolphins re-sign him, there's talk of switching him to guard.
Solution: The Dolphins are searching for a center to anchor their offensive line. Free agency is an option, but drafting a center such as Alex Mack of California or Max Unger of Oregon creates a tantalizing proposition of a formidable line that can stay together for years. Satele could shift to guard and provide depth. Thomas will be back. No. 1 draft pick Jake Long went to the Pro Bowl.
Secondary concern: As ownership switched from Wayne Huizenga to Stephen Ross, football operations chief Bill Parcells renegotiated his four-year contract to include a permanent walkout clause with full pay. Parcells can leave whenever he desires for any reason he wants.
Solution: Leave him alone, Steve.
---
Primary issue: The three biggest concerns for the Patriots this offseason are Tom Brady's ACL, Tom Brady's MCL and Tom Brady's knee infections.
| | |
| --- | --- |
| | |
| | Greg M. Cooper/US PRESSWIRE |
| | The Patriots have $29 million in salary-cap dollars tied up between Tom Brady and Matt Cassel. |
Much of the Patriots' offseason -- and beyond -- hinges on Mr. Everything's status for 2009 because roughly $29 million in salary-cap dollars are tied up between him and his insurance policy, Matt Cassel.
That massive allocation will affect how flexible the Patriots can be when it comes to signing free agents or hammering out extensions to players they want to keep around.
Solution: The Patriots must clear Cassel's one-year, $14.65 million guaranteed contract off the books by trading him, but they might not be able to do so. They need to make sure Brady is healthy enough first, and they might not know for months.
Secondary concern: Brain drain hasn't been a problem for the Patriots yet, but recurring defections could catch up to them eventually. Vice president of player personnel Scott Pioli is the Kansas City Chiefs' general manager. Offensive coordinator Josh McDaniels is the Denver Broncos' head coach. Other respected assistants have shuffled about.
Solution: Head coach Bill Belichick has to maintain his remarkable knack for finding and nurturing football minds who always seem to thrive in the Patriots' already-established culture.
---
New York Jets
| | |
| --- | --- |
| | |
| | Rich Kane/US PRESSWIRE |
| | Kellen Clemens, right, will be one candidate to replace Brett Favre as the Jets' quarterback. |
Primary issue:
The chief concern evolved a little on Wednesday, shifting from "How long will the Jets have to wait on
Brett Favre
?" to "How will the Jets replace Brett Favre?"
Management insists it's focusing on the three candidates already on the Jets' roster. But Kellen Clemens has made only eight starts, most of them frightful. Brett Ratliff and Erik Ainge have combined for zero NFL game snaps.
The Jets are downplaying their interest in locating another candidate through free agency or the draft, but banging those drums so soon would be demoralizing to the three hopefuls and possibly short-circuit a budding competition.
Solution: Rookie head coach Rex Ryan is a defensive mastermind, which means this mostly will be Brian Schottenheimer's problem to solve. Ryan said he wants to run an all-weather offense, which emphasizes the run. That should help alleviate pressure on a young quarterback.
Secondary concern: Despite star cornerback Darrelle Revis and impressive safety Kerry Rhodes, the Jets were miserable in defending the pass last season. They ranked 29th in pass defense, allowing 234.5 yards a game. Opponents completed 64.3 percent of their passes and threw for 23 touchdowns.
Solution: The Jets desperately need an effective cornerback to start opposite Revis. Getting sixth-overall draft pick Vernon Gholston playing like the pass rusher they thought he was at Ohio State wouldn't hurt either.