January, 10, 2014
1/10/14
5:01
PM ET
The
Miami Dolphins
have requested to interview
Philadelphia Eagles
Vice President of Player Personnel Tom Gamble, ESPN's Adam Caplan reports.
Gamble is considered a strong contender for Miami's general manager opening. I'm hearing behind the scenes that Gamble is a favorite of Dolphins owner Stephen Ross, which carries a lot of weight.
Gamble has been successful building playoff teams at recent stops with the Eagles and
San Francisco 49ers
. The Dolphins began interviews for their general manager opening Friday after parting ways with Jeff Ireland this week after six seasons.
January, 10, 2014
1/10/14
4:10
PM ET
PHILADELPHIA --
Philadelphia Eagles
executive Tom Gamble is expected to interview for two general manager jobs, both in Florida, and both with tricky coaching situations.

ESPN's Adam Caplan first reported that Gamble was contacted by the
Miami Dolphins
and the
Tampa Bay Buccaneers
. The Eagles were notified by those teams of their intention to interview Gamble, Caplan reported.
In Miami, GM Jeff Ireland left after reported acrimony with head coach Joe Philbin and other members of the team's front office.
In Tampa, the Buccaneers just hired Lovie Smith as head coach to replace Greg Schiano. The organization is now looking for a GM to work with the coach -- the reverse of the normal order of events.
Gamble has been with the Eagles for just one season after eight seasons with the
San Francisco 49ers
. His title is vice president of player personnel, but he reports to general manager Howie Roseman, and a GM job would represent a promotion.
Roseman credited Gamble with helping the Eagles' successful 2013 draft. And there is no doubt Gamble is a respected talent evaluator.
But the Eagles are in decent position even if they lose Gamble. Roseman has surrounded himself with a group of veteran personnel men, including Tom Donahoe, Rick Mueller, Anthony Patch and Ed Marynowitz.
With head coach Chip Kelly and his staff expected to be more involved in the evaluation process this year, there are plenty of informed voices in the Eagles' personnel meetings.
As for Gamble, he is widely liked and respected as one of the genuinely good people in the NFL. It would be hard to begrudge him taking an opportunity to run his own team.
January, 10, 2013
1/10/13
3:09
PM ET
A few NFC West assistant coaches and personnel evaluators remain in play for jobs elsewhere:
A look at where things stand:
Greg Roman, San Francisco 49ers offensive coordinator: Roman's name has surfaced in connection with head coaching jobs in San Diego and Jacksonville. He has ties to the general managers each of those teams hired recently. Roman and the Chargers' new general manager, Tom Telesco, were college teammates and even roommates. Roman and new Jaguars GM Dave Caldwell also played together in college and worked together with the Carolina Panthers. The Jaguars are expected to have interest in Roman after firing Mike Mularkey, according to ESPN's Adam Schefter. Losing Roman could put more pressure on 49ers coach Jim Harbaugh to oversee the offense. Harbaugh's background is on offense, so the 49ers appear to have some protection on that side of the ball. Niners players have referred to Roman as an offensive genius, however, so it's clear Roman would be missed.
Tom Gamble, 49ers director of player personnel: Gamble is reportedly a leading candidate to replace Mike Tannenbaum as the New York Jets' general manager.
Gus Bradley, Seattle Seahawks defensive coordinator: Philadelphia received permission to speak with Bradley about its head coaching vacancy. Rules allowed for contact this week, but the Seahawks are focused on a divisional-round playoff game against the Atlanta Falcons. The Eagles have quite a few known candidates. They appear to be in no rush. No clear favorite has emerged. Bradley is in the mix, at least. Head coach Pete Carroll's background is on defense. That would appear to provide some insurance for the Seahawks if Bradley took a job elsewhere.
Darrell Bevell, Seahawks offensive coordinator: The Chicago Bears received permission to speak with Bevell, an NFC North alum via the Minnesota Vikings. Line coach Tom Cable coordinates the running game for Seattle. The Seahawks would look to keep their offensive system if Bevell departed. Cable's presence provides some insurance.
Brian Schottenheimer, St. Louis Rams offensive coordinator: Schottenheimer quickly emerged as a candidate in Jacksonville once the Jaguars fired Mularkey. Schottenheimer interviewed for this job one year ago before the team chose Mularkey. If Schottenheimer left, the Rams would presumably hire a replacement from the outside and try to keep a similar offensive system in place. Quarterback Sam Bradford has changed coordinators every season. The Rams would want a smooth transition if Schottenheimer did take a job elsewhere. Still, adjusting to yet another coordinator would likely come at a price for Bradford.
Ray Horton, Cardinals defensive coordinator: The NFC West assistant considered most likely to generate interest this offseason appears to have little going at this time. He remains a candidate to succeed Ken Whisenhunt in Arizona, it appears. But there's been little buzz on the Horton front lately.
January, 3, 2013
1/03/13
1:20
PM ET
While head coach Rex Ryan is
vacationing in the Bahamas
, the New York Jets reportedly will meet with San Francisco 49ers personnel director Tom Gamble for their open general manager position. The interview will take place this weekend, Matt Miaocco of
CSNBayArea.com reports.
Gamble was one of the first people the Jets requested to interview after firing former general manager Mike Tannenbaum. Gamble was a big part of San Francisco's turnaround the past two seasons with head coach Jim Harbaugh.
The Jets need a fresh pair of eyes to take an honest look at the team's old and overpaid roster. The Jets currently are over the salary cap. Someone must come in and make some major personnel changes after back-to-back non-winning seasons.
January, 1, 2013
1/01/13
1:10
PM ET
Bill O'Brien
has said
he will remain at Penn State after revitalizing the program in one year.
However, it appears O'Brien would have opportunities in the NFL -- including in the AFC West.
CBS Sports reports
the
San Diego Chargers
are one of four teams that will pursue O'Brien.
It's an interesting pairing. O'Brien was a longtime assistant at New England and he is a noted quarterback coach. He could be the remedy for
Philip Rivers
. And because Rivers is perhaps the best quarterback on the list of available teams, O'Brien could have mutual interest if he is actually open to leaving the Nittany Lions.
The Chargers have said they will hire a general manager and then a coach, so their official list of candidates may not be formulated for some time.
CBS Sports reported
the Chargers have asked permission to talk to Arizona's Steve Keim about the opening, Keim is a favorite to take over in Arizona. The Chargers are also interested in San Francisco executive Tom Gamble.
In other AFC West news:
Here is the 2013 NFL opponent list for every team. The schedule will be released in April.
December, 31, 2012
12/31/12
4:22
PM ET
The first two names have surfaced in the
New York Jets
' general manager search.
ESPN's
Adam Schefter reports
the Jets are seeking permission to talk to
San Francisco 49ers
player personnel director Tom Gamble. The Jaguars also want to interview Gamble, Schefter reports.
ESPNNewYork.com also
is reporting the Jets will interview Marc Ross, the Giants' director of college scouting.
Gamble has done a good job helping build San Francisco into a contender. The 49ers narrowly lost in the NFC Championship Game to the Giants last season and currently have the No. 2 seed in the playoffs this year.
Ross helped build two Super Bowl teams with the Giants in 2011 and 2008. He is obviously familiar with the New York market working for the Jets' cross-town rival.
The key issue for the Jets will be finding a general manager who can co-exist with colorful head coach Rex Ryan. Some top general manager candidates may prefer an opportunity where they can pick their own head coach.
December, 30, 2012
12/30/12
11:55
AM ET
Gene Smith is on his way out as general manager in Jacksonville, says ESPN's Adam Schefter.

The idea of owner Shad Khan parting ways with his top football executive is no surprise. But Schefter provides
two names
that could be in line to replace Smith:
Arizona director of player personnel Jason Licht and San Francisco director of player personnel Tom Gamble.
According to Schefter, one of those two could be brought in and then have control over the fate of coach Mike Mularkey, who will finish his first year in the post with a 2-14 record if the Jaguars lose in Tennessee today.
Notes on the two apparent candidates:
Licht is in his second season with the Cardinals and first as director of player personnel after rejoining the team in May. He worked as a personnel executive with Arizona in 2008. From 2009-11 Licht was the director of pro personnel with the New England Patriots. He's also spent time with the Philadelphia Eagles
Gamble worked as a defensive assistant/quality control coach in 1995 and 1996 then was a scout with the Panthers and Ravens. He went on to play roles in building playoff teams in Indianapolis and Philadelphia. He's been with the 49ers for seven years and was promoted from director of pro personnel to director of player personnel in 2011.
I've heard another scenario that could be in play as well. Smith could be retained, but see a VP of football operations hired over him.
Would he be willing to stay under his contract that runs through 2014 in a role with reduced power? I can't pretend to know.
March, 25, 2010
3/25/10
1:00
PM ET
»
NFC Stock Watch
:
East
|
West
|
North
|
South
»
AFC
:
East
|
West
|
North
|
South
Falling

Scot McCloughan, former 49ers GM.
News of his potential departure began filtering out about this time last week. The 49ers announced a "mutual parting" after five days of silence. Even some of McCloughan's longtime friends in scouting have told me they never saw it coming. It's just stunning for a GM to vanish from the scene without even making a formal comment -- just as his team finally appears in position to contend for a playoff spot with the players he helped assemble. It's all a little surreal. This marks a professional low point for McCloughan. He'll be back in some capacity. He's not yet 40 and his reputation as a scout shouldn't suffer in the long term.
Rising
Trent Baalke, 49ers player personnel director.
McCloughan's departure left Baalke in charge of the 49ers' draft room. Baalke has a chance to show he can lead the 49ers' personnel department. If the draft appears to go well, it's conceivable Baalke could remain in charge through the 2010 season at least. He probably never would have wanted to take the top job under these circumstances, but the opportunity is still a good one. The timing of McCloughan's departure makes it extremely difficult and probably unlikely for the 49ers to go outside the organization for a new personnel chief this offseason. The need for continuity makes Baalke the logical choice to remain in a leadership role. Pro personnel director Tom Gamble is also in the mix.
March, 24, 2010
3/24/10
12:15
PM ET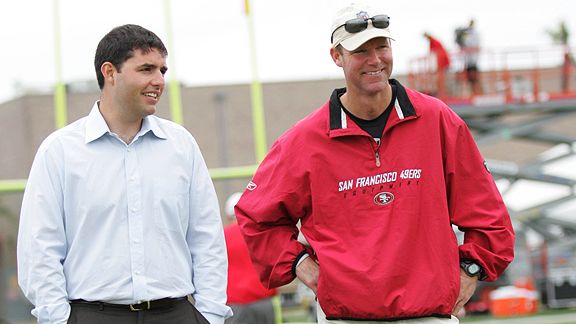 Michael Zagaris/Getty ImagesWith Scot McCloughan out as the San Francisco 49ers' general manager, team president Jed York, left, needs to determine if McCloughan will be replaced.
Late March is no time for an NFL team to hire a general manager.
The
San Francisco 49ers
have put off the decision until after the draft, but late April isn't a good time, either.
May, June or July might be worse. The more time passes, the harder it becomes to justify introducing a strong new voice into a team's meeting rooms.
Forget about hiring one during training camp or the regular season.
"I haven't decided on whether we're going to have a general manager," team president Jed York said during a recent conference call.
The comment raised suspicions that York and/or executive vice president Paraag Marathe might continue their ascents within the organization, turning their backs on a strong personnel presence. York guaranteed that neither he nor Marathe would become GM, but someone would have to fill the power void if the team proceeded without anyone formally named to the position.
Player personnel director Trent Baalke is taking over through the draft. After that, who knows?
The tumult surrounding Scot McCloughan's departure has shaken some fans' already tenuous trust in the team. The 49ers have earned our skepticism after seven consecutive seasons without a playoff appearance. But without knowing more -- specifically, to what degree McCloughan's demise was his own doing -- it's tough to make definitive judgments on the state of the franchise.
The team made progress last season in getting to 8-8, and the 49ers do have a promising young core of players. None of that has changed.
Questions linger. Let's find some answers.
March, 24, 2010
3/24/10
12:09
PM ET
San Francisco 49ers
coach Mike Singletary, speaking Wednesday at the NFL owners meetings, offered a few thoughts on general manager Scot McCloughan's departure.
Player personnel director Trent Baalke is handling the draft.
"We've already begun communication and just making sure we're on the same page," Singletary told reporters. "Jed [York], myself, Trent, [pro personnel director] Tom Gamble -- I think we just have to continue to pull it in a little bit more and make sure everyone is seeing it the same way and continue to move forward with that. But I'm very excited about where we are as an organization and the upcoming draft and very thankful for where we are right now."
Singletary also addressed perceptions that the organization is in turmoil.
"I never worry about the perceptions," Singletary said. "The most important thing for us to do is stay focused on the goal at hand -- becoming a great organization and a contender to go to the Super Bowl and winning games. I don't know what the perception is and I'll never really know what the perception is because I don't pay attention to it. I focus on our team and I know how our team feels. I know how our players feel and our coaches feel. We just have t o continue to go forward and let all those other things fall by the wayside."