January, 10, 2013
1/10/13
3:10
PM ET
All season long, Atlanta fans have been talking about how the Falcons don't get enough respect.
I never have understood the obsession so many fans have with how they think they're perceived by the national media. It really is a pointless exercise. Coaches and players don't spend much time thinking about whether they're getting their due.


Most of them believe you don't go out and ask for respect. You earn it.
And the fact is, the Falcons aren't going to get wide-spread respect until they win a playoff game for the first time in the
Mike Smith
-
Matt Ryan
era.
But Atlanta fans might be happy to know their team is a solid favorite against Seattle, according to the
ESPN NFL Expert Picks
. Nine members of the panel picked the Falcons.
Mark Schlereth
, Tom Jackson, Mike Ditka and
Cris Carter
picked the Seahawks. So did SportsNation, but that's based on a vote by fans. There's a lesson to be learned there. If Atlanta fans wanted another pick in the Falcons' column, they should have voted more often than Seattle fans.
Anyway, most of you know that I generally don't make predictions. But I make an exception for the playoffs.
You can go
here
to see my prediction on who wins the Seattle-Atlanta game.
January, 4, 2013
1/04/13
11:00
AM ET
Here are selected comments from ESPN analysts on Ravens linebacker
Ray Lewis
, who announced Wednesday that he will retire at the end of the year:

Lewis
Trent Dilfer
, who won a Super Bowl with Lewis: "He was the best defensive player on the field every game he played in. Off the field he was the best. He had this unique ability to resonate with every single person in the locker room. And that's hard to do. In the NFL, unfortunately, sometimes the guy who is most productive has the loudest voice and that messaging is wrong. Well, that's not the case with Ray. He is the most productive player but his messaging within the locker room is always right. There's an intensity to him. That intensity is authentic. It's genuine and it's always directed at making the football organization better. ... When I say he's the best, really in my experience in the National Football League, I've never seen a person better than him at those three layers: preparation, leadership and play."
Mark Schlereth
, a three-time Super Bowl champion: "I know he has lost a step. I know he's not the player that he once was. I still look at him as a great player and emotional leader, and all the different things that he brings to an organization. ... There's just something about Ray Lewis. You expect Sundays to see 52 out there - pregame, getting everybody going. Then during the course of the game just flying around making plays. I was actually shocked to hear this announcement."
Jason Taylor
, a former NFL defensive player of the year: "It's always shocking when a great player leaves the game. Unfortunately, it happens to everybody. We understand that. It is a tough emotional time. The timing of it is interesting. He will provide an emotional boost for the team. He's not completely healthy, but he is still Ray Lewis. He is still going to bring energy. He's still going to bring leadership. He's going to bring passion. That place will be electric on Sunday."
Tom Jackson
, former NFL linebacker: "One of the top five guys, maybe, to play the position. ... When you look at his career, what he was able to accomplish over the years, the longevity, the excellence, you start doing a shell game with those top five guys to play the game, Ray Lewis is somewhere in there. ... As a player, his skill set was outstanding, but emotionally, in terms of inspiring guys around him to be a better player in your own right, I think there is no one who has ever been better at that than Ray Lewis."
July, 26, 2012
7/26/12
6:27
PM ET
ENGLEWOOD, Colo. --
Derek Wolfe
thought something was strange when he heard a roar as he emerged from the locker room at the Denver Broncos' practice field.
Is this really how Denver fans treat the arrival of second-round draft picks at the start of training camp?
[+] Enlarge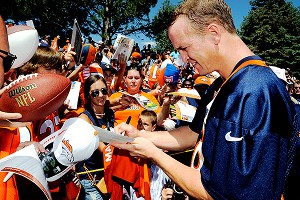 AP Photo/Jack DempseyBroncos fans were certainly eager to see new QB Peyton Manning make his training camp debut.
"(The fans) made a pretty big fuss," Wolfe said. "I was like, 'Why are they yelling so crazy for me?' Then I looked behind me and it was (
Peyton) Manning
standing there."
Manning's first camp day as a Denver Bronco was met with unprecedented fan excitement. Some fans were in line to attend the free practice at 4:30 a.m. Thursday and the team announced a record crowd of 4,372 for a camp practice. The previous record was 3,103. A crowd of at least 75 reporters huddled around Manning after his first camp practice in Denver.
It's real, Manning is a Denver Bronco. And he looked fantastic.
"He's as accurate as he's been in the past and I don't expect anything less from him," Denver cornerback
Champ Bailey
said.
Slowly, the focus is moving away from whether Manning can come back from a neck injury that cost him the entire 2011 season. He has made major strides throughout the offseason. Sunday, there were no signs of a quarterback struggling with his health.
ESPN medical analyst Stephania Bell told me she was impressed by the tempo Manning, 36, led Thursday. It is another sign that Manning is all-in and the team is not holding him back.
"The arm strength was there, his passes were on time," said ESPN analyst Tom Jackson, who was part of the network's coverage team. "He was Peyton Manning."
For Manning, Thursday's practice was another important step on his way back to the field. Manning remains methodical in his progression, but the idea of finally getting back in action for the first time since January, 2011 spurs him.
"I have missed it, and I've never taken it for granted to be out there playing," Manning said. "I had been playing for 13 years straight and never missed a game since I've been playing quarterback in the seventh grade. That's a lot of consecutive games, a lot of Fridays or Saturdays or Sundays to be playing a game, so I'm glad to be back in more of a normal routine, in a practice routine."
And so are the legions of his new fans in Colorado.
October, 29, 2011
10/29/11
2:46
PM ET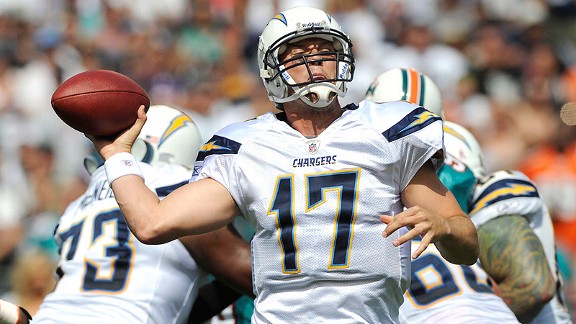 Christopher Hanewinckel/US PresswireDespite a 4-2 record, Chargers quarterback Philip Rivers has struggled on the field this season.
The last time we saw
Philip Rivers
on a football field, he was as disorganized and as out of sorts as we've seen him as an NFL quarterback.
Rivers was out of control and confused as an unsuccessful last-ditch drive ended in a six-point loss at the
New York Jets
, a game in which Rivers uncharacteristically threw two late interceptions that fueled a Jets comeback victory. Most alarming about Rivers' meltdown is that it has been building all season.
Known as one of the better quarterbacks in football, Rivers has looked uncomfortable and out of sync for parts of nearly every game this season.
Rivers, who appeared to be pressing often against the Jets, needs to quickly revert to his normal calm and effective self. The Chargers visit resurgent Kansas City on ESPN's "Monday Night Football" in a game that has major near-midseason implications. If the Chiefs -- who have won three straight games after starting 0-3 -- win, they will be tied with San Diego and Oakland (which has a bye this week) for first place in the division at 4-3. However, if Rivers can straighten things out, the Chargers have a chance to rebound to 5-2 and continue to be the favorite to secure the division crown.
But everything starts with Rivers in San Diego. Rivers' inconsistency is one of the reasons the Chargers' offense has been stagnant at times. The Chargers have struggled in the red zone and have had trouble compiling points. The Chargers haven't scored more than 29 points in a game this season. They have scored at least 30 points in at least five games every season since Rivers took over in 2006.
Rivers, who'll turn 30 in December, has been intercepted nine times in six games. In four of the Chargers' six games this season, Rivers has been picked off twice, including the Chargers' first three games, which was the first time Rivers was intercepted twice in three straight games. He has never been intercepted three times in a game in his career. His nine picks in 218 attempts this season equals the number of interceptions he threw in the entire 2009 season in 486 attempts. The most interceptions he has ever thrown in a season is 15.
His average of 7.9 yards per pass completion is his lowest since 2007. Rivers has thrown just seven touchdown passes, and he is on pace for his lowest touchdown passing total of his career.
He is also struggling in more obscure statistical areas, according to ESPN Stats & Information. He is not having success throwing out of the shotgun. Eight of his nine interceptions have been thrown out of the shotgun, to go along with four touchdown passes. From 2008-10, Rivers threw 50 touchdowns out of the shotgun and just 16 interceptions.
Although there were whispers about Rivers' early-season struggles before the bye, his stinker against the Jets has prompted many analysts to wonder out loud what is wrong.
After the New York game, ESPN analyst Tom Jackson said this: "I'm concerned. Philip Rivers is not right." ESPN analyst Merril Hoge added this during the week: "He is not dialed in. ... If he keeps playing like this, the Chargers will not make the playoffs."
Matt Williamson of Scouts Inc. wrote this week

that he thinks Rivers could be dealing with an injury. Here is some of what Williamson wrote:
Rivers has not seemed right all season, and the only explanation I can come up with is that he might be battling an undisclosed injury. The quarterback is missing on throws he almost always completes, and the interceptions keep piling up as a result of questionable decisions. Perhaps his mind is writing checks that his body cannot cash.

Rivers said this week that he is healthy. I know there was concern early in the season that Rivers might have been favoring his ribs. But he has not appeared on any injury reports this season. Many scouts I have talked to believe Rivers is now simply trying too hard. I asked Williamson if he thinks Rivers can snap out of his funk or if this highly respected player is suddenly on the slide. Williamson didn't hesitate.
"If he is physically able to throw the football like he is capable, I have no doubt that he will snap out of it," Williamson said. "I'm extremely high on Rivers."
Rivers has maintained that all is well, and he has downplayed his and the Chargers' issues this season. He has long heard criticism of his team and he believes, in the big picture, San Diego is on the right track.
"I don't know if it matters what we learned other than [the game is] something to fill tomorrow morning's news,'' Rivers said after the Jets game. "All I hear for six months was that the regular season didn't matter. Now everyone wants to know what is the matter?"
Still, Rivers is considered an elite quarterback. He has been expected to become the next great quarterback to win a Super Bowl ring. But he has not played at a Super Bowl-contending caliber this year, and until he does again, people will continue to wonder what's wrong with him.
October, 16, 2011
10/16/11
3:40
PM ET
OAKLAND -- The Raiders are playing without defensive end
Matt Shaughnessy
, cornerback
Chris Johnson
, fullback
Marcel Reece
and special-teams ace
Rock Cartwright
.
Manase Tonga
will start for Reece, rookie
DeMarcus Van Dyke
will play for Johnson.
Jarvis Moss
will start for Shaughnessy. Receiver
Louis Murphy
is active. It will be his first game since he suffered a sports hernia in training camp.
Rookie quarterback
Terrelle Pryor
is still listed as a roster exemption after his five-game NFL suspension ended. The Raiders will likely activate him Monday.
Meanwhile, here are some highlights from ESPN's "Sunday NFL Countdown," in which the 3-2 Raiders were a topic:
Tom Jackson:
"I'm buying 'em because they are built in the image of Al Davis."
Merril Hoge
: "The Raiders didn't get the memo -- that this is a passing league. They didn't get that memo because they run the football on the perimeter better than anybody."
Bill Parcells:
"If they could cut down a little on that recklessness, cut those penalties down, they're going to go right to the top of that discipline index, and that usually means winning."
January, 17, 2011
1/17/11
8:18
PM ET
ESPN analyst Tom Jackson and Chris Berman give an early preview of Sunday's matchup for the AFC title, a rematch from Week 15 between the
New York Jets
and
Pittsburgh Steelers
at Heinz Field.
October, 31, 2010
10/31/10
10:55
PM ET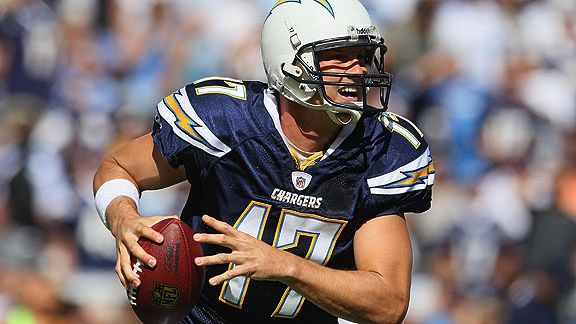 Jeff Gross/Getty ImagesFollowing a passionate halftime speech from Norv Turner, Philip Rivers helped rally the Chargers to victory over the Tennessee Titans.
SAN DIEGO -- The outside world had given up on the
San Diego Chargers
, tired of their maddening mistakes.
Yet, Norv Turner let his team know he hadn't given up on it, but it was time for it to start playing up to its potential and stop the self-destruction. Turner, who has a reputation for being laid back and lacking fire, delivered the most impassioned halftime speech of his four-year tenure in San Diego. The theme of the loud, colorfully worded address was belief.
"I've never seen him like that before," San Diego safety
Eric Weddle
said. "He told us how much he cares about us and he'd do anything for us. ... But he also told us it was time to get going. It was basically 'now, let's go freaking get it done.' ... I think that speech was a big reason why we came out like we did in the second half."
Losers of their past three games, the Chargers were in serious danger of seeing their AFC playoff hopes vanish Sunday. Tennessee was up by 12 points at one point in the first half. But spurred on by Turner's words from the heart, San Diego took over in the second half and
beat the Titans 33-25
.
The Chargers are now 3-5. They trail Kansas City (5-2) and Oakland (4-4) in the AFC West. The Chargers have come back with a strong second half in each of Turner's first three seasons, all of which ended with division titles. Yet, had San Diego not won Sunday, it would have been entering the second half of the season in a major hole.
"It's not a sigh of relief -- we're 3-5," San Diego running back
Mike Tolbert
said. "It's not like we're 8-0, or 7-1. ... But it's a start. We know we're capable of winning again."
And now so do all the critics. Along with Dallas, San Diego has been a major disappointment this season. The Chargers took a shellacking on ESPN's "Sunday NFL Countdown" on Sunday morning.
Here is a sampling of the verbal beating San Diego's players, Turner and general manager A.J. Smith took:
Keyshawn Johnson:
"No players. And when you don't have players, you can't win in this league. ... I put the blame on the general manager. He's the guy in the offseason that made a decision not to sign certain guys, run certain guys off."
Tom Jackson:
"It looks like the opportunity has passed them by and A.J. eventually is to blame."
Mike Ditka:
"The front office is horrible to make the decisions it's made."
Chris Berman:
"I'm embarrassed for the Chargers."
The Chargers missed the nationally televised dressing down because they were preparing to face the Titans. Smith wasn't available to react to the comments. But I had a chance to discuss them with some of the players after the game.
They were amused.
"No talent?" Weddle said. "OK, I'll take this no-talented team any day of the week. That's fine. It's OK no one respects us. Our coach does and we do, too."
Added Tolbert: "That's what happens when you are 2-5. People have been killing us all season. But what matters most is what our coach and everyone in this room thinks about us."
I didn't get the chance to ask Turner about the comments, but in his news conference, he alluded to outside criticism.
"I'm truly excited for those guys in that room because they don't blink," Turner said. "There are some people that might doubt them. We know who we are."
It was only one game, but if San Diego takes off, Sunday's performance and Turner's speech will be viewed as the turning point. San Diego has done this before. It won its final six games of the 2007 season, its final four games of the 2008 season and its final 11 games of the 2009 season.
"This is something to build on," San Diego cornerback
Antoine Cason
said. "Let's go build on it."
San Diego cut the Titans' lead to 19-14 with 1:55 to go in the first half. It evolved into a 20-0 run by San Diego, which led by eight points twice in the fourth quarter.
The catalysts, as usual, were quarterback
Philip Rivers
and tight end
Antonio Gates
. Playing without his top four wide receivers (and playing with undrafted rookie
Seyi Ajirotutu
), Rivers threw for 305 yards. It was the fifth time he has thrown for 300-plus yards this season. He has passed for 2,649 yards this season. No other quarterback in the history of the NFL has thrown for more yards after eight games.
Gates, playing with a bum toe, had five catches for 123 yards, including a 48-yard touchdown catch in the third quarter. It was a gutsy comeback performance by the two leaders on this team.
It wasn't all perfect for San Diego. It had its fourth punt blocked this season (that gave the Titans a safety early in the game) and an extra-point attempt was muffed in the fourth quarter, which kept it an eight-point game. The San Diego defense, which like the Chargers' offense entered the game ranked No. 1 overall, gave up way too many big plays.
But the Chargers found a way to overcome mistakes. That hadn't been the case this season. This has to be looked at as progress in San Diego. Perhaps this will be the start of another turnaround. If it is, the Chargers will always remember a rare show of intensity by their coach.
"I can tell you the fire I was able to see in [Turner's] eyes and what it meant to him," Gates said. "It meant the world to me for a coach to have that faith and belief in his team."
February, 5, 2010
2/05/10
12:35
PM ET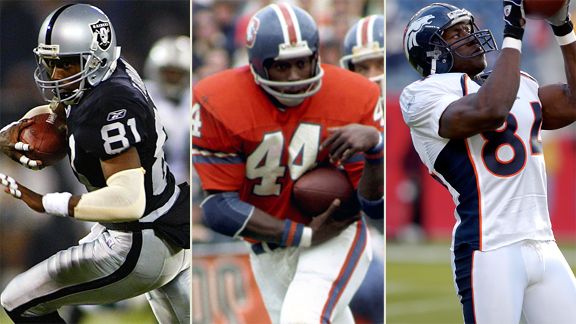 Getty Images/US PresswireTim Brown, Floyd Little and Shannon Sharpe all have compelling cases to be Hall of Famers, but can they make the cut for this class?
There are four men who spent the majority of their careers in the AFC West who are among the 17 finalists being considered for induction in the Pro Football Hall of Fame. The results of the voting will be announced at 5 p.m. ET Saturday.
We spent the week researching each finalist's chances by talking to several members of the voting committee and several league observers.
Here is a look at each finalist's case:
Tim Brown: Los Angeles and Oakland Raiders, wide receiver, 1988 to 2003
Known for:
He was the face of the Raiders for years. He was a standout receiver and return man. The Heisman Trophy winner from Notre Dame was one of Oakland's best draft picks ever. He was a reliable, smart player.
AFC West body of work:
Of his 1,094 career catches, 1,070 came as a Raider. Brown, who played his final NFL season in Tampa Bay, caught at least 80 passes nine times and he had nine 1,000-plus yard receiving seasons.
Quote from a voter:
"He posted great numbers but those have to be placed in context with the era in which he played. He'll get in but maybe not this year."
Scouts Inc.'s take:
"I think he'll probably get in, but I rank Cris Carter slightly ahead of him. If Jerry Rice is a 10, Carter is an 8.5 and Brown is an 8. Brown was excellent but I don't think you could ever say he was the best player at his position. I'm not sure if he was really special or if he had a defining moment, But he was remarkably consistent and he helped on special teams. He never had any glaring weaknesses and he moved the chains. He ran every route." --
Matt Williamson
What I think will happen:
A couple of years ago, I would have thought Brown was a slam-dunk choice in his first year of eligibility. But the voting committee has very high standards for receivers and there is a backlog of quality eligible receivers. With Rice (who played four seasons in Oakland and who announced his retirement at the Broncos' facility after a fruitless preseason in Denver) a shoo-in and Carter, Andre Reed and tight end Shannon Sharpe making a push, Brown may not make it in his first year. If not this year, he'll get in sometime because he was so consistent. Because his numbers were never truly jaw-dropping, he may have to wait in a long receiver line for a couple of years.
[+] Enlarge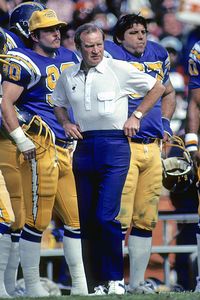 Al Messerschmidt/NFL/Getty ImagesDon Coryell was 69-56 during his nine seasons coaching in San Diego.
Don Coryell: San Diego, coach, 1978 to 1986
Known for:
Coryell is credited with being a major innovator in the passing game, earning him the nickname "Air Coryell." Hall of Fame quarterback Dan Fouts credits his career to Coryell.
AFC West body of work:
The Chargers were virtually unstoppable in the air under Coryell. San Diego changed the way the division played both offense and defense in an effort to keep up with the innovative Coryell.
Quote from a voter:
"I'm a big Coryell fan. He won a lot of games … Sure, he didn't win a Super Bowl, but he changed the way the game was played."
Scouts Inc.'s take:
"He was ahead of his time in the down-field passing game. He was a terrific, student of the game. He understood matchups and defenses. Coryell was that first guy to say, "Let's go vertical and make some big plays." He still has an influence on the game." --
Gary Horton
What I think will happen:
Coryell is the only coach among the finalists. I think he will have a large group of voters behind him. I think many voters were impressed by the
letter of support
sent by Fouts in support of his former coach. Still, this is a very strong class and Coryell could be left on the outside. He is not a shoo-in.
Floyd Little: Denver, running back, 1967 to 1975
Known for:
Little was one of Denver's first true stars. He was the face of the franchise when he played.
AFC West body of work:
He led the NFL in rushing from 1968 to 1973. When he retired, he was the seventh leading rusher in NFL history with 6,323 yards rushing and he had 54 touchdowns.
Quote from a voter:
"One of the great running backs of his era. He played on some bad teams and never ran behind a Pro Bowl offensive lineman. He deserves to be in."
Scouts Inc.'s take:
"I've talked to Tom Jackson (former Denver star linebacker and current ESPN analyst) and he loves Floyd. Floyd was a tough, hard-nosed runner. He was the heart and soul of that team."
--
Gary Horton
What I think will happen:
Little may have the best chance of the four AFC West finalists. He is a senior's committee finalist, so his path Saturday may be easier than the 15 traditional finalists. If Little doesn't make it Saturday, he likely never will. I expect him to get in.
Shannon Sharpe: Denver, tight end, 1990 to 1999 and 2002 to 2003
Known for:
Sharpe was one of the most accomplished receiving tight ends in NFL history. The boisterous Sharpe was a self-made player from a small school who was a huge part of Denver's two Super Bowl winning teams.
AFC West body of work:
Sharpe had 671 of his 815 catches in the AFC West. He had three 1,000-yard receiving seasons and two seasons in which he had 10 touchdowns.
Quote from a voter:
"Crazy numbers for a tight end, and I think he'll be on the edge of making it this year."
Scouts Inc.'s take:
"Sharpe should go in. He was a massive liability as a blocker but nobody cared. Tight ends don't go to the Hall of Fame because they blocked well. In a way, he revolutionized the game because he was a wide receiver as much as he was a tight end. He was the Dallas Clark of his era. He was very tough and he was a very hard worker who overcame coming into the league as a small-school guy. I think that gets overlooked because he is so loud and brash. But he was a hard worker who was on a lot of great teams. He was a difference-maker."
--
Matt Williamson
What I think will happen:
I was surprised that Sharpe didn't make it last year in his first year of eligibility. He was one of the best tight ends ever to play in the NFL. I think he may get in this season. But if some voters look at him as a receiver, he could get lost in the shuffle again.
October, 19, 2008
10/19/08
9:26
PM ET
Posted by ESPN.com's Tim Graham
New England Patriots head coach Bill Belichick on Tuesday tersely reiterated his support of starting quarterback Matt Cassel.

Cassel
Consider ESPN analyst Cris Carter puzzled.
On "Sunday NFL Countdown," Carter had this to say:
"I don't know why he'd get a vote of confidence because he hasn't done anything to warrant it.

"Whose fault is it? New England. They blew it. On a 53-man roster, the backup quarterback is a critical position. They didn't have someone confident if their leader, the great Tom Brady, got hurt.

"The record right now is two losses early in the season and zero touchdowns in the fourth quarter, and we judge our quarterbacks by what they do in the fourth quarter."
But two of Carter's cohorts disagreed with him.
Keyshawn Johnson: "I think he does deserve a vote of confidence because if this is your quarterback and all the things that are going on in the media are saying that it's his fault, you want to give this young man a vote of confidence. You want him to have the ability to go down the field and lead this team from an offensive standpoint."
Tom Jackson (to Carter): "Key is right. You're wrong, and let me tell you why. Brady never got hurt, so there was no reason to go out and get a guy. How good was the guy going to be? And Matt Cassel is not the reason they lost those two games. Matt Cassel hasn't [started] since high school. He's doing fine."
Carter: "When you put a high school quarterback on your team, it's your fault."
September, 30, 2008
9/30/08
10:17
AM ET
Posted by ESPN.com's Matt Mosley
We've spent the early portion of the 2008 season reading about Terrell Owens the consummate teammate. In fact, he was praised more for his hustle than his receptions following the Cowboys' recent win over the Packers. As one Dallas-Fort Worth talk show host put it, "T.O.'s turned into our own little Rudy."
| | |
| --- | --- |
| | |
| | Doug Pensinger/Getty Images |
| | Terrell Owens didn't like how he was being used Sunday in Dallas' loss to Washington. |
On Sunday, though, T.O. felt underutilized following a 26-24 loss to the Redskins. Never mind the fact that 19 of the Cowboys' 58 offensive plays went his direction. He's apparently aiming for 50 percent of the plays, which might encourage him to complete most of his routes.
Now, we receive the shocking news that T.O. had a "serious conversation" with quarterback Tony Romo immediately following Sunday's game. According to Calvin Watkins of the Dallas Morning News, T.O. was "venting" his frustration to Romo, in part, over the types of routes he's being asked to run.
For those of us who cover the team on a semi-regular basis, this is a confusing development. Unless there have been sweeping changes at Valley Ranch (in the past 20 minutes), Romo's not responsible for designing routes. According to head coach Wade Phillips, Romo's primary focus right now is checking out of running plays.
When multiple sources confirm that Romo and T.O. had a serious conversation, what exactly does that mean? Did they each have stern looks on their faces while T.O. went over his favorite route tree?
In reading between the lines, it seems that T.O. was frustrated with his quarterback. And that would barely be worth mentioning if the receiver didn't have so much quarterback baggage.
I watched the "Monday Night Football Countdown" crew talk about the T.O. situation for several minutes last night and Tom Jackson's convinced this thing's headed for trouble. He and Mike Ditka agreed that owner Jerry Jones needs to have a (wait for it) serious conversation with T.O. before things get out of hand.
With the woeful Bengals headed to town, I think this controversy will blow over. Heaven forbid that Tony and T.O. might have to have another postgame conversation.
August, 21, 2008
8/21/08
8:11
PM ET

Posted by ESPN.com' s Bill Williamson

Here is reaction from some key figures in Gene Upshaw's NFL career who I caught up with today:
Former Oakland Raiders coach Tom Flores: "He was one of the all-time greats. He had it all. He became a leader and earned the respect of all of his teammates. True, die-hard Raiders fans remember Gene Upshaw as a dominant player."
Former Denver linebacker Tom Jackson: "It's a sad day for the NFL. Gene and John Hannah where the greatest guards I've ever faced. A lot of older players say they wish they would have played now because of the money difference. But I am honored to have played against a player like Gene Upshaw. The game was more pure then and Gene was a part of that. Gene played at 260 pounds but he was big for those days. He was big. Very rarely are the emotional leaders of a team the offensive linemen. But Gene was the emotional leader of those great Raiders' teams. He was a respected guy."
Former Denver linebacker Randy Gradishar: "Playing against Gene was always a difficult challenge. I took great pride in playing against the Raiders and I took great pride in playing against Gene Upshaw. Playing against Gene was a mind game. He could overpower you but he was very intelligent so he could outsmart opponents as well."
Former Minnesota defensive tackle Jim Marshall: "I had a lot of respect for Gene Upshaw as a player and as a person. As an older player we didn't all always agree with Gene but we knew he did his best. He did a lot of great things inside and outside of the game. My deepest sympathies go out to his wife and children. Gene was a good man."

NFL SCOREBOARD
Thursday, 9/18
Sunday, 9/21
Monday, 9/22
WEEKLY LEADERS