November, 21, 2013
11/21/13
7:00
PM ET
By
ESPN.com staff
| ESPN.com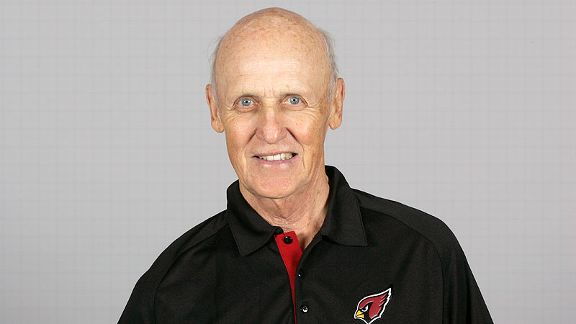 AP PhotoCardinals pass-rush specialist Tom Pratt was in his first year of coaching in Kansas City.
The Arizona Cardinals pass-rush specialist reflects on the 50-year anniversary of the assassination of President John Fitzgerald Kennedy:
"Well, I was in Kansas City with the Chiefs. That was my first year of coaching in professional football. And we had just finished our meetings on a Friday morning and we were kind of milling around, and all of a sudden, we got the word that he had been assassinated, had been shot. Of course, right away, we didn't know if he was dead or not.
"I mean, it was a shock that went through everybody because, particularly, we had so many former players that were from Dallas because we had moved the team from Dallas that year. It was the first year of the Chiefs in Kansas City.
"I can just remember the empty feeling, and we just kind of got our way through and we did practice that afternoon just because we were getting ready to play the Jets in New York, so it was a road trip. And so we practiced and then came in and said, 'Well, we don't know what's going to happen,' because they were talking about canceling that week, which [the AFL] eventually did. So it was a shock for all of us.
"There were so many of the guys who had just come from Dallas, there was even more concern there that there was more going on than actually what happened."
-- Tom Pratt, 77, as told to ESPN.com Cardinals reporter Josh Weinfuss
February, 5, 2013
2/05/13
4:45
PM ET
A few thoughts after the Arizona Cardinals announced Bruce Arians' initial coaching staff for the 2013 season:

More resources: Former head coach Ken Whisenhunt had 16 assistants last season, three or four fewer than the NFC West norm. The number wasn't alarmingly low; New England has had the same number at various points. Arians has 20 assistants, counting four holdovers whose names I've bolded in the chart below.
OL committee: The Cardinals do not have an offensive line coach by title. With Arians calling offensive plays, coordinator Harold Goodwin will take the lead with the line. Larry Zierlein, the Pittsburgh Steelers' line coach for three seasons ending in 2009, is the assistant O-line coach.
Familiar name: Former Cardinals running back and return specialist Stump Mitchell will coach running backs. He spent nearly a decade on Mike Holmgren's staff in Seattle before following Jim Zorn to the Washington Redskins. He was then head coach at Southern University. Mitchell still holds the Cardinals franchise record for all-purpose yards (11,988).
Experience rules: Arians is a first-time NFL head coach, but his staff has veteran seasoning. Tom Moore, Tom Pratt, Zierlein, Rick Christophel and Nick Rapone each have more than 30 years of NFL and/or college coaching experience.
The chart compares the Cardinals' final staff under Whisenhunt to their current one under Arians.
NFL SCOREBOARD
Thursday, 9/25
Sunday, 9/28
Monday, 9/29
WEEKLY LEADERS