December, 10, 2012
12/10/12
1:03
PM ET
Carolina Panthers
quarterback
Cam Newton
was the only NFC South quarterback to win a game in Week 14. He also was the best quarterback in the league, by at least one measure.
Newton posted a 97.0 Total QBR in Sunday's 30-20 victory against the Falcons. Newton's score was the second-best posted by any quarterback this season (New England's
Tom Brady
scored 98.4 in Week 8). It also was the highest by any Carolina quarterback over the last five seasons.
Here are the league-wide
Week 14 Total QBR scores
and here are the
season-long averages
. Let's take a look at how the four NFC South quarterbacks fared on Sunday.
Newton
Sunday:
Newton completed 23 of 35 passes for 287 yards and two touchdowns without an interception. Newton also rushed nine times for a career-best 116 yards and one touchdown. Newton became the first player in NFL history to rush for more than 100 yards, pass for more than 250 yards and have a passing touchdown and a rushing touchdown in the same game.
Sunday's Total QBR:
97.0 (No. 1 in NFL)
Season Total QBR:
54.0 (No. 19)
Quick thoughts:
Newton turned in a brilliant performance. After a rocky start, he's come on strong in recent weeks. That could help coach Ron Rivera keep his job.
Matt Ryan, Falcons
Sunday:
Completed 34 of 49 passes for 342 yards with two touchdowns and one interception in the loss to Carolina.
Sunday's Total QBR:
67.7 (No. 5)
Season Total QBR:
73.7 (No. 3)
Quick thoughts:
Ryan's numbers weren't bad, but they don't come close to telling the story of the day. Most of his stats came in the second half, after the Falcons had fallen way behind. Ryan was unable to sustain a drive in the first half and that's a major reason why the Falcons lost.
Drew Brees, Saints
Sunday:
Completed 26 of 43 passes for 354 yards with one touchdown and two interceptions in a loss to the
New York Giants
.
Sunday's Total QBR:
45.1 (No. 14)
Season Total QBR:
63.2 (No. 13)
Quick thoughts:
Brees now has thrown nine interceptions over the last three games. The Saints' defense is improving, but no defense is going to thrive when opponents consistently are being handed turnovers.
Josh Freeman, Buccaneers
Sunday:
Completed 14 of 34 passes for 189 yards with two touchdowns and no interceptions in a loss to Philadelphia.
Sunday's Total QBR:
45.9 (No. 13)
Season Total QBR:
59.3 (No. 15)
Quick thoughts:
Freeman never is going to be a high-percentage passer, but there's no excuse for him not completing at least 50 percent of his passes. He was particularly inaccurate early on and that's a major reason why the Bucs are close to being out of the playoff picture.
March, 4, 2011
3/04/11
1:26
PM ET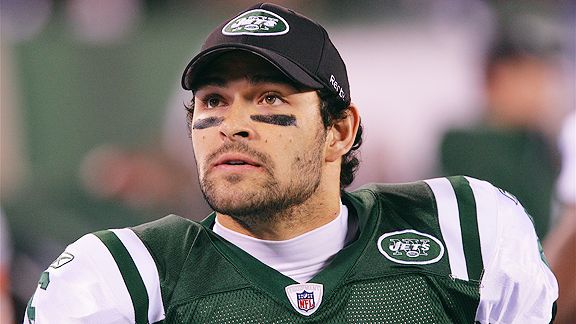 Richard A. Brightly/Icon SMIMark Sanchez is set to earn $14.75 million in base salary next season, the most in the AFC East.
Sports labor squabbles often are described as billionaires arguing with millionaires over money.
While that's a catchy rhyme that sums up fan frustration, the phrase is not entirely true.
Inspired by a blog entry from the
minister of all things AFC South, Paul Kuharsky
, I looked at NFL Players Association files to count up the number of AFC East players scheduled for $1 million base salaries in 2011.
Granted, up-front bonuses and incentives can make base salaries misleading. But base salaries are the only figures that create a common ground, player for player.
You'll see a vast majority of NFL players make much less than $1 million a year. Although many will make seven figures before they walk away from the game, careers are short and treacherous. They'll never see that kind of cash again for the rest of their lives.
That's why they're fighting for every dollar now.
Of the 226 players under contract in the AFC East, only 62 of them (27.4 percent) will make base salaries of $1 million or more.
The NFLPA hasn't acknowledged any franchise tags that have been signed. Those players are marked with an asterisk and not factored into the totals.

Buffalo Bills
Base salaries of $1 million or more:
19
Players under contract:
54
Percentage of roster making $1 million or more:
35.2

Miami Dolphins
Base salaries of $1 million or more:
15
Players under contract:
55
Percentage of roster making $1 million or more:
27.3

New England Patriots
Base salaries of $1 million or more:
14
Players under contract:
60
Percentage of roster making $1 million or more:
23.3

New York Jets
Base salaries of $1 million or more:
14
Players under contract:
57
Percentage of roster making $1 million or more:
24.6
NFL SCOREBOARD
Thursday, 9/4
Sunday, 9/7
Monday, 9/8