NFL Nation:

Tomlinson released
February, 23, 2010
2/23/10
2:01
PM ET
It is a historic time in the AFC West. The release of San Diego running back
LaDainian Tomlinson
is a big deal.
Yes, we knew it was coming, and yes, Tomlinson is no longer a top back, but his departure from San Diego has to be a time of reflection. To mark Tomlinson's release, I'm listing my top five running backs who spent the bulk of their career in the AFC West:
1. LaDainian Tomlinson, San Diego:
This is not a courtesy pick. Tomlinson was a dominant player. He compiled 12,490 rushing yards in nine seasons. He is eighth on the NFL's all-time rushing list. He is among the league leaders on several other record lists. In his prime, he was among the best players in the league. He's the best running back ever to play in this division.
2. Marcus Allen, Los Angeles Raiders and Kansas City:
Allen was a special player, especially for the Raiders. He was a key to a Raiders Super Bowl team and he was a game changer. His 12,243 career rushing yards are 12th on the league's all-time list.
3. Terrell Davis, Denver:
Davis only played from 1995-2001 in a career that was cut short by injuries, but he made the most of it. He had 7,607 career rushing yards. He was a catalyst to Denver's two Super Bowl championships. When he was in his prime, Davis was unstoppable.
4. Floyd Little, Denver:
Little was just elected into the Pro Football Hall of Fame. He played in Denver from 1967-75. He played on several bad teams, but Little was a workhorse who was deserving of his enshrinement in Canton.
5. Priest Holmes, Kansas City:
Holmes played in Kansas City from 2001-07. He was dominant in his first three seasons in Kansas City before injuries plagued him. He is the team leader in career rushing yards with 5,933.
February, 23, 2010
2/23/10
11:07
AM ET
By
Matt Mosley
| ESPN.com
Now that future Hall of Famer
LaDainian Tomlinson
has been released by the
San Diego Chargers
, it will be interesting to see where he lands. Tomlinson told
SI.com's Jim Trotter
that his main goal is to join a contender. And most contenders generally have one thing in common.
"I do know that I would have to go to a team that has a [proven] quarterback," Tomlinson said. "A place where you know you have a chance to win because of the quarterback."
Trotter mentioned the Eagles, Patriots and Packers as potential fits for Tomlinson. If the Eagles signed Tomlinson, they'd likely release veteran
Brian Westbrook
. The two running backs are both in their early 30s and they've seen steep declines in their numbers. Would Tomlinson be that much of an upgrade over Westbrook at this point? I don't think so. And that's why the Eagles will probably steer clear of him.
The other team in the NFC East that might have some interest in Tomlinson is Washington. Coach Mike Shanahan has a great appreciation for Tomlinson because he coached in the same division for so many years. The Redskins are still trying to figure out what to do at quarterback and running back, though, which might make them less appealing to the former Chargers great.
Still, you could make the argument that Shanahan's presence alone will quickly turn the Redskins into a contender. And Tomlinson might not have as many options as one might think. I'm sure he'd love to reunite with
Drew Brees
in New Orleans, but that's also unlikely. The Patriots have made a living on signing players in the twilight of their careers, so that's a definite possibility.
But don't rule out the
Houston Texans
. After all,
Ryan Moats
was starting (and succeeding) at one point in '09. Gary Kubiak also has a great appreciation for LT from his time in the AFC West. Where do you guys think Tomlinson will land?
February, 23, 2010
2/23/10
9:03
AM ET
Let's catch up on some numbers as the fallout of the Chargers' release of running back
LaDainian Tomlinson
continues.
The following are some lists compiled by ESPN Stats & Information. These illustrate just how dominant and special Tomlinson was in his nine-season career in San Diego:
LaDainian Tomlinson, NFL Career Rank
Rush Yards: 12,490 (8th)
Rush TD: 138 (2nd)
Total TD: 153 (3rd)
Most Rush TD, NFL History

Emmitt Smith: 164
LaDainian Tomlinson: 138
Marcus Allen: 123
Walter Payton: 110
Jim Brown: 106
Most Total TD, NFL History

Jerry Rice: 208
Emmitt Smith: 175
LaDainian Tomlinson: 153
Randy Moss: 149
Terrell Owens: 147
Most Career Rush Yards (Spent Entire Career With One Team)

Walter Payton: 16,726 (Bears)
Barry Sanders: 15,269 (Lions)
LaDainian Tomlinson: 12,490 (Chargers)
Jim Brown: 12,312 (Browns)
Meanwhile, Tomlinson
tells Sports Illustrated
that he is still motivated to play and that he wants to play for a championship-caliber team. It wouldn't be a shock if Tomlinson's top choice would be to reunite with close friend and former teammate
Drew Brees
with the Super Bowl champion Saints.
Here are a collection of
several radio interviews
with key people in Tomlinson's San Diego career.
February, 22, 2010
2/22/10
11:06
PM ET
The part of the season when daydreaming readers inundate me with questions about Player X coming to play for their favorite team is well under way.
Player X can be a free agent, the subject of trade rumors or someone with ties to the new coach.
Today, it's a fading superstar who got cut. The
San Diego Chargers
released running back
LaDainian Tomlinson
on Monday, and fans want to know if he's going to wear their colors.
At first glance, it doesn't seem like the AFC East would be a likely destination for Tomlinson.
Tomlinson, in an interview with Sports Illustrated's Jim Trotter, said he wants to play for a
team with an established, top-flight quarterback
.
"I do know that I would have to go to a team that has a [proven] quarterback, a place where you know you have a chance to win because of the quarterback," Tomlinson said.
That eliminates three AFC East teams right there, leaving the
New England Patriots
as the only club that fits that criterion.
The
New York Jets
and
Miami Dolphins
had first-year starters last season. To project the
Buffalo Bills
' quarterback would be guesswork.
We also need to keep in mind that Tomlinson spent his entire career in San Diego and played collegiately at Texas Christian. A cold-weather destination might be a tough sell for a running back who will turn 31 in June.
Nevertheless, Trotter mentions the Patriots,
Philadelphia Eagles
and
Green Bay Packers
as possibilities. But ESPNBoston.com's Mike Reiss
doesn't see a fit for Tomlinson in New England
.
The Patriots already have a stable of backs:
Laurence Maroney
,
Fred Taylor
,
Sammy Morris
and
BenJarvus Green-Ellis
. They probably will re-sign free agent
Kevin Faulk
. Tomlinson would be more of the same.
Plus, there's no love lost between Tomlinson and the Patriots. He ripped the Patriots and coach Bill Belichick because they "showed no class at all" after the 2006 playoff game in San Diego.
Each of the other AFC East teams has two solid, 1,000-yard capable running backs -- for now.
The Jets might be on the lookout if they decide to part ways with
Thomas Jones
and
Leon Washington
has trouble returning from his leg injury.
The Bills learned they don't need
Marshawn Lynch
after supplanting the troublemaker with the classy and economical
Fred Jackson
. The Bills would need some backfield assistance if they were to dump Lynch, and Tomlinson is the type of iconic figure -- similar to
Terrell Owens
a year ago -- who would capture their fans' imaginations.
February, 22, 2010
2/22/10
7:00
PM ET
LaDainian Tomlinson
recently said he believes he can still be an effective running back. Expect the 30-year-old Tomlinson, who was released by San Diego on Monday, to continue his career.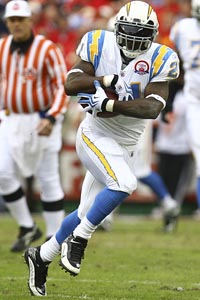 AP Photo/Ed ZurgaLaDainian Tomlinson isn't ready to hang up his cleats yet.
Some league observers believe Tomlinson may have to wait a while to garner interest. Here is a list of potential suitors.
Baltimore
Why:
Tomlinson said after he was kept by San Diego in 2009 that he thought Baltimore could have been a potential landing spot.
Denver
Why:
Tomlinson is still effective at the goal line. Denver struggled in short yardage last season.
Green Bay
Why:
The Packers could use a veteran presence in the backfield.
Houston
Why:
Texans coach Gary Kubiak has long been a fan of Tomlinson's.
Kansas City
Why:
The Chiefs could use a veteran mentor for young star
Jamaal Charles
.
New Orleans
Why:
Tomlinson and
Drew Brees
, the king of New Orleans, would love to reunite.
Washington
Why:
Mike Shanahan loves veterans and he was a huge admirer of Tomlinson's while he was in Denver.
February, 22, 2010
2/22/10
6:35
PM ET
LaDainian Tomlinson
's release from the Chargers drew parallels to
Shaun Alexander
's demise in Seattle.

Alexander

Tomlinson
"I was wondering if you think the release of L.T. from San Diego might in someway provide a level of vindication for our own NFC West-curbed MVP in Shaun Alexander?" JasonJHann wrote. "To me, this is nearly the exact same circumstances and timeline, although L.T. had remained less of a liability in the year before he was cut (probably because he wasn't the teams only option with Sproles around.)"
Tomlinson and Alexander saw their production fall dramatically after age 28, not uncommon for NFL running backs. Their careers lined up pretty closely before that, although Alexander got a later start because he spent one season backing up Ricky Watters.
Pro Football Reference includes a column for annual player ages as part of its career stat information, helpful for comparing career trajectories for two of the most productive running backs in the last decade. This made it easier to explore JasonJHann's question, left in the comments of
this item
.
The chart shows season-by-season rushing totals for Alexander and Tomlinson as each passed milestones for certain ages.
February, 22, 2010
2/22/10
6:19
PM ET
San Diego's release of running back
LaDainian Tomlinson
came two days after we engaged in this bit of
funny-talk speculation
in the weekend mailbag.
The short of it:
Chester Taylor
signs with his hometown team in Detroit and Tomlinson replaces him in Minnesota as the Vikings' third-down back/insurance for
Adrian Peterson
. I'll stress I have no inside information to suggest it's a possibility. But from an outsider's perspective, I think it makes some sense.
The move also gives us an opportunity to make one addendum to the
Final Eight discussion
we had last week. As you know, the Vikings can't sign an unrestricted free agent unless one of their own unrestricted free agents signs elsewhere first. Moreover, the contracts must be comparable.
But in a very technical sense, Tomlinson won't be an unrestricted free agent. In the NFL, a player who is released from his contract is classified differently than one whose contract expires. So assuming there is an uncapped offseason in 2010, the Vikings -- or any of the other 2009 "Final Eight" teams -- could sign Tomlinson even if they don't lose an unrestricted free agent first.
Hope that makes sense.
February, 22, 2010
2/22/10
5:48
PM ET
By
Matt Williamson, Scouts Inc.
| ESPN.com
Future Hall of Famer
LaDainian Tomlinson
was
released by the San Diego Chargers Monday
. Obviously this begs the question: What does Tomlinson have left and what is his value around the league at this advanced point of his career?
My answer to that question is short and simple: very little. Surely Tomlinson will get an opportunity with another team. He still consistently gets into the end zone, is a high character person and no one can question his will to win. The
Houston Texans
come to mind immediately as they need to add some veteran leadership. But I think his mind now writes checks his body can no longer cash. Tomlinson knows what it takes to succeed, but his once-exceptional long speed, jump-cutting ability, overall quickness, power and explosiveness have left him, as they leave most great runners his age with that much wear and tear on their bodies. I hate to say it, but I see Tomlinson ending his career much as Edgerrin James or Emmitt Smith did in Arizona. That's not good.
Despite featuring one of the most feared passing games in the league, San Diego was simply awful on the ground in 2009. The offensive line was certainly not great and there were several prominent injuries up front, but Tomlinson deserves much of the blame. The Tomlinson of a few years ago would have carved up defensive fronts that did not dedicate an extra defender to the box. This Tomlinson simply could not.
As happens with most declining runners, Tomlinson could no longer create big plays for himself. The long runs are gone. He can't run away from defenses or create the same space for himself as he once did. Tomlinson averaged a measly 3.3 yards per carry and was unable to break a run longer than 36 yards last season. He has rushed for 100 yards in a game only twice over the past two seasons.
Tomlinson also has become a forgotten member of San Diego's passing attack, catching only 20 passes this season. Before 2009, Tomlinson had never caught fewer than 51 passes. This once-great receiving option is no longer dynamic enough to make a difference in this phase of the game. When was the last time Tomlinson made a play that made you say "wow" to yourself? The answer probably is the 2007 season. That was a long time ago. It doesn't make me happy to say it, but Tomlinson is done.
February, 22, 2010
2/22/10
5:28
PM ET
Well, San Diego fans, it finally happened: The
LaDainian Tomlinson
era is officially over.
[+] Enlarge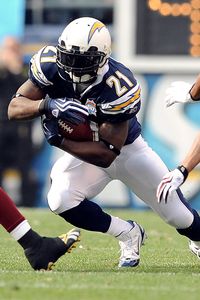 Christopher Hanewinckel/US PresswireLaDainian Tomlinson racked up 12,490 rushing yards over nine seasons in San Diego.
Yes, I know, it's not any easier to digest now that it has happened.
Tomlinson's release has been expected since late last season when it was clear he could no longer be the bell-cow back in San Diego anymore. Tomlinson even admitted recently that he knew his time in San Diego was over.
Still, it's an extremely sad day for Chargers fans. Tomlinson was an icon in San Diego.
The No. 5 overall pick in the 2001 draft out of Texas Christian University, Tomlinson quickly became the face of the franchise.
He is arguably the most popular and best player in franchise history. He will be a Hall of Famer. He had a nearly flawless nine-season career in San Diego; he was like an NFL version of Padres legend Tony Gwynn. His consistency and nose for the end zone coupled with his easy smile and desire to work in the community made him part of the fabric of San Diego. Unlike Gwynn, Tomlinson wasn't a native. But now, Tomlinson will forever be a part of San Diego.
He will always be a Charger.
While it is a melancholy day in San Diego, it was necessary. Tomlinson's time is up. He can no longer carry the team. That was evident last season when he was only effective at the goal line. Tomlinson had a career-low 730 yards and never registered a 100-yard game. San Diego had the second worst run offense in the NFL.
He had just 24 yards rushing in the Chargers' stunning home playoff loss to the Jets. He couldn't help the team when it needed him the most.
It is obvious Tomlinson can no longer help San Diego like he once could. The Chargers had to move on. Expect Tomlinson, who turned 30 last summer, to try to play elsewhere. But he won't be a star for anyone.
Those days are over. We have all known it for a while. But it doesn't make it any easier.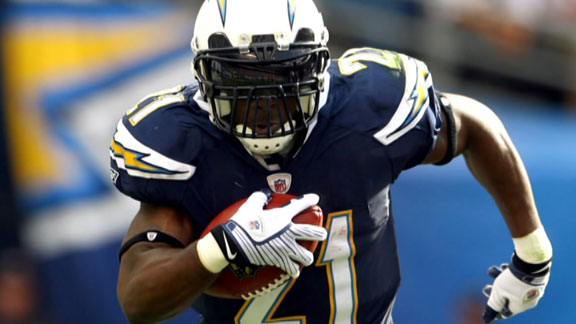 February, 22, 2010
2/22/10
5:24
PM ET
It is clear the Chargers understand the enormity of their decision to release legendary running back
LaDainian Tomlinson
. The team just sent out a long, thoughtful, detailed statement on the release.
Kudos to San Diego for making this move with class and dignity.
Here is the team's release:
February, 22, 2010
2/22/10
5:14
PM ET
With
LaDainian Tomlinson
released by San Diego, I know I'm about to get a lot of notes from Houston asking if I think he'll wind up a Texan.
The Texans are the one team in the AFC South in need of running back help.
They've gone the veteran route in recent history with little success, not that
Ahman Green
or
Chris Brown
had anything close to LT's résumé.
My sense is Houston will look for a young guy to try to divide up the backfield work, pairing him with
Steve Slaton
.
I asked Matt Williamson of Scouts Inc. about LT in Houston, and he told me he's working on a piece on Tomlinson which will be turned in soon.
"I think he is done, I really do," Williamson said. "Including the upcoming draft, I could probably name 50 RBs who are better football players than him right now. But, Houston is slightly interesting for one reason. I think that is a team that is really lacking veteran leadership and he might fit that bill."
I agree on the lacking-in-veteran-leadership thing. Beyond
Andre Johnson
on offense, they could use a big-time presence. But you don't use up your money or your roster spots for presence if it doesn't come with production.
Houston courting LT would surprise me.
February, 22, 2010
2/22/10
4:39
PM ET
By
ESPN.com staff
| ESPN.com
The
San Diego Chargers released
running back
LaDainian Tomlinson
Monday afternoon.

Tomlinson
Tomlinson played nine seasons in San Diego, but at the age of 30 and with declining numbers, Tomlinson has been anticipating his release for the past month.
Tomlinson rushed for 12,490 yards in nine seasons and rushed for 138 touchdowns during his career in San Diego. He caught 530 passes and scored 15 touchdowns through the air.
We'll have more reaction to this story throughout the night.

NFL SCOREBOARD
Sunday, 12/22
Monday, 12/23