NFL Nation:

Tommy Bohanon
January, 2, 2014
Jan 2
2:00
PM ET

Final power ranking:
19
Preseason power ranking:
32
Biggest surprise
: The rookies. The
New York Jets
played most of the season with five rookie starters -- cornerback
Dee Milliner
, defensive tackle
Sheldon Richardson
, quarterback
Geno Smith
, guard
Brian Winters
and fullback
Tommy Bohanon
. The Jets figured to be a young team because of how the roster was purged last offseason, but you didn't think they'd be this young. The five draft picks combined for 65 starts. Their performances ranged from exceptional (Richardson) to inconsistent (Smith) to shoddy (Winters), but coach Rex Ryan -- perhaps on orders from general manager John Idzik -- stuck with them through difficult stretches. The growing pains hurt, but all five were ascending by the end of the season.
Biggest disappointment
: Cornerback
Antonio Cromartie
was supposed to anchor the rebuilt secondary, but he regressed from a Pro Bowl year in 2012. A season-long hip injury obviously factored into his performance, but it didn't cause him to miss any games. He surrendered far too many big plays, exacerbating the absence of
Darrelle Revis
, who was traded last offseason. Instead of shutting down the opponents' No. 1 receiver, as he did on a consistent basis in '12, Cromartie struggled along with Milliner. Unable to rely on his corners to supply tight man-to-man coverage, Ryan was forced to adjust, taking a more passive approach with regard to blitzing.
Biggest need
: Playmakers on offense. We're talking about wide receivers and tight ends, but mainly wide receivers. The Jets had only two pass plays more than 50 yards, and they came in the same game. Without a game-breaking element on the perimeter, the offense faced a steady diet of eight-man fronts and consistent blitzing.
Stephen Hill
didn't take that big step in Year 2, as the organization had hoped.
Santonio Holmes
is a goner, so now New York must find a No. 1 receiver through the draft or free agency. Actually, the Jets could pluck one from each because, yes, the need is that glaring.
Team MVP
: Defensive end
Muhammad Wilkerson
was the best player on the dominant side of the ball, so we're picking him over running back
Chris Ivory
, whose physical running sparked the offense late in the season. Wilkerson recorded a career-high 10.5 sacks and, although he wasn't selected to the Pro Bowl (an injustice), he established himself as one of the better defensive linemen in the league. He faced double-teams and often rushed from an interior position, hurting his ability to produce gaudy stats. His steady, blue-collar approach set a tone for the run defense, which dominated for most of the season. Wilkerson was voted MVP by his teammates, which says something. The Jets will try to lock him up to a long-term deal before next season.
October, 8, 2013
10/08/13
2:15
PM ET
An examination of four hot issues from the
New York Jets
' 30-28 victory over the
Atlanta Falcons
on "Monday Night Football":
[+] Enlarge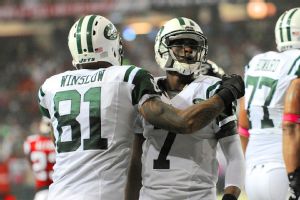 Dale Zanine/USA TODAY SportsRookie Geno Smith leads the NFL in game-winning, fourth-quarter drives. He has three for the Jets this season.
1. Broadway Geno:
This is what makes the NFL so compelling: A week ago,
Geno Smith
was a turnover-prone rookie, hearing whispers about his job security. Now he's Mr. Clutch, delivering one of the Jets' best two-minute drives in years to stun the Falcons. Years from now, this could be remembered as a turning point in his career. For now, he should savor the moment. Consider: He became the first rookie quarterback in the Super Bowl era to compile this trifecta on the road -- 80 percent completion rate, three touchdowns and zero interceptions, according to ESPN Stats & Information. Oh, by the way, he leads the NFL in game-winning, fourth-quarter drives -- three. How meaningful is that? Prior to this season, it happened only
twice
in Jets history by a rookie quarterback. One word: Wow.
2. Three-headed monster:
Asked about the wide receiver injuries last week, Rex Ryan joked that maybe they should play the wishbone. Was he really joking? On a few plays, they actually used two halfbacks and a fullback in a pistol set --
Bilal Powell
,
Chris Ivory
and
Tommy Bohanon
, respectively. In fact, they opened the game in that formation. Overall, the Jets averaged 5.4 yards per carry and used their personnel to the max. They had their full complement of backs for the first time, with Ivory (healthy) and
Mike Goodson
(suspension served) joining Powell. Ivory and Goodson combined for only eight touches, but the workload included 19- and 26-yard runs, respectively. David Lee's fingerprints were on the game plan. He's a former college coach who helped bring the Wildcat to the NFL. The Jets ran five plays for 33 yards out of the Wildcat. The emphasis on the backs, as well as the tight ends, was designed to exploit the Falcons' patchwork linebacker corps.
3. Don't say the words:
There might not be a phrase in the English language that Rex Ryan despises more than "bend but don't break." As an aggressive defensive coach, that philosophy simply isn't in his DNA -- but it sure looked that way in this game. The Jets allowed 363 total yards, didn't put up much of a fight on third down (6-for-12) and let the Falcons control the ball on four drives of at least 10 plays. If you didn't know better, you might have thought the strategy was to play soft between the 20s and crank up the pressure in the red zone -- where the Falcons had been struggling. If that was the plan, it didn't work, as the Falcons scored touchdowns on four of five trips to the red zone. In the past two games, the Jets' once-formidable red zone defense has slacked off, as opponents have converted seven of nine visits for touchdowns.
4. The tough guys won:
Overshadowed in the pregame hype, which focused on Falcons QB
Matt Ryan
and his weapons, was the Jets' superiority on both lines. It played out that way, as they dominated in the trenches. The Falcons ran up some pretty offensive numbers, dinking and dunking and claiming an 11-minute advantage in possession time, but they got pushed around up front. Coach Mike Smith, perhaps trying to convince his players they could outmuscle the Jets, took that fourth-and-1 gamble at the end of the first half, passing up three easy points -- the difference in the game. The Jets were forced to play a near-perfect game, but they did, thanks to Smith and PK
Nick Folk
(3-for-3).
September, 22, 2013
9/22/13
6:00
AM ET
Some quick thoughts and observations on the Jets as we head into Week 3:
1. Arms race:
The perception that
Geno Smith
was the Jets' slam-dunk quarterback preference going into the 2013 draft isn't accurate. Smith and
EJ Manuel
, whom they face Sunday at MetLife Stadium, were "very close" on the Jets' draft board, according to former scout Joe Bommarito. "We had both guys up there high," he said.
Bommarito declined to divulge anything more specific than that, except to say both quarterbacks were grouped together on the same line on their board, meaning they probably had similar grades. If Smith hadn't been available in the second round, Bommarito said, they would've happily picked Manuel at No. 39 overall. Manuel took a pre-draft visit to the Jets' facility and felt the coaches liked him enough to take him.
As it turned out, the Jets passed twice on both quarterbacks (with the ninth and 13th picks). By the time they got to 39, Manuel was long gone, picked 16th by the Bills.
Bommarito's take on the two rookies: Smith has the stronger arm, Manuel gets the edge in accuracy. So far, you'd have to give the early lead to Manuel, who has made fewer mistakes than Smith. But we'll learn more about Manuel by the way he handles his first road game.
[+] Enlarge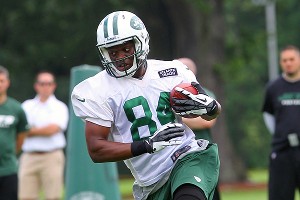 Ed Mulholland/USA TODAY SportsA former Jets scout said that the team considers WR Stephen Hill, a 2012 second-round draft choice, a "four-year project."
2. The Hill Project:
Bommarito, whose contract wasn't renewed after the draft, spent a dozen years as a Jets scout. One draft pick that caused a considerable amount of angst among fans (and some in the organization) was WR
Stephen Hill
, whose inconsistency is maddening. Bommarito is a Hill fan, but he acknowledged, "One minute, you're excited about the guy. Other times, you're like, 'Oh, really?' He's a four-year project. You have to be patient with him." He was alluding to Hill's limited background in the passing game. But four years? That's a lot of waiting in the NFL, especially for a second-round draft pick in 2012.
For more Jets-related insights from Bommarito, check him out on Twitter. His handle is @AskTheScout.
3. Rex's coaching tree
: Both Rex Ryan and Bills defensive coordinator Mike Pettine insist everything is cool between them, and that there was no falling out at the end of last season. Ryan told me he wants Pettine to succeed in his new gig. Another former Ryan assistant, Chiefs defensive coordinator Bob Sutton, is off to a great start. Before Thursday night, the Jets and Chiefs were ranked first and second in total defense, respectively, among AFC teams.
"I'm proud of Bob Sutton, too," Ryan said. "Somehow, maybe I helped a little bit. I'm proud to have a little bit of a coaching tree."
4. Nate (Can) Hackett:
Speaking of coaching trees, what's better than a father-son deal? Bills offensive coordinator Nate Hackett is the son of former Jets OC Paul Hackett, who served under Herm Edwards from 2001-04. Hackett, a Bill Walsh disciple, was a lightning rod for criticism. He got beat up pretty badly in this town, so much so that he resigned under pressure after the Jets' playoff run in Jan. 2005. The tabloids cranked out plenty of "Paul Can't Hack-it" headlines.
His son, 33, the second-youngest coordinator in the NFL, is a rising star in the business. Bills coach Doug Marrone, the offensive line coach on that same Edwards staff, hired Nate at Syracuse. That's where they developed the up-tempo offense they're using in Buffalo, and it happened almost by accident. About two weeks before the 2012 opener, the Syracuse offense was getting dominated by the defense in practice. They needed to shake it up, so Marrone and Hackett junked their old offensive system and developed a hurry-up attack on the fly. That's what you call a true hurry-up.
5. The big trade
: Jets OT
Ben Ijalana
, a former second-round pick of the Colts, was "excited," but not surprised his old team made the blockbuster trade for RB
Trent Richardson
. Ijalana said, "This is now for the Colts. There's no later. They have Lombardi aspirations. It's no secret. They talk about it all the time."
It's great to have an aggressive organization, but I think this was a panic move by the Colts, who surrendered a first-round pick to the Browns. Richardson gives them a legitimate running back to help QB
Andrew Luck
, but he won't be a game changer behind that offensive line. Luck is only a second-year player, so the window of opportunity will be open for many years. Like I said, they panicked.
6. Impact on the Jets:
The Colts/Browns trade could affect the Jets in 2014. Clearly, the Browns are in the market for a franchise quarterback, and now they have two first-round picks to wheel and deal their way to the top passer in the '14 draft, presumably Teddy Bridgewater of Louisville. The Browns own five picks in the first three rounds, plenty of ammunition to make trades. If the Jets don't like what they see from Geno Smith and want to draft another quarterback, it'll be really hard to move ahead of the Browns.
Then again, after trading their best player, the Browns could up with the No. 1 pick without having to trade up.
7. Rex and Marty Show:
Mark my words, you'll be hearing the phrase "run-pass ratio" a lot throughout the season. The chatter already has started. Ryan is saying all the right things, claiming he's all-in with Marty Mornhinweg's pass-heavy approach, but this bears watching. Ryan is a defensive-minded coach and defensive-minded coaches have "ball control" in their DNA, especially when there's a rookie quarterback involved. Under Mornhinweg, they're running the ball in only 37 percent of the plays. In 2009,
Mark Sanchez
's rookie year, they ran 59 percent of the time.
8. Class of '13
: GM John Idzik is getting a lot of bang out of his first draft, at least in terms of playing time. Smith and FB
Tommy Bohanon
have played in 100 percent and 43 percent of the offensive snaps, respectively. For DT
Sheldon Richardson
and CB
Dee Milliner
, it's 90 percent and 78 percent of the defensive snaps, respectively. Milliner, benched at halftime last week, will be part of a rotation against the Bills.
9. The Iron Man
: LT
D'Brickashaw Ferguson
has started every game in his career (114) and has missed only one play. There have been 7,330 offensive plays since his rookie year, 2006, according to ProFootballReference.com
10. Keeping up with Mr. T
: Former GM Mike Tannenbaum is off to a fast start in the agent business, having signed at least 20 new clients from the coaching and media ranks. Sports Business Journal
catches up with Tannenbaum
to see how he's enjoying his new gig.
September, 2, 2013
9/02/13
6:00
AM ET
The rebuilding
New York Jets
could start four, maybe five rookies on opening day -- a rarity in Jets history.

Quarterback
Geno Smith
, fullback
Tommy Bohanon
, defensive tackle
Sheldon Richardson
and cornerback
Dee Milliner
(if healthy) are expected to have starting roles. If
Brian Winters
gets the call at left guard, the Jets could have their version of the Fab Five.
The last time the Jets started five rookies on opening day? According to the Elias Sports Bureau, it occurred in 1976. The rookies were linebacker Steve Poole, linebacker Greg Buttle, linebacker Bob Martin, running back Louie Giammona and defensive back Shafer Suggs. The team finished 3-11.
The last time they started four rookies was in 1979: linebacker Stan Blinka, guard Eric Cunningham, defensive back Donald Dykes and defensive tackle Marty Lyons. That team went 8-8.
Wonder if Walt Michaels preached "competition" way back then.
August, 21, 2013
8/21/13
12:44
PM ET
Fullback
Lex Hilliard
, who played in 12 games last season for the Jets, will have season-ending surgery next week to repair a fractured shoulder blade, a league source confirmed Wednesday.
[+] Enlarge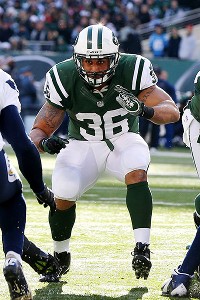 Jim McIsaac/Getty ImagesLex Hilliard's second season with the Jets will be spent rehabbing an injured shoulder blade.
The Jets placed Hilliard on injured reserve Wednesday and signed wide receiver Marcus Rucker.
"That's really unfortunate because Lex is a tremendous player and also a tremendous person," Rex Ryan said.
Hilliard, who missed the first two preseason games due to a rib injury, left the practice field Tuesday in severe pain. Afterward, Rex Ryan mentioned a possible shoulder dislocation.
Even if he had remained healthy, Hilliard would've been hard-pressed to retain his roster spot. Rookie
Tommy Bohanon
, a seventh-round pick from Wake Forest, has impressed the coaching staff and is in line to win the starting job.
Ryan said the Jets would keep their options open but he was complimentary of Bohanon after Wednesday's practice.
"He's been impressive," Ryan said. "I've been very pleased with Tommy."
Hilliard was one of the few unrestricted free agents that new GM John Idzik decided to retain. Hilliard signed a one-year, $780,000 contract, including a $65,000 signing bonus. The Jets picked him up last season because of his background with former offensive coordinator Tony Sparano. Hilliard rushed eight times for 31 yards and made four receptions for 23 yards in 2012.
He played in only 25 percent of the offensive snaps last season, a total of 271, but he was a steady contributor on special teams (203 snaps).
Bohanon said that he's confident that he can handle the starting role, if necessary.
"I definitely think that I'll be able to go out there and do everything they asked me to do," he said. "That's why I'm out there before practice and after practice working on my technique."
August, 18, 2013
8/18/13
12:04
AM ET
The
Jacksonville Jaguars
stuck with
Blaine Gabbert
as their starter at quarterback in preseason game No. 2.

Part of why, it now appears, is because they were ready to put him in a no-huddle offense, force the pace against the
New York Jets
at MetLife Stadium and see if the offense couldn't work more effectively with an appearance by running back
Maurice Jones-Drew
and a contribution from receiver
Justin Blackmon
.
Gabbert was excellent, with 13 completions in 16 attempts for 165 yards, a touchdown to tight end
Allen Reisner
and a 130.5 passer rating. He threw on the move, he threw in the face of pressure when he had to, he threw to people who made plays for him. He carried himself confidently, rarely huddling, and running plays that seemed to offer him quick and simple decisions.
Chad Henne
took over with 5:34 on the clock in the second quarter. On his final play, Gabbert banged his thumb on defensive tackle
Muhammad Wilkerson
. He was shaking his hand as he headed for the sideline, and according to tweets from several who covered the game in person, coach Gus Bradley said X-rays of the quarterback's right thumb were negative. It's a sprain and he'll be evaluated further on Sunday.
It was 10-10 when he left the game, and with him at quarterback the Jags converted five of seven third downs.
Against a better opponent who is not surprised by the hurry-up and who will have game-planned more for Gabbert, can he do similar things? We'll have to wait for the answer to that. We don't want to give too much weight to less than a half of a preseason game. But still, there is a lot more reason to think it could be a yes than there was before this game.
A few other thoughts on
Jets 37, Jaguars 13
:
The Jags failed to convert the final three third downs they faced in the first half, when Henne had replaced Gabbert. But the first two were runs, they went for it on the fourth down that followed and they converted both.
In 16 minutes of play, the Jaguars had eight penalties for 63 yards. While the hurry-up caught the Jets off guard, it may have also thrown the Jaguars off a bit in this department. The pace of the Jacksonville offense didn't have a bearing on consecutive neutral-zone infractions against defensive linemen Jason Babin and Sen'Derrick Marks. The Jaguars finished with 12 penalties for 100 yards.
Blackmon was very good, with four catches on five targets for 46 yards. He ran well with the ball in his hands on a couple of quick receiver screens. They are going to miss him during his four-game suspension to start the season. But once he and Cecil Shorts (who didn't play) are on the field together, they should be a formidable duo. Mix in rookie Ace Sanders who flashed some in this game and there is plenty of reason for encouragement. Sanders caught Gabbert's first pass, a 35-yarder down the middle.
Timing wasn't great for rookie safety John Cyprien, who just started practicing on Monday after an offseason hamstring injury. He fell down on the Jets first touchdown, a 23-yard pass from Mark Sanchez to tight end Jeff Cumberland. But even if Cyprien has stayed on his feet, he would have gotten beat on the play.
Jones-Drew got three carries for 9 yards and took a little pass 20 yards. The Jags got him out quickly after his first game action since Oct. 21, 2012. Jordan Todman had some quality carries as the next in line – at least one was undone by a penalty and rookie Denard Robinson showed off his speed before he was slowed in the second half. Neither had a good stat line in the end.
The Jets got effective work out of Bilal Powell when the running back fielded direct snaps. He took one 37 yards as offensive lineman Willie Colon swallowed up Marks to create a big hole. Powell finished with 68 yards on seven carries.
Sanchez and Matt Simms were each sacked once. Jeremy Mincey had the first, sticking with it on a deep drop for Sanchez and ultimately pushing back fullback Tommy Bohanon. Mincey has bulked up so he can play some tackle, and he should beat a fullback. Also of note on the D-line: Continued silence and invisibility from end Andre Branch. His stat line included just one tackle, on special teams.
August, 9, 2013
8/09/13
9:29
AM ET
CORTLAND, N.Y. -- The Jets open the preseason Friday at the Lions. Kickoff is 7:30 p.m. Here is what to watch for:
1. Quarterback battle, Round 1
:
Mark Sanchez
starts,
Geno Smith
relieves. Sanchez figures to play a series or two with the starters before yielding to the rookie, who might get a series with the first unit. Smith will stick around and play with the backups as he attempts to convince the powers-that-be that he's ready to take over the team. The focus is on Smith, but it'll be interesting to see Sanchez in Marty Mornhinweg's West Coast offense. He loves the system. We'll see if it loves him back.


2. The rookies
: The Jets could open with three in the starting lineup -- DT
Sheldon Richardson
, CB
Dee Milliner
and FB
Tommy Bohanon
, the only fullback on the traveling roster. Incumbent
Lex Hilliard
didn't make the trip with an undisclosed injury. Milliner is rusty, which is to be expected. He missed the offseason and the first few days of camp, so his conditioning and technique still need work. Just for kicks, Rex Ryan should let Milliner cover
Calvin Johnson
for a couple of plays. Now
that
would be a welcome-to-the-NFL moment. Rookie LG
Brian Winters
(ankle) didn't make the trip, hurting his chances of winning a starting job.
3. Empty stable:
Chris Ivory
(hamstring) and
Joe McKnight
(head) are out, so the workload will fall to
Bilal Powell
. There's some concern among the coaches that Powell is being overworked, so don't expect a super-heavy work day.
John Griffin
and
Chad Spann
will see some carries as well. Mornhinweg, known for his pass-happy philosophy, will have no problem throwing it all over Ford Field.
4. Mega Who?
When the Jets drafted WR
Stephen Hill
last year in the second round, they made the mistake of comparing him, from a size-speed standpoint, to another Georgia Tech alum -- Johnson, aka MegaTron. Hill is nowhere close to Johnson, but he has made strides on the practice field, especially with his technique. Now he has to take it to the game. With
Santonio Holmes
in limbo, they could be relying on Hill to be their No. 1 receiver.
5. New-look defense
: They have seven new starters, so there's bound to be growing pains. They could show up in the secondary, which was overhauled in the offseason. The only returning starter is CB
Antonio Cromartie
. The Lions like to spread the field, and they have a quarterback (
Matthew Stafford
) who can get the ball anywhere on the field. This should be a nice first test for the Jets' sub packages. Watch LB
Demario Davis
; he brings a pass-coverage dimension to the linebacking corps.
6. Q's debut
: Former No. 1 pick
Quinton Coples
plays his first game at outside linebacker. It has been a quiet camp for the former lineman. Part of that could be attributed to the position switch. But the coaches also want him to play with a greater sense of urgency. The feeling around the team is that Coples is the key to the defense. If he thrives in his new role, the defense has a chance to be really good.
7. Safety in numbers
: The most unsettled position is free safety.
Antonio Allen
has received most of the reps, but he's hardly a sure thing. Former Eagle
Jaiquawn Jarrett
has impressed the coaches with his approach and he could sneak in and grab the job.

NFL SCOREBOARD
Sunday, 2/2
WEEKLY LEADERS