April, 24, 2014
Apr 24
8:00
AM ET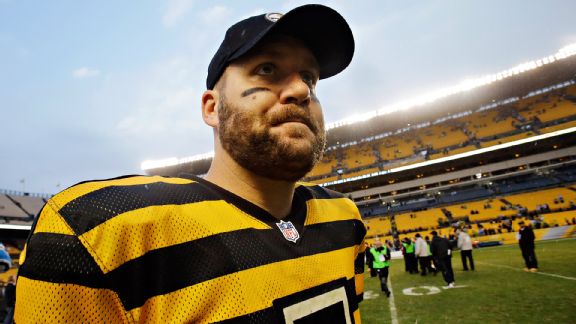 AP Photo/Gene J. PuskarBen Roethlisberger, the Steelers' first-round pick in 2004, has forever impacted the franchise.
PITTSBURGH -- The
Steelers
needed more than a little luck to end their long search for the rightful heir to Terry Bradshaw, the quarterback they had taken first overall in the 1970 NFL draft.
Ten years ago today -- and almost a quarter of a century after they selected Bradshaw by winning a coin toss to secure the top pick over the
Chicago Bears
-- the Steelers drafted
Ben Roethlisberger
with the 11th overall pick.
As with Bradshaw, the pick set the franchise on a glorious course.
Bradshaw struggled early in his career and was benched and booed by fans before winning four Super Bowls, but with Roethlisberger, the Steelers got a serious return on their quarterback investment earlier than anyone could have expected.
An injury to starter
Tommy Maddox
in the second game of the 2004 season thrust Roethlisberger into action. And the quarterback who had been considered more of a project than the two picked ahead of him (
Eli Manning
and
Philip Rivers
) because he hadn't played against top competition at Miami (Ohio) responded by winning his first 14 starts.
The Steelers suffered a disappointing loss to
Tom Brady
and the Patriots in the 2004 AFC Championship Game, but they finally found their quarterback after going through their share of them following Bradshaw's retirement in 1984.
Roethlisberger led the Steelers to three Super Bowls from 2005 to 2010, winning two of them, and he showed a flair for extending plays after his pass protection had collapsed, as well as directing clutch fourth-quarter drives -- both the result of a competitive streak that is as long as one of the three rivers that converge in Pittsburgh.
He authored his signature comeback in Super Bowl XLIII when the Steelers trailed the upstart Arizona Cardinals by three points and were backed up at their 10-yard line with less than three minutes left in the game.
Roethlisberger needed eight plays and a little more than two minutes to lead the Steelers to a game-winning touchdown, capping the drive with a 6-yard scoring pass to
Santonio Holmes
.
The pass was vintage Roethlisberger: daring and something more likely seen in a backyard game, not the NFL's biggest stage. Roethlisberger unleashed the pass under pressure, throwing it into a crowd but only where his receiver had a chance to catch it.
That unlikely play, in retrospect, serves as something of a metaphor for Roethlisberger's Steelers career, because so much had to break just right for him to wear black and gold in the first place.
"We didn't expect that he would end up in Pittsburgh," Ryan Tollner, Roethlisberger's agent, said.
Indeed, 10 teams picked ahead of the Steelers in the 2004 draft, including the Browns, who would have been hailed for taking the Ohio native to lift the struggling franchise.
And Roethlisberger's camp didn't know to what extent he was on the Steelers' radar.
The team had met with Roethlisberger at the NFL scouting combine and also hosted him for a pre-draft visit, but they never worked him out. Tollner figured he would go to the Raiders at No. 2, the Cardinals at No. 3, the Giants at No. 4 or the Browns at No. 6.
If none of those teams drafted Roethlisberger, Tollner thought, Buffalo at No. 13 would be the probable landing spot for his client.
Meanwhile, another member of Roethlisberger's inner circle was convinced the Giants were going to draft him. Terry Hoeppner, his coach at Miami, had spoken extensively with Ernie Accorsi about Roethlisberger and had gotten a good vibe from the Giants' general manager.
[+] Enlarge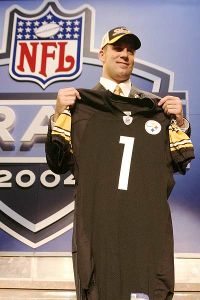 AP Photo/John Marshall MantelQB Ben Roethlisberger hasn't forgotten about all of the teams -- especially the Browns -- who bypassed him in the 2004 draft.
That is why when the Giants drafted Rivers -- they subsequently dealt him to the Chargers for Manning, who had been taken first overall -- Hoeppner fired a water bottle in disgust across the table where he was sitting with Roethlisberger and others at the draft in New York City.
The Redskins took safety
Sean Taylor
with the fifth pick, providing an opening for the Browns, who needed a quarterback after
Tim Couch
, the first overall selection in 1999, didn't pan out.
"[Roethlisberger] is a northwest Ohio kid, and played in-state at Miami of Ohio and here the Browns are, they've struggled at the quarterback position for a long time," Tollner said. "Ben is sitting there and they elect to go with a tight end. It's something Ben's never forgotten and he never will."
The Browns' picking tight end
Kellen Winslow Jr.
proved to be one of the draft's pivotal points. But the Steelers also came close to passing over Roethlisberger after he lasted through the first 10 picks.
The team had zeroed in on Arkansas offensive tackle
Shawn Andrews
, but owner Dan Rooney deftly shifted the conversation to Roethlisberger before the Steelers made their pick.
Rooney had good reason to speak up.
The Steelers had built their dynasty in the 1970s -- and transformed an organization once synonymous with losing -- through shrewd drafting.
They had missed an opportunity near the end of Bradshaw's career when they passed on local legend
Dan Marino
in the 1983 draft and instead selected Texas Tech defensive tackle Gabe Rivera with the 21st pick.
The Dolphins pounced on Marino with the 27th selection, and his strong arm and quick-as-a-hiccup release allowed the Pitt product to become an early star in Miami and eventually a first-ballot Pro Football Hall of Famer.
The Steelers, meanwhile, shuffled through enough quarterbacks in the post-Bradshaw era that seven different players led them in passing from 1983 to 2003.
Rooney fretted that overlooking Roethlisberger also might come back to haunt the Steelers.
"I couldn't bear the thought of passing on another great quarterback prospect," Rooney wrote in his book "Dan Rooney: My 75 Years With The Pittsburgh Steelers and The NFL."
"So I steered the conversation around to Roethlisberger. After some more talk, we came to a consensus and picked Roethlisberger."
Ten years later, Roethlisberger remains the youngest quarterback to win a Super Bowl -- he was only 23 when the Steelers beat the Seahawks in February 2006 -- and joins Eli Manning and Brady as the only active quarterbacks with multiple Super Bowl victories.
Roethlisberger, who turned 32 in March, already has broken many of Bradshaw's Steelers records and is five victories away from becoming the 13th quarterback in NFL history to win at least 100 regular-season games.
It hasn't all been smooth for Roethlisberger in Pittsburgh.
A motorcycle accident after his first Super Bowl victory left Roethlisberger seriously injured and may have contributed to his uneven play in 2006. And two sexual assault allegations made against him less than a year apart led to a four-game personal-conduct policy suspension by the NFL at the beginning of the 2010 season (Roethlisberger was never charged with a crime).
Roethlisberger since has rehabilitated his image, gotten married and started a family. He is considerably closer to the end of his career than the beginning of it, though he played every snap last season.
It's safe to say Roethlisberger is one of the best draft choices in Steelers history -- and the most critical one to reconnecting the team that has won a record six Lombardi trophies with its triumphant past.
Oh, and yeah, Roethlisberger is 19-1 in his career against the Browns, the most notable and personal of the teams that passed on him 10 years ago.
"I think that Ben getting where he did in hindsight was the best thing that could have happened to him because he went to a strong organization but he went in a position that kept him feeling like an underdog," Tollner said. "He entered the league a very respectable pick at No. 11 overall but very driven to prove that 10 teams made a very bad mistake in passing on him."
October, 12, 2012
10/12/12
11:00
AM ET
The Steelers have 11 games remaining. They have yet to play one snap against a division opponent this season. In other words, no one has mathematically eliminated the Steelers (2-3) from anything.
But Pittsburgh's performances on the road, including Thursday night's
26-23 loss
at Tennessee, have been disturbing. The Steelers' history in their current situation makes their playoff picture even gloomier.
Over the past 20 years, the Steelers have had a losing record after five games just five times. Only once -- the 2002 season -- did the Steelers rebound to make the playoffs. It was 10 years ago when
Tommy Maddox
replaced
Kordell Stewart
in Week 4 and guided Pittsburgh to a 10-5-1 record.
The other times (1999, 2000, 2003 and 2006) resulted in a division finish no higher than third. This marks the first time that the Steelers have started the season 2-3 under coach Mike Tomlin.
The only time
Ben Roethlisberger
began with a 2-3 record was 2006. That was the year when he was involved in a motorcycle crash during the offseason and then had to miss the season opener because of an emergency appendectomy.
So, coming back from a 2-3 record isn't impossible. Pittsburgh's track record just says it's a major challenge.
November, 17, 2011
11/17/11
1:42
PM ET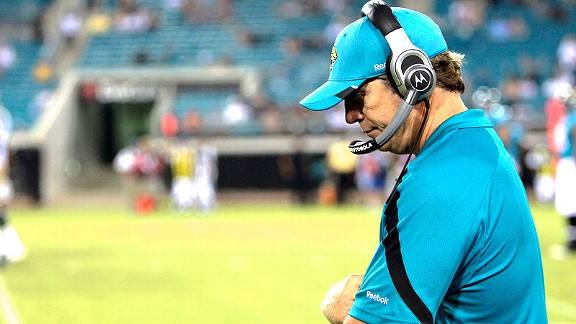 AP Photo/John RaouxIf the Jaguars replace Jack Del Rio, it makes sense to hire an offensive-minded head coach.
Ten weeks into most NFL seasons we have a good sense of head-coaching jobs coming open and the prime candidates for them.
This year feels different.
Jim Caldwell may coach a potential 0-16 team. But to hear Bill Polian talk, the Colts' coach may well survive. In Jacksonville, Jack Del Rio's got one year left on his contract and a lame-duck staff.
It's widely held that Jaguars owner Wayne Weaver will make a change if he judges the team to have shown insufficient improvement this season, and it's hard to envision a giant turnaround now for the 3-6 Jaguars based on how poorly the offense is producing.
As for prime head-coaching candidates, I sense no buzz about the hot, young offensive assistant who's the next big thing. In previous years -- no matter if they panned out or not -- we've seen guys like Josh McDaniels, Jason Garrett, Todd Haley and Ken Whisenhunt tabbed as up-and-comers who were ready.
Who are those guys now?
While Northern Florida might hold out hope that Weaver will want a name and would be able to lure one, I don't see Bill Cowher or even Jeff Fisher heading for EverBank Stadium.
The franchise should re-sign general manager Gene Smith, allow him to decide on Del Rio and make the recommendation on the next coach.
And if Smith's in the market, that next coach should be a young offensive mind who likes
Blaine Gabbert
and has the best shot at developing him. Smith needs to hit a home run finding the next Mike McCarthy, Sean Payton or, this year aside, Andy Reid.
I asked around this week, talking to a couple coaches and an executive about which NFL assistant qualifies as a QB guru who's ready to be a head coach.
Through those conversations, I present this list of possibilities:
Mike Mularkey, Atlanta offensive coordinator
-- Mularkey posted a 14-18 record as Buffalo's head coach in 2004-05. But he's got enough distance from that now that he could be worthy of a second act.
He took over as offensive coordinator in Atlanta in 2008, when quarterback
Matt Ryan
was a rookie. He has a bruiser of a running back in
Michael Turner
to go with Ryan. Ryan became just the second rookie quarterback in NFL history to throw for more than 3,000 yards, and the Falcons won 11 games.
There is a connection to Smith: Mularkey's son, Patrick, is a scouting assistant in Jacksonville's player personnel department.
Jay Gruden, Cincinnati offensive coordinator
-- Gruden's done fantastic work this season with rookie QB
Andy Dalton
. But is one good year enough to vault him to a head coaching job?
He worked on his brother Jon's staff in Tampa Bay from 2002-08, but as an offensive assistant he wasn't a year-round guy. He stacked the work on top of his duties quarterbacking and then coaching the Orlando Predators of the AFL.
Jay Gruden has head coaching experience in the AFL and the UFL, where he led the Florida Tuskers to the 2010 championship game as head coach and GM.
Word is he's different than his brother, calmer with a better presence with his players.
Rob Chudzinski, Carolina offensive coordinator
-- His first tour as an offensive coordinator came in Cleveland from 2007-08. The 2007 Browns won 10 games with
Derek Anderson
shining at quarterback.
Now Chudzinski's been lauded for his work with
Cam Newton
, revising and shaping the offense to feature what the rookie quarterback does best. He's got a strong background with tight ends, too, and is regarded as a rising star by many around the league.
He's also a quieter, unassuming type.
Tom Clements, Green Bay quarterbacks coach
-- Clements worked in the same post for New Orleans (1997-99), Kansas City (2000) and Pittsburgh (2001-03). During those stops he worked with
Tommy Maddox
during his comeback player of the year season in 2002 and with
Kordell Stewart
and
Elvis Grbac
during their best seasons.
He also worked as offensive coordinator in Buffalo in 2004 and 2005.
With Green Bay, Clements guided
Brett Favre
in his final Packers' years while helping prepare
Aaron Rodgers
. He's also had a hand in the progress of highly regarded backup
Matt Flynn
.
But does he have the qualities of a good head coach?
Pete Carmichael, New Orleans offensive coordinator
-- He's in his third year as Payton's top offensive lieutenant after three seasons as the Saints' quarterbacks coach.
Carmichael's been closely involved with an offense that has excelled with
Drew Brees
as quarterback, with a specific role in routes, protection schemes and quarterback responsibilities.
Like Clements in Green Bay, Carmichael works for a strong coach with an offensive background and so he doesn't function as the play-caller. While very smart, he comes across as bland and that could be a big issue for a guy expected to be the face and the personality of a franchise.
April, 28, 2011
4/28/11
10:52
PM ET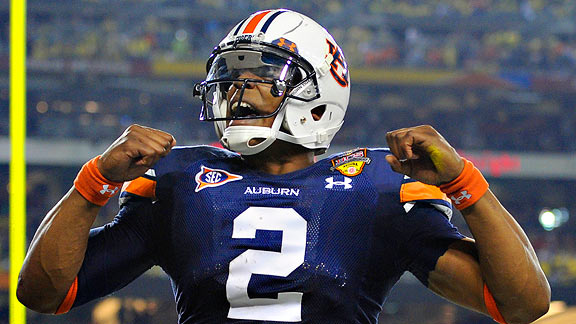 AP Photo/Mark J. TerrillCarolina is going to expect Cam Newton to be able to start right away.
CHARLOTTE, N.C. -- For just a second Thursday night, the new
Carolina Panthers
looked just as deliberate as the old ones.
The team that has set NFL offenses back a decade the past couple of years, ran one straight up the gut. New coach Ron Rivera and general manager Marty Hurney weren't playing any games as they talked about
Cam Newton
, the man they took with the first pick in the NFL draft.
They didn't come right out and say it, but you don't have to look for any mysterious lines to read between. Rivera uses the term "bottom line'' a lot and, in this case it's real obvious what the bottom line is.
The Panthers' plan is to play Newton right away. In fact, go ahead and pencil him in as the opening-day starter.
"He's not drafted to be a franchise savior,'' Rivera said. "He's drafted to be a part of what we do and how we do it. If this team is going to win a championship, we're going to get back to running the football the way we did and the way we can.''
Translation: The Panthers believe they've got enough offensive talent in place that they can put Newton in a good situation from the start. Think back to
Ben Roethlisberger
's rookie year in Pittsburgh. He sat just briefly behind
Tommy Maddox
before becoming the starter. Then, surrounded by a very good team, Roethlisberger came on and led the Steelers all the way to the AFC Championship Game before losing to New England. In those days, the Steelers asked Roethlisberger to throw the ball 22 or 24 times a game and they won.
They won the Super Bowl in Roethlisberger's second season.
Yeah, Rivera and Hurney said all the right things about how Newton will have to compete with
Jimmy Clausen
, a second-round pick a year ago. But they probably would have said the same thing about
Tony Pike
, who now falls to third on the quarterback depth chart.
They even answered diplomatically when asked the standard question about bringing in a veteran to serve as a mentor or even as a bridge.
"I think that's something to discuss after the draft,'' Hurney said.
[+] Enlarge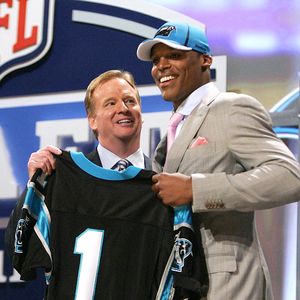 Jerry Lai/US PresswireThe Panthers are convinced Cam Newton will be able to run a pro-style offense this season.
Yeah right, Clausen's got a chance to win the job and the Panthers are going to go out and sign some veteran to help bring Newton along? Neither of those scenarios will happen unless Newton absolutely fails to pick up the playbook and has a disastrous training camp.
The Panthers already are in a youth movement. They just added the most important piece of that movement. The best news of all is that the lockout may be over and the Panthers can hand Newton a playbook when he arrives at Bank of America Stadium on Friday morning. On-field work in minicamps will follow quickly.
"The bottom line is Cam will play when Cam gets himself ready to play,'' Rivera said.
That process starts as soon as Newton walks in the building in the morning. Heck, it started long ago as the Panthers went through a grueling process of looking into everything about Newton.
"I can tell you he is the most researched player I've ever been around,'' Rivera said.
The Panthers did plenty of research on Newton's character and background and they signed off on that more than a month ago. The Panthers started off considering eight players for the No. 1 pick and narrowed that number to four.
"I tried to ride that four as long as I could,'' Rivera said. "Everything kept coming back to Cam.''
This decision wasn't about character or background nearly as much as it came down to purely a football decision. All that speculation about Newton not being ready to step right into an NFL offense? Well, it brought a lot more concern to the media and fans than it did to the Panthers. They put Newton through some serious tests long before they made this pick and they're convinced he can handle their playbook.
They sent it to him a couple of months ago before they brought in offensive coordinator Rob Chudzinski, who is supposed to install a system similar to what the
San Diego Chargers
run. They also sent quarterbacks coach Mike Shula to meet with Newton.
With Carolina's playbook in his mind, Newton was asked to guide Chudzinski and Shula through their offense. He passed the test with flying colors.
"He's going to open things up with Rob Chudzinski's play calling,'' Rivera said. "Our coaches were on board right off the bat.''
Chudzinski and Shula came back to Charlotte with visions of Newton extending their plays with his arm and legs dancing in their heads. They made a presentation to Rivera about how they could use Newton in their offense.
"We drafted a player who touches the ball on every play,'' Hurney said.
He just might touch the ball on every play from the very start of the season. Remember, the Panthers are convinced the rest of their offense isn't nearly as bad as last season's 2-14 record would suggest. They have running backs
DeAngelo Williams
and
Jonathan Stewart
. They have a good offensive line, led by
Jordan Gross
and
Ryan Kalil
, that can be great if
Jeff Otah
comes back from injury. They've already imported veteran tight end
Jeremy Shockey
and they're high on young receivers
Brandon LaFell
and
David Gettis
. Even if veteran receiver
Steve Smith
is on his way out the door in a trade, the Panthers are convinced they can plug in a quarterback and instantly become much better.
"I think his learning curve will be a lot quicker,'' Rivera said. "It's not just about one guy.''
No, in some ways, it's not. There are 10 other players on offense and the Panthers think those guys are fine. They just need a quarterback to ease their offense into this century. Over time, he might even get the chance to do a lot more than he'll be asked initially.
They drafted that guy Thursday night. Rivera's right. Newton doesn't have to come in and be the savior -- at least not right away. He just needs to come in and be the starting quarterback right away and the Carolina offense -- and the entire team -- instantly will be much improved.
April, 6, 2011
4/06/11
10:08
AM ET
John Clayton's take
on whether the
Philadelphia Eagles
should trade
Kevin Kolb
describes as "good" the chances of an NFC West team acquiring the quarterback.
"While it seems unlikely the Eagles can get a first-round pick in 2011 because the time is running out to get a CBA done before the draft, a first-round pick in 2012 still works," Clayton wrote.
For trading purposes, a first-round pick in 2012 would be worth less than a first-round choice in the current year. Teams interested in trading for Kolb could benefit if a lockout extended past the draft because the Eagles wouldn't be able to command a 2011 draft choice in return.
Matt Williamson of Scouts Inc. previously said he would
part with the 25th overall choice
for Kolb if he were the
Seattle Seahawks
.
OK, but what about using that choice for a quarterback in the draft?
Teams selecting quarterbacks in that range have struggled to find good ones.
Aaron Rodgers
(24th in 2005) and
Dan Marino
(27th in 1983) stand out as exceptions. The last 10 quarterbacks selected in the 20s:
Tim Tebow
,
Brady Quinn
, Rodgers,
Jason Campbell
,
J.P. Losman
,
Rex Grossman
,
Jim Druckenmiller
,
Tommy Maddox
, Todd Marinovich and current
San Francisco 49ers
coach Jim Harbaugh.
March, 22, 2011
3/22/11
2:26
PM ET
NEW ORLEANS -- The 2010
Arizona Cardinals
didn't play well enough around their young quarterbacks to get the most from them.
Their division rivals from St. Louis fared better along those lines. And with
Sam Bradford
under center for the Rams, there was greater potential to realize.
"He had the good fortune of a team that was growing around him and would grow together," Cardinals coach Ken Whisenhunt said Tuesday over breakfast at the NFL owners meeting. "That is the same thing that happened for us in Pittsburgh in '04."
The Steelers intended for
Tommy Maddox
to start at quarterback for them that season, but an injury forced rookie
Ben Roethlisberger
into the role.
"Ben was an outstanding football player and an outstanding athlete," said Whisenhunt, who served as the Steelers' offensive coordinator that year, "but there are things about the NFL that you have to learn. We had a good football team around that and we grew together."
Whisenhunt expects more along those lines from the Cardinals in 2011. He's hoping the growing pains young players experienced last season will position them to make significant strides this season. But with no starting quarterback in place and a lockout shutting down offseason preparations, the Cardinals find themselves in a holding pattern for the immediate future.
"Whoever is under center for us, we are going to be better able to support that," Whisenhunt said.
September, 3, 2010
9/03/10
12:05
PM ET
The Great Debate series wouldn't be complete this year without a discussion about Broncos rookie quarterback
Tim Tebow
.
Tebow is one of the most talked-about players in the NFL and he hasn't even played in a regular-season game. The Heisman Trophy-winning quarterback from Florida is a polarizing wonder. Tebow's NFL future has been serious water-cooler conversation ever since Denver shocked the NFL by trading three draft picks to move up and take him with the No. 25 pick in April. Everybody has an opinion and the opinions vary.
And that is the case with ESPN.com senior writer John Clayton and AFC West blogger Bill Williamson. Clayton is taking the stance that Tebow's game will not translate to the NFL, while Williamson believes it will.
Let's get started:
[+] Enlarge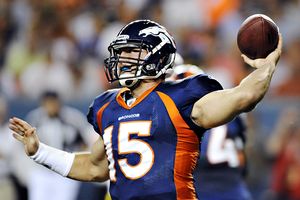 AP Photo/Chris SchneiderSome have suggested Tim Tebow's sidearm throwing motion cannot be fully corrected.
John Clayton:
Bill, we were at Broncos camp at the same time, which is why I'm surprised we have come to such different opinions. Because I know you so well, I know you are an optimist. Like most people, you would like to see Tebow succeed as a quarterback. I would like to see him succeed too. At the moment, though, I don't see it in the immediate future and when I say immediate future, I'm thinking the next two, maybe three, years.
Remember how we watched Tebow throw with the proper mechanics in warm-ups. He kept the ball high and was consistent with his release point in pre-practice. Then we watched practice and some of the old habits returned. He would throw the ball with more of a sidearm delivery. At times, there would be a little hitch in the throw. The release was slow and sometimes the passes weren't accurate.
In sports, it's hard to change habits. While it's possible for him to fix the delivery in time, it's going to take at least two years. I give Josh McDaniels credit, he recognized the dilemma and covered the organization by giving
Kyle Orton
a one-year contract extension. Both of us agree Orton is good, not great. It's also nice that he recognizes that both of us respect his abilities, leadership and the way he runs an offense.
What I like most about watching Tebow is his dedication. He won't fail because of a lack of effort. How about the extra stretching and muscle-building exercises he does at practice? Too bad we can't find a "throw doctor'" we can send him to for a quick fix.
Bill Williamson:
Mechanics is a fair enough place to start on Tebow. That, of course, is the biggest knock on him. He has an awkward delivery, there's no doubt about it. But I don't think it's a sure sign of failure for a quarterback.
Philip Rivers
doesn't have the prettiest motion in the league, nor did the late Steve McNair. Rivers is an elite player and McNair was an NFL MVP. They were able to adjust in time and Tebow will have time.
Even though we will see Tebow as a rookie in special formations such as the Wildcat, he probably won't start until 2012 unless there is an injury to Orton. Rivers and McNair sat and they were better for it. Plus, Tebow already has made strides in a short time under McDaniels' guidance. He's a much better quarterback today than he was the day he was drafted four-plus months ago. He got better as the offseason program went on and he made improvements in training camp and in the preseason. Tebow's delivery appeared to shorten as the preseason went on. He is working on improving himself. Imagine what is going to happen when the learning curve continues for two years?
Plus, several NFL folks I have talked to, including Rivers, say that Tebow doesn't necessarily have to refine his entire motion, just naturally work on it and still be the player he is comfortable being. I think taking this player's delivery and making that the premise for his ultimate failure may be a tad short-sighted.
JC:
Because you covered the Broncos in Denver, you can appreciate this: Denver is one of the toughest cities to be an NFL quarterback, and I think the Broncos made a big mistake by hyping him up after the draft.
The biggest mistake was making him a first-round pick. Quarterbacks taken in the first round tread on John Elway's turf. Those who tread on Elway's turf get worse than turf toe. They eventually become unemployed. The worst I remember was
Tommy Maddox
. He came to town when Elway was still a top quarterback. He eventually had to go into Arena Football and then the Steelers to have any kind of a successful career. The quarterback expectations eventually caught up to
Brian Griese
and
Jake Plummer
.
Now, here comes Tebow, perhaps the greatest college leader of our time. By him being taken in the first round, Tebow jerseys flew out of stores. Fans expected his college skills to translate into the NFL with instant success. Columnists in town took their sides, and some of the most influential called for McDaniels to have guts and just go with Tebow. Had that happened, Tebow might be destined for the Arena League.
In Denver, as you know, good isn't good enough when it comes to quarterbacks. Griese was kicked away because he was a 60-percent thrower but a 50-percent winner. Plummer's time ran out because he was a 50-percent thrower and a 60-percent winner. The standard in Denver is Elway, the ultimate arm and the ultimate winner. He carried the Broncos. Tebow can't do that right away and I'm not sold he ever will. Even if he fixes his bad throwing mechanics, he has the chance to start his career as a 50-percent thrower. Because the talent around him is suspect, Orton, who is good, is going to struggle to make the Broncos a 50-percent winner this season. That means Tebow would have better than a 50-50 chance of being a disaster.
[+] Enlarge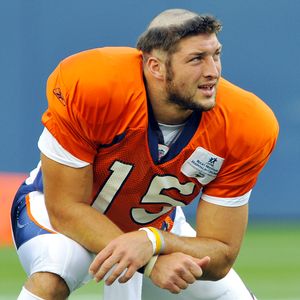 Ron Chenoy/US PresswireTim Tebow's "Friar Tuck" haircut is just one example of him being a team guy.
BW:
John, I think any team that would have drafted Tebow would have pumped him up. It goes with the territory of drafting a quarterback in the first round. Select Tebow in the first round and the situation magnifies greatly. This was a great draft with several top-flight players and Tebow stole the draft. The draft was all about the No. 25 pick. That wasn't the case last year when Miami drafted Illinois cornerback
Vontae Davis
at No.25.
Tebow brings electricity. It's because he has great intangibles. I know intangibles don't pay the bills, but they can be a great difference-maker. Tebow has special intangibles. People gravitate toward him, including his teammates.
This whole Tebow Mania deal in Denver had potential to be a disaster. Tebow's jersey instantly became the biggest seller in the NFL and Tebow is Topic A in Denver. This is the most popular team in the state of Colorado and all anyone wants to talk about is the rookie quarterback. That could have led to jealousy and hostility. It hasn't happened.
It hasn't happened because Tebow immediately earned the respect of his veteran teammates by being humble and working hard. Veterans such as future Hall of Fame cornerback
Champ Bailey
have been wowed by Tebow's work ethic and attitude. Remember that
hideous Friar Tuck haircut Tebow's teammates gave him
prior to an open scrimmage? Tebow didn't fret. He embraced the hazing. He's a team guy.
During the preseason, his teammates have remarked how Tebow already has controlled the huddle. The Broncos believe in Tebow just as his teammates at Florida did. Elway and
John Lynch
have raved about Tebow's intangibles after meeting him. If you impress these two guys, you have something going for you.
JC:
After we left Broncos camp, I watched Tebow's first preseason game and came to another disturbing conclusion. Because Tebow is fearless, I worry about his health.
That touchdown run he had in his first preseason game was exciting, but it also reminded me of the pounding Tebow took in college trying to get Florida to be a great college power. As a college quarterback, Tebow was bigger and more powerful than a lot of the linebackers and defensive backs trying to tackle him. In the pros, he's a target and I worry about him getting concussions or more injuries. That preseason touchdown run bruised his ribs, and the injury was a result of Tebow not playing it safe. That's the style that made him so good in college and it's the style that could make his career ever so short in the NFL.
As great as Tebow is as an athlete, he runs a 4.7 40, which isn't particularly fast for a NFL quarterback. His footwork isn't the greatest either. In many ways, Tebow looks like a combination of Steve Grogan and Joe Kapp. Sorry for going old school on you, buddy, but the point I'm trying to make is what worked for Grogan and Kapp back in the day doesn't work now in a league dominated by great passers.
Michael Vick
is a better athlete and better thrower than Tebow will ever be and I'm not sold he can be a winning quarterback in the post-2005 NFL, which is dominated by quarterbacks who are accurate and can run the no-huddle flawlessly.
Vince Young
is the ultimate compromise that might work because he's a 6-foot-5 quarterback who is faster than Tebow and is always looking downfield when he rolls out of the pocket. I fear Tebow tucking the ball away and just running, absorbing a big hit.
I do think Tebow's in good hands with McDaniels now that Orton will be the starter for the next two years. I just hope he stays healthy, which he will if they groom him to be an eventual backup and see where he is as a developmental quarterback by 2012.
BW:
John, I don't think there is any gray area. I don't think Tebow is going to be a decent backup. He is either going to be a star or be a failed experiment. And I don't see him failing. He is simply not going to allow himself to fail.
In one of my conversations with Tebow, he admitted that he is afraid of failure. He is afraid to let down his coaches, teammates and family. The fire burns. That's what McDaniels saw during the famous combine meeting when the Broncos' brass fell in love with Tebow.
I have talked to countless folks about Tebow. There are two schools of thought when it comes to whether his game translates to the NFL. One is that Tebow is so focused and so determined that there is no way he'll fail. The other is that he already has gotten all he can out of limited ability and has peaked as a player. Two head coaches have told me that, as have a couple of general managers.
However, there are many personnel folks who think Tebow will thrive under McDaniels' guidance. I point to the immense improvement he already has made as evidence that Tebow has not peaked. He learns from his mistakes and he gets better. He reads defenses and senses oncoming defenders better than he did a month ago. He handles the pocket better than he did earlier in camp. Tebow is an ascending player. There's little doubt in my mind.
May, 19, 2010
5/19/10
1:39
PM ET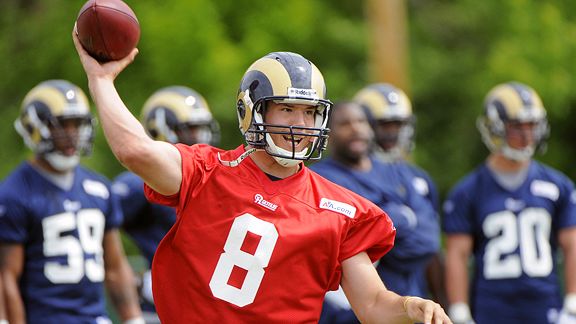 G. Newman Lowrance/Getty ImagesIt remains to be seen how the Rams will handle quarterback Sam Bradford during his rookie season.
The
St. Louis Rams
need not look far to see what can happen when an overmatched NFL team mishandles a quarterback drafted first overall.
The division-rival
San Francisco 49ers
are still trying to recoup their investment in 2005 first overall choice
Alex Smith
.
The Rams probably will not change offensive coordinators every year for the next five seasons, as the 49ers improbably did in Smith's first five, but they still need to be careful with rookie No. 1 overall choice
Sam Bradford
.
Early indications suggest the Rams would like to follow the plan Philadelphia took with
Donovan McNabb
back in 1999, when Rams offensive coordinator Pat Shurmur was coaching the Eagles' tight ends. Doug Pederson opened as the Eagles starter that season, allowing McNabb to ease into the starting role. McNabb got some reps off the bench before taking over as the starter in November.
In setting expectations for Bradford, I looked at production by rookie quarterbacks since 1970. The list featured several older players, some with experience in the CFL or USFL. I filtered out those players by focusing only on quarterbacks who were 25 or younger as NFL rookies. A quick look at them by games started:
16-game starters
There were only five, in part because the NFL season spanned only 14 games until 1978.
Peyton Manning
,
Matt Ryan
,
Joe Flacco
, Rick Mirer and
David Carr
pulled it off. All but Flacco, chosen 18th overall by Baltimore in 2008, were drafted among the top three overall choices in their class.
The ones who took the most sacks as rookies -- Carr (76) and Mirer (47) were the only ones to absorb more than 32 -- had the poorest careers. That might suggest the players had a hard time recovering from the beatings they took early in their careers. It also might reveal something about the quarterbacks' ability to process information quickly enough to get rid of the football before trouble arrives.
Offensive lines tend to take disproportionate blame for sacks, in my view. Quarterbacks are often responsible for them as well.
11- to 15-game starters
None in this group threw even 20 touchdown passes in a season (Manning and Dan Marino are the only rookie quarterbacks since 1970 to reach that barrier as rookies).
We should expect modest production from Bradford even if he starts most of the Rams' games.
Ben Roethlisberger
was a rarity among this group by completing at least 60 percent of his passes, but rookie completion percentage wasn't a reliable indicator for career success overall.
Some quarterbacks ranking lower played when teams ran higher-risk offenses and rules made it tougher to complete passes.
6- to 10-game starters
Hall of Famers Marino, John Elway, Terry Bradshaw and Dan Fouts fell into this group.
This group featured a solid middle class headed by McNabb,
Eli Manning
, Bernie Kosar, Jim McMahon, Neil Lomax, Steve Beuerlein, Pat Haden, Doug Williams and Rodney Peete.
There were a few disappointments -- Ryan Leaf, Cade McNown,
Kyle Boller
and the 49ers' Smith, who still has a shot at redemption -- but this seems like a reasonable number of starts for a quarterback drafted early.
Matthew Stafford
and
Josh Freeman
fell into this category last season.
3- to 5-game starters
Some high picks fell into this category, including Bert Jones, Vinny Testaverde, David Klingler, Tony Eason,
Rex Grossman
, Akili Smith,
Jay Cutler
, Tommy Maddox, Jim Everett and 1984 supplemental choice Steve Young.
This group produced relatively few true stars, however. Young was an obvious exception. Boomer Esiason was a good value.
In looking at the list, though, my sense is that a really good quarterback -- particularly one chosen early -- will start more than five games if he gets a chance to start at all in his first season.
2 or fewer starts
Hundreds of rookie quarterbacks failed to start a game and
69 did not attempt a pass
. The latter group featured
Tony Romo
and in-the-news quarterbacks
Kevin Kolb
and
Charlie Whitehurst
, but
Daunte Culpepper
, the 11th player chosen in 1999, stood out as a rare high draft choice among the group.
Unlike
Carson Palmer
, who sat out his rookie season as a high choice in Cincinnati, Bradford is going to play as a rookie unless he gets hurt.
It's reasonable to expect Bradford to start at least half the games, putting up modest numbers. He'll probably struggle some, and that is OK, but it's a bad sign if the Alex Smith comparisons apply by season's end. Smith tossed one touchdown pass with 11 interceptions as a rookie. He wasn't ready and his supporting cast gave him little chance. That's a bad combination.
March, 3, 2009
3/03/09
12:00
PM ET
| | |
| --- | --- |
| | |
| | Greg M. Cooper/US Presswire |
| | The Denver Broncos are reportedly still considering trading Jay Cutler. |
Posted by ESPN.com's Kevin Seifert
Jeff Hostetler. Steve Bono. Tommy Maddox. From a historical perspective, at least, those three names serve as the ceiling for Minnesota's quarterback position if newcomer Sage Rosenfels wins the starting job.
Most starts after turning 30, with fewer than 10 previous starts*
Player
After 30
Before 30
Jeff Hostetler
79
4
Steve Bono
33
9
Tommy Maddox
32
4
Kelly Holcomb
21
3
Damon Huard
21
6
Jim Miller
21
6
*Since the start of the Super Bowl era
Source: Elias Sports Bureau
NFL history offers a short list of success stories for quarterbacks who followed the same path as Rosenfels during the early part of their careers. ESPN Research's Keith Hawkins worked with the Elias Sports Bureau to develop the chart to your right, which tracks the development of quarterbacks who started fewer than 10 games before turning 30. (Rosenfels, who turns 31 on Friday, has started 12 NFL games, including five last season for Houston.)
Only Hostetler became a long-term starter after turning 30. Bono and Maddox each started the equivalent of two full seasons.
Does that mean Rosenfels would fail as a full-time starter for the Vikings? Of course not. But here's what we can say: As currently configured, the Vikings must hope for either a historical aberration (Rosenfels) or significant improvement from a previously shaky youngster (Tarvaris Jackson) to upgrade their long-standing deficiency at the game's most important position.
Which is why the Vikings would be foolish -- even after trading a fourth-round pick last week for Rosenfels -- to ignore the potential availability of Denver's 26-year-old starter, Jay Cutler.
I wrote Monday that Cutler makes sense for three NFC North teams -- Minnesota, Chicago and Detroit -- and I still believe that. But of those three, the Vikings might be the most serious suitor.
Already, there are some preliminary signs that the Vikings are investigating the situation. The Denver Post reported that Minnesota was included in talks on a three-way trade that fell through last weekend, and the Star Tribune reported Tuesday that the Vikings were having "ongoing" discussions Monday about Cutler.
In NFL terms, there is a vast gap between due diligence and serious trade discussions. And there is no indication that Denver is willing to part with Cutler after losing out to Kansas City on acquiring Matt Cassel. But it's time for the Vikings to end their middling approach to the quarterback position and start applying the aggressive, big-thinking philosophy that has netted them proven -- and, in some cases, dominant -- players at almost every other position.
Minnesota's financial outlays since 2006
Pos.
Player
Contract
QB
Sage Rosenfels
Two years, $9 million
WR
Bernard Berrian
Six years, $43.4 million
TE
Visanthe Shiancoe
Five years, $18.2 million
TE
Jim Kleinsasser
Three years, $9 million
OL
Bryant McKinnie
Seven years, $48.5 million
OL
Steve Hutchinson
Seven years, $49 million
OL
Anthony Herrera
Five years, $15 million
RB
Chester Taylor
Four years, $14.1 million
FB
Jeff Dugan
Five years, $4.35 million
DE
Jared Allen
Six years, $74 million
DT
Kevin Williams
Seven years, $50 million
DT
Pat Williams
Three years, $22 million
LB
E.J. Henderson
Five years, $25 million
LB
Ben Leber
Four years, $20 million
S
Madieu Williams
Six years, $33 million
PK
Ryan Longwell
Five years, $10 million
P
Chris Kluwe
Six years, $8.3 million
LS
Cullen Loeffler
Five years, $3.1 million
Total: $455.95 million. QB: 1.9 percent.
Note: Figures include incentives, only includes players on roster
Take a look at the chart to your right, which breaks down the financial outlay Minnesota has made since coach Brad Childress and vice president of player personnel Rick Spielman came aboard in 2006. The list represents only players currently on the roster, but here is the upshot: The Vikings have signed 18 veterans at 16 different positions to contracts that total nearly $456 million. But less than two percent of that sum is devoted to the quarterback position.
That is an irreconcilable dichotomy for a team with annual designs on a division title and beyond. Why devote so many resources to proven players at other positions while taking a chance at the most important one?
At the scouting combine last month, Spielman noted there are only a "handful" of NFL quarterbacks who truly scare defenses. That dearth of talent and skill causes some teams to reach for quarterbacks beyond their true value.
Cutler, however, has a chance to be one of the NFL's elite quarterbacks after earning a Pro Bowl berth in 2008. At the very least, he has proved far more competent than Jackson during their first three seasons.
Childress seemed adamant last month that Jackson and a veteran, who turned out to be Rosenfels, would compete for the starting job in training camp. He left open the faint possibility of a future big-name acquisition but said, "Right now I would be honest with you and tell you I wouldn't know who that person would be."
At the time, few people knew that Broncos coach Josh McDaniels would pursue Cassel to replace Cutler. Childress seemed to be covering for that possibility when he said, "I wouldn't open or close the door on anything."
| | |
| --- | --- |
| | |
| | NFL.com Video |
| | Highlights of the best moments from Jay Cutler in 2008. |
Circumstances, as they say, have changed. "Faint" has elevated to "bright." The si
tuation is similar to the one the Vikings encountered last year, when they pursued several free-agent defensive ends to improve their pass rush before Kansas City made 2008 sack leader Jared Allen available. The Vikings surrendered three draft choices and signed Allen to a $74 million contract, a move that helped improve their pass rush from the bottom of the NFL's rankings to No. 18 overall.
Cutler could be this season's Jared Allen, only more impactful because of the position he plays. Not only was he the NFL's third-most productive passer last season, but he has spent three years in a West Coast scheme that has the same roots as the Vikings' offense. He could be the missing piece of a puzzle that includes the league's top running back (Adrian Peterson), a proven deep threat (Bernard Berrian) and a rapidly improving tight end (Visanthe Shiancoe).
The Rosenfels trade was consummated before the Cutler imbroglio began. The Vikings would be wise to overlook the timing and think big once again.
NFL SCOREBOARD
Thursday, 9/4
Sunday, 9/7
Monday, 9/8