December, 1, 2013
Dec 1
7:16
PM ET
INDIANAPOLIS -- An NFL team faces a division rival six times a season.
Those are six premium games with huge influence on the easiest path to the playoffs and a division title.
Sunday, with a
22-14 loss
to the
Indianapolis Colts
at Lucas Oil Stadium, the
Tennessee Titans
dropped to 0-4 in the AFC South. Indianapolis, which will win the division, moved to 4-0.
[+] Enlarge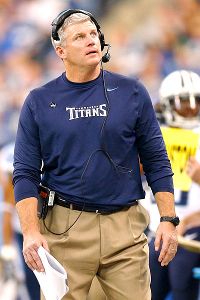 Gregory Shamus/Getty ImagesMike Munchak did not have any answers about why the Titans cannot close out games.
Since Mike Munchak took over as the Titans coach, his team is 4-12 against Indianapolis (1-5), Houston (1-4) and Jacksonville (2-3). The franchise's divisional winning percentage should be the No. 1 thing Munchak has to explain to Tommy Smith, the man who's now the head of the ownership group, when the season ends and they discuss the coach's future.
Sure, the Titans should win rematches in Week 16 at Jacksonville and Week 17 against Houston. But the Jaguars and Texans are looking forward to those games, not fearing them.
And why should they?
When it comes to the AFC South, the Titans can talk of being close and finding ways to lose and the frustrations that come with such defeats and the opportunities ahead. What they cannot talk about is some pivotal moment that changes the franchise's course, because they have proven incapable of finding such a moment.
Munchak wasn't making the blunders on the field Sunday.
He was not part of the failure to recover even one of the Colts' three fumbles. He was not the quarterback who threw three picks. He wasn't the linebacker who shoved an opponent in the back for a 15-yard penalty that resulted in a field goal. He wasn't the safety letting an easy interception bounce off his chest.
He wasn't the guy with any answers for any of that stuff, either. He has to offer some, right? He has to do something that sparks change, something to turn the rudder.
Instead he's a patient plodder talking about being close and lacking answers. A team generally takes on the personality of its coach, and this group is hitting a bulls' eye given that target.
Narrow losses show up the same as the blowouts in the standings.
The average score in the Titans' 16 division games since 2011 has been, when we round the numbers, a 24-21 loss. Seven of the defeats have been by six points or fewer. (Some players skipped the math and lumped this 8-point loss into the same category.)
That illustrates just how bad this team is at closing games.
"Things go so right for you for so long and then all of a sudden in crunch time it derails," said linebacker
Moise Fokou
, who had one of the Titans'
worst moments
in this loss. "That's something we just have to continue to work at."
"The Tennessee Titans, we are our own worst enemy," safety
Bernard Pollard
said.
Jurrell Casey
is the Titans' best defensive player and was more than the Colts interior offensive line could handle in this game. He had a sack, two tackles for a loss, three quarterback hits and consistently caused problems.
He was a third-round pick out of USC not long after Munchak was installed as the head coach.
"I just can't really understand what's the problem," Casey said. "Every game comes down to the wire. We lead in games and we let them slip away. It's the problem we've been having since Day One since I got here, and that's finishing. We have the right plays and system, the right fits, things like that. But when it comes down to nut-cutting time, we can't finish the games.
"And that's been our downfall since I've been here. Especially in divisional games, you've got to take your game to another notch. As of right now we're not getting the job done."
The Titans added nine free agents and a first-round draft pick they expected would have 16-game impact. Munchak sold them as the final piece for making a jump.
They've not been enough for the team to win in the division and the Titans, while better than 2012's 6-10 team, are not likely to finish with a significantly better record. Tennessee lost its starting quarterback to injury, but backup
Ryan Fitzpatrick
was supposed to be top-flight insurance. He is 1-4 as the starter, with three picks and a lost fumble in this defeat.
"Last year I think we only won one game in the division," running back
Chris Johnson
said. "We haven't won any yet [this year.] Since I've been here, that's just something that doesn't happen. When I first got here we always counted that we were going to win two with Houston and two in Jacksonville and then it was going to be a battle with the Colts when
Peyton Manning
was here.
"It's just a total turnaround. We have an opportunity to win the game, we're just not making plays at the end."
Munchak shared no revelation about what's wrong in the AFC South, not because he's withholding, but because he's got no revelation to share.
"That's where we're at," he said. "We're there, we can't finish the game, we make too many mistakes for whatever reason."
Dec. 1, 2013 in Indy wasn't a turning point for the Titans.
Perhaps, at least, it can be the point where Munchak retires "for whatever reason" and commits to replacing it with an actual solution.
November, 10, 2013
Nov 10
7:31
PM ET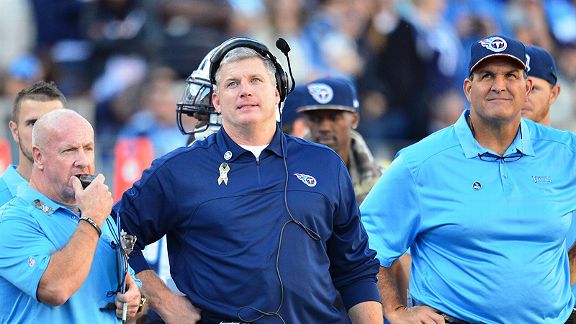 Don McPeak/USA TODAY SportsJacksonville has won eight games since 2011, and three have come against Mike Munchak's Titans.
.
NASHVILLE, Tenn. -- It's hard to go winless in the NFL. Probably as hard, I've long maintained, as is it to go undefeated. Recent teams that have been in danger of it have been fortunate to find Mike Munchak's
Tennessee Titans
on their schedule.
Two years ago, Munchak's Titans lost to the 0-13 Colts. Sunday, they lost to the 0-8
Jacksonville Jaguars
,
29-27
at LP Field. And though the 2012 version of the Jaguars weren't winless, they were headed for 2-14, and the Titans lost to them, too.
Jacksonville loves playing the Titans. The Jaguars have won eight games since 2011, and three of them have been over Tennessee.
Munchak takes too many hits from Titans fans over his sideline demeanor; he's more animated than Tony Dungy or Tom Landry ever were. And there are plenty of other issues to highlight about the job he's done en route to a 19-22 record in three seasons as the head coach. Take his inability to throw a challenge flag in time to get a review in the first quarter, if you want a small moment. Take his team's penchant for losing to really bad teams, if you prefer something broad.
"It was flipped: We were the Jaguars, they were the Titans," tight end
Delanie Walker
said. "We played like we were 0-8."
The Titans were lifeless from the start, and
Chris Johnson
fumbled on the first play from scrimmage to set a terrible day in motion. Along the way, quarterback
Jake Locker
, returner
Damian Williams
and center
Brian Schwenke
were lost to injuries.
Walker, defensive tackle
Jurrell Casey
and safeties
George Wilson
and
Bernard Pollard
all took umbrage with the idea that Munchak and the coaching staff are to blame for the disastrous result. But three of those four outspoken leaders are new to the franchise. At 4-5 in their first season with the team, it's unlikely they've reached the breaking point for giving candid reviews of the boss.
"There is no question, there is no question at all, did this coaching staff have us prepared? Absolutely they did," Wilson said. "The Jacksonville Jaguars didn't come out there and do anything different than what we practiced. Coaching staffs put the game plan together. Coaches don't do out there and play.
"It's not the coaching staff's fault that we came out slow. You can't put that on them. It's on the 11 men that are in that huddle."
The Titans' new ownership group was at the game, though an accident caused game-day traffic that forced the cancellation of their introduction to the local media before the game. Tommy Smith is the CEO and team president now, following the death of his father-in-law, Bud Adams. Smith was at the game with his wife, Susie Adams Smith, and her sister, Amy Adams Hunt. The two are the team's co-chairpersons.
Munchak is said to be in good standing with the family; he gave one of the two eulogies at Adams' funeral. But surely the trio had bigger expectations for its first time in Nashville in their new roles. Surely, too, they know rash reactions are not a solution. Munchak's footing can't be as good as it was before this game.
Veteran safety
Michael Griffin
said the team was lacked energy from the start, had no hop. All week they said they wouldn't get caught looking past the Jaguars, presuming a win and anticipating the big showdown with Indianapolis on Thursday.
"We came out here like we looked past this team, and they spanked us," Walker said.
I don't believe a coach and his staff should be responsible for igniting their team. I do believe they should have a strong feeling for which way the winds are blowing. If the pilot light goes out, a coach and his people should be equipped to help restart it. Good coaches help dead teams find life once in a while, especially against inferior opponents.
I think Munchak, a Hall of Fame player, would agree with his players that the primary responsibility is on them.
A coach has to have the right collection of players to get that, though. Munchak talked after his second season of not having the players he needed. So the Titans brought in 22 new ones that were on the roster against the Jaguars. None of them arrived over an objection from Munchak.
But this group he helped assemble does not appear to be sufficiently self-starting. And as a coach, he's ill-equipped to get them back on track.
"We allowed things to happen to us today that shouldn't happen to us in any game," he said, pointing to four turnovers and a safety.
Note the word choice. The Titans "allowed" it. Passive teams allow things, and one of the most heralded guards in league history has a team that's too often passive.
When he made major changes to his coaching staff and when he targeted significant free agents, Munchak suggested a new aggressiveness. It seemed part of his promise when he pledged to fans at training camp: "Believe me, we will not disappoint you this year."
As for losing to bad teams, he talked, as he often does after bad moments, about how he doesn't have answers.
"We thought when the smoke cleared, we'd play well enough and win the football game," Munchak said. "We didn't do that. … A good team finds a way to come back in this game and win this thing. We should have found a way to win this football [game] and we didn't."
With 2:32 left in the game, Jaguars cornerback
Will Blackmon
stole a ball from Titans backup quarterback
Ryan Fitzpatrick
and ran it back for a touchdown that provided the winning margin. After the game, Blackmon showed reporters that he'd written two goals on little pieces of paper before the game. One was to get coach Gus Bradley a game ball. The other was to cause a fumble.
Game plans on bigger pieces of paper haven't been working for the Titans. Maybe the Titans ought to follow Blackmon's lead.
It's hard to know exactly what the first little piece of paper should say. There's a lot to choose from. Any suggestions?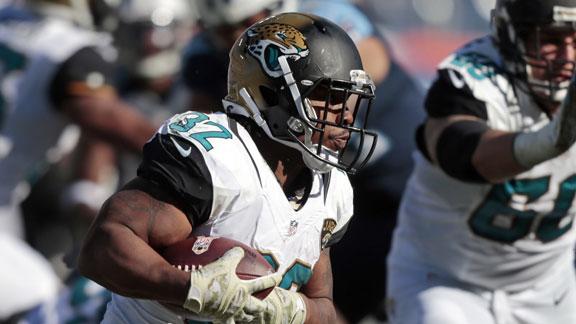 .
October, 30, 2013
Oct 30
2:09
PM ET
NASHVILLE, Tenn. -- In the aftermath of Bud Adams' death last week the big question was how ownership of the Tennessee Titans would be structured.

The Titans Monday pretty much confirmed the shape of the three-way split: Adams' daughters, Susie Adams Smith and Amy Adams Hunt, are co-chairwomen and Adams' grandson, Kenneth Adams IV, is a director on the Titans' board.

Smith's husband, Tommy Smith, is president and CEO of the Titans.

The Titans will have to formally name a controlling owner for the NFL.

The big question now is how Smith will be as the head of the franchise. I encountered him only a few times with a cursory hello when he was involved with the team while I covered it in Houston for The Tennessean in 1996. He wasn't around the team often once the team moved to Tennessee, though he was still a team executive through 2002.

The bit I knew about him then was largely from stories told by team employees. And revisiting some of that now, we shared one uncertainty: Was Smith being himself or were they seeing a son-in-law behaving in a way he thought his boss and father-in-law wanted him to?

As with most every question regarding Smith at this point, my answer is I don't know.

We have to see how he manages the team, spends money, treats employees and takes an interest in the roster before we can piece together an opinion, and that's going to take a while.

His last public attachment to the Titans was in 2002. He could be a completely different guy now.

The statement revealing the structure came just a day after the Houston memorial service for Adams.

Some might be critical of how quickly it came out and see it as a quick assertion of power by Smith. But questions were hovering.

And conversations I've had now tell me my initial reaction was on target -- that the statement was a positive.

Smith offered quick clarity about how things are shaped, reaffirmed Adams' ultimate mission to win and reassured Nashville of the family's commitment to the city. In several paragraphs, Smith answered a lot.

Here's hoping it's a sign of things to come in terms of letting us know how things work and what's happening going forward.
October, 21, 2013
Oct 21
3:20
PM ET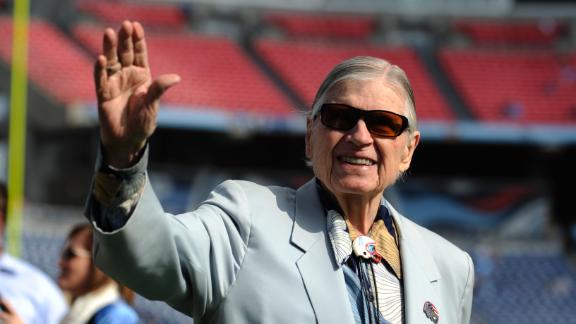 NASHVILLE, Tenn. -- As Bud Adams got older, with no clear-cut successor in place, the question was asked more frequently: What will happen to the franchise when he passes away?
Many of us were told that a strong plan was in place that would help the franchise to avoid the sort of tax issues that have forced some descendent of other owners to sell. The details of said plan have never been made public.
David Climer of The Tennessean has written about
what happens next
.
Adams had the foresight — and wealth — to establish a succession plan that keeps the NFL team in the family. Adams took that action after seeing other franchises sold due to the burden of estate taxes.

With that in mind, Adams set aside funds that would cover estate taxes on the franchise, which was valued at approximately $1.01 billion by Forbes magazine last year. Adams originally paid $25,000 for the franchise rights when he and former Kansas City Chiefs owner Lamar Hunt founded the American Football League in 1959.

While details are sketchy because Adams preferred to keep personal business matters private, it is believed that the families of his three children — daughters Susie Smith and Amy Strunk and his late son Kenneth Adams III — will share ownership of the franchise equally.
Kenneth Adams IV, who you
can see here
, is just seven years out of the University of the South. He's a likeable young man who's taken a smart approach to learning his grandfather's business. He's an administrative assistant to the senior EVP and general counsel for the Titans, Elza Bullock.
Susie Smith's husband, Tommy Smith, was once very involved in the organization, then had some level of falling out with Bud Adams and lost his place with the football business. He could re-emerge in some capacity eventually if the two sisters decide they want him to handle the team.
John McClain of the Houston Chronicle said today on my radio show in Nashville that he believes the two daughters and Kenneth Adams IV will each have a vote in what happens with majority rule.
NFL SCOREBOARD
Thursday, 12/5
Sunday, 12/8
Monday, 12/9
WEEKLY LEADERS