NFL Nation:

Tony Bergstrom
October, 24, 2013
Oct 24
8:00
AM ET
ALAMEDA, Calif. -- Tony Sparano once took over a 1-15 team in Miami and had the Dolphins in the playoffs as an 11-5 division champion the next year.
So yeah, the Raiders assistant head coach, who is also Oakland's offensive line coach, knows all about challenges. But his current situation with the Raiders' banged-up O-line is a different animal. A wounded one, so to speak.
"This has been the most moving pieces ... that I've been around," Sparano said Wednesday.
"With the amount of injuries and, at times, the way that they've happened, it's been a challenge, but it's not an excuse. There's no excuse. From our end, we talk about two things -- we make progress, not excuses, and that's what we're doing."
[+] Enlarge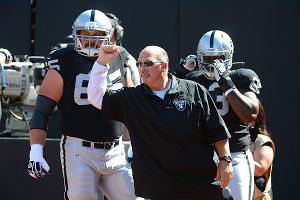 Kyle Terada/USA TODAY SportsRaiders assistant head coach/offensive line coach Tony Sparano has had to cope with a rash of injuries to his O-line.
Could you blame Sparano, though, if he at least quietly asked the football gods for a do-over?
It began in training camp when left tackle
Jared Veldheer
underwent surgery on his left triceps. Then guard
Tony Bergstrom
, the first pick of the Reggie McKenzie/Dennis Allen regime, was lost for the season with a lisfranc injury to his right foot.
"It just trickles down," Sparano said. "The most that I've seen in a long time."
Guard
Lucas Nix
dealt with an ankle sprain and
Stefen Wisniewski
missed two games with a sprained right knee, though he practiced Wednesday for the first time since injuring it on Sept. 29 against Washington. Right tackle
Tony Pashos
, who was signed just before the season opener, has dealt with groin and hip issues and did not practice Wednesday, nor did backup center/left guard
Andre Gurode
, who is nursing a quad injury.
Rookie second-round draft pick
Menelik Watson
has been sidelined with calf problems, then knee problems, and then calf problems again. Coach Dennis Allen surmised the Raiders have had Watson for maybe 10 practices total.
"We have not played with the same unit for two weeks in a row since the third quarter of the Jacksonville game," Sparano said. And that was in Week 2.
It's all made for a couple of baptisms by fire for rookie guard
Lamar Mady
and first-year tackle
Matt McCants
.
"It doesn't really matter who's up front because I believe in all of them," Raiders quarterback
Terrelle Pryor
said. "Some guys may be a little more talented, yes, but I believe in all those guys, and I think they're going to show this Sunday."
If nothing else, the extended playing time for Mady and McCants will only help them down the road, even if the 10 sacks the Raiders surrendered in Kansas City was reduced to nine following a league review.
The versatility of his linemen, Sparano said, has been a saving grace. Gurode has the ability to play left guard and center. Brisiel was able to move from right guard to center.
Khalif Barnes
moved from right tackle to left tackle, and Mady took practice snaps at center.
Doing it all on a game-changing (for the positive) level? Now that's a different story.
Still, Sparano said he told the linemen in camp that whoever made that initial 53-man roster would see playing time in games. That's just the nature of the beast.
This beast, though, has been untamed, what with the rash of injuries.
"There's body blows that go on in our league every single day," Sparano said. "We just happen to be catching a few body blows right now at the wrong time, and you've got to be able to overcome them.
"People that can overcome them the best and the fastest will end up being in the mix at the end of this."
September, 1, 2013
Sep 1
4:13
PM ET
Reggie McKenzie has often said his plan to bring the
Oakland Raiders
back to relevance is through the draft.

For a team that has been in salary-cap jail and that hasn't had a winning record in 11 years, the draft is the way to go. However, this weekend, McKenzie showed his plan is not without its obstacles.
Oakland reportedly is cutting fourth-round pick, quarterback
Tyler Wilson
. Saturday, the Raiders cut seventh-round pick, defensive end David Bass. Bass was claimed on waivers by Chicago on Sunday. Also, guard
Tony Bergstrom
(who was McKenzie's first pick in Oakland last year) was put on the injured reserve Saturday after making no contribution as a rookie.
As for Bass, it is not unusual for a team to cut a seventh-round pick. However, the Raiders are so thin every draft pick should be kept. If not, the pick has to be questioned.
Also, coach Dennis Allen recently said the team was counting on Bass, and this is a team desperate for pass-rush help. Thus, the drafting of Bass has to be considered a mistake.
The Wilson situation is a downright disaster. Yes, I realize the Raiders are keeping undrafted free-agent quarterback Matt McGloin. He may have a nice future. But the Wilson-McGloin move is not a wash.
A thin team like Oakland cannot afford to cut a fourth-round pick. They needed to get a future starter with the pick.
I almost certainly expect Wilson, who was given a meaty signing bonus by the cap-strapped Raiders a month ago, to be claimed. Quarterback is such a high-priority position and there will likely be a few teams that had a high grade on Wilson that will want to give him a chance with a waiver claim.
Again, Oakland has to hit on its picks. McKenzie and Allen are on record saying as much. Sending valuable picks to waivers is not the way to build a roster through the draft.
August, 17, 2013
Aug 17
1:45
PM ET
Random thoughts on the
Oakland Raiders
' 28-20 loss at New Orleans on Friday night:

The key for the Raiders this summer is to make progress. Some progress appeared to be made in the preseason opener last week against Dallas. Oakland showed it had some issues, but there were some promising things shown.
There was not a lot of promise shown in the Big Easy.
The Saints toyed with the Raiders. Oakland's first unit was completely outclassed. The Raiders were manhandled at the line of scrimmage on both sides of the ball as New Orleans led 17-0 in the first quarter.
While it's just the preseason, that type of first-unit failure is concerning, especially for a team that has so many question marks. This team has to get it together quickly. But can it?
Oakland was troubled in essentially every phase at New Orleans. Perhaps the biggest issues were a lack of a pass rush and a lack of pass protection. New Orleans quarterback
Drew Brees
shredded Oakland and Raiders starting quarterback
Matt Flynn
was sacked five times
The offensive line also didn't open much running room. Tailback
Darren McFadden
was stuffed as he had 17 yards on five carries. The offense is featuring
Alex Barron
at left tackle and
Andre Gurode
at a guard spot. They both didn't play last year. It is difficult to expect much from these guys if they are going to be starting in the regular season. It is concerning that
Tony Bergstrom
-- the first pick of the Reggie McKenzie era last year -- can't get significant playing time on a line in flux.
Backup quarterback
Terrelle Pryor
showed his problems with consistency. He had his moments last week, but he wasn't very good at New Orleans. Undrafted rookie quarterback Matt McGloin was so-so as he threw a pick. Fourth-round pick
Tyler Wilson
didn't even throw a pass. It will be interesting to see if Wilson can dig himself out of a hole.
Both veteran
Chris Kluwe
and youngster
Marquette King
punted well. If King continues to punt well and he practices well, he could take the job. Consistency is his key and he has been responding.
The Raiders didn't come out of the loss overly healthy. Cornerback
Tracy Porter
(expected to be the No. 3 cornerback) suffered a groin injury and tight end
David Ausberry
(who is in the starting mix) suffered a shoulder injury. Coach Dennis Allen said both injuries could be significant.
Among the bright spots for Oakland were rookie receiver
Brice Butler
, defensive lineman
Jack Crawford
and defensive back
Brandian Ross
. They all look like they could be contributors.
May, 28, 2013
May 28
7:27
PM ET
Reggie McKenzie's first draft pick in Oakland is facing some spring competition.

The Bay Area News Group reported that
Lucas Nix
was working ahead of
Tony Bergstrom
at left guard Tuesday at the Raiders' organized team activities (OTAs). Of course, it is early, and I'd expect both to compete through the summer at the spot previously occupied by
Cooper Carlisle
, who has since been released.
That said, it has to be a bit disappointing that Bergstrom, a third-round pick in 2012, is not taking the early lead. Nix was an undrafted free agent signing last year out of Pittsburgh.
The Raiders drafted Bergstrom as a fit for the zone-blocking scheme Oakland used on offense last season -- an unsuccessful approach the team has since scrapped in favor of a more traditional power-blocking scheme. In February, I asked McKenzie, who took over as general manager in 2012, if he was confident Bergstrom could be part of the future. He was firm in his belief that Bergstrom could indeed fit in the new scheme.
Bergstrom failed to make to a push for major playing time as a rookie. Now it appears he will have to fight Nix moving forward.
In another interesting Oakland OTA note, second-year player
Christo Bilukidi
and free-agent pickup
Vance Walker
were working with the first unit at defensive tackle. Bilukidi showed flashes as a rookie late in the season. Walker was a productive situational player in Atlanta.
As at many positions in Oakland, the Raiders want to see some players take the next step and grab a lead role at defensive tackle. While it is early, Bilukidi and Walker are getting the chance to show they deserve to start.
In other AFC West notes:
Peyton Manning
is
enjoying this offseason much more
than last, when he was recovering from four neck surgeries and adjusting to life in Denver.
Former No. 3 overall pick
Tyson Jackson
is impressing the
new Kansas City brass at defensive end
.
Some bookkeeping reminders: Oakland gets $8 million in salary-cap relief for the
Michael Huff
cut and San Diego gets $4.5 million relief after cutting
Jared Gaither
on Saturday. Both teams will primarily use the money to sign draft picks.
August, 3, 2012
8/03/12
12:00
PM ET
NAPA, Calif. -- One of the biggest curiosities in the NFL this summer is what is occurring in Wine Country. Graced with the prettiest training camp setting in the league, the
Oakland Raiders
are changing in front of our very eyes.
On the same practice field where the late Al Davis used to famously stalk practice from a nearby golf cart, the Raiders are a drastically different franchise as they enter their first full season since Davis died last October at the age of 82.

The team is now run by first-time general manager Reggie McKenzie, a respected former Green Bay executive and former Raiders linebacker. He was handpicked by several of Davis' closest confidantes. McKenzie chose Dennis Allen, who at 39 is the NFL's youngest coach, to take over the team.
For a franchise that was closely ruled by Davis until his death, the Raiders are hoping a dose of NFL modern structure will pay dividends. Even though it has been 8-8 in the past two seasons, Oakland hasn't had a winning record in 10 years and it is tied for the second-longest playoff drought in the league.
Perhaps McKenzie and Allen are the winning combination for Oakland.
"I think everybody is interested to see what happens," said Oakland safety
Michael Huff
, who has been with the Raiders since 2006. "I've only known one way. To have this new structure is new to me."
THREE HOT ISSUES
1. Keep McFadden healthy:
The Raiders' best player is running back
Darren McFadden
. He has to stay healthy, but that hasn't been easy for the fifth-year player. He has missed at last three games in each of his four NFL seasons. He missed the final nine games of last season with a serious foot injury. If McFadden can stay healthy, the Oakland offense will be dangerous and it will help quarterback
Carson Palmer
make a difference in his first full season in Oakland. If McFadden can't stay healthy, the Raiders could be in trouble. They are not deep behind him and lose a major dimension with McFadden sidelined. McFadden has looked good so far, but the key is that he looks healthy.
2. Improve on defense:
Allen is the first defensive-minded head coach of the Raiders since John Madden, who was hired in 1969. There is a reason McKenzie went with a defensive coach: the Raiders need the most help on that side of the ball. Oakland has been sloppy and has allowed too many big plays on defense. Allen helped change the defensive culture in Denver last year during his one season as the defensive coordinator there. His quest to improve Oakland's defense begins now.
[+] Enlarge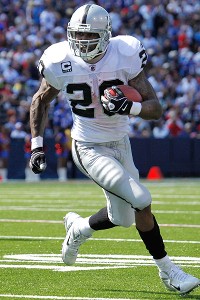 AP Photo/Derek GeeA healthy Darren McFadden is crucial for Oakland's success.
3. Cut down on penalties:
The Raiders set NFL records for penalties and penalty yardage last season. It has long been a problem in Oakland. Now, it is up to Allen to get it figured out. Playing disciplined, correct ball is a focus of every camp. It has to be drilled into this team on a daily basis. To his credit, former coach Hue Jackson tried to fix penalties on a weekly basis last year and it didn't work. It's now one of Allen's greatest challenges. Allen stresses the importance of discipline every day and he will need to change this self-destructive trend.
REASON FOR OPTIMISM
This roster has a lot of talent on it. The Raiders were on the edge of the playoffs last year, and there are lot players who think they are capable of taking the next step. Palmer has talked playoffs, and McKenzie says he thinks his team is headed in that direction.
The offense has the capability to score a lot of points, and the defense is loaded up front. It's not like this team is going to be horribly overmatched on a weekly basis. You can watch training camp and you see good players on the field.
REASON FOR PESSIMISM
This team is pretty thin at a lot of places because of the loss of several players through free agency, salary dumps and small draft classes the past two years. Again, there is talent assembled in this camp, but there are holes on this team. Positions such as running back, tight end, offensive line, linebacker and the secondary cannot afford too many injuries.
This camp is about keeping the top players healthy and hoping it all comes together. If injuries occur, Oakland will have to get creative to stay competitive.
OBSERVATION DECK
The offense looks crisp. The pace of practice has been fast as the team adjusts to playing in the West Coast offense under coordinator Greg Knapp. The unit does not look behind.

Harry How/Getty ImagesCarson Palmer threw for 2,753 yards in 10 games with the Raiders last season.

Palmer throws a pretty deep ball. With the Raiders' speed at receiver, they should parlay that combination into a lot of fast scores this season.

There is a lot of talent at receiver. I can see this team using five receivers in a game. There will be a lot of options.

Defensive lineman Tommy Kelly looks to be in good shape. He is one of the more underrated defensive linemen in the league.

Defensive linemen Matt Shaughnessy is looking good after missing much of last season with a shoulder injury. He is known as a stronger pass-rusher, but he can also stop the run. He is aiming for a big year.

I don't anticipate a big adjustment period for second-year player Stefen Wisniewski as he moves from guard to center. He has played center before and he originally projected as an NFL center. He is a smart player who seems comfortable at the position.

Don't expect too much from quarterback Terrelle Pryor right away. He is a work in progress and he will be up and down in camp. I think Matt Leinart has a pretty strong hold on the No. 2 job as of now.

Second-year cornerback DeMarcus Van Dyke has a chance to make a push for a starting job. He opened camp as a starter with Ronald Bartell out with a hamstring injury. I could see Van Dyke pushing Bartell or Shawntae Spencer at some point.

The team is impressed with rookie linebackers Miles Burris and Nathan Stupar. Both players are instinctive and professional. I wouldn't be surprised if Burris earns major playing time.

The team is high on third-round guard Tony Bergstrom. The game doesn't look too big for him, and he is a mature player.

New defensive coordinator Jason Tarver has a lot of energy. Watching him operate with his lively personality and blond hair invokes memories of a young Jon Gruden wearing the Silver and Black. Like Gruden, the intelligent Tarver is a young coach to watch.

I think we will see tight ends Brandon Myers, David Ausberry and Richard Gordon all get ample playing time in the preseason. I think that can continue into the regular season if each player carves their own niche.

Safety Mike Mitchell is the early leader in the clubhouse to replace Rock Cartwright, now in San Francisco, as the punt protector.

Receivers Denarius Moore and Jacoby Ford will get most of the camp looks at punt returner for now.

Undrafted rookie receiver Rod Streater has taken off where he left off in the OTAs. He has been an early camp star.

I could see a scenario in which the Raiders keep fullback Owen Schmitt in addition to Marcel Reece. The tough Schmitt and the versatile Reece offer different things to the offense.
July, 26, 2012
7/26/12
1:23
PM ET
Dontari Poe
will be to training camp on time.

The
Kansas City Chiefs
announced they have signed the No. 11 overall pick. The Chiefs report to camp Thursday and begin practice Friday.
Poe was one of the last first-round picks to sign, but the bottom line is that the massive defensive tackle will not miss any camp time. The Chiefs expect Poe to make a push to be a major contributor right away. He fills one of the team's final holes.
Now, the only question is in Kansas City is if franchised receiver
Dwayne Bowe
will report on time. He has yet to sign his tender and could stage a holdout.
The remaining unsigned draft picks in the AFC West are Oakland's
Tony Bergstrom
(guard, third round) and receiver
Juron Criner
(receiver, fifth). I'd be surprised if either player is not signed on time for when the Raiders open camp Monday.
April, 28, 2012
4/28/12
6:02
PM ET
»
NFC draft analysis
:
East
|
West
|
North
|
South
»
AFC
:
East
|
West
|
North
|
South
The biggest offseason move in the AFC West in years was the Broncos' signing of superstar quarterback
Peyton Manning
in March.
It instantly changed the landscape of the AFC West and it likely will continue to do so for the next three years or so. During the draft, Manning's impact was felt in the division when several of the premium picks by the Broncos' rivals were defensive players.
The first player taken in the division was athletic defensive tackle
Dontari Poe
. The Memphis product was taken No. 11 by the Chiefs. San Diego used its first three picks on defensive players, all of whom have a chance to make an instant impact.
Let's look at the highlights of the AFC West draft:
BEST MOVE
The first two days of the San Diego Chargers' draft.
No one in the division scored like the Chargers did. Following up a strong free-agency class, Chargers GM A.J. Smith deserves a lot of credit for this draft. The Chargers badly needed impact players on defense and they got them.
San Diego made one of the top value picks of the draft when it watched South Carolina pass-rusher
Melvin Ingram
fall to them. He was supposed to be a top-10 pick. San Diego considered moving up to take Alabama safety
Mark Barron
but he went at No. 7. Instead, the Chargers stayed at home and watched an equally talented player fall to them. Ingram fills the Chargers' biggest need and he should be an instant contributor.
The Chargers scored again by getting great value in the second and third rounds. San Diego watched Connecticut defensive lineman
Kendall Reyes
fall to them at No. 49. With LSU safety
Brandon Taylor
still on the board (San Diego considered him at No. 49), the Chargers moved up and took him at No 73. There is no way the Chargers could have scripted the first three rounds any better.
The 2012 Chargers got better in this draft.
RISKIEST MOVE
Arguably, there wasn't a riskier move in this draft than the Kansas City Chiefs' choice of Poe at No. 11.
The nose tackle from Memphis was one of the most talked about players in the draft. After his stunning performance at the NFL combine, Poe was considered a potential top-five player. However, after teams dissected his game film, they discovered Poe didn't consistently make plays against marginal competition.
By the time the draft rolled around, it seemed as though Poe could fall into the 20s. But the Chiefs took him because of his ability and the fact he fills their greatest need. Poe was the best talent at No. 11 and the fact he filled a major need makes this a logical pick.
But if Poe doesn't develop, the Chiefs will get heat for not following the general consensus. The team has failed to hit a home run with recent picks on the defensive line, so the Chiefs have to make this work. Kansas City thinks Poe will excel under coach Romeo Crennel because he will concentrate on one position as opposed to having to play several spots as he did in college. If the Chiefs are right, this will be a big score. If not, they'll be forever reminded of it.
MOST SURPRISING MOVE
[+] Enlarge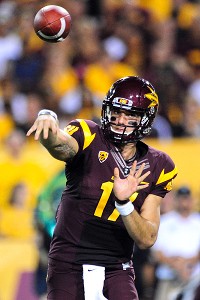 Matt Kartozian/US PresswireThe Broncos decided to waste no time in finding Peyton Manning's heir apparent, selecting Brock Osweiler in the second round.
I don't think it was shocking that the
Denver Broncos
picked a quarterback or that the quarterback ended up being Arizona State quarterback
Brock Osweiler
.
But I think it was a surprise Denver took him at No. 57. That's a high spot for a player who probably won't start until 2015, at the earliest.
The Broncos have other needs and they have Manning. Yet, Osweiler was a target. It shows how much Denver executive VP John Elway values the position and how much he liked Osweiler. He could have waited a couple of years to peg Manning's successor, but he did it before Manning has even thrown a pass in Denver.
FILE IT AWAY
This draft will be remembered as a success for all four teams in the division. I was impressed with how each team approached the draft and the patience each team showed.
I think the Chargers got as many impact players for the immediate future as any team in the league. I like Denver's creativity. It traded out of the first round and still got some quality players such as defensive linemen
Derek Wolfe
and
Malik Jackson
and running back
Ronnie Hillman
.
The Chiefs quietly had a strong draft and middle-rounders such as receiver
Devon Wylie
, defensive back
De'quan Menzie
and running back
Cyrus Gray
will add depth to this team.
New Oakland general manager Reggie McKenzie didn't have many picks to work with -- his first was No. 95. But it is easy to tell there is draft-room stability with the post-Al Davis Raiders.
McKenzie played his board well and didn't make any puzzling picks based on measurables as the late Davis was known to do. Oakland's draft will not make many headlines, but McKenzie may have tabbed future starters in tackle
Tony Bergstrom
, linebacker
Miles Burris
and receiver
Juron Criner
.
April, 28, 2012
4/28/12
2:10
PM ET
The
Oakland Raiders
first two draft picks are similar players.
They are not sexy players but they are solid, players with strong college credentials and great character and both should be able to compete to start in a year or two. What's wrong with that?
After Oakland took Utah tackle (he'll be a guard in the NFL)
Tony Bergstrom
at No. 95, the Raiders took San Diego State linebacker
Miles Burris
at No. 129 in the fourth round.
Burris was a tackle machine in college and he was a team captain. He is very reliable. He has a chance to be a hard-hat starter in the NFL. He is also versatile and he can play in both a 4-3 and 3-4 defenses. The Raiders are expected to stay a 4-3 base, but they will use multiple sets.
Burris has a chance to play in those sets. I expect him to be a special team's contributor this season. Again, neither pick is a headline stealer, but that's nearly impossible to do this late in the draft. Oakland is sticking to its board and getting good prospects at need areas. That's all a team can really be asked to do when it has such a small draft class.
April, 28, 2012
4/28/12
12:30
PM ET
A long-expected pairing is likely to occur.
Oakland will visit with and is expected to sign
Matt Leinart
to be Carson Palmer's backup quarterback, according to ESPN's Adam Schefter.

Leinart
This is no surprise. Leinart played for Oakland offensive coordinator Greg Knapp and as soon as Leinart was cut this offseason, we've been expecting a reunion. Plus, Leinart was Palmer's backup at USC and they remain close. Both share a bond as Heisman Trophy winners.
I am not surprised at all that Leinart and not Terrelle Pryor will be the backup. Pryor is still very much a developmental quarterback. Plus, he wasn't taken by this regime. They must watch and work with Pryor before putting him one play from becoming a starter.
In Leinart, Oakland has an experienced player who you can count on in a pinch. Most importantly, he is a player who is comfortable in Oakland's system.
In other AFC West notes:
Oakland third-round pick Tony Bergstrom is married to the sister of Baltimore linebacker Paul Kruger.
Ronnie Hillman played for Snoop Dogg's traveling youth team in Southern California as a youngster.
San Diego second-round pick, defensive lineman Kendall Reyes, was a receiver in high school. He is now 295 pounds.
Kansas City third round pick, tackle Donald Stephenson, is from Kansas City. His reaction to getting chosen by the Chiefs? "I'm speechless," the Oklahoma product said. "I love the Chiefs. I've always loved them. To have a chance to play in my hometown is huge."
April, 28, 2012
4/28/12
12:13
AM ET
After a strong second round in the AFC West, I thought there were some interesting developments in the third round in the division as well.
Let's take a look:

Denver will worry about getting a bigger back later, but it was clearly interested in getting a faster, smaller running back in the third round. The Broncos traded up 20 spots (it gave up one its three fourth rounders as well as No. 87) to take San Diego State's explosive
Ronnie Hillman
.
He has been compared to
Darren Sproles
and he should have a place in
Peyton Manning
's offense. Denver's trade was made shortly after San Francisco took Oregon's speedster
LaMichael James
, so I think the Broncos wanted either James or Hillman and decided to pounce on Hillman after James was taken.
Willis McGahee
will remain the starter, but Hillman should be dangerous. I wonder where this leaves 2009 top pick
Knowshon Moreno
. He will either be a 5-8 carry option behind McGahee or he could be on the outside looking in.
Moreno blew out his knee last year and he has since gotten a DUI. Hillman is clearly more in Denver's plans than Moreno. Again, Denver will need to find a young power back sometime, but Hillman has an immediate place in this offense.
While Denver traded up for Hillman, San Diego moved up to take LSU safety
Brandon Taylor
.

Folks, San Diego is killing this draft. It is just slaying it. A trio of pass-rusher
Melvin Ingram
(No. 18), defensive lineman
Kendall Reyes
(No. 49) and Taylor (No. 73) is a wicked group to bring into one defense. All three players were taken later than projected and could all make immediate impacts. Major kudos to San Diego for having a strong plan.

Kansas City took its second offensive lineman of the day at No. 74 in the form of Oklahoma tackle
Donald Stephenson
. He is a one-year starter who has a lot of potential. I think he is a developmental player who gives the Chiefs options if they don't want to re-sign left tackle
Branden Albert
after next season.
This draft may give a hint into what the Chiefs think of Albert, the No. 15 overall pick in 2008. In the second round, the Chiefs took guard
Jeff Allen
. If Albert doesn't have a good year or if he does prices himself out of the Chiefs' plans, Kansas City has options.

Oakland made its 2012 draft debut with the final pick of the day when it took Utah tackle/guard
Tony Bergstrom
.
I know some Oakland fans were disappointed that the choice was a developmental lineman while there were some sexier names available. But the truth is, picking at the spot is difficult and the new Oakland regime has a plan. Bergstrom is a good player, who is tough. He is a fine zone-blocking player. He deepens the line and he could vie for a starting spot in a year or two.
Unless the Raiders get extremely lucky, getting solid developmental players in this draft has to be the goal.
NFL SCOREBOARD
Thursday, 12/5
Sunday, 12/8
Monday, 12/9
WEEKLY LEADERS